Reading Time:
6
minutes
The AI token trend gained more attention after Microsoft invested 10 billion US dollars in OpenAI, the creator of ChatGPT, in early 2023. Since then, the prices of several AI tokens surged, including the AGIX token, which rose nearly 800%! Find out more about AGIX tokenomics and its potential as an investment asset in this article.
Article Summary
🪙 AGIX is SingularityNET's native token that functions as both a utility and governance token. AGIX can be used for staking, voting on proposals, and as currency in SingularityNET's AI marketplace.
🔗 The AGIX token was originally named AGI, which runs on the Ethereum blockchain. However, after SingularityNET hard forked to the Cardano network, all AGI tokens were replaced with AGIX. It makes AGIX a multi-chain token that can run on both the Ethereum and Cardano blockchains.
🤑 SingularityNET has a funding program for developers of AI projects called Deep Funding to develop various AI services in its ecosystem. AGIX token holders can choose which projects to fund.
🤖 SingularityNET continues to develop its ecosystem focusing on DeFi, Robotics, Biotech, Gaming/Media, Arts/Entertainment, and Enterprise-level AI.
Overview of SingularityNET (AGIX)
SingularityNet is a marketplace of AI products running on the Ethereum and Cardano blockchains. The platform aims to ease the developers to create, share, and monetize AI services and applications. While users can buy various AI products available. The buying and selling AI products or services involves SingularityNET's native token, AGIX.
SingularityNET was founded in 2017 by Dr. Ben Goertzel and Robert Hanson, the people behind the Sophia Robot, a robot with standard human intelligence.
You can find out more about SingularityNET (AGIX) in this article.
AGIX Tokenomics
AGIX is SingularityNET's native token which has several functions, as follows:
All transactions on SingularityNET's AI marketplace use AGIX. Independent developers earn AGIX as a service fee for AI products successfully purchased by users.
AGIX token holders can stake AGIX to earn rewards while securing the network.
AGIX also acts as the governance token on the SingularityNET platform. The token holders can vote to determine the community's decisions for developing SingularityNET. AGIX holders can also vote on available AI projects to determine which projects will receive funding from Deep Funding.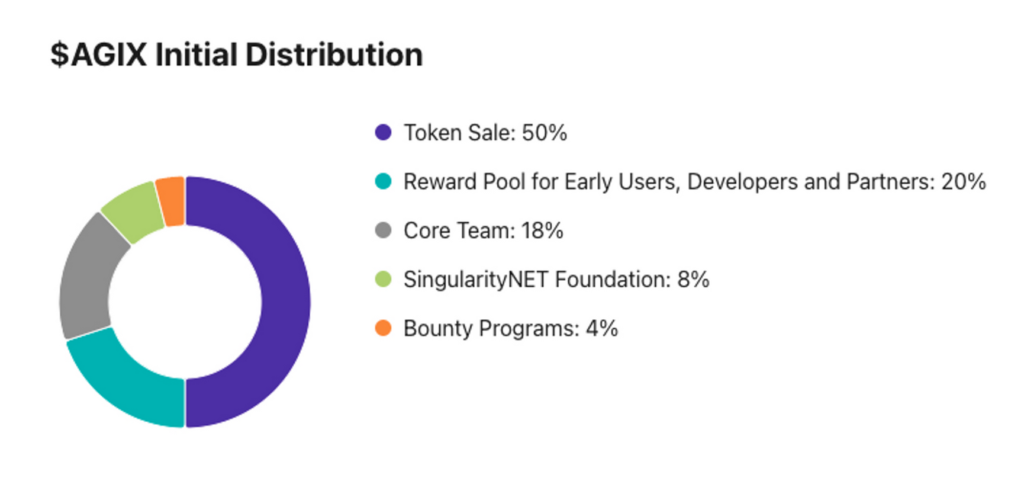 Initially, SingularityNET's native token was AGI which was launched in 2018. It was an ERC-20 standard token with a maximum supply of 1 billion AGI.
As the system evolved, in 2021, SingularityNET changed the AGI token to AGIX to be compatible with the Cardano network. It is because the platform hard forks to the Cardano network to improve its system updates. It makes AGIX a multi-chain token that can run on both the Ethereum and Cardano blockchains.
The change also applies to the maximum supply of AGIX, which was initially 1 billion AGIX minted on Ethereum and then an additional 1 billion AGIX minted on the Cardano blockchain. So, the total AGIX supply is 2 billion AGIX. As of March 2023, the total amount circulating in the market has reached 1,205,321,857 AGIX, or 60% of the total supply.
The new token supply will be released gradually over 91 years. To prepare for this, the SingularityNET team replaced the AGI token, which was created for Ethereum only, with the AGIX token to make it interoperable between the Ethereum and Cardano blockchains. Currently, AGI is no longer usable as AGIX has replaced it.
Read also What is Cardano and its tokenomics as one of the main blockchain for AGIX.
AGIX as an investment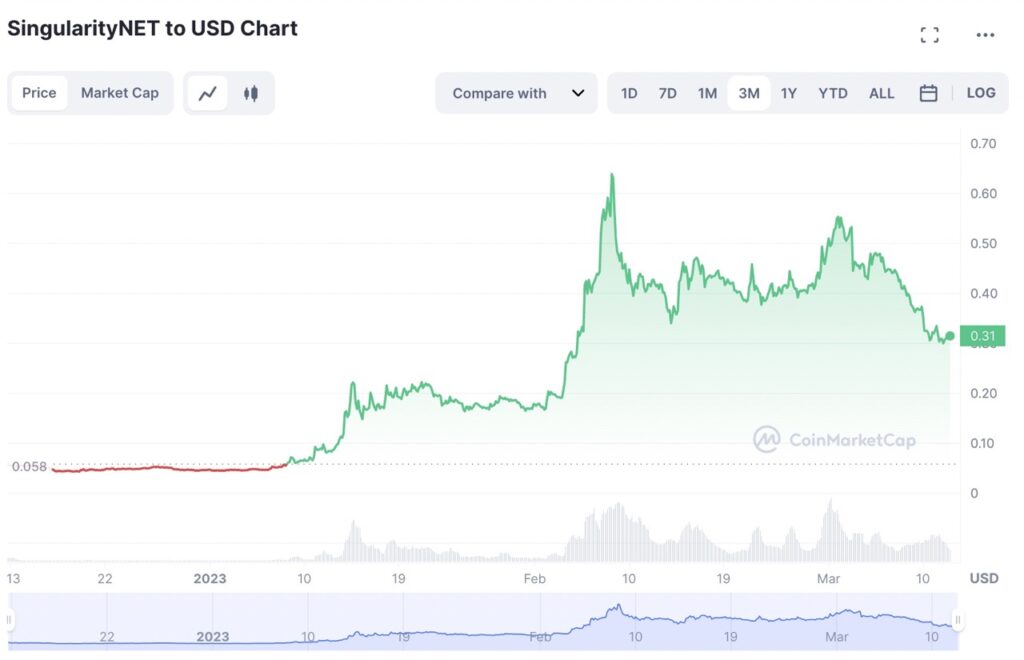 AGIX prices spiked in early 2023 following Microsoft's announcement that it was investing 10 billion US dollars in OpenAI, the creator of ChatGPT. Also, Google announced it was investing 300 million US dollars in AI start-up, Anthropic on February 3, 2023. It made the prices of several AI tokens soar, including AGIX.
From the chart above, AGIX increased by almost 800% since the beginning of the year and reached 0,6 US dollars on February 8, 2023. At the time of writing (March 13, 2023), the AGIX price is 0,3 US dollars, with a trading volume of nearly 90 million US dollars. Data from Coinmarketcap, AGIX is ranked 88th with a market cap of 378,981,448 US dollars.
Despite the hype around AI tokens, SingularityNET itself has several promising projects. The company's goal is to make AI services more decentralized and less reliant on a single entity. In addition to ongoing development of artificial general intelligence (AGI), the team is building an ecosystem prioritizing decentralized systems that spans across various industries, such as DeFi, Robotics, Biotech, Gaming/Media, Arts/Entertainment, and Enterprise-level AI.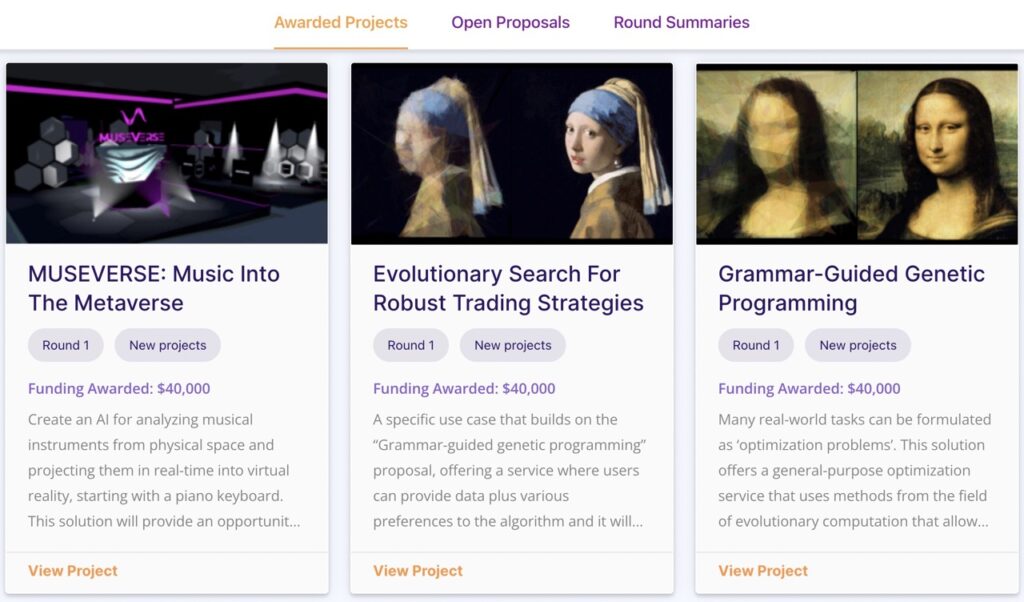 The platform is also an incubator for new businesses by providing coaching, funding, and professional assistance. The goal is to develop successful and independent entities. For this reason, SingularityNET has established Deep Funding, a funding program for AI projects within its ecosystem.
As of March 2023, there have been eleven projects successfully funded by SingularityNET with various funding levels. Funding ranged from 22,000 US dollars for the Universal Sentence Parser project to 114,000 US dollars for Simply AI with Trust.
While SingularityNET's team of developers continues to improve the ecosystem, you should consider the benefits and risks of investing in AGIX tokens. Some think the AGIX price skyrocketed when ChatGPT gained popularity in early 2023. Then it will decline again when the ChatGPT hype starts to fade. Indeed, the ups and downs of AGIX prices are influenced by various factors, one of which is global market conditions.
Also read other articles about The Graph and its tokenomics as an AI token like AGIX here.
SingularityNET (AGIX) Ecosystem
Apart from acting as a marketplace for AI products, SingularityNET is also developing various AI-based projects within its ecosystem. Here are some of the examples.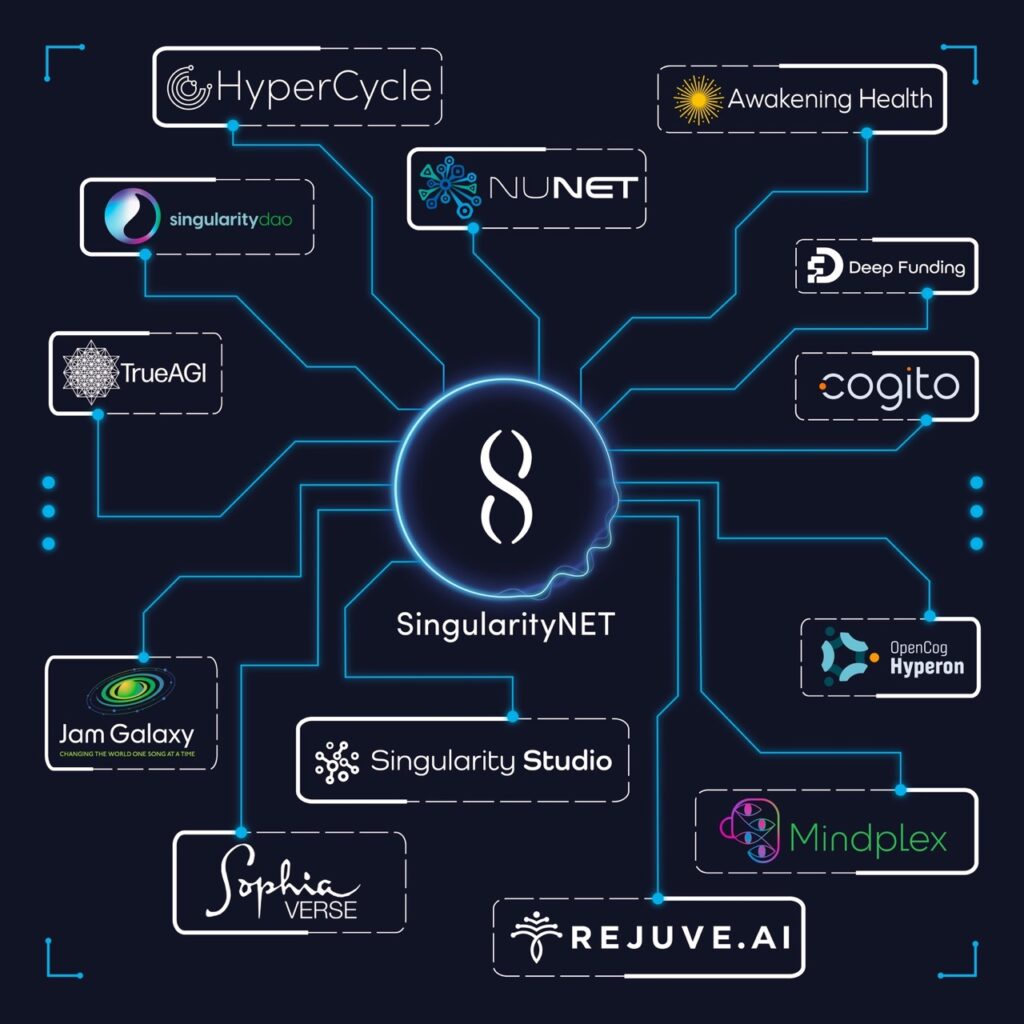 Rejuve AI
Rejuve.AI is an AI-based data network on computer systems that helps medical researchers to share medical data and earn income by providing such data. Users can also use Rejuve AI to get medical advice based on their personal information, which a computer system analyzes using artificial intelligence (AI).
Awakening Health
Awakening Health is a joint company between SingularityNET and Hanson Robotics. It makes specialized robots that function as nurses that can help patients in hospitals. The main product of this project is a robot called Grace. Grace is designed to provide emotional support and comfort to patients. The robot can also monitor vital signs and send data to doctors in real-time.
The robot was created by combining artificial intelligence (AI), machine learning, computer vision, speech recognition, natural language processing, and other technologies.
NuNet
AI requires a massive amount of computing power. This type of power is currently available through centralized entities such as Amazon AWS, Nvidia, or Google. NuNet is a decentralized computer network that provides computing power and data storage on the blockchain. SingularityNET developers can use NuNet's Application Programming Interface (API) to provide computing and storage support for their services.
HyperScale
HyperScale is a layer 2 blockchain on the Cardano blockchain and acts as a Cardano sidechain. It is built using Cardano's Hydra sidechain and SingularityNET's programming language, MeTTa. This sidechain adds speed and reduces costs to optimize advanced AI multi-agent systems.
AGIX Roadmap
The beta version of SingularityNET mainnet was launched in March 2019. You can see the progress of SingularityNET's roadmap on its official website, including the project's achievements since 2022 and AGIX tokenomics changes.
SingularityNET's plan for 2023 focuses on technology improvements and ecosystem expansion. It involves technical optimization, collaboration with Cardano to add use cases for AGIX tokens, and partnering with more AI services.
Buying Cryptocurrencies in Pintu
Currently, AGIX tokens cannot be traded through Pintu yet. Therefore, stay tuned to Pintu's channels for further information regarding the listing of AGIX tokens. In the meantime, you can invest in various crypto assets such as BTC, ETH, SOL, and others safely and easily.
Pintu is also compatible with popular wallets such as Metamask to facilitate your transactions. Download Pintu app on Play Store and App Store! Your security is guaranteed because Pintu is regulated and supervised by Bappebti and Kominfo.
In addition to executing transactions, in the Pintu Apps, you can also learn more about crypto through various Pintu Academy articles which are updated every week! All Pintu Academy articles are made for knowledge and educational purposes, not as financial advice.
Referensi
TI Research, What is SingularityNET? Unleashing the Power of AI – Ratings & Analysis, Token Insight, accessed 13 Maret 2023.
Jon Grove, The Path to AGI: SingularityNET Ecosystem Cooperation, Medium, accessed 13 Maret 2023.
SingularityNET Team, Ecosystem Overview, Singularity Web, accessed 13 Maret 2023.
CNBC Writer, Explained: SingularityNET (AGIX) and why it is up nearly 800% since the start of the year, CNBC, accessed 13 Maret 2023.
Marcello Mari, Exploring the Utility of SingularityNET's AGIX Token, SingularityNET Blog, accessed pada 15 Maret 2023