Reading Time:
8
minutes
Amidst the bear market and various unexpected events in the crypto industry over the past year, Arbitrum, a Layer 2 network on Ethereum, has seen tremendous transaction growth. In February, the daily transaction volume on Arbitrum even surpassed Ethereum, with transactions reaching over 1.1 million per day, higher than Ethereum's 1 million transactions.
Last Thursday, the Arbitrum developers announced that they will be conducting an airdrop of the Arbitrum token (ARB) to users of the network. This news has been highly anticipated by the crypto community, given the rapid growth of the Arbitrum ecosystem. What is the ecosystem like and what is the potential of this blockchain's token? Read on to find out more.
Article Summary
🔗 Arbitrum is a Layer 2 blockchain designed to increase scalability on the Ethereum network. As of March 2023, its Total Value Locked (TVL) reached $1.86 billion, making it the largest Layer 2 blockchain currently.
💡 On March 16, 2023, the Arbitrum developers announced that they will be conducting an airdrop of the ARB token to network users. The airdrop has been highly anticipated given the rapid organic growth of the Arbitrum ecosystem.
🔎 The issuance of the ARB token also marks the official transition of Arbitrum's operations to a decentralized autonomous organization (DAO), where ARB token holders (who are governance tokens) can vote on decisions related to Arbitrum One and Arbitrum Nova.

📊 GMX, Radiant, and Vela Exchange are some of the protocols that are currently quite popular in Arbitrum, with GMX dominating and accounting for 27% of the total value locked of all DeFi protocols in Arbitrum.
About Arbitrum
Arbitrum is a Layer 2 blockchain on Ethereum built by the Offchain Labs team and launched in September 2021. It uses technology called Optimistic Rollups, which allows it to process a large number of transactions off-chain while maintaining the security and decentralization of the Ethereum network.
According to research by Bernstein as reported by Coindesk, Arbitrum's daily transactions grew very quickly, with nearly 50% of Ethereum's daily transactions occurring in January 2023. In February 2023, Arbitrum's daily transactions even surpassed Ethereum, with transactions reaching 1.1 million per day, higher than Ethereum's 1 million transactions.
The adoption of DeFi and gaming applications on this platform has driven aggressive growth in users, active users, transactions, and revenue on Arbitrum. What makes it even more attractive is that the Arbitrum ecosystem has grown organically and previously operated without a native token. This is why the Arbitrum token airdrop is highly anticipated by its users and the crypto community as a whole, given the potential for network development.
Arbitrum Airdrop
The ARB airdrop will mark the official transition of Arbitrum to a decentralized autonomous organization (DAO), which means that ARB holders will be able to vote on important decisions that govern Arbitrum One and Arbitrum Nova – networks that allow users to transact on the Ethereum blockchain with higher speed and lower fees.
Here is the percentage distribution of the ARB token as announced by the Arbitrum Foundation on March 16, 2023.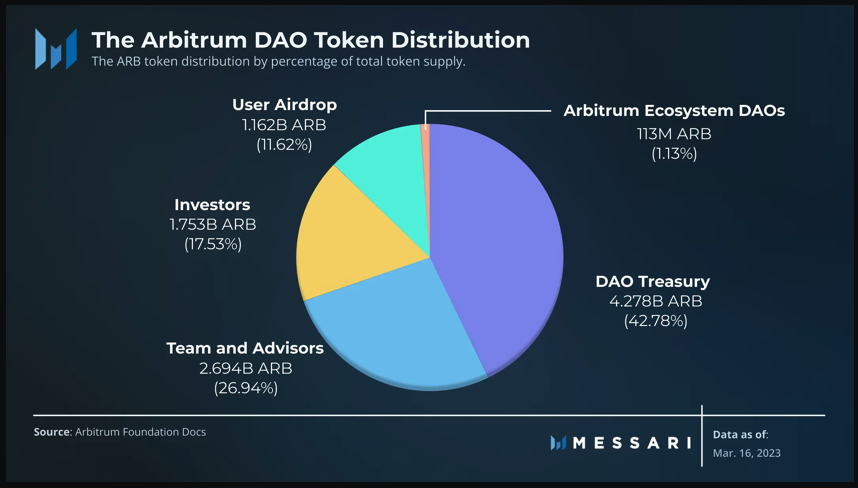 Quoting a document released by the Arbitrum Foundation, an airdrop will be given to Arbitrum users who have been using the network for the past year. The airdrop allocation is 11.6% of the total token supply for Arbitrum users, 1.1% for the DAO in the Arbitrum ecosystem and Protocol Guild, and 42.8% for the Arbitrum Foundation under the control of the newly formed Arbitrum DAO.

Offchain Labs and advisors will receive 27% of the token supply, while Offchain Labs investors will receive 17.5% of the total token supply. As of the time of writing, the company has not communicated with any exchanges to list the Arbitrum token.
Despite the Arbitrum Foundation's plan to give a relatively high amount of tokens to investors and core contributors, Arbitrum's creator, Offchain Labs, has said that the ARB token will make the Arbitrum ecosystem more decentralized than just being an alternative network designed to improve Ethereum scalability.
Potential and Development of the Arbitrum Ecosystem
Arbitrum has experienced rapid growth in the past six months, with its ecosystem expanding rapidly and new protocols emerging. As of March 2023, Arbitrum has the highest total value locked (TVL) of all Layer-2 Ethereum networks, with a market share of 64%.
Arbitrum is superior to Polygon in terms of TVL, with a value of $1.64 billion USD (3.48% of the total industry TVL) compared to Polygon's TVL of $1.03 billion USD, as shown by Defillama data below. In addition, Arbitrum consistently ranks as the fourth top chain in terms of 24-hour volume, with $1.13 billion in volume and a seven-day volume of $3.32 billion.

What makes Arbitrum attractive to many users?

According to the blockchain analytics platform Nansen, Arbitrum will lead in the field of Ethereum scalability solutions in the near future.

"Arbitrum is the most compatible layer 2 with the Ethereum Virtual Machine (EVM) currently. This makes it easier for developers to migrate existing Ethereum applications because they do not need to rewrite their code," Nansen wrote in their research report.

In addition, transaction fees in Arbitrum are much lower compared to Ethereum. The average transaction fees in Arbitrum currently range from around 20 cents to 14 cents, according to data from Blockworks. By comparison, the average transaction fee on Ethereum is over 75 cents, according to yCharts."
Arbitrum is often compared to Optimism, which is also a Layer 2 network with Optimistic Rollups technology. However, according to research conducted by Messari, Arbitrum may experience higher natural user growth rates compared to Optimism.
Even without a sustainable incentive program like Optimism, Arbitrum users are consistently interested in the ecosystem due to its innovative and user-attractive applications. As can be seen from the Messari data below, Arbitrum has a higher retention rate for native application users compared to Optimism. In other words, over the previous few months, users of Arbitrum's native applications visited them more frequently than users of Optimism's native applications.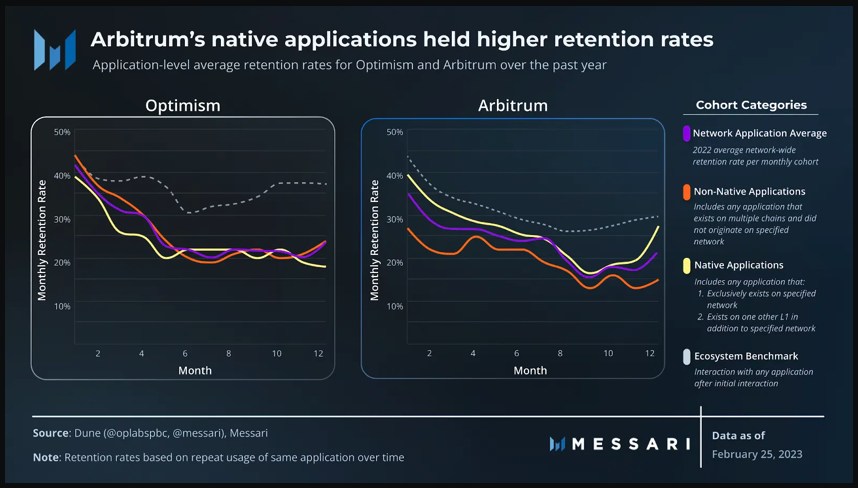 Sumber: Messari
For Arbitrum, some native applications of the network, such as GMX and Radiant Capital, maintain higher average network user levels compared to non-native applications. GMX, in particular, has been a major driver of user growth on Arbitrum since launching the Nitro upgrade. Although GMX is not the first decentralized perpetual protocol launched in crypto, it has attracted many users through high leverage trading options, oracle-dependent pricing mechanisms, and lucrative staking rewards.
As quoted by Messari, traders from other platforms such as dYdX or Perpetual Protocol may have migrated to GMX to increase their chances of receiving the Arbitrum token airdrop. Overall, GMX has short-term user retention rates of 43% and long-term user retention rates of 31%, above the respective network averages of 32% and 22%.
Applications in the Arbitrum Ecosystem
GMX
GMX is a decentralized exchange (DEX) that facilitates spot and perpetual trading and is currently active on the Arbitrum network. GMX, launched in September 2021, is the largest contributor of TVL on the Arbitrum network with a TVL of $505 million US dollars as of March 2023, with a dominance of 27.8% of the total Arbitrum TVL, as seen from the Defillama data below.

One thing that makes GMX stand out is that the platform not only provides spot swaps but also perpetual futures, a feature previously only available on centralized exchanges (CEX). GMX users can engage in perpetual futures trading with leverage of up to 30x, similar to that available on CEX.
Unlike CEX, GMX users can independently manage their assets without having to "entrust" them. This is because crypto asset trading on GMX is fully decentralized and conducted directly from each user's crypto wallet.
Want to learn more about the technology and workings of GMX? Read this article.
Vela
Vela Exchange is a perpetual exchange that operates on a permissionless blockchain architecture, prioritizing fast transactions, secure trading, and expansion into synthetic options and derivatives.
Vela Exchange offers advantages over its competitors, such as $GMX, in terms of active synthetic assets and volume guarantees on pairs not supported by $GMX, including forex ($EURO, $GBP, $JPY). In addition, $VLP, the Vela Exchange asset basket, is fully supported by $USDC, which reduces the risk of non-permanent loss associated with liquidity provision.
As can be seen from the Defillama data below, TVL on Vela Exchange has grown rapidly in the last two months, totaling $48.86 million USD as of March 2023.

Radiant
Radiant Capital is an omnichain lending platform that allows users to borrow and lend assets across various chains seamlessly. Before the launch of Radiant Capital, most crypto asset lending platforms required crypto lenders to choose a specific chain, and they were limited to using specific tokens on that chain. Radiant Capital has changed the way users can borrow assets and earn rewards from lending their owned assets. Essentially, Radiant Capital operates on most major blockchains, not just specific ones. Currently, the TVL on Radiant is recorded at $29.3 million.
Treasure DAO
Arbitrum is not only a DeFi platform, but it is also home to a game platform that is currently experiencing rapid growth, namely Treasure. Treasure is a decentralized platform that connects the crypto community and gaming through its Treasure NFT and its original token, MAGIC. The platform aims to help developers realize their metaverse projects and attract new users to the web3 space.
This platform uses MAGIC for transactions in decentralized markets, and Trove to buy and sell NFTs. Several projects are running on this platform, including LIFE and Smolverse. Although it was launched just over a year ago, Treasure has recently undergone a rebranding to strengthen its brand identity and support the creative efforts of builders and collaborators working on their projects.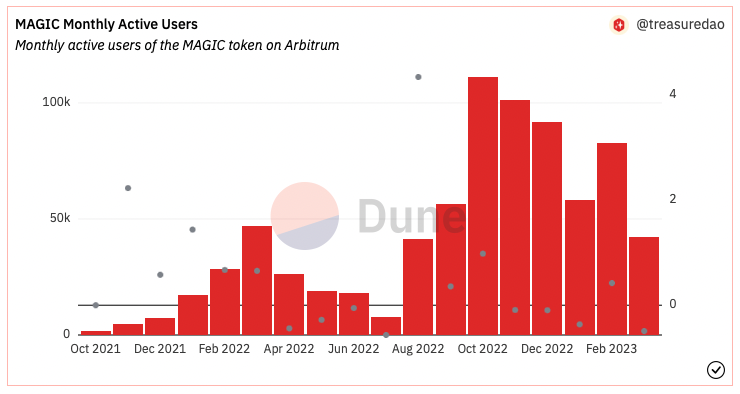 Based on the data from Dune Analytics above, Treasure DAO has experienced significant growth in terms of users, transactions, and volume in recent months. The total volume transacted on the platform is over $137 million US dollars, with the majority of the volume coming from trading the platform's native token, MAGIC. The average transaction value in Treasure DAO is around $3,300 US dollars, indicating that its users are making relatively large trades on the platform.


Buying Layer 2 Tokens on Pintu
After reading the explanation of what Arbitrum is, you can start investing in Layer 2 tokens such as MATIC, OP, etc., by purchasing them on the Pintu app. Here's how to buy Layer 2 tokens on the Pintu app:
Create a Pintu account and complete the identity verification process to start trading.
On the homepage, click the deposit button and top up your Pintu balance using your preferred payment method.
Go to the market page and search for one of the Layer 2 tokens.
Click buy and enter the amount you want.
You now have one of the Layer 2 tokens!
In addition, the Pintu app is compatible with various popular digital wallets such as Metamask to make your transactions easier. Download the Pintu cryptocurrency app from the Play Store and App Store! Your security is guaranteed because Pintu is regulated and monitored by Bappebti and Kominfo.
You can also learn more about crypto through various Pintu Academy articles that are updated every week! All Pintu Academy articles are created for educational and knowledge purposes, not as financial advice.
References