Reading Time:
5
minutes
The increasingly popular ecosystem of Decentralized Applications or DApps has attracted many developers to innovate to get the attention of the community. One of the fastest-growing DApps sectors is the gaming industry. Many developers are starting to see the potential of blockchain and NFT technology in creating games that are not only fun but also financially rewarding. Axie Infinity game is one of the most popular DApps in the gaming industry.
The basics of Axie Infinity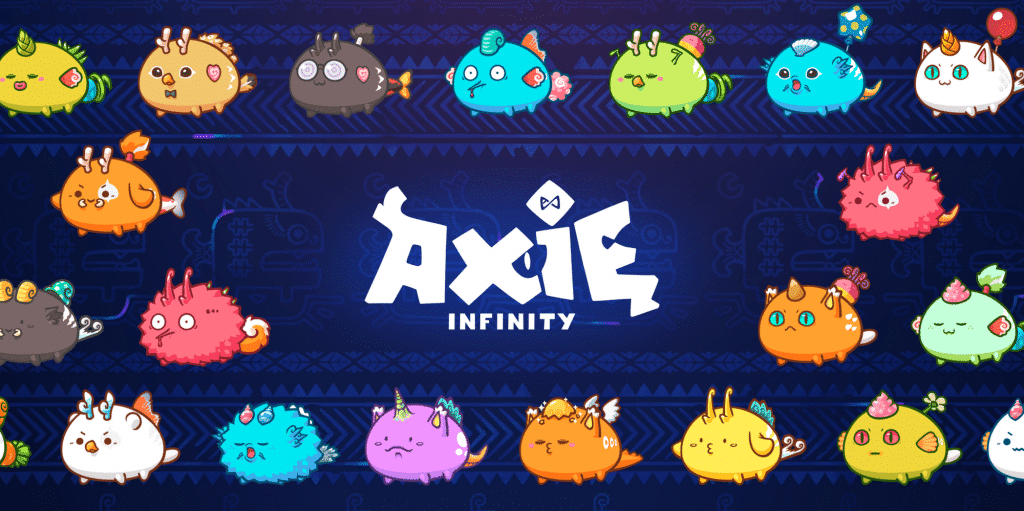 Axie Infinity is an Ethereum-based blockchain game that combines various elements in the cryptocurrency world such as NFT, staking, and the concept of play-to-earn. In Axie Infinity, you can buy, breed, and battle virtual animals called Axies. In concept and gameplay, Axie Infinity takes inspiration from Pokemon, a tv series about monsters fighting each other. Each Axies has their own attributes and classes, which makes up their strengths and weaknesses.
Also read: What is Ethereum and how does smart-contract work?
Axie Infinity is built on the Ethereum smart-contract ecosystem using Ronin's sidechain technology, which makes transaction fees cheaper than the Ethereum mainnet. All assets in Axie Infinity are NFTs with Ethereum's ERC-721 standard. The native cryptocurrencies assets of Axie Infinity are Axie Infinity Shard (AXS) and Smooth love potion (SLP). According to Coinmarketcap, Axie Infinity currently ranks as the 25th largest cryptocurrency in the world with a market capitalization of $8 billion dollars.
Who created Axie Infinity?
Axie Infinity was created by Trung Thanh Nguyen, CEO of the Sky Mavis company behind the development of Axie Infinity. Nguyen created Axie Infinity after being inspired by Crypto Kitties, a virtual NFT collecting cat game. Nguyen then had the idea to combine collectible elements from Crypto Kitties and combat elements from Pokemon to create Axie Infinity.
Since its launch in mid-2018, Axie Infinity's popularity has continued to grow with around 2 million active players as of October 2021. Naturally, Axie Infinity is one of the most active games in the crypto industry. Sky Mavis has also recently raised $152 million in funding, including from Andreessen Horowitz. Sky Mavis says it will use this funding to launch a better combat system, Axie Infinity money exchange, and new game modes.
AXS, SLP token, and How Axie Infinity Works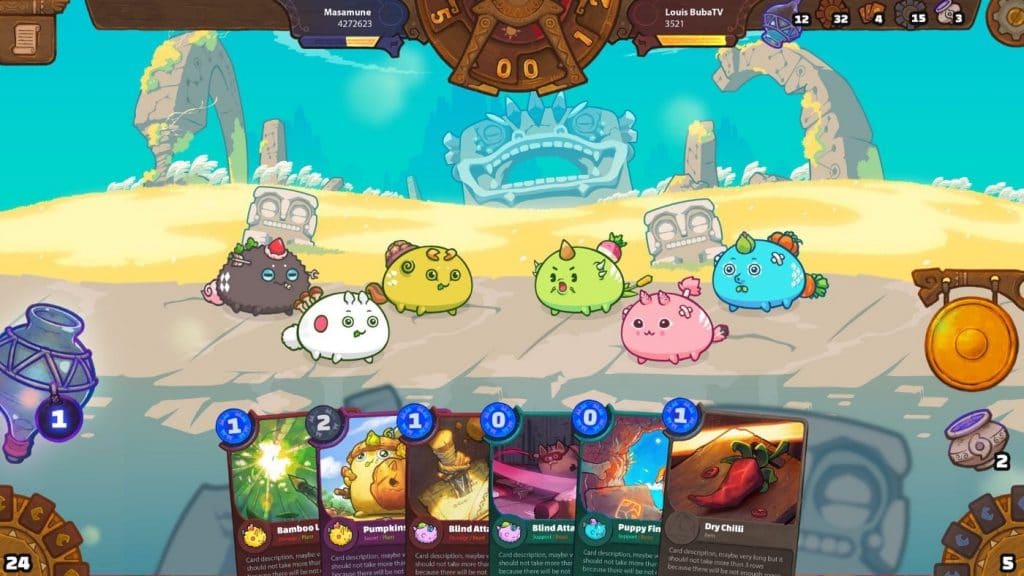 Axie Infinity is a game where each Axie is an NFT that can be traded on the Axie Infinity marketplace. Each Axie has classes and attributes that give it strengths and weaknesses. In addition, you can also change parts of your Axies body to add more properties to make them more powerful.
Also read: What is NFT and how is it different from ordinary crypto assets?
Once you have your Axies, you can start battling with other players or computer-controlled enemies. Each time you win your battle, the attributes and power of the Axies will increase, and this increases the price of each Axie you own. The battle itself is a 3 versus 3 Axies where each team will take turns to attach each other.
The AXS (Axie Infinity Shard) functions both as a governance token and staking in the Axie Infinity network. According to Coinmarketcap, the total supply of AXS is 270 million AXS while the current circulating amount in the market (November 2021) is around 60 million AXS. You can earn AXS interest by staking it on the Axie Infinity website.
Smooth Love Potion (SLP) is another native currencies of Axie Infinity. SLP tokens are rewarded after winning battles with other players or AI enemies in Axie Infinity. You can also use SLP to breed a new axie using the two Axies you already have. Basically, SLP is the currency used for all the activities you do in Axie Infinity.
One of the main critics of Axie Infinity is you need to have a lot of funds as one Axie can easily cost $150-$300 dollars and you need 3 to play. Then, why is Axie Infinity still so popular and how can so many people earn so much money from playing Axie Infinity?
How to earn money from playing Axie Infinity?
1. Selling Smooth Love Potion (SLP)
The first thing you can do to make money from Axie Infinity is to sell your SLP token. SLP is a valuable commodity that is always sought after by other players because it is needed for various activities in the game. You can sell SLP in crypto asset trading applications such as Uniswap. You can also sell SLP directly in the Axie Infinity marketplace. Basically, you can make profits through selling SLP just by playing Axie Infinity.
2. Breeding and selling Axies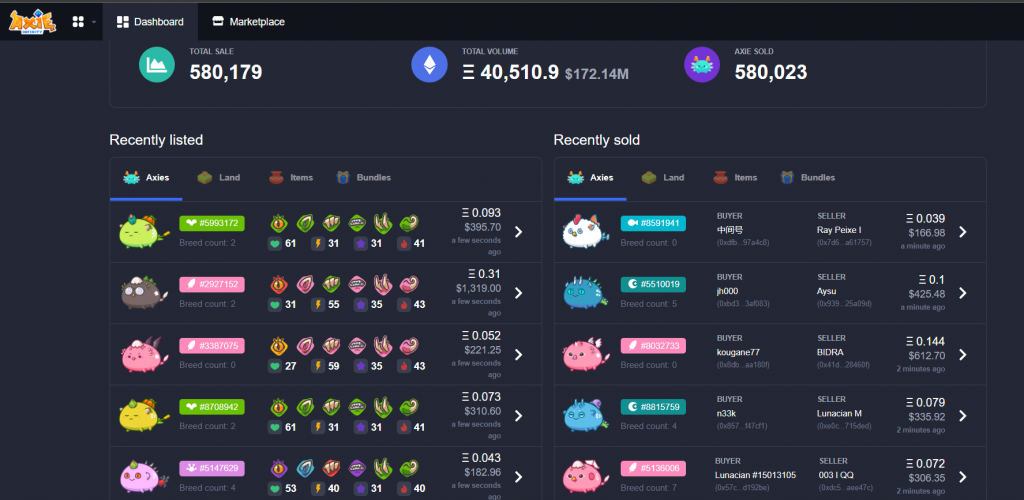 You can start breeding Axies using your SLP and 2 Axies. Breeding a new Axie requires a certain amount of SLP which depends on the attribute of your Axies. Furthermore, the value of each Axies depends on many things including their rarity, attributes, and the number of times they can breed new Axies.
As previously explained, every Axie in this game is an NFT. This means that you can sell your axies on various platforms such as OpenSea or in Axie Infinity marketplace. The most expensive monster ever sold was in 2020 for 300 ether, the equivalent of $130,000 dollars. Axies are one of the most sought after NFT items because these monsters are needed to enter the world of Axie Infinity.
3. Staking Axie Infinity Shard (AXS)
Finally, you can get AXS token as an interest by staking it directly on the Axie Infinity network here. The website says that you can earn as much as 117% interest per year. However, like staking in general, your assets will be stored and frozen on the Axie Infinity network. This profit-seeking method is ideal for those of you who want to simply save your money and earn passive profits for 1 year and above.
How to play Axie Infinity?
Sky Mavis, the company behind Axie Infinity, created a step-by-step guide to playing Axie Infinity that you can access here. However, you can follow the 6 short steps below to start playing Axie Infinity!
Create a Sky Mavis account using Metamask
Download Ronin Wallet, the digital wallet created by Sky Mavis
Transfer your crypto assets to Ronin using Ronin Bridge
Buy 3 Axies using ETH
Download Axie Infinity
Start playing!
Where to buy AXS?
You can start investing in AXS by buying them in Pintu app. Through Pintu, you can buy AXS and other crypto assets in an all-in-one convenient application.
Pintu is also compatible with popular wallets such as Metamask to facilitate your transactions. Download the Pintu app on Play Store and App Store! Your security is guaranteed because Pintu is regulated and supervised by Bappebti and Kominfo.
Conclusion
Axie Infinity is a blockchain-based game that are able to take many popular aspects in cryptocurrency and combine it with engaging gameplay. Additionally, the play-to-earn model pushes and incentivizes players to play the game. This model helps Axie Infinity becomes one of the most popular games in the crypto world today. One of the criticisms of Axie Infinity now is the high price of Axies, so many players find it difficult to start playing. Currently, the price of a single Axie can go up to $200 dollars and Sky Mavis is making plans to give Axies away for free so that Axie Infinity can reach a wider market.
Sources: