Reading Time:
7
minutes
The financial industry has experienced a tumultuous week due to various events that have caused fluctuations in the market. The crypto industry was also hit, with the total crypto market dropping below $1 trillion USD. What happened in the past week, and what were the impacts on the crypto market?
The Pintu trader team has collected various data that analyze macroeconomics and the crypto market movement in the past week. However, kindly pay attention that all information in this market analysis is for education purposes only, not financial advice.
Market Analysis Summary
🏦Federal Reserve Chairman Jerome Powell warned last Tuesday that interest rates are likely to be higher than anticipated. Jerome's statement dashed hopes for a 25 bps rate hike at the March 21-22 meeting, and increased the likelihood of a higher rate hike of 50 bps.
⚠️ The crypto market capitalization dropped below the $1 trillion USD mark, and BTC had its worst week since November 2022.
🏢 Silvergate Capital is to close its banking operations. Furthermore, Silicon Valley Bank (SVB) was also shut down by California financial regulators on March 10th after announcing significant asset and stock sales.
🚨 Circle, the issuer of USD Coin (USDC), confirmed that $3.3 billion of its $40 billion USDC reserves are still held at Silicon Valley Bank. This news caused a sell-off, resulting in the stablecoin's value dropping below $1.
🚀 However, the crypto market cap returned above the $1 trillion mark on Monday (13 March 2023) following statements from the Federal Reserve, US Treasury and FDIC that all Silicon Valley Bank and Signature Bank depositors will be able to withdraw their funds.
Macroeconomic Analysis
On Wednesday, the House Financial Services Committee heard testimony from Jerome Powell, the Chairman of the Federal Reserve, in the second day of his semiannual monetary policy testimony before Congress. Despite Powell's warning of higher interest rates, stocks experienced fluctuations but mostly recovered after a decline on Tuesday, which followed Powell's appearance before the Senate Banking Committee on day one of his testimony. Powell's remarks on Tuesday dashed hopes of a 25 bps rate increase at the March 21-22 meeting and instead increased the likelihood of a 50 bps hike.
Below we can see that the probability of 5-5.25% target rate has increased dramatically from the previous week value of 30% to the current value of 50%.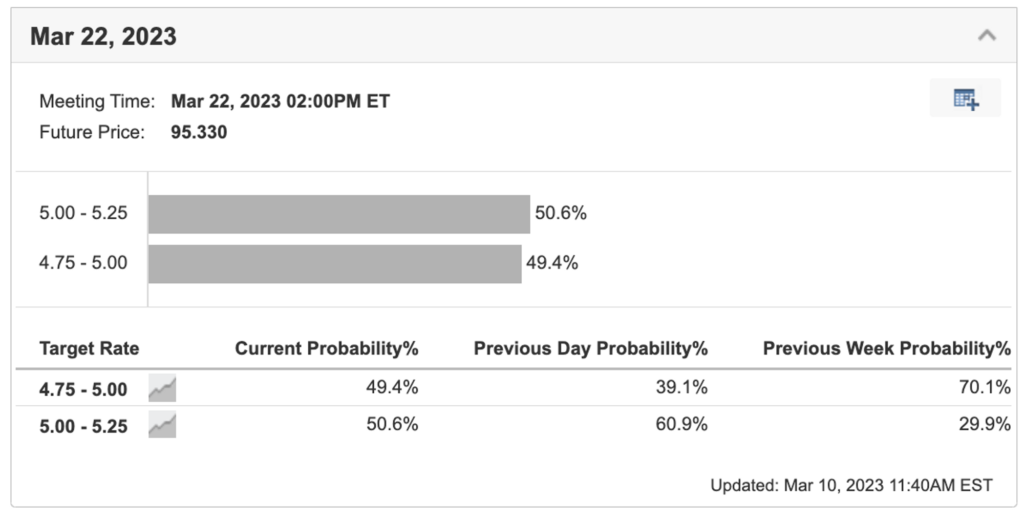 On Friday, the Bureau of Labor Statistics released a report showing that nonfarm payrolls had risen by 311,000 following a 504,000 increase in January (vs 205k expected). The data depicts a still strong labor market. However, despite the growth in employment, the unemployment rate increased to 3.6% due to a larger labor force (vs 3.4% in January, 3.4% expected). Watch for the FOMC meeting coming up on the 3rd week of March.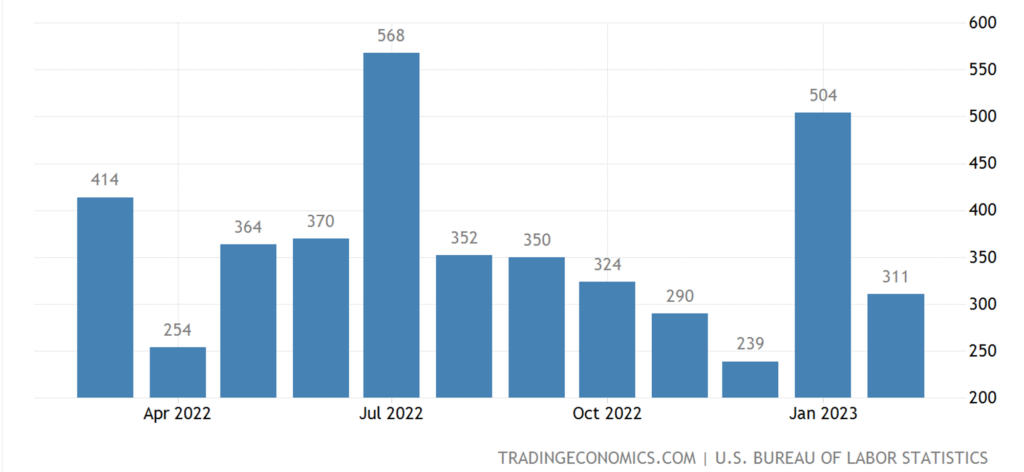 The yield curve is still significantly inverted. Historically, an inverted yield curve has been an indication that investors are concerned that further tightening by the Fed could result in a credit crunch and ultimately lead to a recession. A negative 10-2 spread has predicted every recession from 1955 to 2018, but has occurred 6-24 months before the recession occurred, and is thus seen as a far-leading indicator. The 10-2 Year Treasury Yield Spread is at -0.97%, compared to -1.07% the previous market day and 0.26% last year. This is lower than the long term average of 0.90%.

The equities market experienced a decline today, largely due to bank stocks taking a hit. This was driven by the perception that the economy is too strong and expectations of a rise in February's payroll employment. Additionally, concerns about the upcoming CPI report for February, which may show higher than anticipated inflation, are causing worries that the Fed may need to raise the federal funds rate for a longer period.

The unease began yesterday when Silvergate Capital, a key lender to the crypto industry, announced that it would be closing its banking operations, causing its stock to plummet. The bankruptcy of FTX was also a contributing factor in the gradual demise of Silvergate.
On another note, Silicon Valley Bank's stock price fell drastically by 60%, as investors rushed to sell shares in response to the bank's announcement that it would be taking immediate and extraordinary measures to stabilize its finances. This bank is a significant provider of credit to tech start-ups and their employees.

On Thursday, the New York Attorney General Letitia James filed a lawsuit against KuCoin accusing the company of violating the law by selling unregistered securities, including ETH. Despite being treated as a commodity by state and federal regulators, including the Commodity Futures Trading Commission (CFTC), labeling ETH as a security would have significant implications for the crypto market, potentially leading to major changes in how the currency and other similar assets are traded in the United States.
Bitcoin Price Analysis
With worrying factors mentioned above, including a selloff in equities, concerns about higher interest rates, and an increasing regulatory crackdown on cryptocurrencies in the US, BTC is experiencing its most challenging week since November. On Friday, the leading digital currency dropped by as much as 3.2%, breaking below the 20K mark for the first time since January. This comes after a decline of over 8% on Thursday.
3 weekly candles ago, BTC was rejected at 200 weeks MA, we have seen then its price plummeting, even breaking 250 weeks MA.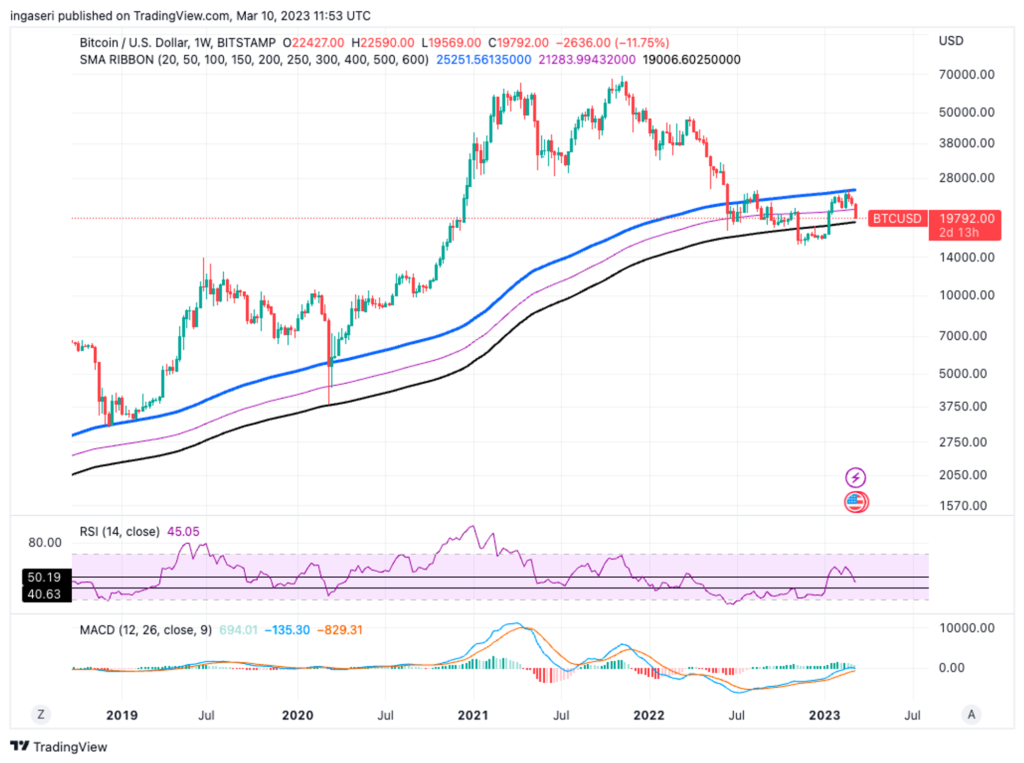 The total crypto market has also plummeted below 1 Trillion mark this week, breaking down the 200 weeks MA as shown below.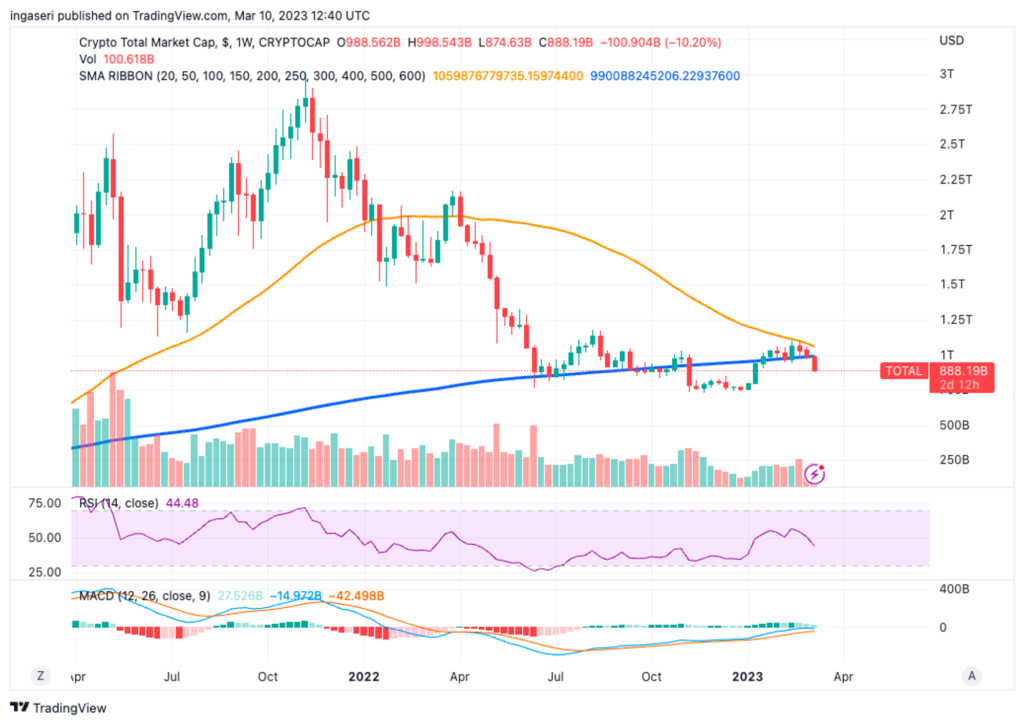 On-Chain Analysis
📊 Exchange: As the exchange reserve continues to fall, it indicates lower selling pressure. Net deposits on exchanges are high compared to the 7-day average. Higher deposits can be interpreted as higher selling pressure.
💻 Miner: Miners' are selling holdings in a moderate range compared to its one-year average. Miner's revenue is in a moderate range, compared to its one-year average.
🔗 On-Chain: More investors are selling at a loss. In the middle of a bear market, it can indicate a market bottom. Long term holders' movement in the last 7days was lower than the average. They have a motive to hold their coins. Investors are in a fear phase where they are currently with unrealized profits that are slightly more than losses.
🏦Derivatives: Short position traders are dominant and are willing to pay long traders. Buying sentiment is dominant in the derivatives market. More buy orders are filled by takers. As open interest decreases, it indicates investors are closing futures positions and possibility of trend reversals. In turn, this might trigger the possibility of long/short-squeeze caused by sudden price movement or vice versa.
🔀 Technicals: RSI indicates an oversold condition where 81.00% of price movement in the last 2 weeks have been down and a trend reversal can occur. It indicates a neutral condition where the current price is in a moderate location between the highest-lowest range of the last 2 weeks.
Altcoin News
🚨USDC depegs as Circle confirms $3.3B stuck with Silicon Valley Bank: As quoted from Cointelepgraph, USD Coin (USDC) issuer Circle confirmed that $3.3 billion of its $40 billion USDC reserves are still held at Silicon Valley Bank. This news caused a sell-off, resulting in the stablecoin's value dropping below $1. As a result, other stablecoins such as DAI, USDD, and FRAX were also affected and experienced a depegging from the U.S. dollar.
✅ Lido proposal for V2 upgrade passes. TThe Lido proposal for the upgrade of the V2 version was approved on March 8. This V2 upgrade will feature the addition of support for Ethereum withdrawals, as well as the implementation of a modular architecture in the form of a Staking Router. The proposal states that, provided it is approved, Lido intends to conduct testing on the Goerli test network between March 7th and 31st. The deployment of the V2 version on the mainnet will be contingent on the timing of the Ethereum Shapella upgrade and the completion of the audit.
More News from Crypto World in the Last Week
‼️ Silicon Valley Bank shut down by California regulator, holding over $5 billion for prominent crypto VCs:Silicon Valley Bank (SVB) was shut down by California's financial watchdog on March 10 after announcing a significant sale of assets and stocks aimed at raising additional capital. The California watchdog appointed the Federal Deposit Insurance Corporation (FDIC) as the receiver to protect insured deposits. Silicon Valley Bank is one of the top 20 largest banks in the United States, providing banking services to crypto-friendly venture companies, such as Sequoia Capital and Andreessen Horowitz.
Cryptocurrencies Market Price Over the Past Week
Cryptocurrencies with The Best Performance
Kava (KAVA) +24.09%
PAX Gold (PAXG) +11.25%
Aptos (APT) +3.71%
Ethereum (ETH) +1.52%
Cryptocurrencies with The Worst Performance
Synthetix (SNX) -23.10%
SingularityNET (AGIX) -23.10%
Dash (DASH) -21.95%
Maker (MKR) -21.41%
Reference