Reading Time:
6
minutes
Cryptocurrency trading is widely popular among traders because it can offer significant profits due to the fluctuating prices. However, it's important to understand that the high volatility also means there are risks involved. For those interested in crypto trading, this article will help you learn how to trade crypto and various important things you need to know.
Article Summary
🪙 Crypto trading is buying and selling or exchanging crypto assets with other crypto assets or fiat currencies to make a profit.
🔧 The way to trade crypto through exchanges is by creating an account, doing KYC, and topping up your wallet. Finally, select and trade your crypto assets.
🏆 Crypto trading offers the potential for greater profits than trading other assets. However, these large profits are also followed by the risk of loss.
⏱️ Crypto trading can be done anytime as the crypto market operates 24×7 non-stop.
What is Crypto Trading?
To better understand crypto trading, it's important to familiarize yourself with the concept of cryptocurrency. Cryptocurrency refers to digital currency that operates on a decentralized system and is protected through cryptographic methods.
The word crypto comes from the word cryptography, a technique of hiding information with mathematical algorithms. In crypto asset transactions, cryptography guarantees the security of the transaction as well as the identity of the sender and receiver of the asset. Crypto assets are created based on blockchain technology, a distributed ledger to record transactions.
Bitcoin is the most popular crypto asset and the choice of crypto investors. Referring to the CoinMarketCap website, there were more than 26,000 crypto assets with a market capitalization of US$ 1.18 trillion when this article was written.
You can learn more about what crypto is in this article and what blockchain is in this article.
So what is crypto trading? Crypto trading is buying and selling or exchanging crypto assets with other crypto assets or fiat currencies to make a profit. Crypto trading can be done anytime, as the crypto market operates 24/7.
To trade crypto, you must first have a wallet to store your crypto assets. Wallet creation can be done through crypto exchanges such as Pintu.
Many people think that crypto trading is the same as forex trading, but both are different. Find out the differences in the following article.
How to Trade Crypto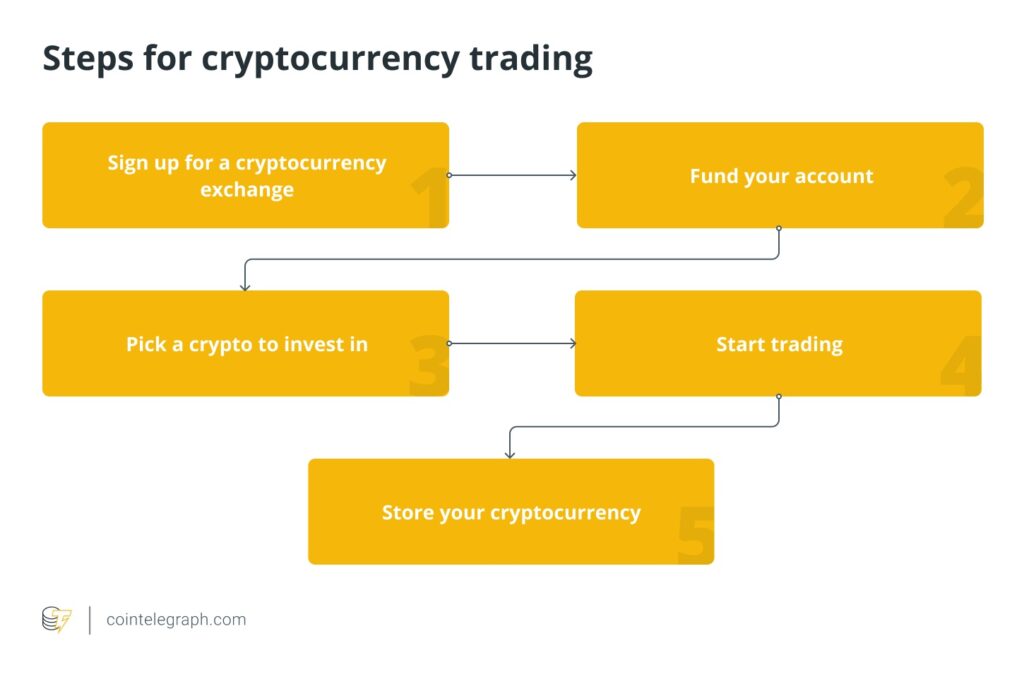 Creating an account on Pintu. Before creating an account for trading, make sure you have downloaded the Pintu app on Playstore and Appstore. After that, don't forget to register for a new account.
Complete KYC verification. You must verify your account and identity (KYC) on Pintu during the creation process. This is required so that you can use the features on Pintu. You can view the detailed KYC method and information here.
Making a deposit. To trade crypto on Pintu, you must first top up the balance of the crypto wallet you have created. Here is a detailed guide to depositing in Pintu.
Start your trading journey. Once your balance is filled, you can start crypto trading on Pintu. Pintu currently provides more than 120 crypto assets you can trade.
Benefits and Risks of Crypto Trading
One of the primary benefits of crypto trading is its potential for significant profitability. This is due to the substantial price volatility exhibited by crypto assets. Within a short span of time, crypto trading can yield profits ranging from tens to even hundreds of percentages, which is typically more challenging to achieve when trading other types of assets.
In addition, crypto trading can also be done anytime and anywhere, as the crypto market operates every day for 24 hours non-stop. Unlike stock or forex trading, which has certain operating hours and days off.
However, the high potential for profit obtained is directly proportional to the risks involved in crypto trading. Given the high volatility of crypto asset prices, the price drop can reach tens or even hundreds of percent. As a result, crypto trading also can potentially cause significant losses to traders. Therefore, a crypto trading strategy is needed to optimize profits while minimizing risk.
Crypto Trading Strategy
In crypto trading, the strategy used generally depends on the investment timeframe. If it is for the short term, then the technical analysis approach and momentum will be the primary basis for determining the strategy. However, if it is for the long term, fundamental factors will be the primary consideration for strategy development.
Crypto trading strategies based on timeframe can use scalping, day trading, position trading, and swing trading methods. Pintu Academy has prepared a particular article that discusses each of these trading methods in the following article.
Next, crypto trading strategies can also use the dollar cost averaging method, buy the dip, asset diversification, staking, and the selection of blue chip crypto assets. If you want to know more about these strategies, learn here.
The selection of crypto assets is another important factor in crypto trading strategy. In addition to blue chip crypto, altcoins are an attractive choice because they have a higher chance of price increases. This article can help you determine whether trading new or old altcoins is better.
Crypto Trading Tips
Here are some crypto trading tips to help you make better investment decisions.
🔭 Pay attention to technical signals and indicators. For those of you looking to do short-term crypto trading, it's essential to do that. Technical signals and indicators can help you find the momentum to buy and sell assets optimally.
⛓️ Perform on-chain analysis. For those who want to do long-term crypto trading, on-chain analysis can help see the fundamental conditions of a crypto asset. Various vital data, such as supply & demand, network activity, market psychology, etc., can be found using on-chain analysis.
🐋 Using whale trackers. Monitoring the movements and transactions of crypto whales will make it easier to see the market's direction. By knowing the whale's activities through the whale tracker from the beginning, you will not miss the trend in the market.
🔍 Use a crypto analysis web. The benefit of crypto assets lies in their high level of transparency in terms of data. However, it can be challenging to navigate through the scattered and random nature of this data. These six websites can help you process all that data.
📖 Set up a crypto trading journal. It is a book that contains records of transactions and results from crypto trading. In addition to record keeping, the journal can help you reflect on your trading performance. It also will help you learn from mistakes that may have occurred in previous trades.
Learn about Crypto Trading
Before trading crypto, learning about crypto, the latest trends, and related technology is equally important. As stated by famous investor Peter Lynch "Invest in what you know," so before trading crypto, you must know about crypto itself.
Pintu Academy has presented various articles on crypto technology, crypto trading strategies, crypto market analysis, and other essential and educational information. For those who want to learn crypto trading and stay up-to-date with the latest information, Pintu Academy is the best place to do so.
Conclusion
Now that you know crypto trading, how to do it, and the benefits and risks, are you interested in trying crypto trading? Pintu can be the best crypto trading app for a safe and enjoyable trading experience.
Crypto trading can be one of the methods to earn lucrative profits. However, without an adequate strategy and understanding of crypto, the risk of loss looms large. Therefore, always sharpen and deepen your crypto knowledge through various articles on Pintu Academy.
Buy Crypto Aset Crypto in Pintu
Looking to invest in crypto assets? No worries, you can safely and conveniently purchase a wide range of cryptocurrencies such as BTC, ETH, SOL, and others safely and easily at Pintu. Pintu diligently evaluates all its crypto assets, highlighting the significance of being cautious.
Pintu is also compatible with popular wallets such as Metamask to facilitate your transactions. Download Pintu app on Play Store and App Store! Your security is guaranteed because Pintu is regulated and supervised by Bappebti and Kominfo.
Aside from buying and trading crypto assets, you can expand your knowledge about cryptocurrencies through various Pintu Academy articles. Updated weekly, all Pintu Academy articles are made for knowledge and educational purposes, not as financial advice.
Reference
Coin Telegraph, How to trade cryptocurrencies: A beginner's guide to buy and sell digital currencies, accessed on 30 June 2023.
Mark Hooson, How To Trade Cryptocurrency, Forbes, accessed on 30 June 2023.
Alie Grace, How to Invest in Cryptocurrency, Investopedia, accessed on 30 June 2023.
Baby Pips, What is a Crypto Trading Journal and Why You Need It, accessed on 30 June 2023.