Reading Time:
9
minutes
In the 2021 bull market, a new asset class is starting to gain considerable attention from the crypto community. This asset is an art collection in the form of unique images that utilize a crypto technology called NFT. Non-Fungible Token or NFT is a digital asset based on crypto technology. NFT collections can cost hundreds of thousands of US dollars. So, this article will explain what is NFT, why it is popular, and how you can buy one.
Ringkasan Artikel
🖼️ Non-Fungible Token or NFT is a digital asset that represents a valuable item with a value that cannot be replaced or exchanged.
💰 NFT collections can reach millions of US dollars due to their high demand.
⚖️ You can sell, buy and create your own NFT works on various NFT trading platforms such as OpenSea.
Before understanding what is NFT, you need to know about the two keywords within it, non-fungible and token.
Fungible is the ability of an asset to be exchanged or replaced with a similar asset of the same value. For example, you can exchange between 2 $10 dollar paper money because the value is the same. Non-fungible means the value of the goods is different and thus can't be traded. Tokens are digital assets that represent goods, services, or other forms of value.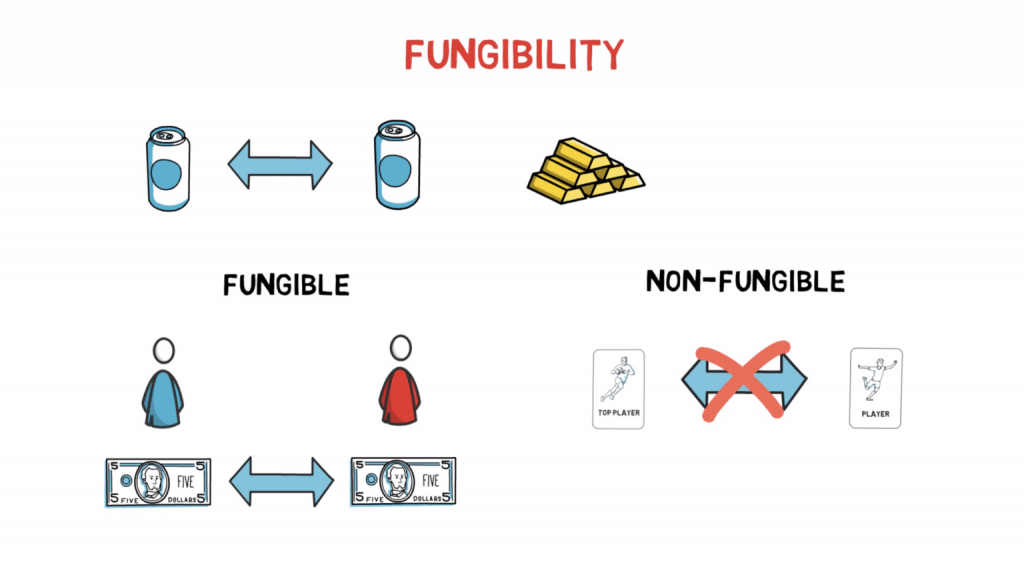 So, a Non-Fungible Token or NFT is a digital asset representing a valuable item that cannot be replaced or exchanged. NFT take many forms depending on the purpose of the creator. Each NFT has its transaction recorded in a blockchain. This metadata contains information about the creator, price, and ownership history.
How is NFT different from cryptocurrencies?
In essence, NFT is an asset that evolved from cryptocurrency. However, it has a different purpose, form, and use from traditional cryptocurrencies such as Bitcoin. Every NFT is created only once and cannot be exchanged or traded with other NFTs because their values are not comparable. Additionally, you cannot divide NFTs into smaller denominations such as Bitcoin's satoshi. They exist exclusively as a whole.
The unique characteristic of NFTs is that it works like a fingerprint, making it easy for the system to verify ownership. The owner or creator may also store certain information in it. For example, creators can embed a signature on their artwork by inserting it into the NFT metadata.
In addition, the ownership of NFT is absolute, meaning that it can only be owned by one person at one time. However, this does not mean the rights of the creator are void as the data still shows the original creator.
Why NFTs become so popular
NFT actually became popular in 2017, when CryptoKitties launched. CryptoKitties is a blockchain-based game that utilizes the Ethereum network. It is a game where players adopt, breed, and trade virtual cats. Since then, NFTs popularity has stabilized until The market suddenly exploded again in late January 2021.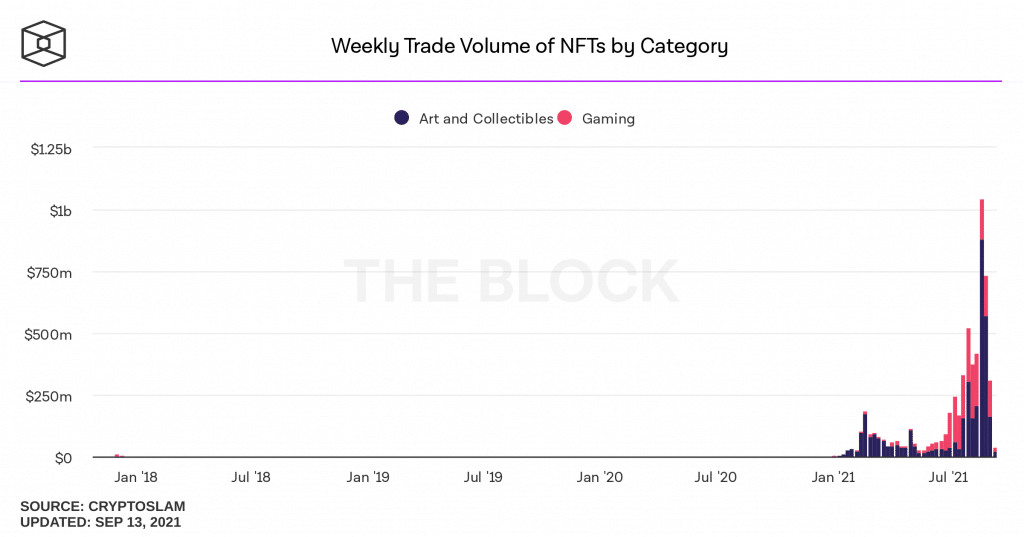 The graph above shows the drastic increase in NFTs trade volume since early 2021. This is because Dapper Labs, creator of CryptoKitties launched NBA Top Shot. This product exploded in popularity and it showcases the power of NFTs as a medium for the digital collection.
For enthusiasts and users, NFT represents a new era of the digital collection. So, it is a new way to support artists, athletes, and musicians without any third-party intermediaries. For creators, artists, and musicians, NFT is a new way to share and monetize their work. There were a lot of issues and concerns surrounding the sale of digital products as it was very easy to copy and claimed by others. In addition, NFTs also allow many digital artists to profit directly because there are no cuts from record companies, distributors, publishers, or other third parties.
Currently, the popularity of NFTs is still limited to the arts, hobbies, and entertainment industries. However, many observers of the crypto world have seen the great potential of implementing NFTs in many sectors and industries.
What can you do with NFTs?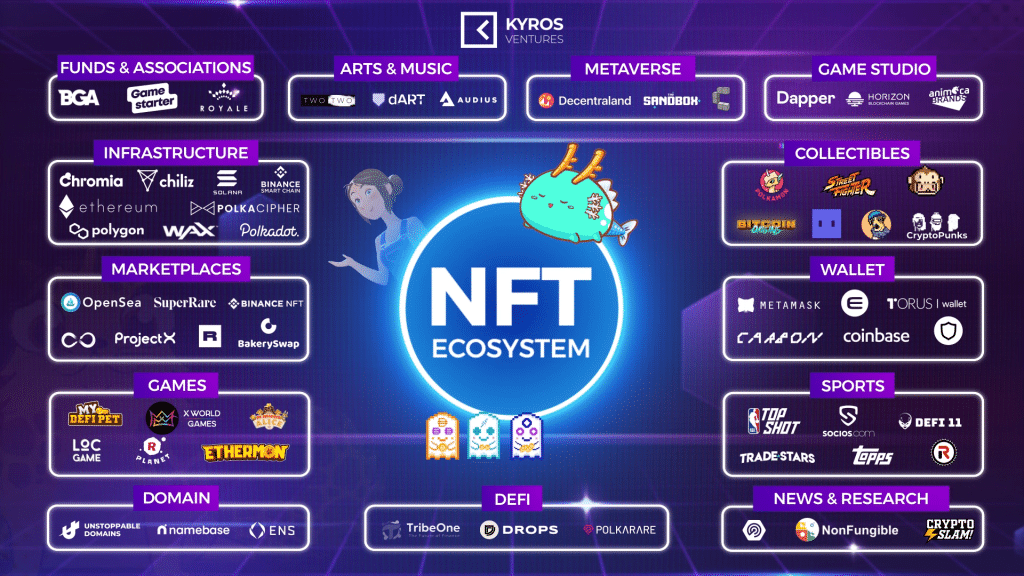 1. Artwork Industry
The characteristics and uniqueness of NFTs can potentially reshape the digital art landscape. Blockchain technology provides a guarantee for artists in the form of verifiable ownership of their work. So, this is an innovation for digital artists who have always struggled against plagiarism and creative theft.
Additionally, the smart contract system also allows artists to write down the percentage of royalties they will get each time their work changes hands. The price of NFTs can also reach very high numbers. The most expensive NFT, made by Beeple entitled Everydays—The First 5000 Days, sold for $69 million dollars in March 2021. This shows appreciation for NFT assets is as high as physical art.
2. NFT in a business context
Property, asset, and license certificates
NFTs can link physical assets such as proof of ownership of a house or other property to a blockchain network. In the case of small items of value, such as jewelry, an NFT can be an easy-to-verify legal proof of ownership. You don't have to worry about valuable certificates being lost or stolen because the ownership data is in the blockchain.
Unfortunately, the implementation and development of NFTs are still limited to a relatively small market. However, as popularity and trust grew, its application in business will become more widely accepted.
Ticket and membership industry
The ticket industry has several problems. First, there are often a group of middlemen or independent brokers trying to buy as many tickets as possible and resell them at a higher price. Second, fraud issues also often occur, especially in less secured ticketing systems. NFT offers an alternative to overcome the two problems above with a verification and identification system that cannot be changed.
In the context of online membership, NFT can also be used as a digital identity that represents a person's membership. This is especially advantageous for its members because they don't have to worry about their data being lost, changed, or stolen by others. Companies can even create non-redeemable lifetime memberships using NFT.
One company that uses NFT as a membership card is Kraken Kratom, which has printed five NFT images to give its users lifetime discounts or special discount coupons.
Sports and fashion industry
NBA Top Shot is the first NFT to enter the sports industry through collectible cards, where fans can collect footage of key moments from their favorite matches. Belgian soccer league Jupiler Pro League has partnered with gaming company Ubisoft and startup Sorare to launch a fantasy soccer game using NFT as a digital collection.
In addition, in the fashion industry, Nike patented the CryptoKicks authentication system in 2019. Every purchase of a custom shoe will generate an accompanying NFT with unique information about the item including material, place of manufacture, and more. The owner of CryptoKicks can then combine his digital shoe design with other digital shoes to 'breed' a pair of shoes that can be purchased in physical form.
So, these two cases prove that NFTs can increase consumer engagement and open up new digital markets for the sport and fashion industries.
3. Hobby and entertainment
NFT opened the market for digital collectibles which turned out to have great potential. Currently, collectible goods dominate the NFT market. Snippets from the NBA Top Shot, virtual cats from CryptoKitties, and unique avatars from CryptoPunks are some of the most popular NFTs. Besides, items from all three platforms can cost up to millions of dollars.
The NFT-based and blockchain gaming market is one of the emerging market sectors in the crypto world. The two very popular NFT games right now are CryptoKitties and Axie Infinity. Cryptokitties require you to collect, raise, and breed unique digital cats. In Axie Infinity, players collect Fish for NFT-based digital pets called Axies with the main objective of fighting other players. So, most NFT games use a play-to-earn system where you can earn tokens by playing the game.
Axie Infinity and CryptoKitties both use the Ethereum blockchain in their network. In the context of Axie Infinity, both tokens (SLP and AXS) have an ERC-20 standard that you can exchange with other cryptocurrencies. This reason makes many people play NFT games to earn tokens. In fact, some people think that NFT games are an investment and can even be a primary source of income, as this documentary shows.
List of NFT Coins By Market Capitalization
1. ApeCoin (APE)
Apecoin is an ERC20 standard token in the Ape ecosystem that functions as a governance and utility token. It is an official crypto asset related to several NFT projects from Yuga Labs namely Bored Ape Yacht Club (BAYC), Mad Ape Yacht Club (MAYC), and Otherside. These three NFT projects are some of the most popular projects in the NFT industry.
Coinmarketcap places Flow as the first in the NFT transaction category. Additionally, you can find out what ApeCoin is all about and what are the plans by reading the article "What is ApeCoin?"
2. Flow (FLOW)
Flow is a layer-1 blockchain developed by Dapper Labs, the company behind CryptoKitties. The Flow platform was created specifically for NFT transactions and has already attracted several major projects such as NBA Top Shot, NFL All day and UFC Strike.
Apart from that, Flow has also collaborated Meta to add NFT feature to Instagram. Ticketmaster is also working with Flow to try to develop concert tickets in the form of NFTs. Coinmarketcap places Flow at the second in the NFT transaction category.
You can find out about what is the FLOW token and why Flow is as popular as it is by reading the "What is Flow?" article.
3. Tezos (XTZ)
Tezos is a layer 1 blockchain with a proof-of-stake (PoS) system. The Tezos blockchain also has a smart contract similar to Ethereum. Most of the NFT collections on Tezos tend to be more artistic and come from professional digital artists. Many artists from Indonesia have chosen Tezos' NFT platform, objkt, to launch their collections.
The Tezos NFT ecosystem is quite large because thanks to the PoS system, the transaction fees for selling and buying NFTs are much cheaper than Ethereum. Coinmarketcap places Tezos as the fifth largest in the NFT transaction category.
4. Axie Infinity (AXS)
Axie Infinity is a blockchain-based game that combines elements of NFT, gaming, and DeFI. The game is inspired by Pokémon and Tamagotchi in which players must collect, breed, raise, battle, and trade token-based creatures known as Axies. Furthermore, each Axie is an NFT that has its own unique attributes.
Coinmarketcap also ranks Axie Infinity at eight in the NFT transaction category.
5. My Neighbor Alice (ALICE)
My Neighbor Alice is a multiplayer builder game, where anyone can buy and own a virtual island, craft items, and meet other players. It is inspired by games like Animal Crossing and combines virtual life elements with trading and collecting NFTs. In addition, ALICE tokens are used for various in-game activities including buying goods and assets on the Alice marketplace.
You can find out more about My Neighbor Alice and its ALICE token by reading the "What is My Neighbor Alice?" article.
How to buy and sell NFT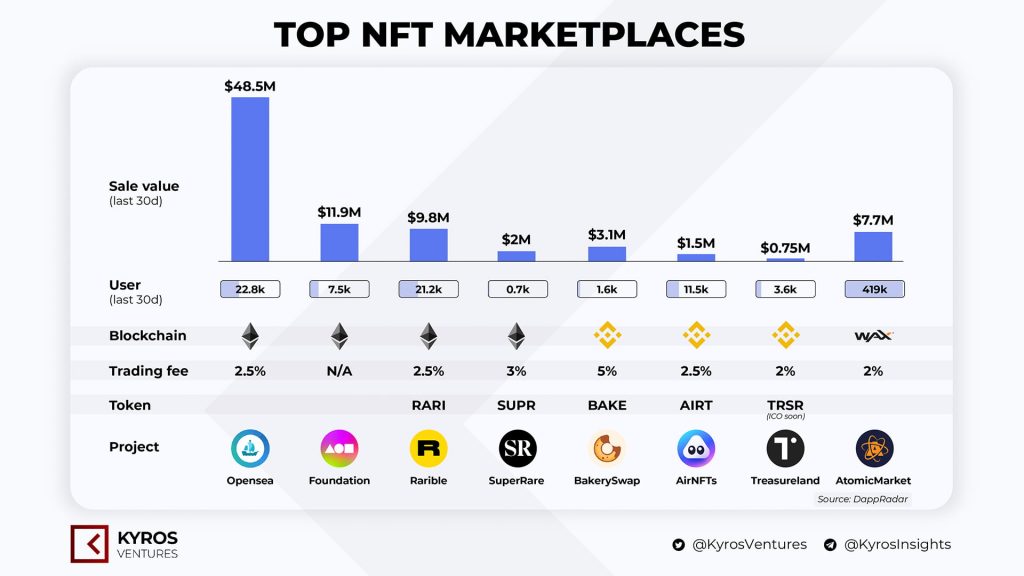 Today you can buy and sell NFT in many marketplaces available across the digital landscape. As can be seen in the image above, these digital marketplaces offer NFT in various forms. The cryptocurrencies used to buy NFT usually depend on the platform we choose. For example, CryptoPunks, OpenSea and Rarible only accept payments using US dollar and ETH. In contrast, sites like NBA Top Shot give users the freedom to pay using fiat money or cryptocurrencies. Therefore, the first step to buying and selling NFTs is to have cryptocurrencies that match the marketplace you are aiming for.
Most popular NFT marketplaces
OpenSea: OpenSea is the largest NFT marketplace platform in crypto. It is based on Ethereum and has millions of NFT collections.
LooksRare: LooksRare is an Ethereum-based NFT trading platform that just launched in late 2021. What makes it unique is the LOOKS token that can give you rewards.
SuperRare: SuperRare is a NFT platform that sells artistic NFT collections. If you want to collect digital artwork created by professional artists, SuperRare is the platform you need to visit.
Immutable X: Immutable X is an NFT marketplace platform that leverages Ethereum's layer-2 technology. NFT transaction fees on Immutable X are fairly cheap and this is one of the reasons why many people use them.
Buying Cryptocurrencies at Pintu
Before buying NFTs, you need to buy crypto assets in the Pintu app. Here's how to buy crypto on the Pintu application:
Create a Pintu account and follow the process of verifying your identity to start trading.
On the homepage, click the deposit button and top up the Pintu balance using your preferred payment method.
Go to the market page and look for your favorite crypto assets.
Click buy and fill in the amount you want.
Now you have crypto as an asset!
Send your crypto assets using the send feature on the wallet page.
After you have some crypto, you need to send them to digital wallets such as Metamask. You can now buy or sell NFTs on popular platform such as OpenSea. Go and download the Pintu cryptocurrency app on Play Store and App Store! Pintu is regulated and supervised by CoFTRA and Kominfo.
You can also learn more crypto through the various Door Academy articles which are updated every week! All Pintu Academy articles are for educational purposes, not financial advice.
References