Reading Time:
7
minutes
The world of Non-Fungible Tokens (NFTs) continues to captivate both cryptocurrency investors and general investors. NFTs are no longer solely seen as valuable collections; they also offer many people an enticing prospect for profitable trading. Platforms like Opensea Pro and Blur have contributed to the vibrant NFT trading landscape. Are you interested in NFT trading? Find out more through the following article.
Article Summary
🖼️ NFT trading refers to the buying and selling of digital assets through NFT marketplace platforms such as Opensea, Blur, Immutable X, X2Y2, etc.
👁️ In conducting NFT trading, traders must choose a suitable marketplace and digital wallet. Then, doing research and preparing a strategy is the next important step. Only then can traders buy and sell NFTs.
🔍 In choosing NFTs, traders can consider somebody and the community behind an NFT project. Another thing to consider is the value of the NFT project itself, transaction history, and market trends. Don't forget to assess the risks.
What is NFT Trading?
It would be incomplete to start this article without discussing the Non-Fungible Token (NFT) basics. Basically, NFTs are digital assets that represent valuable goods with a value that cannot be replaced or exchanged. Each NFT has transaction data such as its creator, price, and ownership history recorded on the blockchain. NFTs are not limited to digital artworks but can include sports memorabilia, video game avatars, music, and more.
So what is NFT trading? NFT trading is the buying and selling NFTs on marketplaces such as Opensea, Blur, Immutable X, X2Y2, and so on. The process can be as simple as buying and selling in general. Sometimes through an auction mechanism, the seller sets a lower price limit, and prospective buyers bid against each other.
The main goal in NFT trading is, of course, to make a profit, but keep in mind that NFT trading does not always lead to profit. There are times when the buyer loses money because the price of the NFT that has just been purchased drops. Similar to crypto assets in general, NFT prices are also very volatile. Inevitably, NFT trading has a high risk so it requires the right strategy and risk mitigation.
You can learn more about what NFT is in the following article.
The NFT Trading Steps
If you're interested in trying out NFT trading, here are the steps you should take
Choose an NFT marketplace. Look for an NFT marketplace that suits your needs. Some platforms are tailor-made for professional NFT traders with various trading features. Some platforms offer convenience or low fees, making them more suitable for beginners.
Prepare your digital wallet. Make sure the digital wallet you choose is compatible with your NFT marketplace network. Apart from buying and selling, your digital wallet will also be used to store your purchased NFTs.
Do your research. Before trading NFTs, make sure you have done your research. Starting from researching the general conditions and trends of the NFT market. Remember to do an in-depth analysis of the potential collectibles you're eyeing.
Create a trading strategy. After getting the research results, prepare a trading strategy including how much capital and loss limit according to risk tolerance. Don't forget to prepare price parameters such as the floor price and target price that you are eyeing. Then, determine the criteria for NFT collections that have the potential to increase in price, whether in terms of rarity, popularity, etc.
Buy NFTs. After completing all the processes, you can immediately buy the NFTs you are eyeing. Don't forget to connect your digital wallet with the marketplace of your choice. You can make a purchase at the current price, or set a bid price that is likely to be won during the auction.
Sell NFTs. You can also determine the sales price based on the price you set or through an auction mechanism. The most important factor in selling NFTs is momentum. When market sentiment and demand are on your side, capitalize on that momentum to get the maximum price.
How to Choose NFTs for Trading
Choosing an NFT project is not easy. Especially with the massive growth speed of the NFT ecosystem and the huge number of NFT projects itself. Not to mention the volatility and uncertainty factors behind NFT projects. However, here are some tips that can help you:
Find out the person behind the NFT project and its community. The track record of the person behind an NFT project can indicate the quality of the NFT. Also, a strong community can help maintain the demand for the NFT project and its long-term potential.
Consider the value. The uniqueness, usefulness, and rarity of an NFT have significantly influenced its demand and price. Choose an NFT project with solid value in one of these factors or even all three.
Check the sales history. Find out what the sales history of an NFT looks like on various platforms. A valuable NFT will have a good selling point and consistent demand.
Recognize market trends. Market trends also affect the price and demand for NFTs. When the market loves a specific type of NFT project, the price will be prospective. However, if the trend has passed, the price will likely fall.
Additionally, be on the lookout for scams. The NFT world is very susceptible to being infiltrated by irresponsible parties. Also, invest with a value that you can afford to lose.
Apart from buying and selling NFTs, you can also do NFT minting. Check out the further explanation in the following article.
Platforms for NFT Trading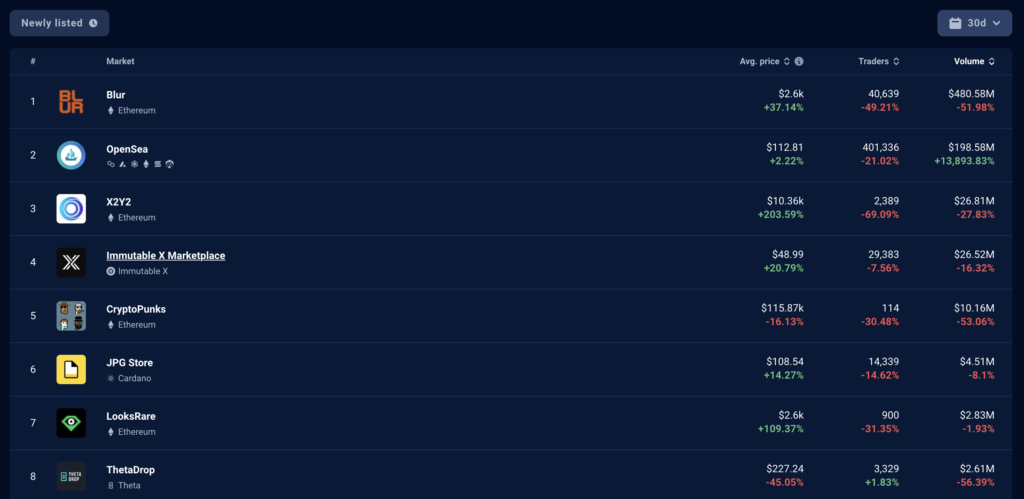 OpenSea. OpenSea is the largest NFT marketplace platform with millions of NFT collections. It is suitable for individual users who want to buy and sell NFTs for personal or investment purposes. There's also Opensea Pro, aimed at NFT traders with advanced features such as real-time data, customizable dashboards, trade automation, and access to a broader NFT market. However, it is quite expensive compared to other marketplaces.
Blur. As a newcomer, Blur targets professional NFT traders with excellent features and a user-friendly interface. In terms of fees, Blur charges a lower price than Opensea. Blur also has a native BLUR token that users can get when transacting on the Blur marketplace. However, given that it is still relatively new, the number of users and NFT collection in Blur is smaller than Opensea's.
Immutable X. Through Zero Knowledge (ZK) Rollups technology, Immutable X is a scalability solution for Ethereum. Thanks to ZK Rollups, NFT transaction fees on Immutable X are lower, even free, and faster. With the global order book scheme in its marketplace, every NFT sale will be connected to all marketplaces in the Immutable X ecosystem. However, compared to Opensea and Blur, the number of users, ecosystems, and NFT collections on Immutable X is still lower.
So which marketplace is best for trading NFTs? Of course, the answer will depend on the needs and preferences of each trader. For those looking for a platform with the most extensive collection and users, then Opensea can be an option. However, Blur and Opensea Pro can be a better choice for those who want to trade professionally. Meanwhile, Immutable X is the most suitable option for those looking for a low price.
Pros and Cons of NFT Trading
Similar to investing in crypto assets, measuring the average returns that can be obtained from trading NFTs is difficult. However, the returns can be lucrative as long as investors can acquire valuable collectibles and sell them at the right time. Based on Statista data, the average return earned by each user is around US$ 114.80 in 2023. In fact, in the bullish period of 2021, the average profit reached US$ 150.40.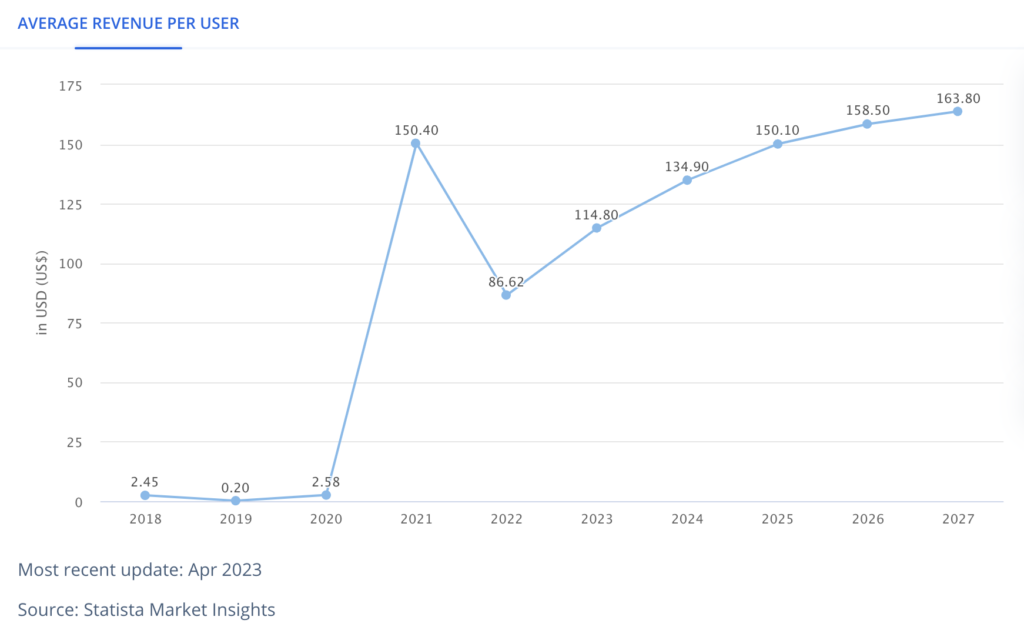 In fact, some NFT collections can generate fantastic profits. NFT CryptoPunk #7523 for example. Originally, the initial purchase price was US$600, but it sold for US$11.7 million in March 2021. This means that the profit earned by the seller is more than 200,000%.
However, not all NFT prices will skyrocket. Some expensive NFT collection prices have fallen in the past. Remember, NFTs are highly volatile, so the risk of losing money is just as great as the potential gain. For example, the NFT from oN1 Force that Logan Paul bought for US$623,000. A year later, the NFT was only valued at US$ 460.
In addition, the NFT world is also closely associated with wash trading. Wash trading is a transaction of NFT works carried out by the same party to increase the trading volume or value of a particular NFT collection. So some expensive NFT collections are actually just the result of manipulation.
Read more about how wash trading works here.
Conclusion
With an extensive collection of NFTs and a strong community, NFT trading offers lucrative return possibilities. Moreover, an NFT marketplace platform with various professional trading features makes it easier for NFT traders. However, high potential returns also come with high risks. Starting from high price volatility, uncertainty, and manipulation, such as wash trading. Therefore, in-depth research and a measured strategy are required to ensure that NFT trading ends up as sweet as expected.
Buy Crypto Assets in Pintu
Before purchasing NFTs, you must first own the crypto assets used in the NFT marketplace network. For marketplaces that use the Ethereum network, traders need ETH. You can buy ETH, and others safely and easily at Pintu. Pintu diligently evaluates all its crypto assets, highlighting the significance of being cautious.
Pintu is also compatible with popular wallets such as Metamask to facilitate your transactions. Download Pintu app on Play Store and App Store! Your security is guaranteed because Pintu is regulated and supervised by Bappebti and Kominfo.
Aside from buying and trading crypto assets, you can expand your knowledge about cryptocurrencies through various Pintu Academy articles. Updated weekly, all Pintu Academy articles are made for knowledge and educational purposes, not as financial advice.
Reference
Lucy Adegbe, How to Trade NFTs, Investopedia, accessed on 19 May 2023.
Dale Warburton, NFT Trading: A Complete Guide For Newbies, The Chainsaw, accessed on 19 May 2023.
Alex Lielacher, How To Start NFT Trading: A Step-by-Step Guide, BeinCrypto, accessed on 19 May 2023.
Messari Team, Overview & History of Immutable X, Messari, accessed on 22 May 2023.
Devin Finzer dan Lorens Huculak, Introducing OpenSea Pro (Your favorite Gem has been polished), Opensea Blog, accessed on 22 May 2023
Eric James Beyer, Blur's Token is Live: Here's Everything You Need to Know, NFT Now, accessed on 22 May 2023