Reading Time:
5
minutes
Due to the looming possibility of a global recession, the Federal Reserve (the Fed) has indicated that it will be less aggressive in raising interest rates next month. What effect will it have on the cryptocurrency market?
Pintu's trader team has collected various important data about market movements crypto over the past week which is summarized in this Market Analysis. However, please note that all information in this Market Analysis is for educational purposes, not financial advice.
Article Summary
🏦The Federal Reserve has indicated that it will ease off the interest rate hikes, which was followed by a rise in the stock and cryptocurrency markets.
⚠️ The last FOMC for this year is scheduled to take place on 13-14 December, with the decision about the rate hike to be announced on 14 December 2022.
📈 The Fed is expected to raise the interest rates by 50 bps, lower than the previous estimate of 75 bps.
💡Bitcoin (BTC) is up 3.2% week-on-week, while Ether (ETH) is testing the 250-week SMA line as its support.
Macroeconomic Analysis
Both the equities and crypto market bounced after Fed chair Jerome Powell signaled that the Federal Reserve will slow the pace of interest-rate hike. This will likely cement expectations for the Fed to raise the Fed Funds rate by 50 bps instead of the initial thought 75 bps. FYI, we have been seeing four consecutive 75 bps point moves previously. The current probability for 4.25-4.5 % stood at an overwhelming 78%.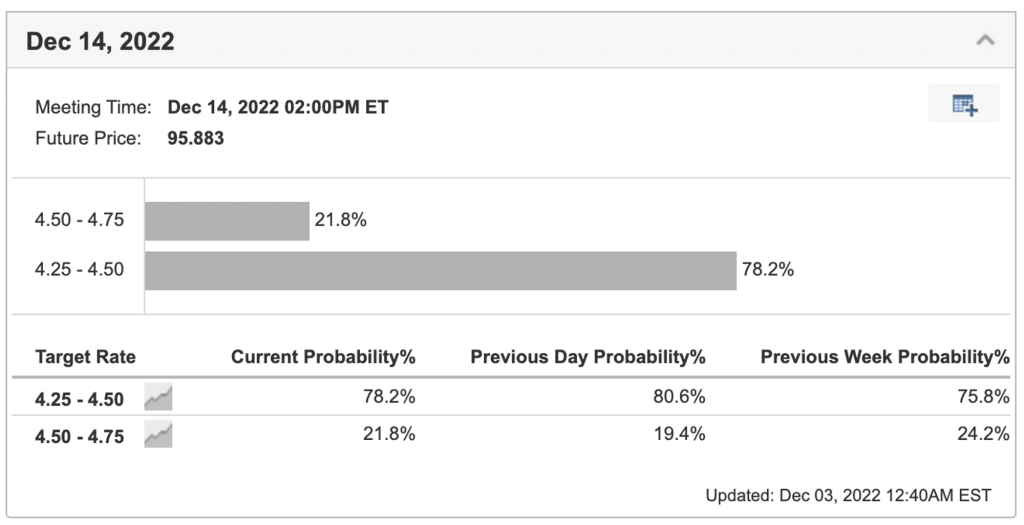 The news, in turn, made the 10-year Treasury fell to a 10-week low and the 2-year Treasury, which often indicates interest rate expectations, fell to early October lows. The yield curve remained inverted and is at -72.0 basis points. This further indicated a looming recession. The market is looking at several indicators that suggest the inflation rate is falling from a very high level and believe that the Fed is going to create a recession.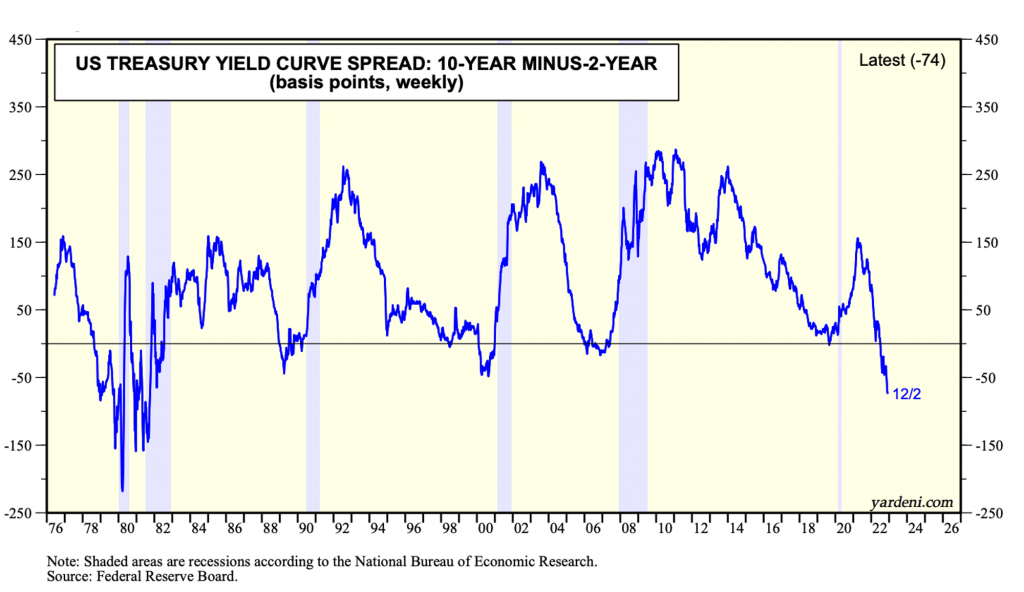 New signs of slowing inflation in a strong economy suggest the Fed's tightening of monetary policy will only induce a mild recession. Consumer spending rose at its fastest speed since January, and job growth is robust.
With Friday's close, all three major indexes notched back-to-back weekly gains for the first time since October. The Nasdaq rose by nearly 2.1%, while the S&P 500 and Dow gained 1.1% and 0.2%, respectively.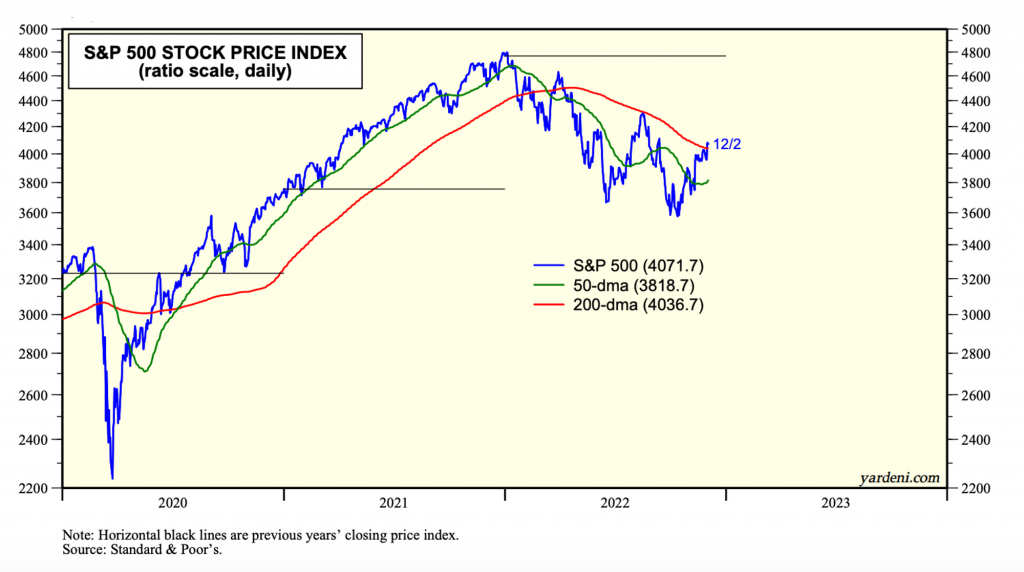 Foreign exchange markets saw the dollar lose value against major rivals. The DXY has broken down the 200 EMA, so expect more downward momentum should the Fed put out a more dovish stance toward inflation.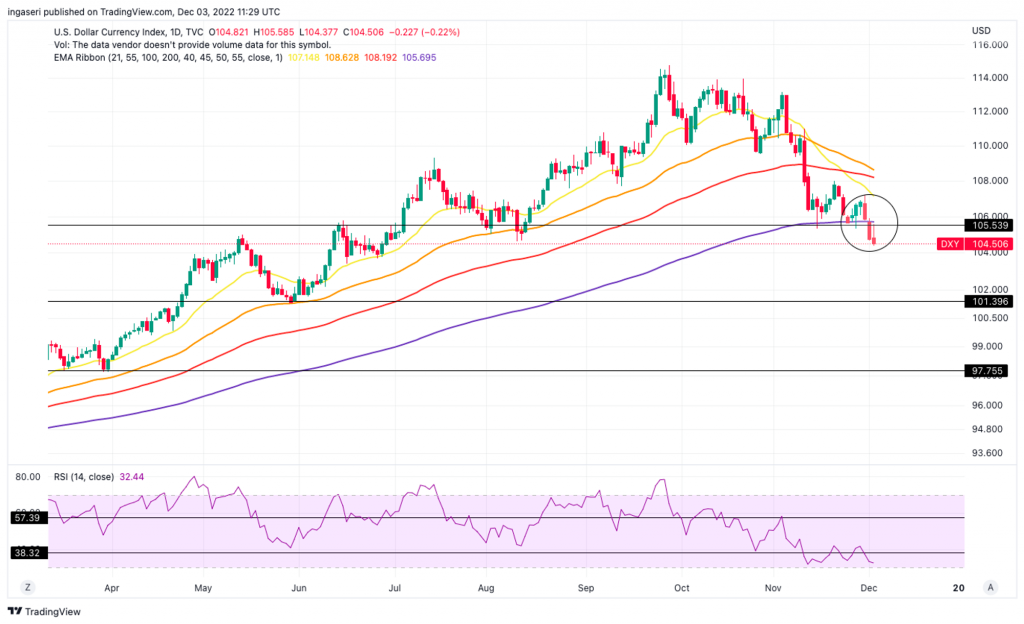 Market is waiting for November's CPI on 13 December. Here is the economic calendar for December: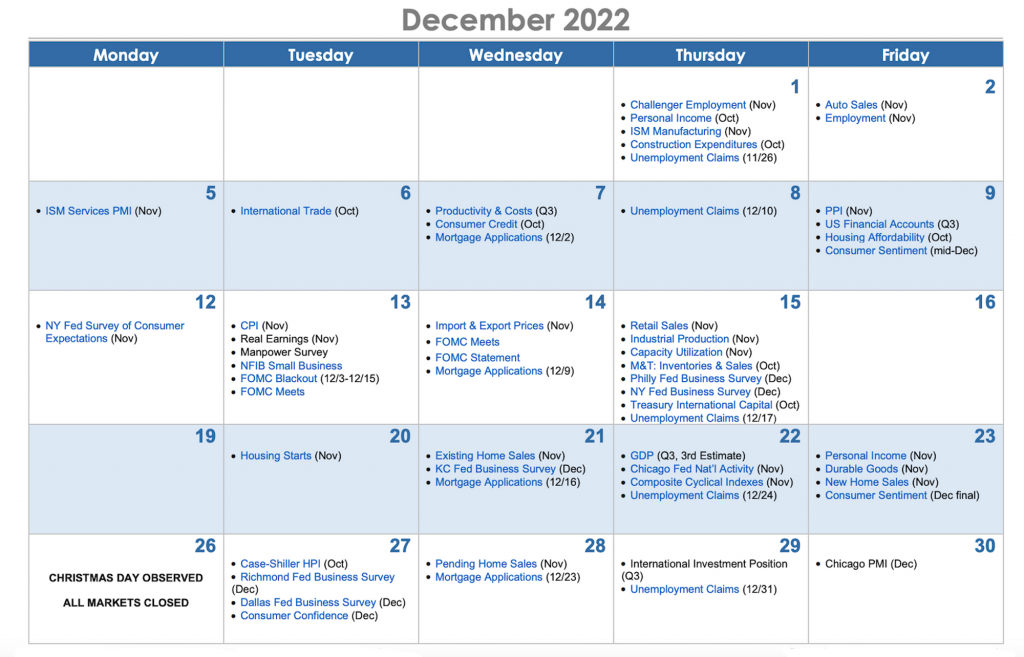 BTC Price Analysis
BTC rose 3.2% Week-on-week. While bitcoin experienced some volatility after the US job report, the asset remained calm overall, hovering around $17,000. Its market cap and dominance over the alts have remained the same, at $325 billion and 38.2% respectively. Notice that we still need to break through the 18k price resistance to stand a chance of breaking away from the $13.000-$17.000 price range.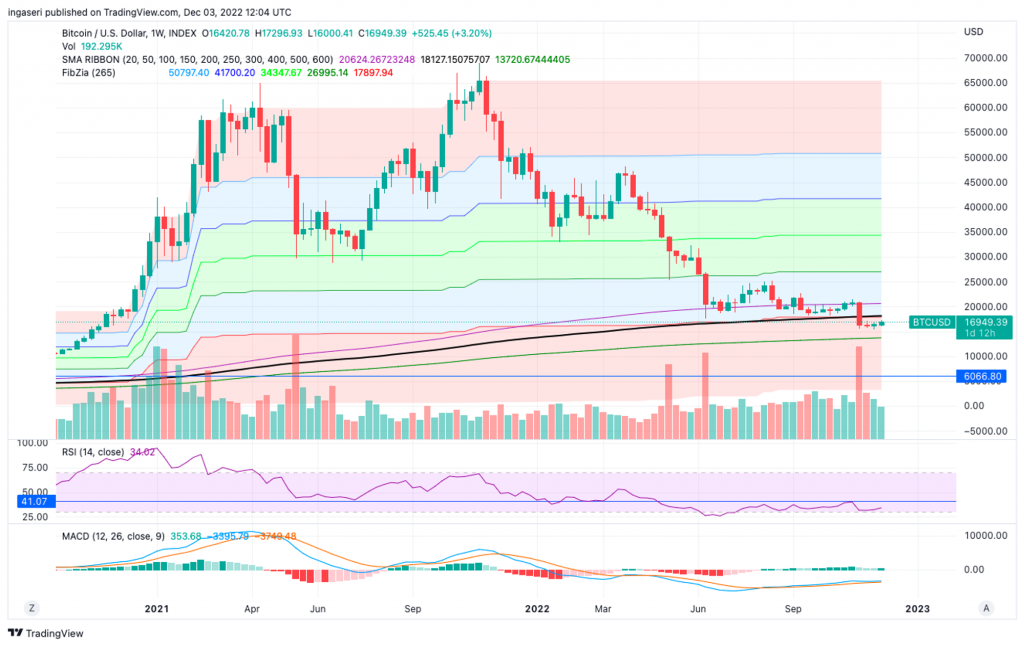 ETH Price Analysis
ETH has gained some ground as well. It has tested the 250 weeks SMA line to be its support. The next resistance will be at $1,280 and $1,430 respectively. ETH is forming a Bearish Pennant in its weekly chart.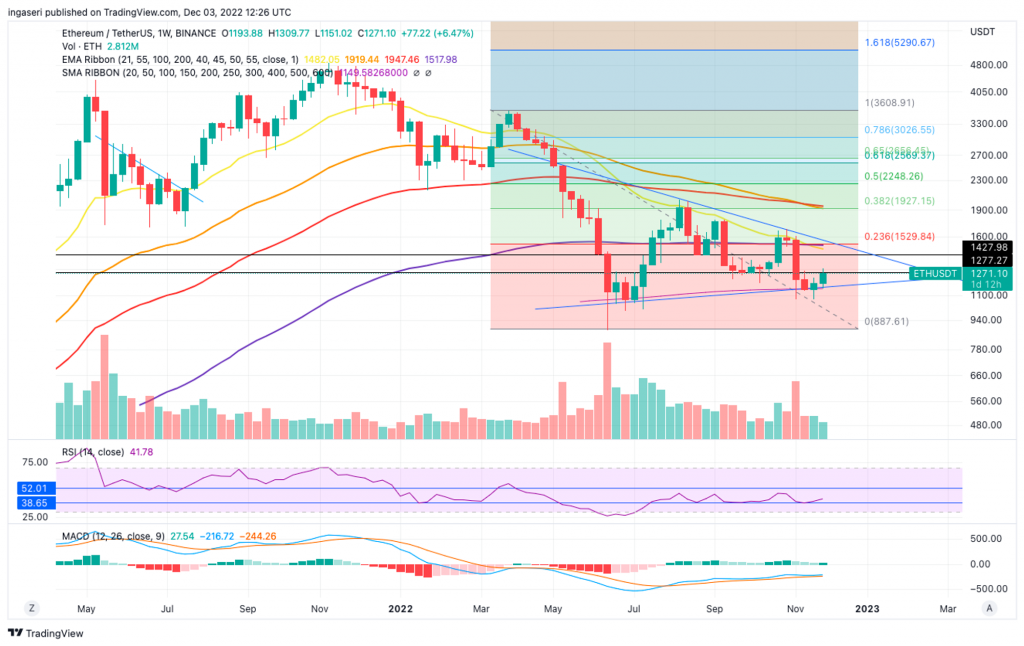 Stock-to-Flow
Looking at the Stock-To-Flow chart below, notice that we have deflected the most during all bear markets historically. Stock to Flow deflection has reached a historically high value of 0.15. It is highly undervalued, given the fear of the market participants at the moment.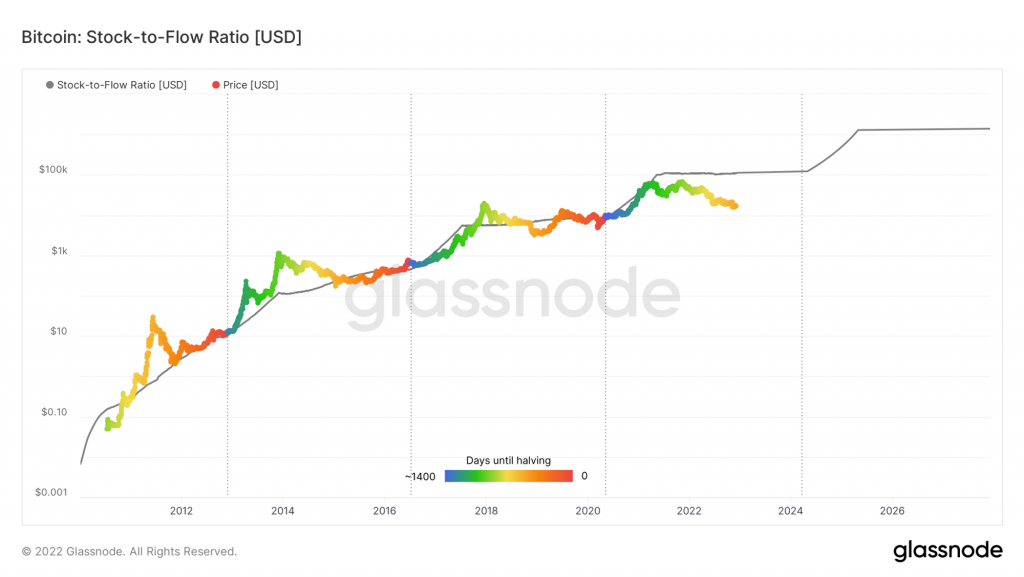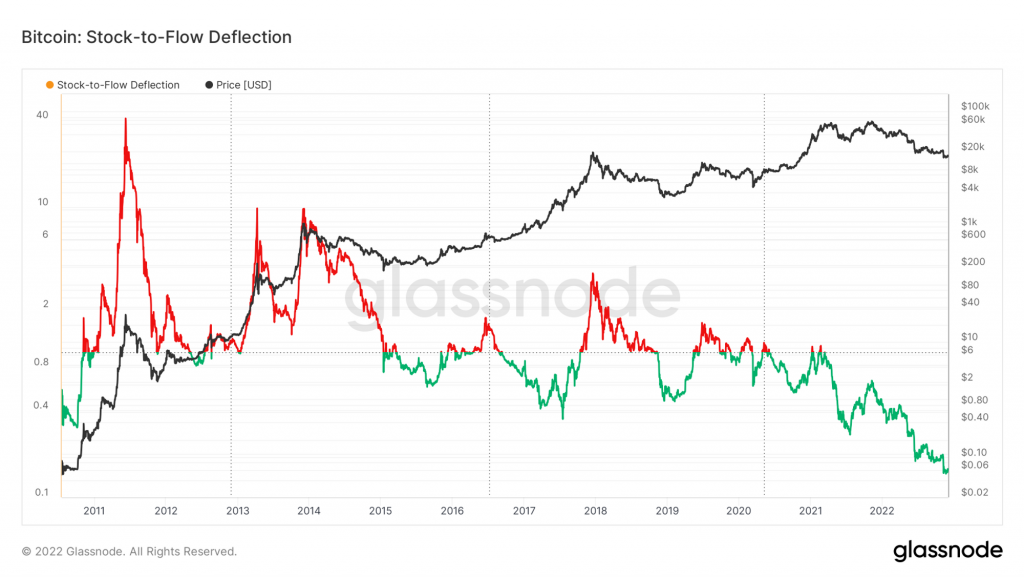 On-Chain Analysis
📊 Exchange: As the exchange reserve continues to fall, it indicates lower selling pressure. Net deposits on exchanges are high compared to the 7-day average. Higher deposits can be interpreted as higher selling pressure.
👨🏻‍💻 Miners: Miners are selling holdings in a moderate range compared to its one-year average. Miner's revenue is decreasing significantly compared to the cost they put in. This could indicate that the price is undervalued along with the increasing miner's motive to hold their coins.
⛓ On-chain Indicator: More investors are selling at a loss. In the middle of a bear market, it can indicate a market bottom. Long-term holders' movement in the last 7 days was lower than the average. They have the motive to hold their coins. Investors are in a Capitulation phase where they are currently facing unrealized losses. It indicates the decreasing motive to realize loss which leads to a decrease in sell pressure.
🏦Derivatives: Long-position traders are dominant and are willing to pay short traders. Selling sentiment is dominant in the derivatives market. More sell orders are filled by takers. As OI decreases, it indicates investors are closing futures positions and the possibility of trend reversals. In turn, this might trigger the possibility of long/short squeeze caused by sudden price movement or vice versa.
Altcoin News
🔗 The beta of Chainlink Staking (v0.1) is planned to go live on Ethereum mainnet on December 6, 2022.Addresses that qualify for Early Access will have the opportunity to stake up to 7,000 LINK in the capped v0.1 staking pool. According to Chainlink official announcement, the capped v0.1 staking pool will then open to General Access two days later on December 8, 2022 at 12PM ET, at which point anyone will have the chance to stake up to an initial limit of 7,000 LINK per address, subject to the initially limited 25M LINK pool cap and other applicable participation requirements.
More News from Crypto World in the Last Week
🇧🇷 Brazil Approves Bill Regulating Use of Bitcoin as Payment. Brazilian lawmakers have approved a complete regulatory framework for the trading and use of cryptocurrencies in the country. As quoted from Bitcoin Magazine, voted on Tuesday evening in Brasilia, the country's capital, the new rules recognize bitcoin as a digital representation of value that can be used as a means of payment and as an investment asset in the South American nation.
🐵 BAYC Collaborates with TIMEX. Bored Ape Yacht Club (BAYC) NFT owners will soon be able to flaunt their NFT on their wrist, immortalized in a unique TIMEX watch. A collaboration between TIMEX and the Bored Ape Yacht Club community will present 500 watches that will display the owner's Ape or Mutant on the watch. Those who purchase a watch can customize it with a choice of cases, straps, and engravings.
Cryptocurrencies Market Price Over the Past Week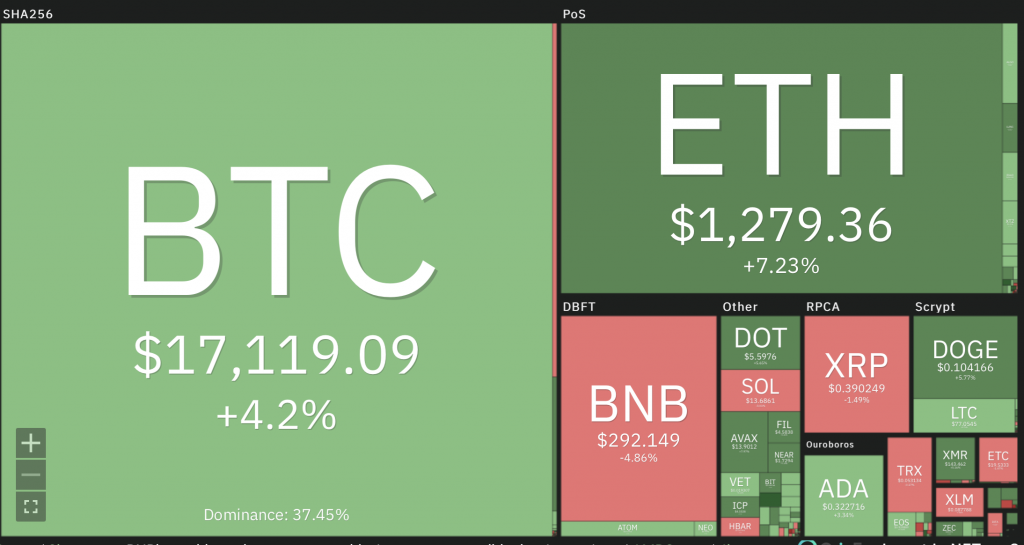 Top Gainers
Fantom (FTM) +35,10%
GMX (GMX) +29,17%
EthereumPOW (ETHW) +27,5%
Top Losers
UNUS SED LEO (LEO) -11,3%
Chain (XCN) -6,9%
Helium (HNT) -4,96%
References