Reading Time:
4
minutes
Bitcoin (BTC) price movement 6-12 March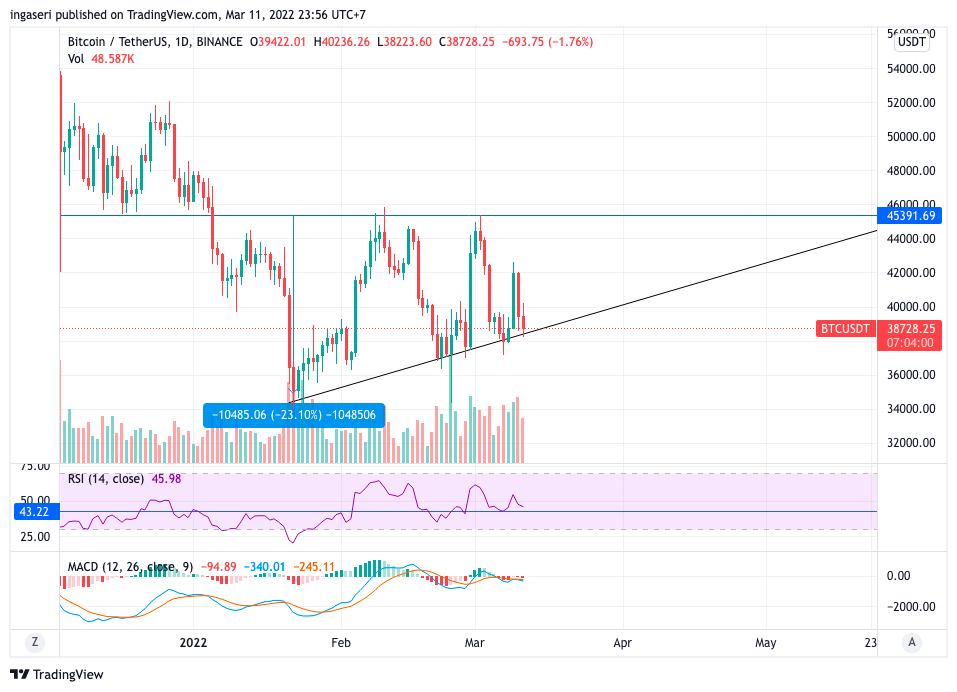 BTC is still in sideways mode, continuing the trend since last week. In the daily chart, the price movement is forming a textbook ascending triangle pattern. This pattern is usually a continuation pattern of the current trend but can also be a sign of a reversal.
The ascending triangle pattern begins with a drastic downward movement until the price reaches the point of a consolidation. At this point, the price is consistently moving to create higher lows and a similar high. This continues, building momentum to the point where it will then continue the previous trend or start a reversal.
💡 A pattern is a series of price points that create a unique shape and identified using a trend line. Price chart patterns are an important part of technical analysis that is usually done by investors and traders.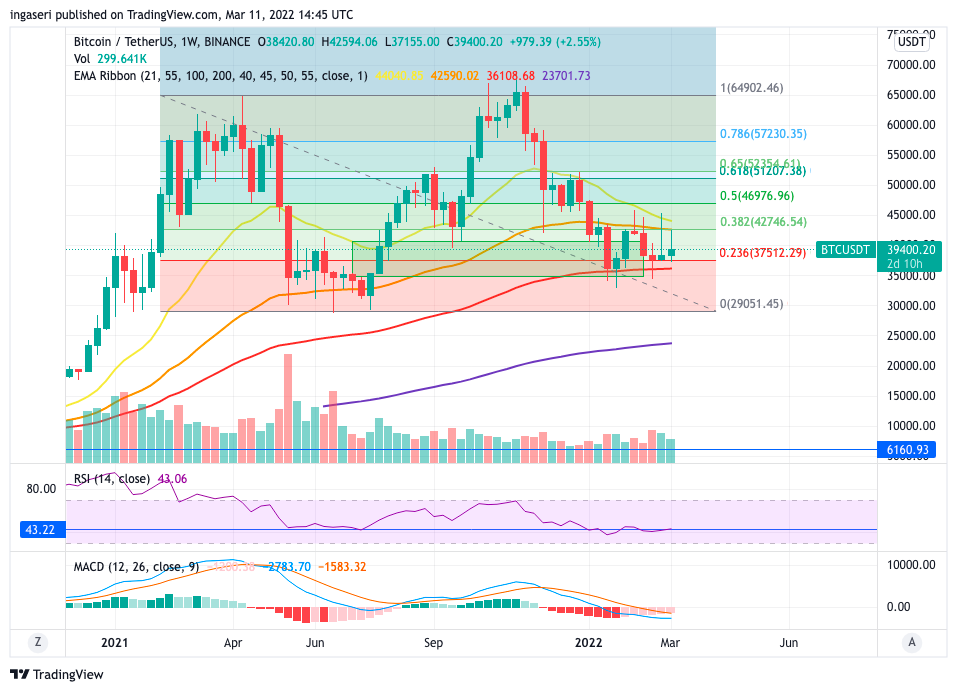 On the weekly price chart, we can see BTC is currently between the 0.236 and 0.382 Fibonacci levels, touching the upper and lower ends of these levels. This week is also the 9th week Bitcoin is at a price below the 55 week EMA line. The closest support levels for BTC are at $37,500 and $36,000 dollars. Lastly, BTC last closed below the 100-week EMA in March 2020. BTC needs to hold its price above this level to ensure it is in sideways mode, not in a downtrend.
Read more: What is the support and resistance level?
What else is there to observe from BTC in the past week?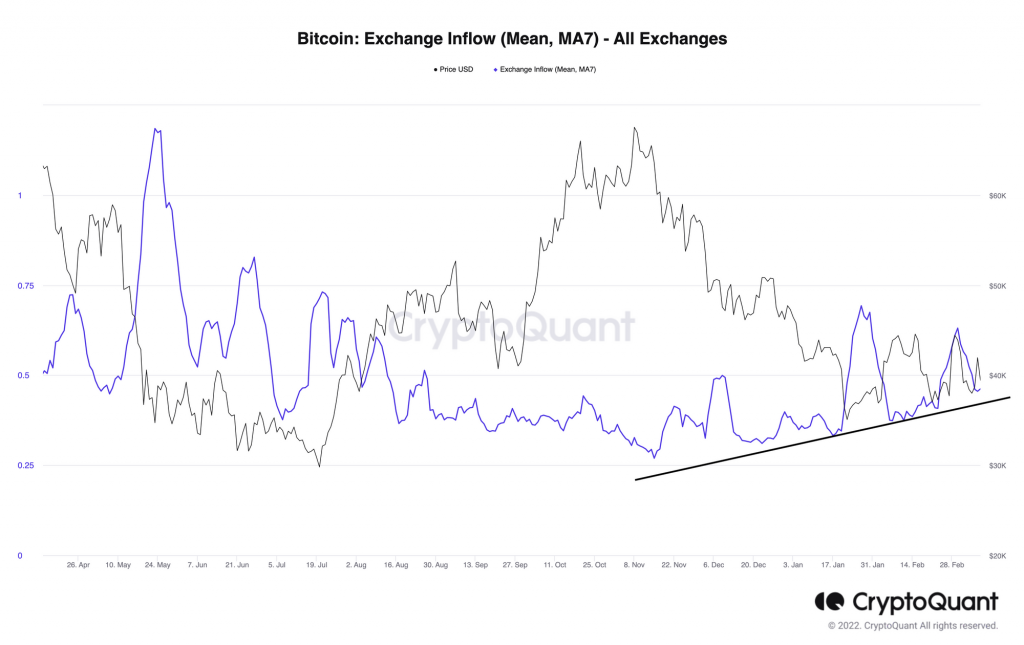 🌊 Bitcoin flow to exchanges increased: This week, BTC experienced an increase in inflow towards various exchanges such as Binance. An increase in inflow is generally seen as a bearish event as it signals investors getting ready to sell their BTC on exchanges. However, with prices stagnating since the last few weeks, BTC is still able to keep its price and long-term investors are reluctant to sell.
📈 Bitcoin leverage ratio has increased: Bitcoin leverage ratio has been increasing for the last few weeks, albeit with a low volume. This increase in leverage ratio indicates an expectation of a downward or upward price movement. Expect more volatile market conditions.
Market analysis conclusion
⚠ Even though BTC is in sideways mode and an ascending triangle pattern is formed which indicates a continuation trend, be prepared for volatility that will push the price up or down. This is reinforced by an increase in the inflow and leverage ratio.
✋ Uncertain and neutral market conditions need to be handled with caution if you want to enter the market. In addition, conditions in Ukraine and its unclear solutions are also indicative of uncertainty in the world that may affect the cryptocurrency market.
Other important news from the crypto world in the past week
🗒️ Executive Order President Biden: On March 9, US President Joe Biden finally released his Executive Order on crypto. This report contains no details on US crypto policy. However, it serves as an appeal to various government agencies to publish reports on crypto-related oversight. There is an important part about how Biden wants the US to lead responsible innovation and technology development. In addition, the creation of CBDCs has also been mentioned again, a sign that the US government still sees the threats of cryptocurrency to their economy.
🏦 South Korea elects crypto-friendly president: South Korea has just elected its new president, Yoon Suk-yeol, from the conservative party. During his campaign, Yoon Suk-yeol promised to overhaul South Korea's crypto policy which he deemed as "unreasonable". Under the previous president, Moon Jae-in, South Korea had strict crypto policies, one of which was a ban on asset transfers between platforms. Cryptocurrency exchange platforms also need to report transactions to government agencies. Yoon Suk-yeol intends to revert all of those and introduce a friendlier environment for the crypto industry.
❗ Inflation data report released: The inflation data report for February was released last week. As expected by various economists, US inflation data was at 7.9%, the highest figure in 40 years. Inflation figures in February increased 0.5% from the previous month. However, as this figure is in line with the expectations of many analysts, the crypto market is not affected by this news.
🌐 White House and G7 released a statement on the use of cryptocurrencies to avoid economic sanctions: The US government released an explanation on why crypto cannot be used to avoid economic sanctions. This news was released in response to many concerns that Russia will use cryptocurrencies to evade economic sanctions. In the statement, the US government urges exchanges to follow government policies and believes that crypto cannot be used to evade economic sanctions. In line with the US government, the G7 released a joint statement saying cryptocurrencies cannot be used to evade economic sanctions and will track any illicit transactions related to it.
References: