Reading Time:
7
minutes
Did you know you can earn Bitcoin as a reward by locking up your STX tokens? It is one of the benefits of stacking STX, the utility token on the Stacks platform. In this article, we will talk more about STX and how it performs as an investment asset. Let's read more about it below!
Article Summary
🪙 STX is the native token of Stacks, which is a Layer 2 blockchain for Bitcoin. This token is used to run smart contracts and also pay transaction fees within the Stacks network.
🆙 Over the last three months, the price of STX rose by more than 200% as the popularity of NFT Bitcoin Ordinals increased.
✨ Stacks is one of the top 30 projects most used by developers. It is based on a report from Electric Capital in 2022.
🏗️ The Stacks 2.1 upgrade allows the stacking system to be more efficient in generating BTC rewards, makes bridges to other networks more robust, simplifies developer work in the interaction between Stacks and Bitcoin, and more.
Overview of Stacks
Stacks (STX) is a Layer 2 blockchain that aims to enhance Bitcoin's capabilities by implementing smart contracts and allowing developers to build decentralized applications (DApps) on the Bitcoin blockchain.
Stacks was founded by Muneeb Ali and Ryan Shea at Princeton University's Department of Computer Science. The project was initially called Blockstacks but was re-branded as Stacks in 2020.
To learn more about Stacks and how it works, you can read here.
STX Tokenomics
STX is a token to facilitate all activities on the Stacks blockchain, including paying transaction fees and smart contract interactions within the Stacks network.
As you can see the from Messari data below, Stacks had a supply of 1.32 billion STX tokens in its initial genesis block. In 2017, Stacks raised around 47 million US dollars by selling STX for 0.12 US dollars per STX. Later in 2019, Stacks had two more STX sales that the token was regulated by the SEC.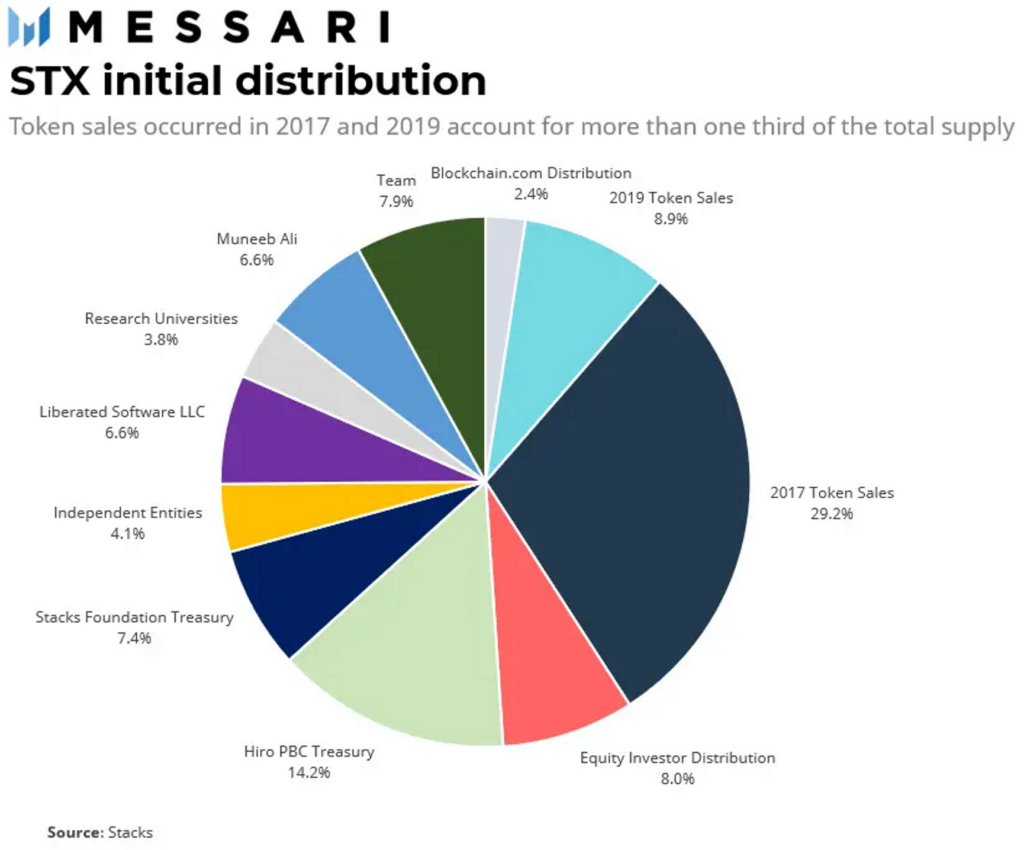 During its first token sale in 2019, Stacks raised 7.6 million US dollars by selling at 0.25 US dollars per STX. Then in its second sale, Stacks raised another 15.5 million US dollars by selling at 0.3 US dollars per STX.
In October 2020, Stacks changed their approach in mint and burn mechanism of STX tokens. Instead of implementing an STX mint and burn, Stacks is implementing a reduced token issuance. It will result in a total supply of approximately 1.818 million by 2050. Currently (March 6, 2023), the number of STX tokens circulating in the market is over 1.3 million STX tokens or 75% of its total supply of 1.818 million STX.
STX token holders can earn BTC by stacking STX tokens to support the Stacks transaction process. By participating in stacking, stackers are securing the Stacks network and participating in the consensus process. In return, they receive Bitcoin rewards for their contributions to the network.
STX as an Investment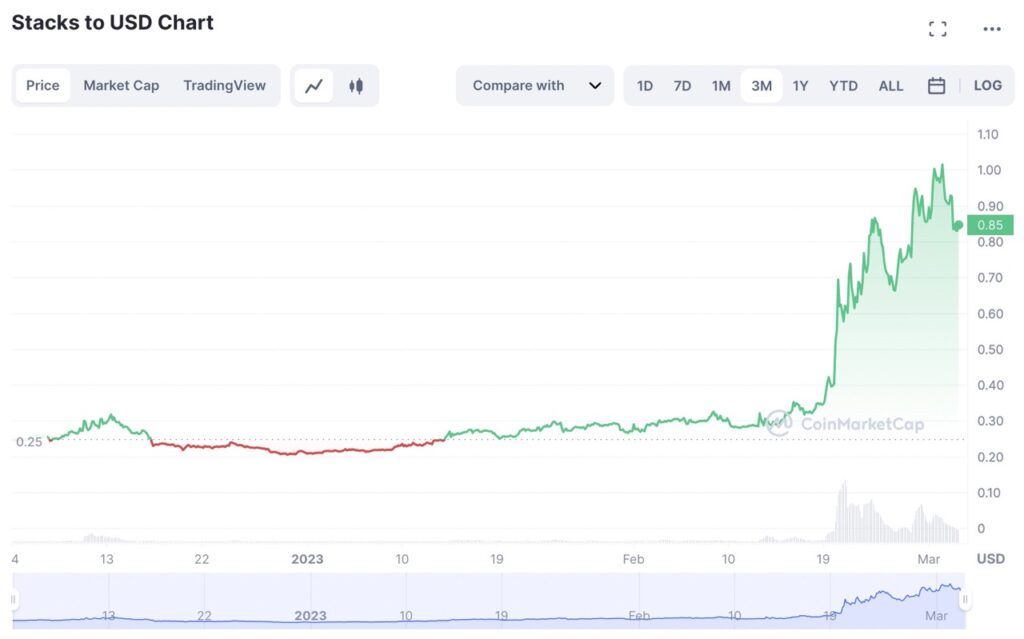 The STX token price has risen along with the increasing popularity of Ordinals or Bitcoin NFTs. Ordinals is a platform that enables the creation of NFTs or inscriptions on the Bitcoin network. Both Stacks and Ordinals utilize the Bitcoin blockchain to create innovative products.
In the last three months, the STX price has climbed more than 200% and reached 1 US dollars on March 2, 2023. According to Coinmarketcap, STX is in 44th place by market cap at over 1.1 billion US dollars.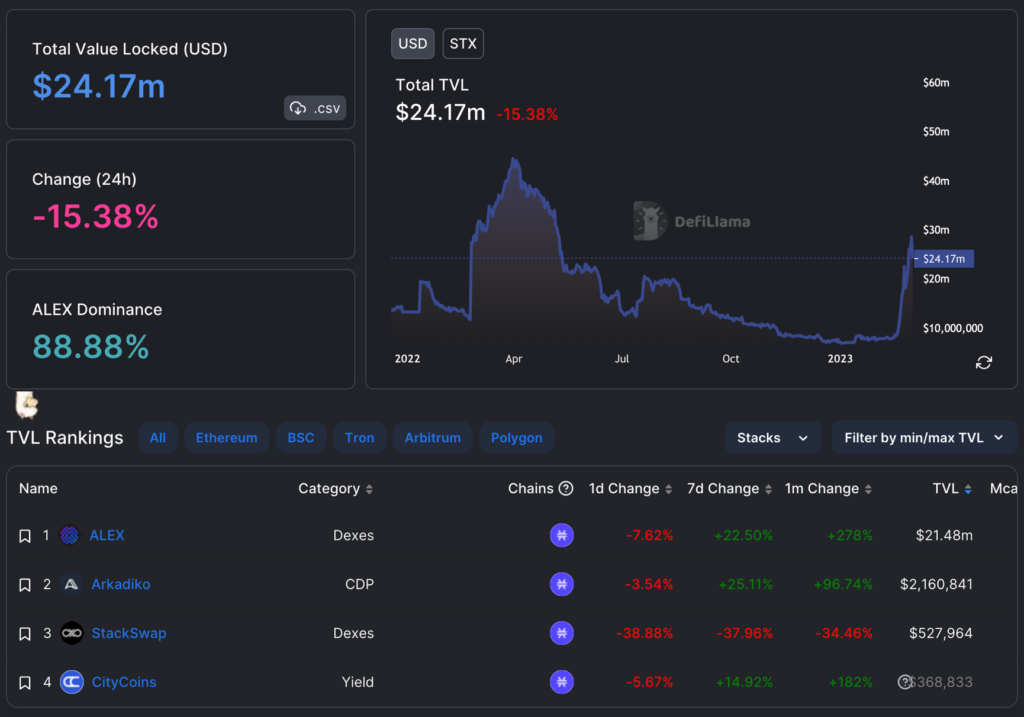 Stacks is still a relative newcomer to the blockchain space. As of March 6, 2023, Stacks has 24.17 million US dollars in locked funds (TVL) on its platform. Out of the entire DeFi ecosystem, the TVL on the Stacks platform is still less than 1% of the overall TVL of 48.54 billion US dollars.
Based on the data above, ALEX dominates 88% of Stacks protocols with a TVL of 21.48 million US dollars. ALEX is a DeFi protocol on the Stacks network compared to Uniswap on the Ethereum network.
Besides, there is Arkadiko, a MakerDAO-like lending platform on the Stacks network and StackSwap, the first DEX built on Stacks.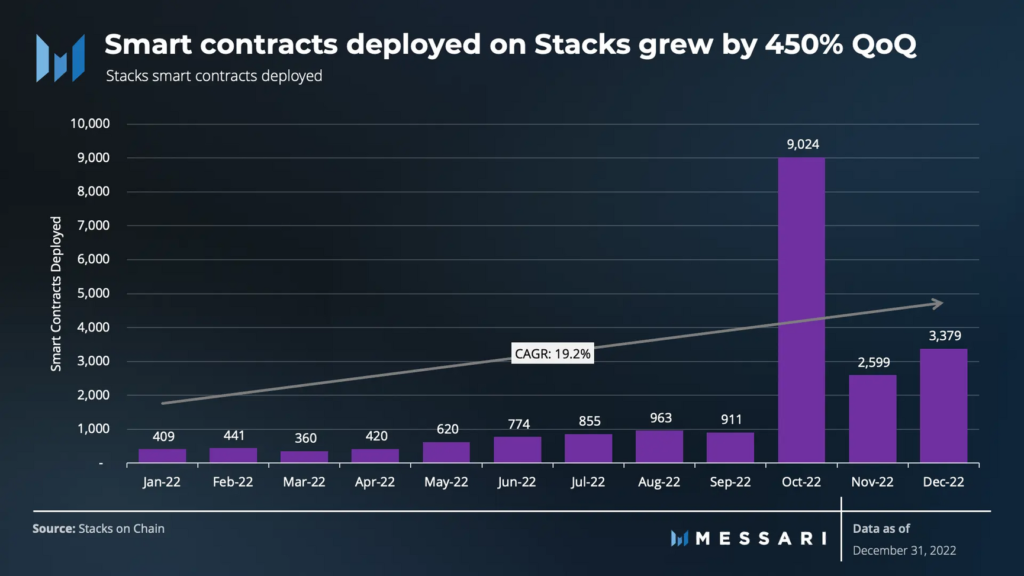 Developers use the Clarity programming language to create applications on Stacks. Quoted from Messari, a report from Electric Capital in 2022 shows that Stacks is one of the top 30 projects most used by developers. The steady growth in the use of smart contracts is also a good indicator for the Stacks ecosystem. In 2022, Stacks has a compound annual growth rate (CAGR) of 19.2% in smart contract usage.
Bitcoin Halving and Stacks
Bitcoin halving could reduce the cost of Bitcoin security and increase the need for more significant fees through a more productive Bitcoin ecosystem. It highlights the importance of Layer 2 solutions, such as Stacks. According to Hal Press, CEO of crypto hedge fund company North Rock Digital, many large investors will be looking to position their investments to benefit from this event as the halving approaches. Stacks is a prime candidate due to its close relationship with the Bitcoin ecosystem. It could lead to price movements in smaller assets like STX.
However, the Stacks project is still relatively new to the blockchain space and needs a lot of development in its ecosystem. In addition, Stacks is highly dependent on Bitcoin, so if a Bitcoin crash occurs, Stacks becomes the most affected blockchain.
Read also What Happens When All Bitcoins Are Mined?
Stacks Roadmap
As a newcomer to the blockchain world that brings increased functionality to the Bitcoin platform, Stacks continues to develop its systems and ecosystems. Some of the system improvements can be seen in the following Stacks roadmap:
2020:
Launch of Stacks 2.0 testnet
Release of Proof of Transfer (PoX) whitepaper
Establishment of the community-based Stacks Foundation
2021:
Launch of Stacks 2.0 mainnet
Deployment of Clarity programming language
2022:
Integration of Stacks with Orbit Chain, a cross-chain interoperability protocol.
Launch of sBTC whitepaper.
2023
Launch of Stacks 2.1
Deployment of Hiro Developer Platform
Stacks 2.1 Upgrade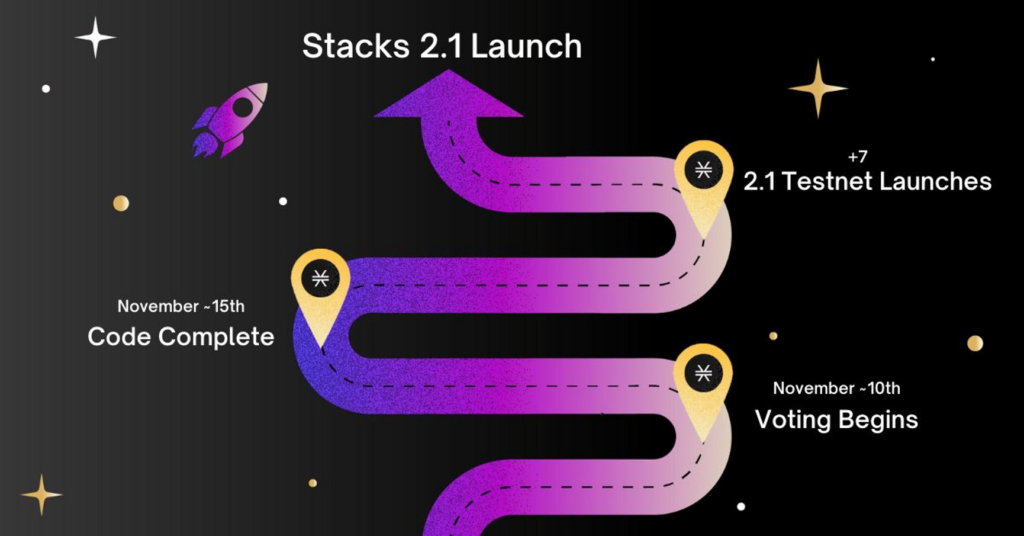 Stacks has released several updates to version 2.1 as part of its mission to enhance the capabilities of the Bitcoin blockchain. Stacks is also the leading Web3 project on the Bitcoin blockchain. These updates are designed to improve the integration between Stacks and Bitcoin further.
Stacks 2.1 is a hard fork of the previous system. It means any previous Stacks databases and blockchain are incompatible with the Stacks 2.1 blockchain. Therefore, STX miners and stackers must update the system to continue running their programs.
A hard fork is a software change incompatible with the old version. It happens when there is a change that goes against the old protocol. In this case, the Stacks 2.1 blockchain network operates separately from the previous blockchain.
Stacking Improvements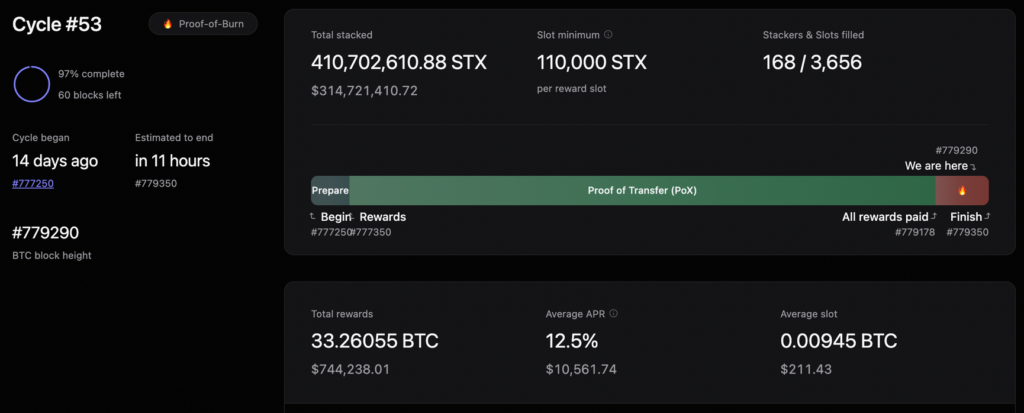 The stacking system is more time efficient as no reward cycles are missed due to cooldown periods. The cooldown period is the time required before a stacker unstakes his tokens. Additionally, stackers can freely increase the amount of STX from one cycle to another to earn rewards.
New Clarity Functions
Clarity is the programming language of the Stacks blockchain. In Stacks 2.1, developers have more tools, including more advanced tools for reading and converting data. In addition, they can also use PoX reward information to create new financial products on top of the Stacks blockchain.
Better Bridges
Clarity issues on bridges include data conversion and decoding binary data to Clarity data structures. The Stacks 2.1 upgrade adds and fixes Clarity keywords that convert these tasks into a single line. It is expected to open full support for bridges, oracles, and other services to the Stacks chain.
Decentralized Mining Pool
Stacks implements an open membership system – anyone can mine STX if they have BTC. However, mining STX requires a fair amount of capital. Stacks 2.1 lowers the barriers to mining entry by providing two key building blocks for decentralized mining pools.
Coinbase Pay-to-Anyone
Before the Stacks 2.1 upgrade, STX miner rewards could only be given to addresses with signed coinbase transactions. However, after the upgrade, the coinbase block transaction format has improved. STX miners can pay block rewards to any address they choose, including a cold wallet and contract addresses.
Quoted from Javatpoint, a coinbase transaction is the first transaction in a block. It is a unique type of Bitcoin transaction that miners can create. Miners use it to collect block rewards for their work. Other transaction fees collected by miners are also sent in this transaction.
Smart Contract Control
Stacks 2.1 introduces a new feature allowing users to send STX to a Bitcoin address. It means that only people with a Bitcoin address can control assets on the Stacks chain using smart contracts recognizing their Bitcoin transactions. Previously, users had to create a Stacks address first, but this requirement is now eliminated with Stacks 2.1.
It eases the users and developers to use Stacks applications, as users can get started with just a Bitcoin wallet. For example, NFTs can be sent to a Bitcoin wallet with this feature.
How to Buy STX Token on Pintu?
You can start investing in STX by buying it in the Pintu app. Here's how to buy crypto on the Pintu application:
Create a Pintu account and follow the process of verifying your identity to start trading.
On the homepage, click the deposit button and top up the Pintu balance using your preferred payment method.
Go to the market page and look for STX.
Click buy and fill in the amount you want.
Now you have STX as an asset!
In addition, the Pintu application is compatible with various popular digital wallets such as Metamask to facilitate your transactions. Go and download the Pintu cryptocurrency app on Play Store and App Store! Pintu is regulated and supervised by CoFTRA and Kominfo.
You can also learn more crypto through the various Door Academy articles which are updated every week! All Pintu Academy articles are for educational purposes, not financial advice.
References