Reading Time:
7
minutes
Indonesia is a country with the 4th largest population in the world. Of the approximately 279 million citizens, 65 million are young people aged 10-24 years. This is 28% of the total population of Indonesia. With such a large number of young people, it is not surprising that we see crypto adoption in Indonesia growing rapidly. Trends in various countries show that younger generations of investors favor cryptocurrency. So, what is the state of crypto in Indonesia? How is the industry in Indonesia responding to the current crypto market conditions? This article will explain it in detail.
🇮🇩 Since 2019, the Commodity Futures Trading Regulatory Agency (CoFTRA) has declared crypto assets to be legal as commodities in Indonesia.
📈 August 2022 report shows there are around 29.8 million crypto investors in Indonesia. This figure shows a significant increase since 2020 and even surpasses the number of stock investors.
️🧑‍⚖️ Currently, the Indonesian government already has various regulations related to the crypto industry including a list of legal crypto assets and exchanges, clarity regarding taxes, and consumer protection rules such as AML.
🧠 With the support of the government and vibrant industry, the future of crypto in Indonesia looks quite bright. Positive industry regulations provide local and international crypto players with room to develop. In addition, various local crypto projects continue to attract many users.
Current State of Crypto in Indonesia
By the end of 2020, there are around four million crypto users in Indonesia. This figure has almost doubled to 7.5 million by the end of 2021. By February 2022, the number of users has reached 12.4 million with a transaction value of around Rp. 83.8 trillion. The current number of crypto market investors has already passed the stock market users.
Looking at the trends since 2020 and the current state of crypto, we can expect the number of crypto users to continue to increase in the next few years.
💡 Are crypto assets legal in Indonesia?

The Commodity Futures Trading Regulatory Agency (CoFTRA) has declared crypto legal as a commodity asset in the eyes of Indonesian law.
In Indonesia, the use of crypto assets is regulated by the Commodity Futures Trading Regulatory Agency (CoFTRA) under the Indonesian Ministry of Trade. CoFTRA issues licenses for all crypto assets and exchanges in Indonesia. CoFTRA has legalized crypto trading as a commodity asset since 2019 (regulations number 2, 5, 6, and 9).
With a positive regulatory situation, the crypto industry in Indonesia has managed to grow rapidly. This has led to the creation of many crypto trading platforms which then support people to buy crypto.
Crypto Adoption in Indonesia
The years 2021 and 2022 have been significant times for crypto adoption in Indonesia. Local crypto projects, new crypto exchanges, and viral NFT collections have appeared in the last two years. The latest data in July 2022 from CoFTRA shows that there are around 15 million users of crypto assets. However, a Finder report in August 2022 showed a higher number. There are 29.8 million people who own crypto assets with 28% of them owning Bitcoin.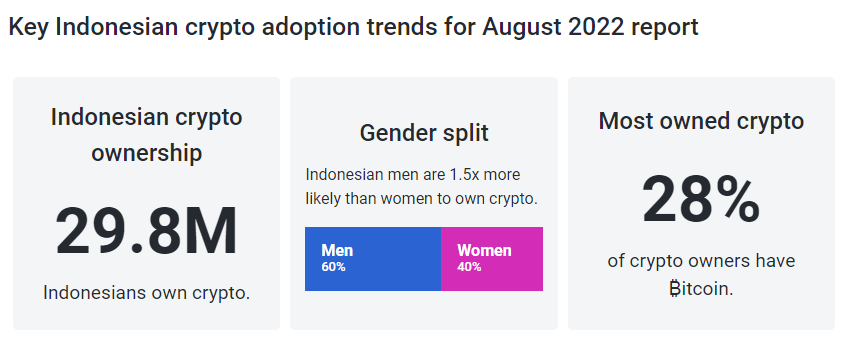 In addition, there are 25 crypto asset exchanges in Indonesia that already have a license from CoFTRA. Among these 25, several exchanges dominate the Indonesian crypto asset market, namely Indodax, Pintu, TokoCrypto, Pluang, and Zipmex. Some of these exchanges also have their own crypto assets with a specific function to attract users to their respective platforms.
💡 Crypto investors in Indonesia have grown by around 400% since 2020.
Outside of crypto, the adoption of blockchain as a technology is still minimal.
Crypto in the Future of Indonesia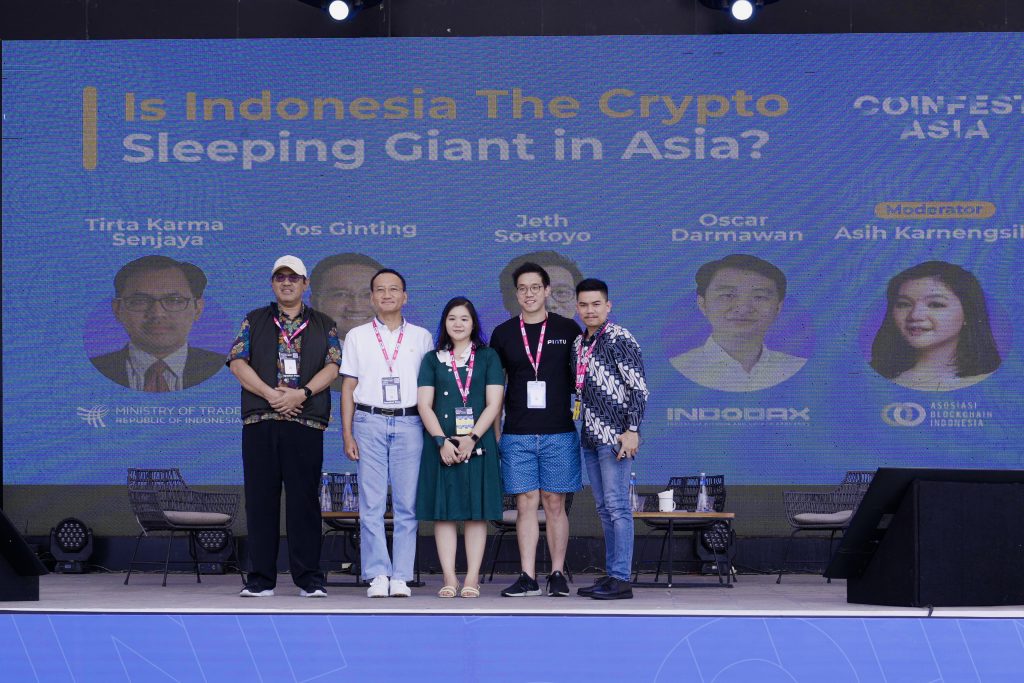 At the CoinFest Asia event held on August 25-26 in Bali, several important crypto industry stakeholders sat down to discuss the future of crypto in Indonesia. According to Tirta Karma Senjaya from CoFTRA, the crypto industry in Indonesia has good potential and a bright future.
"Indonesia has a digital economy industry that is growing rapidly and Indonesia is included in the 10 countries with the most startups," Tirta said when met at the CoinFest Asia event. In addition, Tirta also explained that Indonesia has clear and complete crypto regulations including AML (Anti-Money Laundering) and tax.
In addition, the Chairman of the International Trade Standing Committee of the Indonesian Chamber of Commerce (Kadin), Yos Ginting, explained that with the presence of 79 member companies in ABI, the crypto industry in Indonesia has great potential. Yos believes that easy access to crypto purchases and easily accessible information make crypto adoption easy to grow.
The Position of the Indonesian Government in the Crypto Industry
The government is supporting the creation of a strong digital economy. Trading in the crypto industry alone accounted for around 42 trillion rupiahs in January 2022. Although this figure is small, what is more important is that crypto investors continue to grow and have already surpassed stock market investors.
From the industry side, CoFTRA has granted permission to 25 companies that act as crypto exchanges. CoFTRA has also just issued regulation number 11 of 2022 concerning a list of 383 crypto assets that are legal in Indonesia. This regulation is a form of government support to create a conducive crypto industry and protect investors from illegal assets and fraud.
💡 Another sign of support from the Indonesian government is the discourse on the creation of a crypto company stock exchange in Indonesia. The creation of this exchange will increase attention to the crypto industry in Indonesia.
Challenges of Crypto in Indonesia
According to Yos Ginting from Kadin, the rapid growth of the crypto industry also has the potential to have a negative impact on society. He sees education as a big challenge for crypto adoption. Essentially, this educational issue is closely related to user security and protection.
Like various cases in many developed countries, it turns out that many people are tempted by offers that are actually fraudulent. Many people are still wondering whether crypto investing is safe or not. So, there needs to be an education initiative for the public to avoid fraud and hacking against users.
The last challenge for the crypto industry in Indonesia is that there is no blockchain implementation outside of crypto. As we know, blockchain and crypto technologies have real-world functions other than just as investment assets.
Yos said that crypto companies in Indonesia need to explore the implementation of blockchain technology in various industries other than crypto. He emphasized the potential of blockchain to take advantage of the payment infrastructure in Indonesia, which has nearly 2 million retail outlets scattered across the country.
Crypto Projects in Indonesia
💡 Did you know?

The technology behind NFT creates a unique code for each item, especially useful for user-specific goods such as tickets and certificates.

Currently, there are dozens of crypto projects in Indonesia. You can see some of the projects in the member column of the Indonesian Blockchain Association. In addition, NFT projects and other crypto are also gaining popularity in the Indonesian crypto user community.
NFT is an important part of the crypto industry. Read here if you don't understand what it is.
Here are some local crypto asset projects in Indonesia based on several categories. Keep in mind that this list is not all-encompassing.
Crypto Asset Projects with Real World Implementation
DeBio: DeBio is a DApp (Decentralized application) platform that utilizes blockchain technology to store medical data from genetic tests. Through the DeBio platform, users and examination labs can communicate anonymously.
Hara: Hara is a blockchain and crypto project that utilizes blockchain technology to collect and organize data for farmers and other stakeholders. The PERTAHARA Pilot Program in 2021 uses blockchain to assist Ginger farmers in the process of planting, nurturing, and selling.
NFT
GameFi
Creo Engine: Creo Engine is a dedicated platform containing various blockchain-based games. Currently, Creo has plans to launch 4 games with different themes and genres. Players can play all these games through Creo Play which will launch in Q3 2022.
KunciCoin: KunciCoin is a blockchain platform that can create a decentralized application ecosystem (DApps). The KunciCoin platform was created using the Solana blockchain template so its transactions are quick and cheap. In addition, KunciCoin has ambitions to create various crypto-based applications such as NFT platforms, blockchain-based games, and other applications.
Investing in Cryptocurrencies on Pintu
You can join 15 million other investors in cryptocurrencies on Pintu. Through Pintu, you can buy cryptocurrencies such as BTC, ETH, BNB, and others in an all-in-one convenient application.
Pintu is also compatible with popular wallets such as Metamask to facilitate your transactions. Download the Pintu app on Play Store and App Store! Your security is guaranteed because Pintu is regulated and supervised by Bappebti and Kominfo.
You can learn more about cryptocurrencies through the various Pintu Academy articles that we update every week! All Pintu Academy articles are made for educational purposes only, not financial advice.
References