Reading Time:
5
minutes
Recently, Bank Indonesia granted licenses to Alchemy Pay and PT Berkah Digital Pembayaran (BDPay) to operate their money transfer and remittance businesses. Alchemy Pay is a digital payment platform that aims to make the use of cryptocurrency easier for the general public. By bridging fiat currencies such as the US dollar and the Indonesian rupiah with crypto, the technology built by Alchemy Pay brings attractiveness to the financial industry. So, what is Alchemy Pay and how does it work? Let's find out more in this article.
Article Summary:
📱Alchemy Pay is a global payment platform based in Singapore that allows users to make payments with various types of cryptocurrencies.
🔗Alchemy Pay is built on open-source protocols, with a decentralized network to bridge the crypto and fiat systems in various transaction scenarios, including for remittances, or money transfers made by foreign workers to recipients in their home country.
🏦Alchemy Pay has obtained a license from Bank Indonesia to operate a money transfer service through a partnership with a local fintech company, PT. Pembayaran Digital Berkah.
What is Alchemy Pay?
Alchemy Pay is a global payment platform based in Singapore that allows users to make payments with various types of cryptocurrencies such as Bitcoin, Ethereum, and others.
The Alchemy Pay ecosystem consists of users, merchant partners, transaction service network partners such as crypto asset issuers and credit card services, and developer communities within the Alchemy Pay network.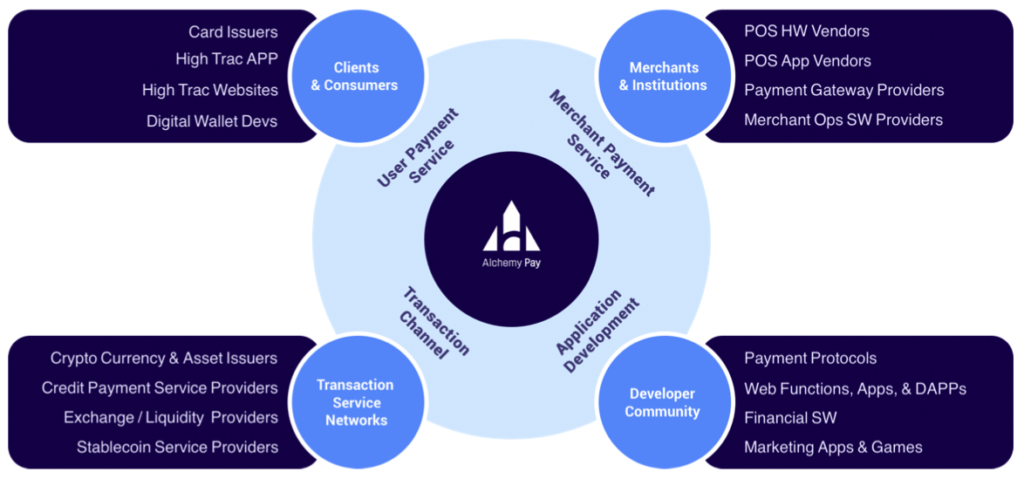 For example, an online merchant with international market reach can use Alchemy Pay to receive payments in local currencies. The platform can instantly convert fiat and cryptocurrency at the current exchange rate, eliminating concerns about volatility associated with blockchain networks. In addition, merchants can reach a much wider market with Alchemy Pay's technology that facilitates international transactions.
The network of merchants using Alchemy Pay is constantly expanding and currently includes Shopify and Aldo. Additionally, the company has partnered with strategic blockchain networks such as Polygon and Chainlink. Alchemy Pay currently has a global reach to more than 70 countries and 300 fiat currency payment channels.
Alchemy Pay utilizes blockchain and decentralized ledger technology to make international payments faster and more secure. The decentralized payment network of Alchemy Pay uses an open and scalable consensus protocol and also utilizes lightning network technology to support cryptocurrency payments in various transaction scenarios. In addition, the decentralized network protocol improves operational efficiency and reduces operating costs.
How it works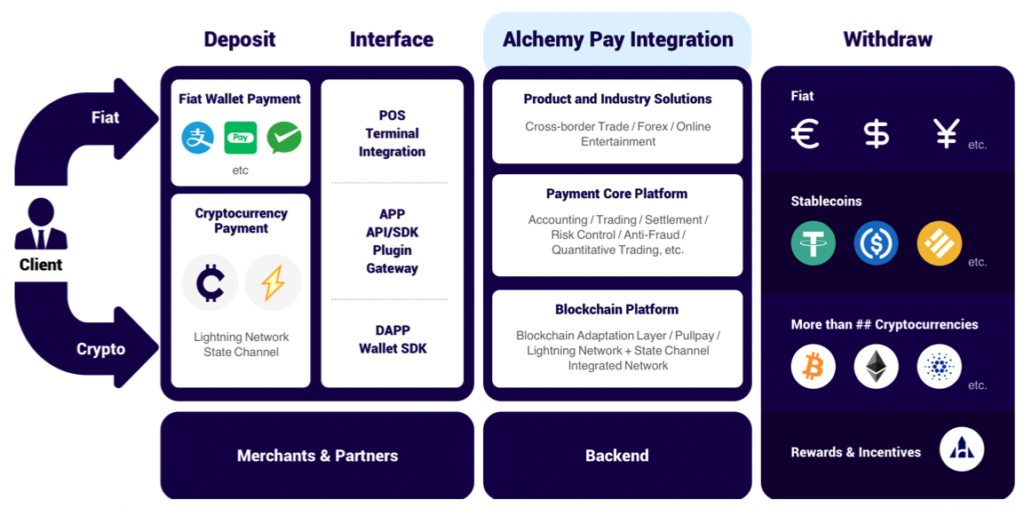 The Alchemy Pay platform operates on the Ethereum blockchain with ACH, which is an ERC-20 token, serving as the utility token on the platform. The ACH token essentially plays a vital role in driving the functionality and growth of the platform.
Merchants on the platform use ACH to access the network, while customers can acquire it by participating in the network. Meanwhile, ACH token holders can participate in the governance of the system. Users can also use ACH to pay for network transaction fees.
Features of Alchemy Pay
Crypto On-Ramp and Off-Ramp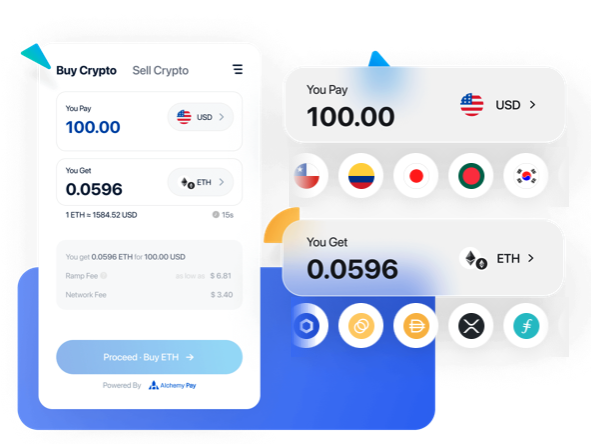 The on-ramp feature of Alchemy Pay allows users to buy and sell crypto with fiat and send funds to more than 50 fiat currencies. This service essentially simplifies the process of exchanging between traditional and digital currencies. Alchemy Pay has also introduced a feature that allows users to sell crypto assets and receive funds directly into their bank account.
Crypto Payment
As mentioned above, one of the main features of Alchemy Pay is Crypto Payment, which allows users to shop using their crypto assets with the value directly converted to fiat currency.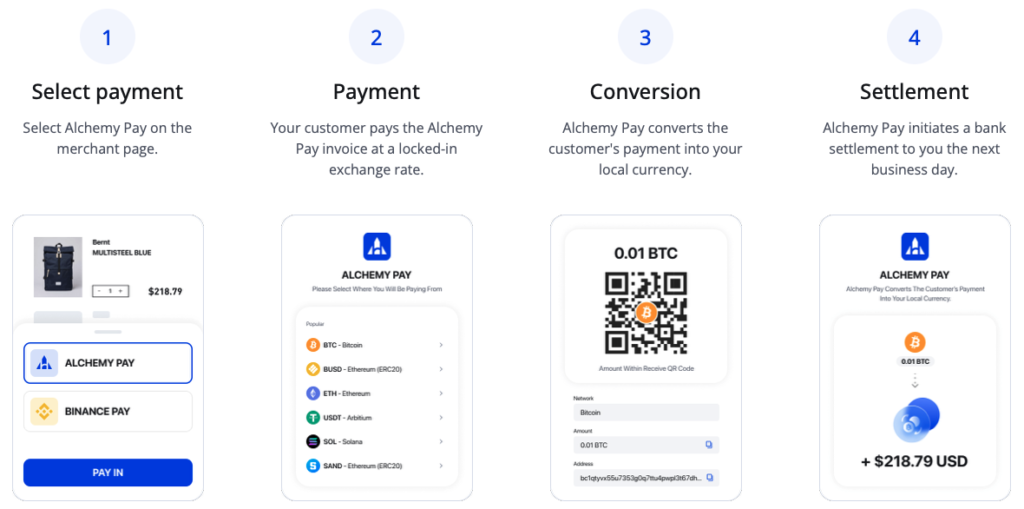 In Indonesia, in addition to Visa and Master Card, users can also make payments through digital wallets such as OVO, LinkAja, Dana, and QRIS, as seen in this video.
NFT
Alchemy Pay also has the Alchemy Pay NFT Checkout feature, which aims to simplify NFT purchases for the general public. With this feature, users can buy NFTs using credit and debit cards, as well as local currency payment methods. With this feature, Alchemy Pay aims to make NFT purchases more accessible and increase NFT adoption.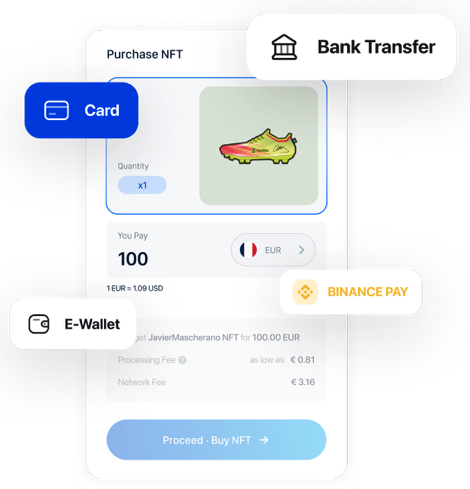 Alchemy Pay in Indonesia
Alchemy Pay, a Singaporean cryptocurrency payment gateway platform, has officially obtained a license from Bank Indonesia to operate its money transfer and remittance services. The license was obtained through Alchemy Pay's partnership with a local fintech company, PT. Berkah Digital Pembayaran.
According to Bank Indonesia data, PT Berkah Digital Pembayaran, also known as BDPay, is registered as a Payment Service Provider with a category 3 license. The platform offers local and cross-border money transfer services for retail and corporate clients. BDPay also provides payroll services for clients and transfers through bank application programming interfaces, allowing users to transfer to 136 banks in Indonesia.
In relation to this, Alchemy Pay stated that the joint license obtained with PT Berkah Digital Pembayaran will contribute to promoting crypto adoption in Asia.
"This partnership enables both companies to offer better payment methods to users and clients in Asia and reduce the operational costs of related services," as stated on Alchemy Pay's medium page on February 27, 2023.
Conclusion
Cross-border transactions between or among countries, whether for online trading or remittances, are currently a complex process and come with high costs. For example, in Southeast Asia, transaction costs can accumulate up to 30%-50% per transaction, creating a significant burden for foreign workers sending money back home.
On the corporate level, multinational retailers with stores in various countries must work with separate payment processing agents in each country. These challenges highlight the need for multi-channel strategies to minimize costs and streamline cross-border transactions.
The existence of platforms like Alchemy Pay is expected to further expand the use of cryptocurrency and blockchain technology, which can make international transactions more efficient and easier.
How to Buy ACH on Pintu
After learning about Alchemy Pay, you can start investing in ACH tokens by purchasing them on the Pintu app. Here's how to buy ACH on the Pintu app:
Create a Pintu account and complete the identity verification process to start trading.
On the homepage, click the deposit button and top up your Pintu balance using your preferred payment method.
Open the market page and search for ACH tokens.
Click buy and enter the amount you want.
You now own ACH tokens!
In addition to ACH tokens, you can also invest in other cryptocurrencies such as BTC, BNB, ETH, and others through Pintu in a safe and easy manner. The Pintu app is compatible with various popular digital wallets like Metamask to make your transactions easier.
Download the Pintu cryptocurrency app on the Play Store and App Store now! Your security is guaranteed as Pintu is regulated and monitored by Bappebti and Kominfo.
Aside from transactions, you can also learn more about crypto through various Pintu Academy articles updated weekly! All Pintu Academy articles are created for educational and knowledge purposes and not as financial advice.
References