Reading Time:
5
minutes
The rapid development of cryptocurrencies continues to encourage competition to produce the fastest blockchain with increasingly complete features. Innovations continue to emerge as solutions to the scalability issues faced by early generation blockchains. One of them is Avalanche, a smart contract platform that was developed to facilitate the development of decentralized finance with a faster transaction process than other similar platforms. Then, what is Avalanche? And why is Avalanche often referred to as Ethereum competitor? See further explanation in this article.
Article Summary
💻 Avalanche is a smart contract platform developed to facilitate decentralized finance (DeFi) and promises near-instant transaction processing.
🚀 Often dubbed as a competitor to Ethereum, Avalanche is rated as the fastest smart contract platform, with the ability to process more than 4,500 transactions per second (TPS).
💰 AVAX is the native token of the Avalanche platform which is used as a medium of exchange in the Avalanche ecosystem. AVAX hit an ATH (all-time high) in November 2021 at $146.22 per coin, up 12.798% since launching in September 2020. More about this source text
Avalanche Definition
Avalanche is a smart contracts platform that was developed to facilitate the development of decentralized finance with almost instant transaction processing. It is currently rated as the fastest smart contract platform, with the ability to process over 4,500 transactions per second (TPS), compared to around 1,500 TPS on the Polkadot blockchain, 14 on Ethereum, and seven on Bitcoin. Transactions on the Avalanche blockchain are not only extremely fast, but they are also inexpensive, and more environmentally friendly.
Avalanche launched in September 2020, and since then, the platform has become the "home" of 400+ crypto projects. As of January 2022, more than $64 million of AVAX has been burned or removed from circulation, and there are 1,200+ individual block generating validators, and a recorded 1.3 million community members spread across the globe.
Avalanche is often dubbed as a competitor to Ethereum that facilitates decentralized applications (dApps) and the creation of custom blockchains within its ecosystem.
Read also: What is Ethereum and How Does It Works?
Avalanche History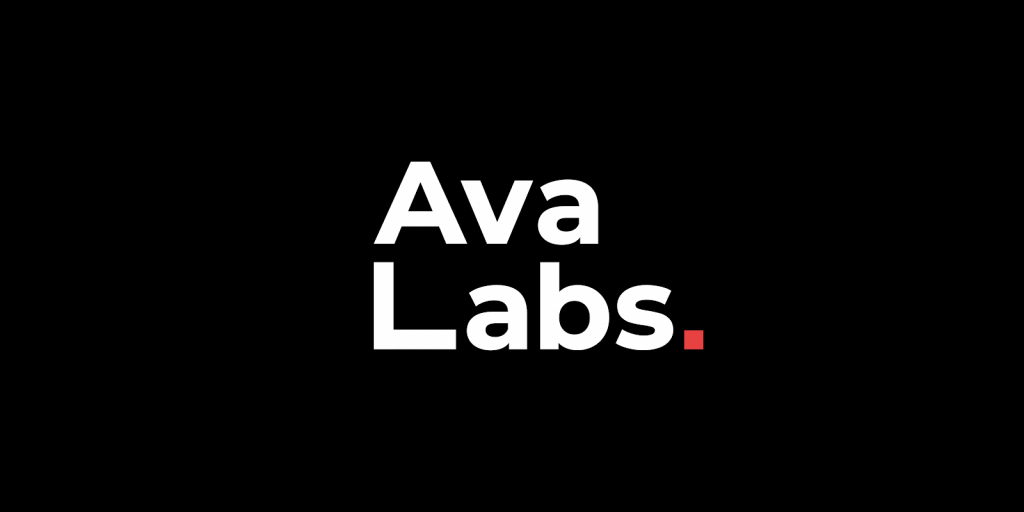 Launched in September 2020, Avalanche was created by Emin Gun Sirer, a computer scientist from Cornell University, United States. The Avalanche project was first incubated at Cornell University, where the research was led by Emin Gün Sirer and assisted by Maofan Yin and Kevin Sekniqi. The research resulted in the founding of technology company Ava Labs with the aim of developing alternative blockchain technologies for the financial sector.
Ava Labs has received funding from venture capital firms Andreessen Horowitz, Initialized Capital, and Polychain Capital, as well as angel investor Balaji Srinivasan, former Chief Technology Officer of Coinbase and Naval Ravicant, who has previously invested in Uber and Foursquare.
How does Avalanche work?
As previously mentioned, one of the advantages of Avalanche is its ability to process transactions quickly. This is possible because the Avalanche architecture was developed with three separate blockchains with different functions, namely:
Exchange Chain (X-Chain)
Contract Chain (C-Chain)
Platform Chain (P-Chain)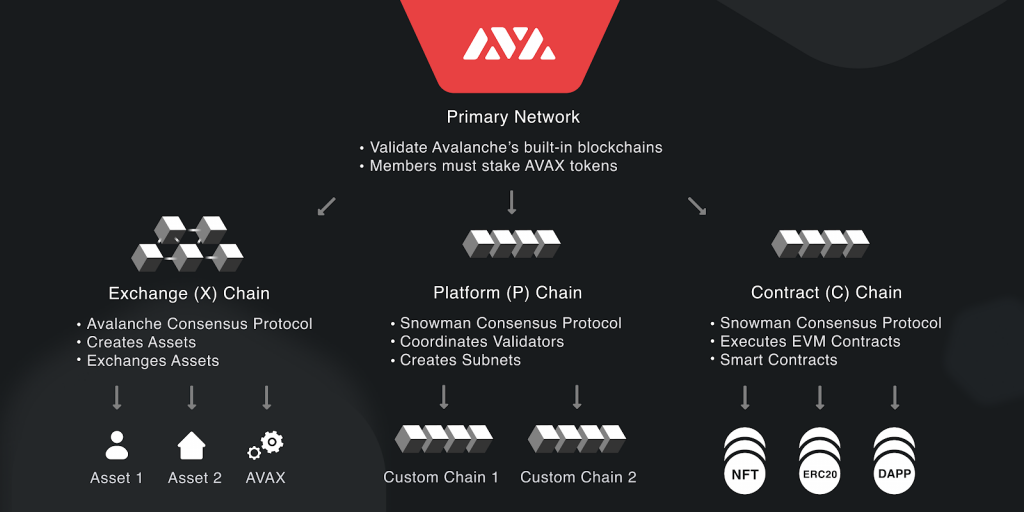 X-chain is a blockchain dedicated to supporting the creation of digital assets in the Avalanche ecosystem. Meanwhile, C-Chain is an Ethereum Virtual Machine (EVM) compatible blockchain, enabling developers to develop decentralized applications (dApps) like the Ethereum blockchain but with the advantages of faster transactions and low transaction fees.
Its compatibility with the Ethereum toolkit makes it easy for developers to port the dApps they have built on Ethereum to Avalanche. This convenience is proven by the skyrocketing number of various applications that use Avalanche technology in a very short time. Currently, there are various applications that use Avalanche technology—including decentralized exchanges, lending and borrowing applications, to stablecoins (Bilira—Turkish Lira stablecoin).
Meanwhile, P-Chain is the metadata blockchain on Avalanche and coordinates validators, keeps track of active subnets, and enables the creation of new subnets. A subnet, or subnetwork, is a number of validators who work together to reach consensus on the status of a set of blockchains. Each blockchain is validated by exactly one subnet. Subnets can validate multiple blockchains and a node can be a member of multiple subnets.
Avalanche Consensus Mechanism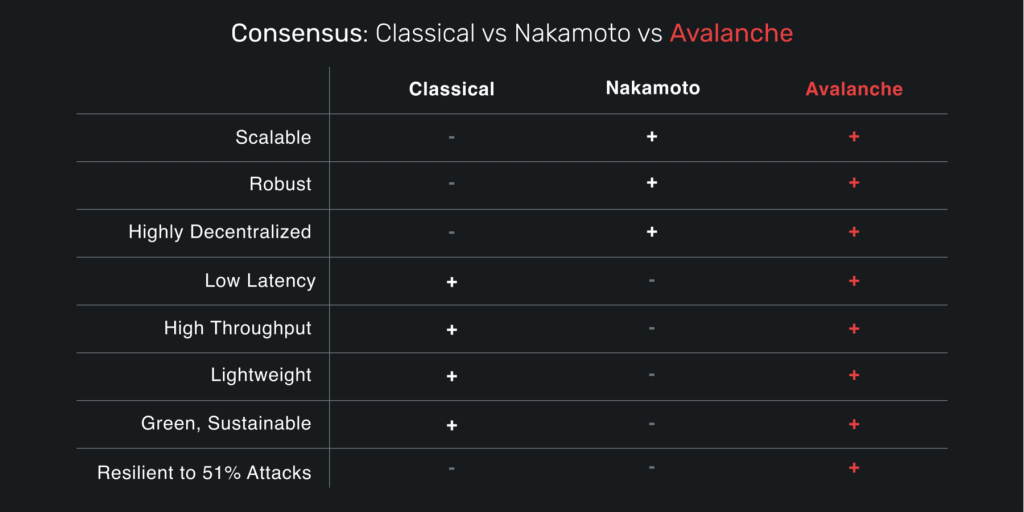 One big difference between Avalanche and other decentralized networks is its consensus protocol or the way the network validates transactions. Avalanche challenges the notion that a network cannot provide security and scalability without sacrificing decentralization. The Avalanche protocol takes a new approach to ensuring security, with fast results and high throughput—all without sacrificing decentralization.
The platform combines the classic consensus that emphasizes speed, scale, fast finality, and energy efficiency, with the Nakamoto consensus (on the Bitcoin blockchain) that emphasizes robustness and decentralization. The Avalanche consensus proves that a platform can have the best of both worlds without compromising either of them.
What are the crypto projects in the Avalanche ecosystem?
1. Trade on Dex
Avalanche is now the home of several decentralized exchanges (DEXs), applications that facilitate the exchange of one token for another using smart contract technology. Some examples of DEXs in the Avalanche ecosystem include Sushiwap, Trader Joe, Pangolin, and Paraswap.
2. Yield Optimizer
Various yield optimizer applications (automated services that help users get maximum returns from crypto investments) such as Yield Yak, Snowball and Yield, are also included in the Avalanche ecosystem.
3. Portfolio Management
Portfolio management and tracker applications for dApp users, such as Markr, as well as DeFi wallets for managing portfolios such as DeBank, are also available in the Avalanche ecosystem.
4. Borrowing
Various lending and borrowing applications based on blockchain technology have also been operating in the Avalanche ecosystem. An example is AAVE, where you can deposit crypto assets to earn interest, as well as borrow other crypto assets.
5. Buying NFT
Avalanche is also the home of various NFT marketplaces such as Topps NFTs, NFT Stars and Niftyx Protocol.
What can you do with AVAX?
As the default token of the platform, AVAX has various functions in the Avalanche blockchain network including as token governance, staking, DApps transaction currency. Here are some examples of what can be done with the AVAX token.
Staking
In a proof-of-work system such as the Bitcoin network, the resource used to validate transactions is computing power. In a proof-of-stake system like Avalanche, the resource used is the original token, namely, AVAX. In order for a node to validate the blockchain on Avalanche, it must stake or stake a certain amount of AVAX within a certain period.
AVAX owners are incentivized for staking their tokens to secure Avalanche and receive rewards in return. Read more about AVAX staking here.
Read also: What is Proof of Stake?
Investment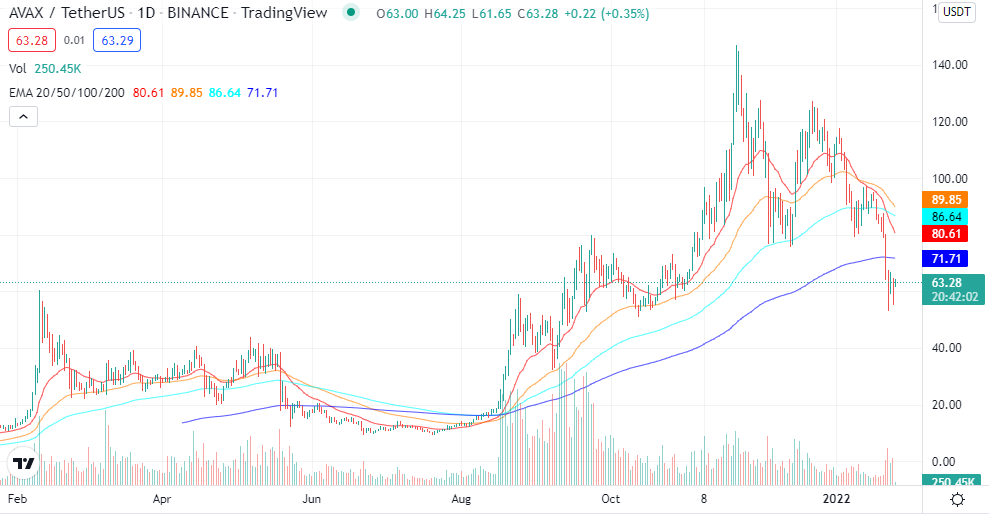 AVAX was one of the altcoins having the most interesting bull run in 2021. AVAX hit an ATH (all-time high) in November 2021 at $146.22 per coin, up 12.798% since its launch in September 2020. Avalanche Ranking on [CoinMarketCap] (https://coinmarketcap.com/currencies/avalanche/) as of January 2022 it is #12, with an immediate market cap of $21,062,668,886. There are currently 244,353,171 AVAX coins circulating in the market.
Reference