Reading Time:
4
minutes
Binance coin (BNB) is a cryptocurrency created by Binance, one of the largest crypto exchange platforms in the world. In the Binance ecosystem, BNB is a utility token for discounts when paying trading fees on the Binance platform. However, BNB has become a crypto asset widely owned as an investment because of the rapid development of Binance as a crypto asset exchange platform.
According to data from Coinmarketcap, BNB is the 4th largest crypto asset in the world after Bitcoin (BTC) and Ethereum (ETH). As one of the largest platforms, Binance records over 1.4 million transactions every second (April 2021).
Who founded Binance?
Changpeng Zhao and his team creates Binance coin and launched it in July 2017. Initially, The coin was created for payment within the Binance ecosystem. The Binance white paper explains that the initial 10% or 20 million BNB goes to the angel investors who finance Binance. Then, 40% or 80 million BNB is distributed to the team that built Binance. The remaining 50% or 100 million BNB is released to the market through an initial coin offering (ICO).
What makes Binance coin Worth it?
1. Embedded within the Binance ecosystem
BNB is the native currency of all Binance platforms. As the 4th largest Crypto asset in the world, BNB has huge potential upside especially as Binance continues to expand its services. In early 2021, Binance launched the Binance Smart Chain and the price of BNB rise sharply due to people seeing BSC's huge scalability potential. Binance has the potential to rival Ethereum as a cryptocurrency service provider and service platform. So, By owning the BNB coin, you are tapping into the potential of Binance which could become one of the biggest crypto platforms in the future.
2. Binance unique quarterly burning policy
Binance has a unique policy of burning its coins on a periodic basis. BNB itself has a limited coin supply of 200 million. BNB burning is scheduled to take place every three months until approximately 100,000,000 BNB is destroyed, which represents 50% of the total BNB ever issued.
The last (16th) burn occurred in July 2021 for a total of 1,296,728 BNB (390,855,150 USD), bringing the total remaining active coins to 168,137,036 BNB. Binance burn coins that are part of the 40% of coins held by the Binance team, not coins circulating in the market. The policy of burning coins permanently is a deflationary procedure that increases the value of BNB in the long run, although in the short term it does not affect the price. This happens because the demand for coins will continue to increase while supply will steadily decrease through the policy of coin burning.
3. Compatibility with the Ethereum blockchain
BNB coin operates using Ethereum's ERC-20 technical standard. Then, Binance launched its own technical standard, namely BEP-2 for Binance Chain and BEP-20 for Binance Smart Chain. This makes the BEP-2 and BEP-20 tokens interchangeable and compatible with the ERC-20 standard.
So, now you can find BNB in three different forms:
BEP-2 on Binance chain
BEP-20 on Binance Smart Chain
ERC-20 on the Ethereum network
Applications made for Ethereum such as Metamask are compatible with Binance Smart Chain, meaning you can easily transact and take advantage of both chains. This is possible due to BSC's built-in capability for cross-chain transactions. In addition, numerous cross-chain protocols are now being built on Binance Smart Chain.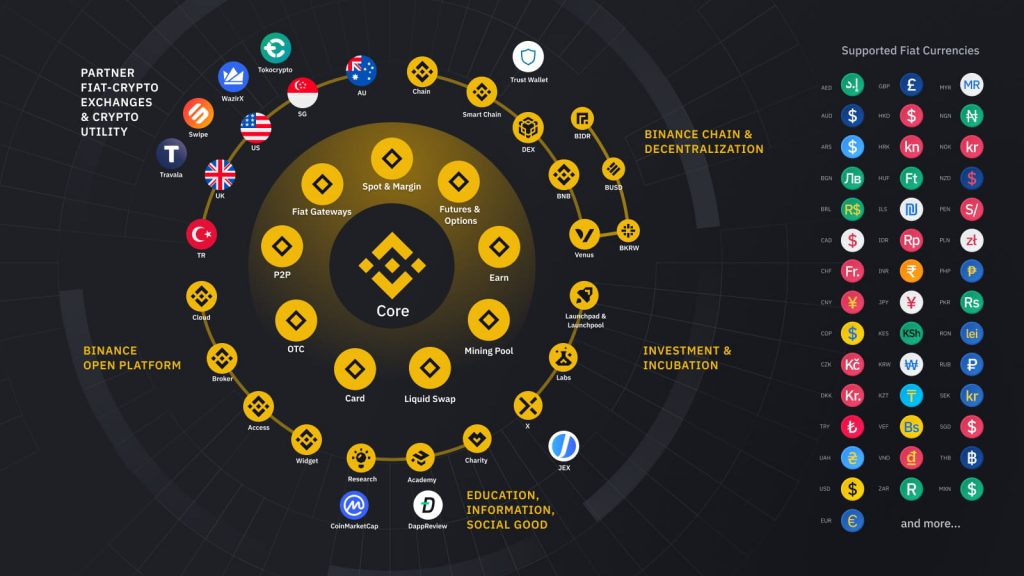 What can you do with Binance coin?
1. Taking advantage of the Binance ecosystem
The first thing you can do with BNB is for trading on the Binance exchange. You will get a discounted service fee if you have BNB coins when you use Binance Exchange. This service fee discount also applies to Binance DEX. In addition, you can also use BNB to invest in new coins on ICO listed through Binance's Launchpad program. Finally, you can use BNB coins to pay for in-app transaction fees on the Binance Smart Chain (BSC).
2. As a means of payment
BNB can be a means of payment at places like Crypto.com, Monetha, and HTC. You can also use the coin to book travel accommodations (on sites like TravelbyBit, Trip.io, and Travala.com) and as payment for online services (BitTorrent, Canva, Storm).
Unfortunately, BNB coins are not necessarily valid in Indonesia. Many merchants and services do not offer the option to use crypto assets as a means of payment. However, this may change in the next few years with the rising popularity of crypto assets in Indonesia.
3. Using Binance Smart Chain (BSC)
Binance Smart Chain is Binance's latest blockchain compatible with Ethereum Virtual Machine (EVM). This means that Ethereum-compatible Decentralized Finance or DeFi (a blockchain-based financial application ecosystem that runs without a central authority) apps will work with Binance Smart Chain. Here are some applications that you can use in BSC:
Pancakeswap is a decentralized exchange application (DEX) in the BSC network that you can use to exchange your crypto assets or store money in a liquidity pool to earn interest! **
Venus is the most popular loan application in BSC. You can deposit your crypto assets to earn interest or borrow crypto assets for investment needs.
MOBOX is an NFT gaming ecosystem built on Binance Smart Chain. MOBOX combines elements of DeFi with NFT, creating a free game model that you can use to acquire crypto assets.
4. Long-term investment
As of September 2021, the market capitalization value of BNB is around $83 Million dollars at a price of 1 BNB equivalent to $498 dollars. Similar to Ethereum and Bitcoin, the Binance coin has seen a sizeable increase in value in recent years. The price chart below shows that BNB once reached its highest price in May 2021, which is worth 675.68 US dollars.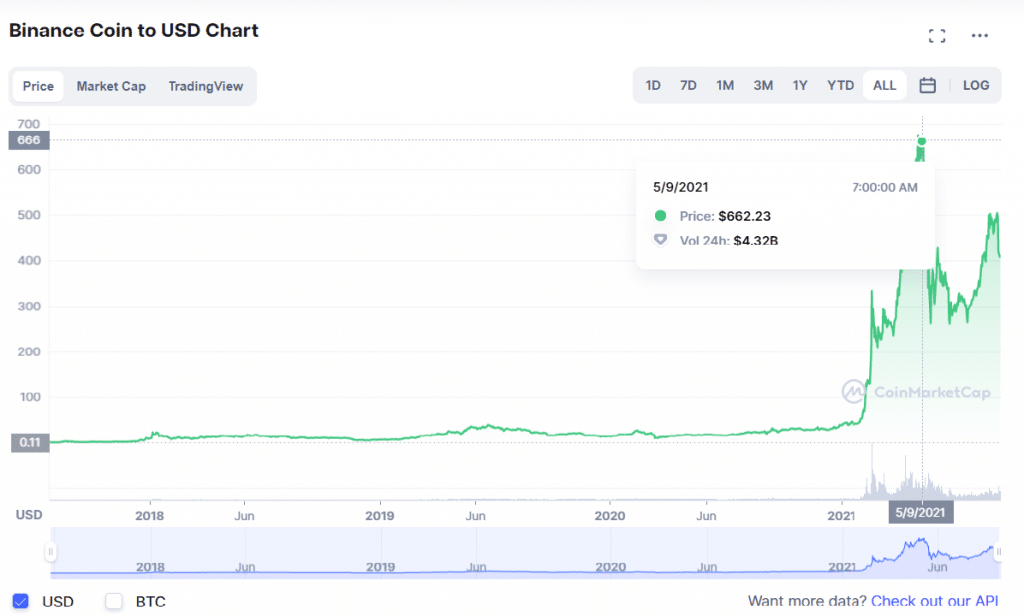 How can you get Binance coin?
One way to get BNB Coins is directly through the Binance website at binance.com. However, an easier and more practical process is through the Pintu app, where you can use various payment methods that are safe and practical.
In addition, Pintu is compatible with various popular wallets such as Metamask for easy transactions on other crypto services. You can download Pintu cryptocurrency app on Play Store and App Store! Your security is guaranteed because Pintu is regulated and supervised by Bappepti and Kominfo.
Sources: