Reading Time:
6
minutes
One of the unique features of blockchain that makes it an innovative technology is data transparency and protecting the privacy of its users. Most of the blockchains that dominate the crypto market today are public blockchains whose entire data can be accessed freely on the internet. But, non-private data can be easily viewed using a special block explorer platform for each blockchain. BscScan is one of the block explorers. So, what is BscScan? Why should you use BscScan? This article will explain it in detail.
Article Summary
🌐 BscScan is a block explorer specific to Binance Smart Chain (now known as BNB Chain) for searching transactions on the blockchain.
👤 BscScan has many features that you can access easily. You can search for transactions, user addresses, token lists, NFT project ratings, as well as gas fees.
🔍 Using the BscScan platform makes it easy for you to find various information about the BNB Chain blockchain.
What is BSCscan?
BscScan is a block explorer specific to the Binance Smart Chain (now known as BNB Chain) for searching transactions on the blockchain. So, block explorer lets you track transactions, verify smart contracts, find wallet addresses, and do many other things. This platform was created by the same team behind Etherscan. Therefore, BscScan has a similar appearance to EtherScan, the first blockchain explorer for Ethereum.
Open this page if you want to know more about BNB Chain.
Block explorer platforms such as BscScan have a crucial role in unlocking access to data on the blockchain. Through this platform, users can search their transaction history and view ongoing transactions. Apart from that, there is a lot of other important data such as live blockchain statistics, crypto asset rankings, and specific crypto project data.
Advantages of Using BSCscan
🔍 Searching transactions: BscScan makes searching transactions and crypto addresses easy.
🙌 Beginner-friendly interface: BscScan has a simple and clear interface where access to its various features is easy to find. This platform is friendly for beginners in using block explorer to find transactions.
⛓️ On-chain information: The BscScan platform provides a variety of on-chain information that can be accessed freely. You can find user activity data, transaction data, and also the largest BNB asset holder.
How to Use BSCscan?
You will learn how to use BscScan including taking advantage of basic features such as how to find transactions, token addresses, validator leaderboards, and more. The BscScan homepage menu itself is divided into 4 major categories: Home, Blockchain, Validators, Tokens, Resources, and More.

Home – BscScan main page
Blockchain – The main place to find transaction data is divided into several categories:

Top Accounts – View addresses/accounts with the most BNB assets.
View Txns – A place to view the latest transactions (also known as "Txns") live.
View Pending Txns – A list of transactions that have not been completed and are still being processed. Useful if you want to search for pending transactions.
View Contract Internal Txns – List of transactions that occur between and within smart contracts.
View Blocks – List of validated blocks
Forked Blocks – Contains a list of blocks that are not included in the main chain due to "chain reorganization".
Verified Contracts – View a list of smart contracts on the BNB Chain that have been verified.

Validators – Validators on the BNB Chain have the same role as miners, namely processing and validating all transactions. In this menu you can see information about validators in the two options below:

Validators Leaderboard.
View Validators Set Info.

Tokens – This menu gives you detailed access to tokens on the BNB Chain such as BEP-20, ERC-721, and ERC-1155.

BEP-20 Tokens By Market Cap — View a list of BEP-20 tokens by market cap.
BEP-20 Tokens By Volume — View a list of BEP-20 tokens by transaction volume.
View BEP-20 Transfers — List of BEP-20 token transfer transactions.
ERC-721 Top Tokens — View the ranking of ERC-721 (NFT) tokens on the BNB Chain.
View ERC-721 Transfers — List of NFT transactions.

Resources.

Charts & Stats — This contains various statistics and data charts, perfect for those of you who are researching the BNB Chain.
Top Statistics — Daily statistics of the BNB Chain such as who is the biggest BNB sender and receiver.
Developer APIs — Specific for the developer team who wants to know how to use the BscScan API.

More – Contains several menus for experienced users who want to know more detailed data such as the average transaction gas cost.
How to Find Transactions on BscScan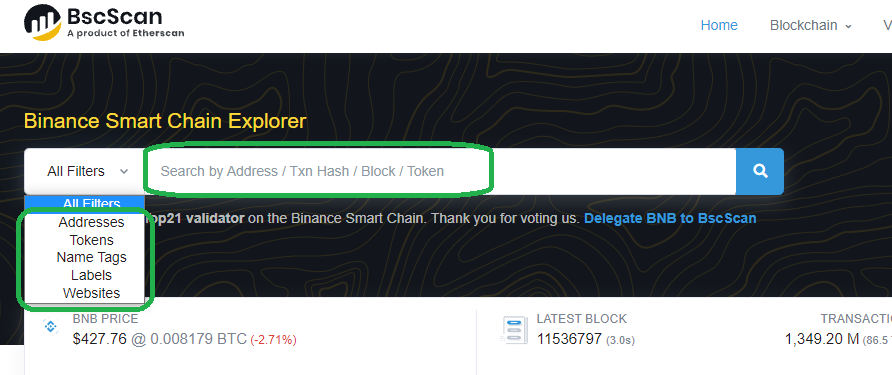 The menu to search for transactions is located right at the top of the BscScan website page. As seen in the image above, you can use filters to search for the transaction or address. Furthermore, user addresses belonging to certain applications or platforms usually have a name tag to make them public and visible to everyone.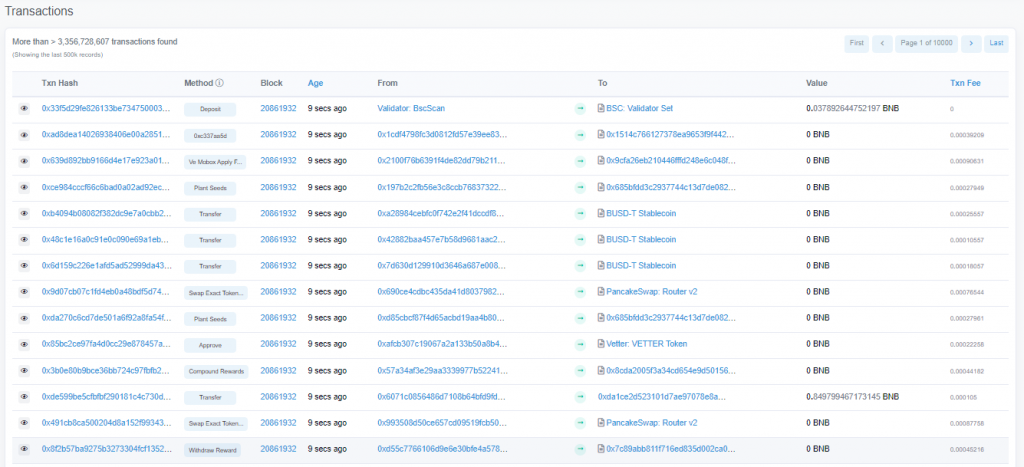 In addition, you can also view transactions through the "blockchain" menu and then "view txns". You can view the most recent transactions on this list. This list also gives the type of transaction that occurred in the "method" column.
How to Verify Token on BscScan
The token verification feature via smart contract code is useful if you want to know whether an application or crypto project is verified or not. This token verification matches the source code of a smart contract with the code running on the blockchain. This feature gives you the ability to independently check/audit certain crypto projects. So, it is part of an effort to create good blockchain transparency.
How to Find Average Gas Fee on BscScan
This page contains various information about the gas fee for each transaction on BNB Chain. You can find out the current transaction gas costs, including how much it takes to process transactions quickly (5-10 seconds). In addition, there is also information about the apps and accounts that consumed the most gas in the last 5 minutes. This page is suitable when you want to check gas costs before making a transaction.
How to Connect MetaMask to BscScan

If you haven't added BSC to your MetaMask application, you can easily do so in BscScan. You just need to look for the "add BSC network" button at the very bottom of each BscScan page. Next, MetaMask will automatically bring up a popup where you need to approve the addition of the BSC network. So, now you can make BNB Chain transactions on MetaMask!
BscScan and NFT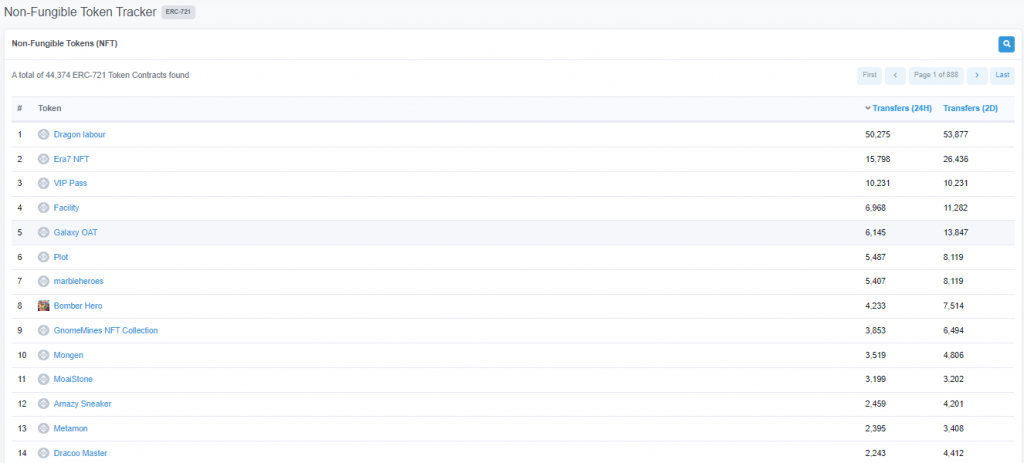 Like Ethereum, the BNB Chain network has the ability to host NFT collections. There are hundreds of NFT collections on the BNB Chain network. Additionally, you can search for NFTs on BscScan just like you would search for regular transactions. BscScan will display the ownership history, project name, and token ID of each NFT. However, BscScan cannot display the image of said NFT.
In addition, the BscScan Platform keeps a list of all NFT projects on the BSC under the "tokens" menu. In this section, you can find a ranking of NFT projects as well as the latest NFT transactions.
You don't understand what NFT is? Read the full article about NFT.
5 Important Data You Can Get from BscScan
Investing in BNB On Pintu Crypto Application
You can start investing in BNB on Pintu. Through Pintu, you can buy cryptocurrencies such as BTC, ETH, BNB, and other cryptocurrencies in an all-in-one convenient application.
Pintu is also compatible with popular wallets such as Metamask to facilitate your transactions. Download the Pintu app on Play Store and App Store! Your security is guaranteed because Pintu is regulated and supervised by Bappebti and Kominfo.
You can learn more about cryptocurrencies through the various Pintu Academy articles that we update every week! However, All Pintu Academy articles are made for educational purposes only, not financial advice.
References