Reading Time:
10
minutes
The cryptocurrency industry is primarily seen as an investment sector. Most people are attracted to crypto because they want to invest or want to make big profits. Although that has started to change with the presence of NFT and other crypto applications, investment remains the main reason that attracts new users. However, Chiliz is an exception. Chiliz is a crypto project behind the Socios.com app, an app that focuses on the interaction of fans with the sports teams they love. Then, what is Chiliz? What is unique about Chiliz and why is it gaining popularity? This article will attempt to answer any questions you may have about Chiliz and the CHZ token.
Article Summary
️🌶️ Chiliz is a crypto project created specifically for fan engagement in the sports industry.
📱 Socios.com is an application on smartphones created by Chiliz. On Socios.com, fans can buy fan tokens to be involved in the decisions of their favorite team.
⚽ Through fan tokens, each fan can participate in various activities of their favorite team. Each team on the Socios.com platform has its own fan token like the BAR token for Barcelona.
🤝 Currently, Chiliz already has more than 150 partnership partners ranging from football, basketball, rugby, and e-sports teams. Chiliz is quite aggressive in finding partners and has even managed to bring in many big sports organizations such as UEFA, Italian Serie A, and the Argentine Football Association.
What is Chiliz (CHZ)?
Chiliz is a crypto project created specifically for an ecosystem of sports fans. Chiliz wants to change the way sports fans interact with their favorite club or organization. It utilizes blockchain and crypto-based technology so that fans can participate in various activities of their favorite club. The native cryptocurrency of Chiliz is CHZ, an ERC-20 Ethereum and Binance's BEP-2 token.
Chiliz allows fans to participate directly in the sports team they love through an application called Socios.com. Fans can purchase various fan tokens or fan tokens that act as voting rights as well as special access tokens. Each sports club that works with Chiliz can determine the rights of fans who have their fan tokens.
Chiliz (CHZ) is an example of an altcoin. Want to know more about altcoins? You can learn from this article.
For example, owners of fan token $PSG (Paris Saint Germain football club) can vote for the best goals of the season and even meet their idols. Currently, Chiliz already has dozens of collaborations with various major sports organizations in the world.
Watch the video below if you want to know about the important role of Socios.com.
Who's the Team Behind Chiliz?
Chiliz was founded by Alexandre Dreyful in 2018. An initial 8,8 billion CHZ are distributed to early contributors. Chiliz secured $66 million US dollar funding with Binance as one of its first investors. After that, the CHZ token was listed on several major exchanges including Binance and BitMax. Then, the Socios.com platform was launched at the end of December 2019.
Now, there are 73 fan tokens on Socios.com. Chiliz has proven to be able to attract many major sports teams to its platform and can offer a variety of attractive offers for fans.
How Does Chiliz Work?
Chiliz is a decentralized application built on the Ethereum network with smart contracts that you can view and verify. So, Chiliz does not currently have its own blockchain. CHZ tokens and all fan tokens from Chiliz can interact with all compatible platforms with the ERC-20 token standards.
Furthermore, Chiliz has a permissioned side chain on top of Ethereum with a Proof of Authority (PoA) consensus mechanism (named Chiliz Chain 1.0). The PoA consensus mechanism processes transactions in the same way as Proof of Stake (PoS) using validators. However, nodes or computers that can process transactions in PoA are predefined from the start. The validator must have the authority assigned by the network.
This makes Chiliz a relatively centralized platform when compared to other applications and blockchains. It sacrifices decentralization for quick transactions and cheap gas for the platform. Chiliz is currently planning to create its own blockchain called Chiliz Chain 2.0 (CC2). CC2 will enter the mainnet stage sometime in Q4 2022.
Currently, the validator of this side chain is dominated by Chiliz but will be developed to involve others to make the network more secure.
💡 Side Chain is a "mini blockchain" that processes transactions in its own way to avoid expensive transaction fees on Ethereum. It is a Layer-2 technology on Ethereum.
the Ethereum network processes All CHZ transactions while the Chiliz side chain manages the transactions and minting of all fan tokens on the platform.
CHZ Tokenomics
According to CoinMarketCap, the price of CHZ as of September 28, 2022, is $0.023. Chiliz occupies the position of 39th largest crypto asset in the world. The maximum supply amount of CHZ is 8.8 billion CHZ with 6 billion CHZ already circulating in the market (68% of the total supply). Besides that, the Chiliz corporate wallet holds the remaining 32% CHZ as treasury money. You can check the multi-sig wallet that Chiliz is holding.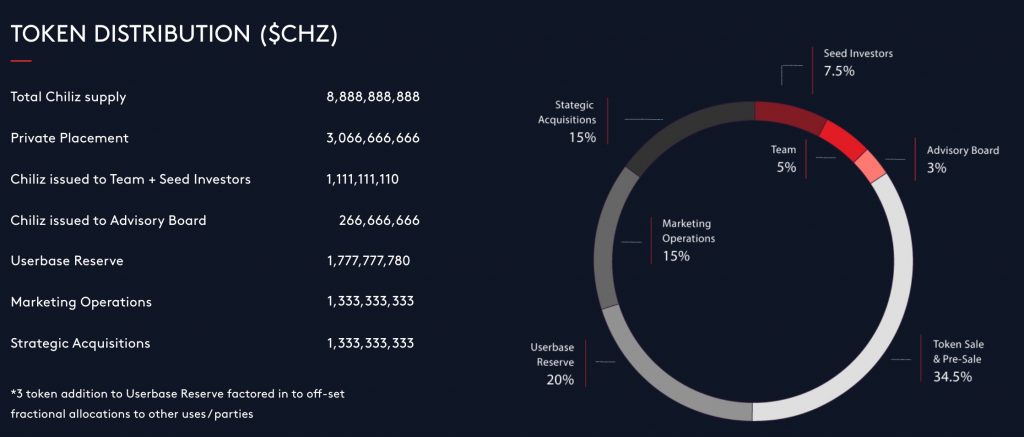 As seen from the image above, the proportion of CHZ token distribution is actually not balanced. The majority of CHZ tokens are given to teams and investors while only 34.5% are sold to the public. However, Chiliz has no token vesting schedule (locked tokens waiting to be unlocked). This means there is no more potential selling pressure from locked tokens holding millions of CHZ.
💡 One good indicator of the tokenomics of a crypto project is the percentage of tokens already circulating in the market (circulating supply). Crypto assets with a high circulating supply have lower selling pressure. For example, Bitcoin has a very high circulating supply at 91%.
The remaining supply of CHZ that is not yet on the market is owned by the Chiliz team and these assets are managed according to the team's needs and crypto market conditions.
Socios App and Fan Token Ecosystem
Socios.com is a platform where sports fans can feel closer to their favorite club using fan tokens. As already explained, fan tokens are crypto assets that serve as access cards to influence the decisions of your favorite club. You can buy these tokens through Socios.com as well as crypto exchanges like Binance. Each team also decides the supply of their fan tokens.
Want to understand more? You can also watch the video below about the Fan Token explanation.
Currently, Chiliz has more than 150 sports club partners ranging from football, e-sports, basketball, and others. Chiliz has also managed to have partnerships with several major football organizations such as UEFA, Italian Serie A, and Spanish LaLiga. In addition, the Ambassador of Socios.com is also one of the most popular players in football, Lionel Messi.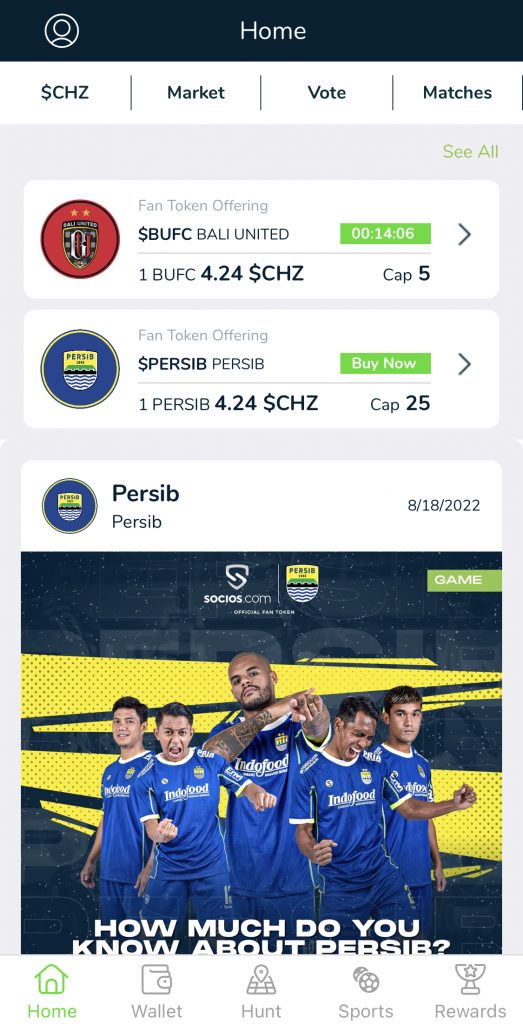 The Socios.com platform itself has an easy-to-use interface for anyone, including those of you who have never used a crypto application. You can only buy fan tokens on Socios.com using CHZ. In addition, this application has quite a lot of features.
📊 Fan Token Exchange: The Socios.com app acts as a fan token exchange. You can buy, sell, and exchange fan tokens to CHZ.
️⚖️ Participate in team decisions: Once you have fan tokens, you can vote on every poll held by the team.
💰 CHZ Hunt: The Socios.com app has a hunting feature where you can find and get CHZ tokens for free in various locations around you.
📋 Fan Leaderboard: You can participate in the fan leaderboard of each club. If you manage to top this leaderboard, you will get a prize.
️ 💰 Get Discounts and Other Benefits: Each fan token has various benefits that have been determined by their respective clubs. As an example, Barcelona (BAR) fan token provides cash back for BAR token owners on every purchase of club shirts.
⚽ Participating in FTO (Fan Token Offering): All teams that will launch fan tokens on Socios.com will enter the FTO period first at a predetermined price. Each FTO has a maximum purchase amount and a lock-in time before you can sell it.
Download the Socios.com app on the IOS or Android App Store
Create an account at socios.com using your mobile number and email address
Top up your digital wallet by buying CHZ using Visa payment or transferring your CHZ tokens here.
Buy your favorite team's fan token.
Now you can participate in all the decisions of your favorite team on the Socios.com app!
Chiliz Cooperation
As already explained, Chiliz has more than 150 partners spread across 25 countries in the world. The main target of Chiliz and Socios.com are football clubs that have hundreds of millions of fans in various parts of the world. The number of collaborations it has with football clubs from England, France, the United States, and even Indonesia shows that Chiliz is focusing on the football market. So, here is a list of some of the collaborations.
Football Club
Chiliz and the platform Socios.com have close cooperative relationships with various football clubs around the world. The first club to work to form the partnership is the legendary Italian club, Juventus in November 2019. After Juventus, Paris Saint Germain, Atletico Madrid, and Galatasaray also cooperated with Socios.com. Currently, Chiliz and Socios.com have partnered with 87 football clubs from around the world.
In addition to football clubs, Chiliz also works with associations and national football organizations. Currently, Chiliz and Socios.com have strategic partnerships with Italy's Serie A and Spain's LaLiga. one of Socios' latest partnerships is with the Argentine football association and its national team which now has ARG fan tokens.
Lastly, Socios.com has just continued its collaboration with football's biggest award event, the Ballon D'or. This is the second year that Socios.com has successfully collaborated with the Ballon D'or. Socios.com will select lucky fans to join the event.
Football Clubs in Indonesia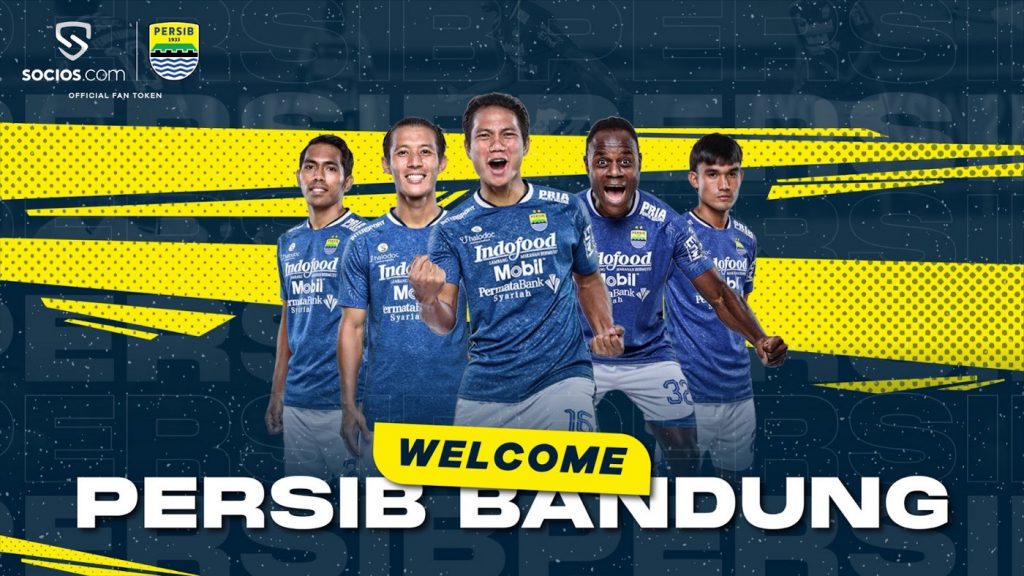 In 2022, Chiliz succeeded in bringing three football clubs in Indonesia to the Socios.com platform. These three teams are Persib Bandung, Persija Jakarta, and Bali United. The three clubs want to take advantage of the socios.com platform to bring fans closer to their respective team activities.
Yabes Tanuri, CEO of Bali United said, "We want to introduce our fan token to fans in Indonesia as a new way to support and engage more with their favorite team." Persib and Persija also issued a similar statement, seeing the socios.com platform as an innovation and technology that can bring new ways for fans to support their clubs.
Barcelona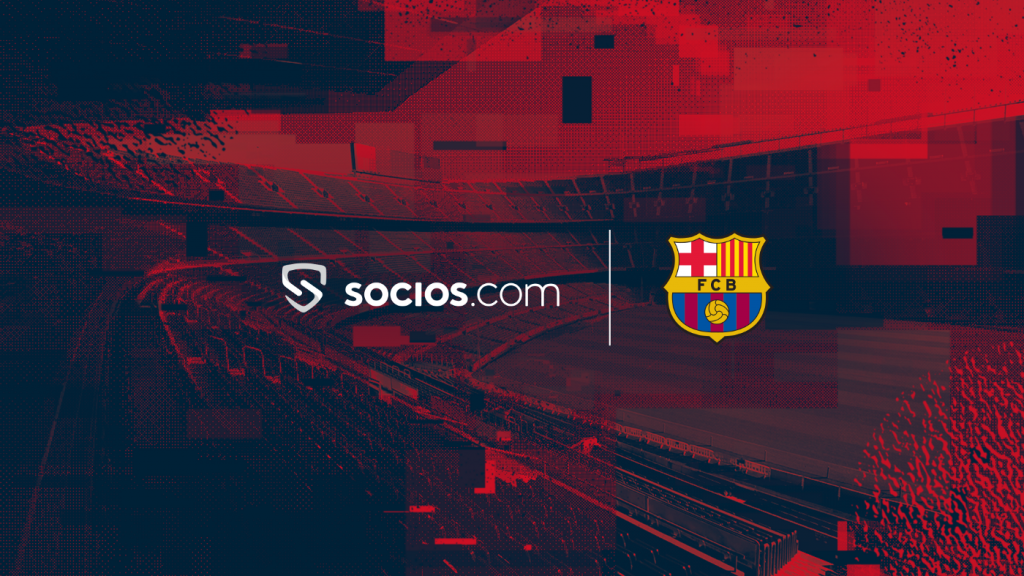 On August 1, 2022, Chiliz announced the creation of a strategic partnership with FC Barcelona, one of the biggest football clubs in the world. This strategic collaboration strengthens the partnership that started in February 2020 with the creation of the BAR fan token. Furthermore, in this strategic partnership, Chiliz invests US$100 million or 24.5% stake in Barca Studios which manages the distribution and creation of digital content for the club.
Barca Studios will work with Chiliz to bring Metaverse projects and various NFT collections to hundreds of millions of Barcelona fans. In addition, this collaboration will make Barcelona the first team to have access to Chiliz Chain 2.0 (CC2), a layer-1 sports and entertainment-only blockchain. CC2 will launch in Q4 2022 with Barcelona as the cornerstone of the new chain.
CHZ As an Investment Asset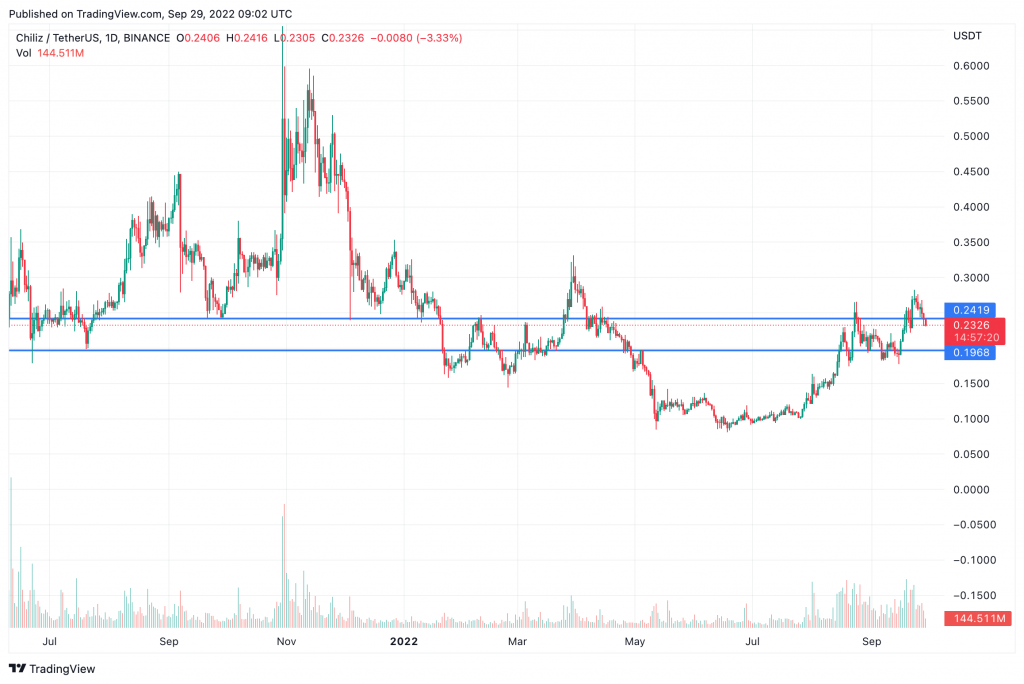 Like other altcoins, Chiliz's CHZ token has experienced a downtrend since the 2021 bull market ended. CHZ's all-time high was $0.89 USD in March 2021. CHZ showed strong price movement in late July 2022 and is still up about 130%. CHZ is one of the few altcoins that has soared in the midst of bear market conditions. At the moment, CHZ has just fallen from resistance around $0.24-$0.25 where it tried to break through that point several times before but keeps dropping back down.
This positive price movement was probably triggered by various cooperation announcements made by Chiliz and Socios.com such as Barcelona, Real Sociedad, and several Rugby teams from England. In addition, the launch of CC2 in Q4 is also an important catalyst that builds up hype around CHZ.
What is the Future of CHZ and Chiliz?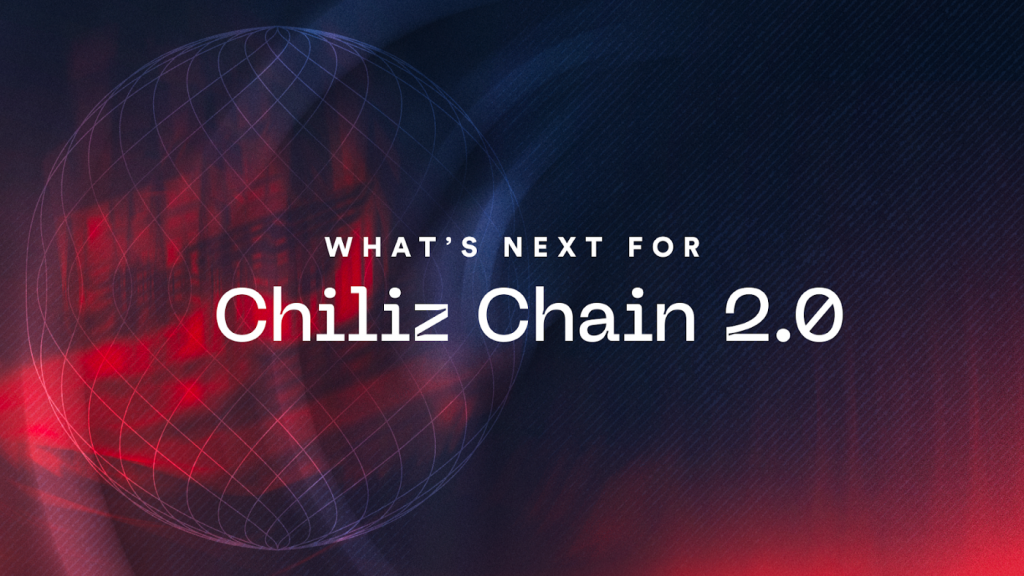 The main catalyst for the network is the launch of CC2 sometimes in Q4 2022. Through CC2, Chiliz will transition from just Dapps (Decentralized applications) on top of Ethereum to its own layer-1 blockchain. So, This transition will bring many changes such as the potential of creating its own application ecosystem and also changing the role of the CHZ token.
The CC2 blockchain will use Proof-of-Stake Authority (PoSA) where third parties such as Chiliz partners can become network validators. The transition to CC2 will unlock the potential of the network. Currently, Socios.com is the only app running on CC1. Through Chiliz Labs, a business incubator for CC2, Chiliz wants to create an app ecosystem focused on the sports, entertainment, and fan engagement industry. This incentive will unlock the potential for the development of Dapps, NFT, sports games, and ticketing on the Chiliz network.
As Chiliz's collaboration continues to grow, Chiliz occupies a unique position. Currently, the Socios.com app is one of the few crypto apps in the sports and entertainment industry with clear, non-speculative uses. Users use Socios.com to interact with other users and with their favorite teams, not just for profit or investment.
How to Buy CHZ in Pintu
You can start investing in CHZ tokens by buying them in the Pintu app. Here's how to buy CHZ in the Pintu app:
Create a Pintu account and follow the process of verifying your identity (KYC) to start trading.
On the homepage, click the deposit button and top up your Pintu balance using your preferred payment method.
Go to the market page and look for the CHZ token.
Click buy and fill in the amount you want.
Now you have CHZ tokens!
In addition, Pintu is compatible with various popular digital wallets such as Metamask to facilitate your transactions. Come on and download Pintu on Play Store and App Store! Pintu is regulated and supervised by Bappebti and Kominfo.
You can also learn more about crypto through the various Door Academy articles updated every week! All Pintu Academy articles are made for educational purposes, not as financial advice.
References