Reading Time:
8
minutes
A crypto whale tracker is a tool that can assist investors or traders in making investment decisions. As we know, every transaction of the whales can affect the market, especially if the transactions involve large sums of money. Therefore, using a crypto whale tracker, we can observe the whales' movements and capture any opportunities. In this article, we'll explore some of the top crypto whale trackers available to help you stay up-to-date with the latest market trends.
Article Summary
🐋 Crypto whale tracker is a tool that tracks and analyzes the crypto transactions of whales.
⚡ Crypto whale tracker analyses every transaction on a blockchain ledger. The analysis results show every transaction detail, such as the sender and recipient wallet addresses, amount, and time.
🔎 Since whale transactions can affect crypto's price, knowing whales' activities can help investors and traders to identify possible market movements.
🌟 On-chain analysis is a way to track whale transactions. Through on-chain analysis, we determine whether whales make wallet-to-exchange, exchange-to-wallet, or wallet-to-wallet transactions.
What is Crypto Whale Tracker?
A crypto whale tracker is a tool that tracks and analyzes the crypto transactions of whales. Meanwhile, a whale refers to individuals, groups, or organizations that own substantial amounts of crypto assets.
One of the known whales is Microstrategy, a US-based technology company that currently holds around 132,500 Bitcoin (BTC). The buying or selling activity of whales like Microstrategy can significantly impact the market, making it important to stay informed about their investment decisions.
However, following and analyzing the movements of each whale will be very difficult if done independently. Therefore, the crypto whale tracker can be a beneficial analysis tool to observe the movement of crypto assets and develop investment strategies. With the help of a whale tracker, investors and traders can stay up-to-date with the latest market trends and potentially make more informed decisions.
Crypto Whale Tracker Function
Using the crypto whale tracker, investors can get various important information and trends in the market. First, the crypto whale tracker gives real-time information about the whales' movements. By knowing this information, investors grasp market conditions and potential price movements.
If whales are moving large amounts of crypto to an exchange, it could be an indication that they are dumping their assets. This can cause the price of the asset to fall. Meanwhile, if a whale moves a large amount of crypto from an exchange to its wallet, it reduces the number of tokens in circulation. This can cause the price to increase.
Second, the crypto whale tracker can help investors identify possible market manipulation or insider trading. If a group of whales simultaneously move their assets unexpectedly, it could indicate market manipulation. By knowing this, investors can adjust their trading strategies accordingly.
Third, investors can discover potential buying or selling opportunities through the crypto whale tracker. For example, when whales make large-scale asset sales, this can cause prices to decline. Investors can see this moment to sell their assets before the price falls. Or it becomes an opportunity to buy.
Apart from the whales' movement, another factor affecting asset prices is the response of market participants. If the whale dumps an asset and then is followed by other market participants, the asset price may fall further. But if market participants take a moment to make purchases, the asset price may not experience a correction.
Crypto attacks are still a threat to crypto investors. Find out the types and how to avoid them in the following article.
The Pros and Cons of Using Crypto Whale Tracker
As an analytical tool, the crypto whale tracker has advantages and disadvantages. The following are some of the pros and cons of using the crypto whale tracker:
Pro:
Identifying trends earlier. As users can detect and keep an eye on the whales' movements, they can spot any changes in momentum or trends earlier.
Easy and Quick. By using the crypto whale tracker tool, investors can save time analyzing the transactions of the whales manually.
Understand market conditions and trends. Investors can get information about market trends and conditions through the crypto whale tracker by identifying the whales' movements.
Cons:
Dependence on Whale data. If you rely too much on whale transaction data, investors may miss other activities in the market. Not all market movements are influenced by whales alone.
Whale transactions not always reliable. It is common for whales to make the opposite transactions to manipulate the market or deceive small investors or traders.
Differences in approach. Whale transactions contain significant funds. The investment strategy used may be different due to the different capital used.
How To Spot Whale Activity
One of the main ways to observe whale activity is by analyzing transactions on the blockchain, also known as on-chain analysis. In performing on-chain analysis, users will observe the value of a transaction and the block size.
If the transaction value shows a high number, many tokens are changing hands. At the same time, a high block size indicates extensive transaction data.
You can analyze the wallet addresses involved in the transaction through on-chain analysis. You can find whether the wallet contains a large amount of crypto or belongs to a whale. Once you have the wallet addresses, you can see where the whales send the crypto.
Three types of transactions on a blockchain can help you learn about the whale's activities:
Wallet to exchange transactions. If whales are moving crypto from wallets to exchanges, they are selling. If the asset being sold turns out to be an altcoin, this could lead to a large asset sale. As a result, the price will correct and trigger a sell-off from other investors. However, if it's a stablecoin being moved, it could indicate that the whale is looking to buy a crypto asset.
Exchange to wallet transactions. If whales withdraw crypto from exchanges to wallets, it can have a positive impact on the circulation of tokens in the market. This is because the withdrawal of large amounts of crypto from exchanges means that there is less supply available on the market, which can increase demand for the token and drive up the price.
Wallet to wallet transactions. If a whale makes a transaction directly from wallet to wallet, it usually won't affect the market and crypto price much. These transactions indicate the whales are doing Over-The-Counter (OTC) trading.
Interested in trying out on-chain analysis? Find out how to do it in the following article.
Crypto Whale Tracker Recommendation
1. Whale Alert
Whale Alert is a paid crypto whale tracker tool that collects and analyzes blockchain transactions. It notifies the users of any large transactions in real time. Not only that, Whale Alert also provides information about the sender and receiver of each transaction. This makes it easier for users to identify potential market movements.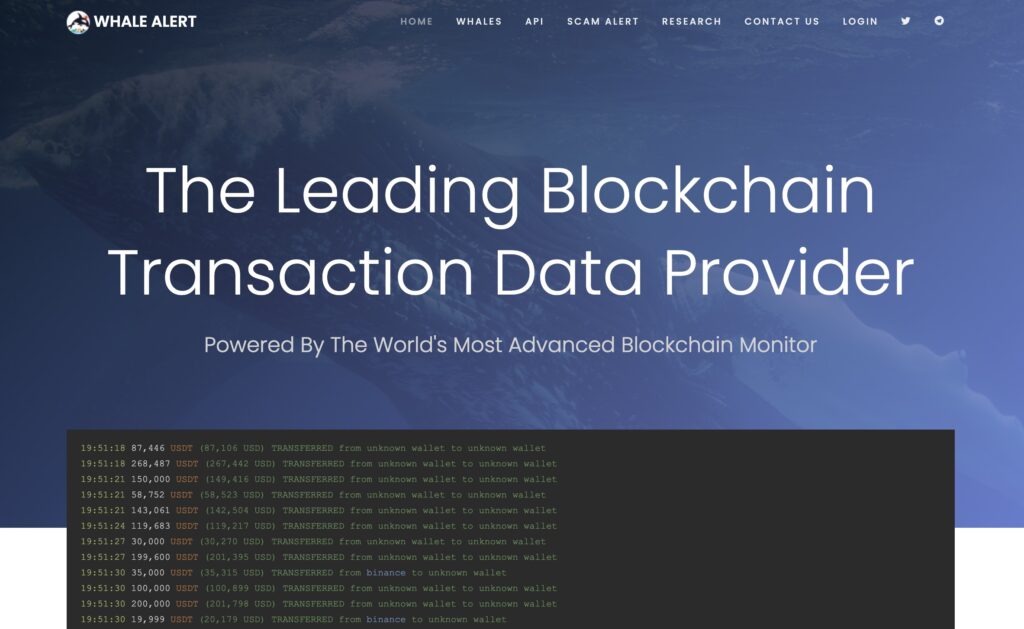 Currently, Whale Alert tracks nine major blockchain networks such as Bitcoin, Ethereum, Solana, Avalanche, Doge, Litecoin, Tron, Bitcoin Cash, and Algorand in real-time. In addition, Whale Alert also tracks and analyzes stablecoin transactions. The monthly subscription fees for Whale Alert are US$ 49, US$ 699, and US$ 1,499.
However, Whale Alert also has a twitter account that provides brief information about the whales' asset movements. For unexperienced investors, this information is enough to give an idea of the market sentiment towards certain crypto assets.
2. Whale Map
Whale Map works similarly to Whale Alert. The only difference is that Whale Map still offers free all-on-chain analysis features for the Bitcoin network. So you can access various data such as volume profiles, fund flows from large asset wallets and HODL Waves. For another blockchain, other on-chain analysis features require a subscription fee.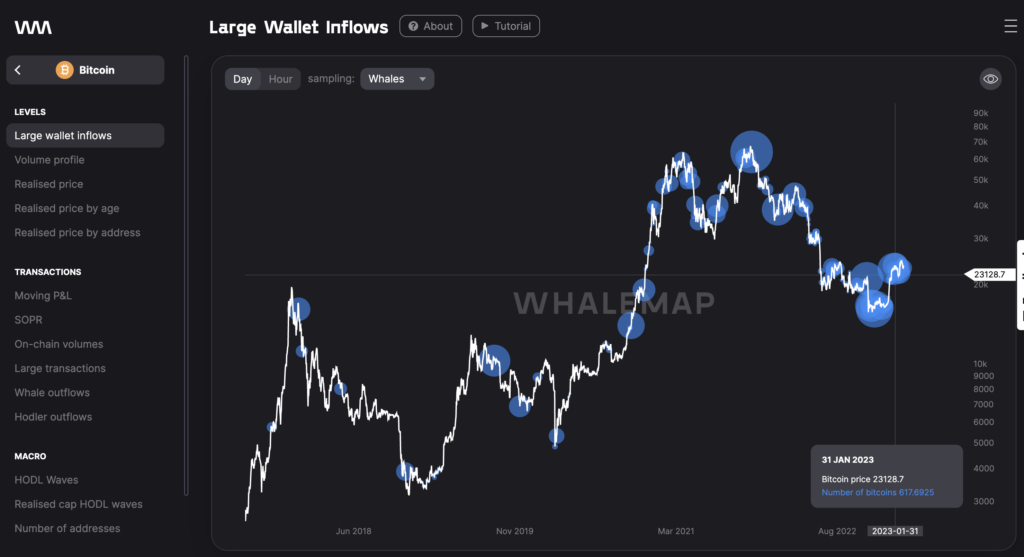 Currently, Whale Map only offers an on-chain analysis of six networks: Bitcoin, Solana, Ethereum, Doge, Litecoin, and Polygon. One of the advantages of Whale Map is the educational features and tutorials for its users. This can help beginners who are learning on-chain analysis.
3. Blockchain Explorers
Blockchain Explorers operates like a specialized crypto wallet search engine. Blockchain explorers give users how much the contents of a wallet, transactions of a token, and records of all transactions. All of this information is displayed in real-time. It can make it easier for users to find the whales' movements and track the affected wallets.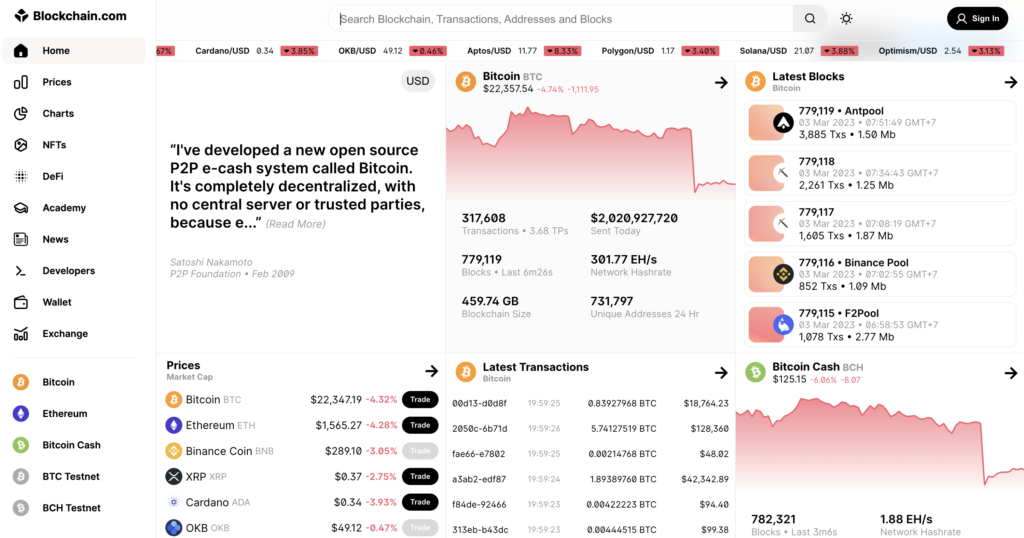 Blockchain explorers collect information from a blockchain through its transaction records and blocks. Then, the results are organized into searchable categories. Unfortunately, blockchain explorers can only track popular wallets. In addition, manual searches can be difficult for beginner users.
In addition to using the Crypto Whale Tracker as an indicator, here are four trading indicators that you can try.
4. ClankApp
ClankApp is a crypto whale tracker tool that displays a real-time list of whales' transactions on a blockchain. ClankApp does not display charts or detailed on-chain analysis, unlike the previous tools. However, all features in ClankApp can be used by users for free.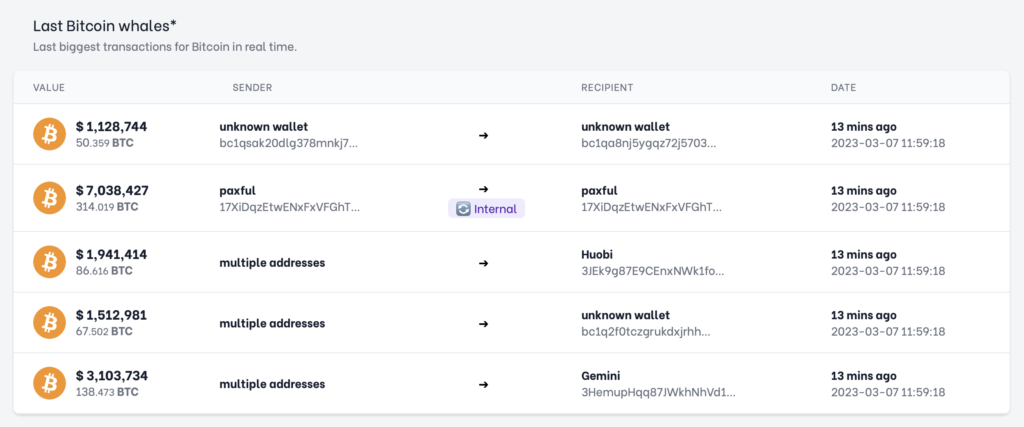 In addition to being free, ClankApp has a push notification feature that can be accessed via Telegram and Twitter. The number of blockchains tracked by ClankApp is also much larger, reaching 24 networks. ClankApp can be a useful whale tracker tool for beginners as it is easy to use and free. However, for experienced traders, this app will be less useful due to the limited analysis features.
5. Whale Watchers
While the previous tools track whale transactions on crypto, Whale Watchers focuses more on tracking Non-Fungible Token (NFT) whale activity. Currently, Whale Watchers features two versions, free and paid. On the Captain Club paid plan, users get push notifications, 10x faster report notifications, and a private discord server.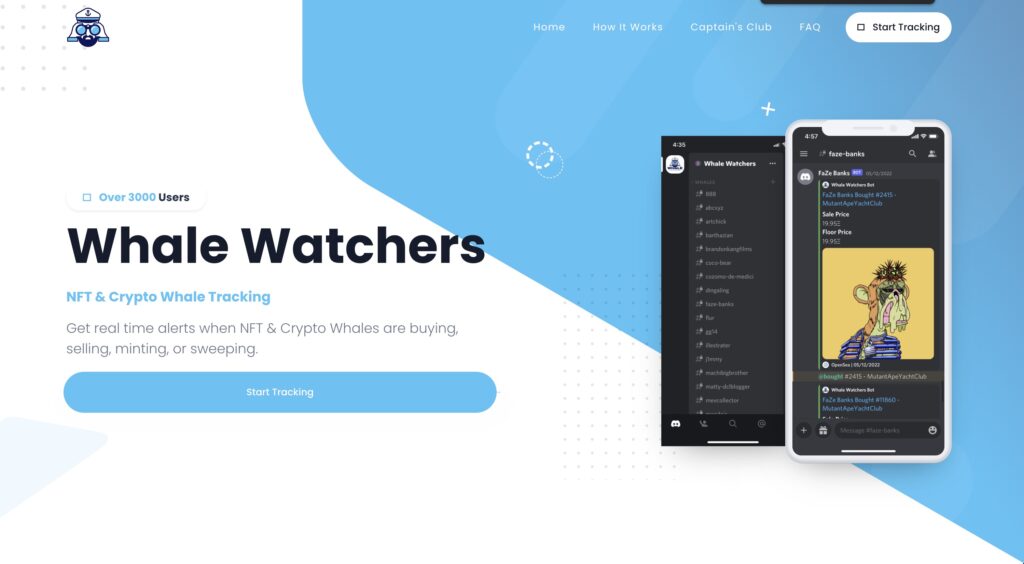 There are four whale transactions that Whale Watchers focuses on: buying and selling NFTs, minting (publishing NFT assets on the blockchain so that they can be purchased) NFTs, and sweeping (buying the entire NFT collection at the floor price) NFTs. Not only that, by using Whale Watchers, users can also track Whales who buy or sell ERC-20 tokens.
Conclusion
Crypto whale tracker is a reliable indicator that helps investors understand market conditions. It also helps investors to make investment decisions. For beginners, the free crypto whale tracker can be an option to hone and study the whales' movements. While for experienced investors, using crypto whale tracker tools can be an additional weapon to sharpen analysis.
Each crypto whale tracker certainly has its advantages and benefits. However, it's important to keep in mind that whale tracker data should not be use as the sole reference data. It's always better to analyze other indicators as well as additional references to make well-informed investment decisions.
Buying Cryptocurrencies in Pintu
You can invest in various crypto assets such as BTC, ETH, SOL, and others safely and easily. Pintu is also compatible with popular wallets such as Metamask to facilitate your transactions. Download Pintu app on Play Store and App Store! Your security is guaranteed because Pintu is regulated and supervised by Bappebti and Kominfo.
In addition to executing transactions, in the Pintu Apps, you can also learn more about crypto through various Pintu Academy articles which are updated every week! All Pintu Academy articles are made for knowledge and educational purposes, not as financial advice.
Reference
Arunkumar Krishnakumar, What are crypto whale trackers and how do they work? Coin Telegraph, accessed on 6 March 2023.
Caroline Banton, What Is a Crypto Whale and How Do They Affect Crypto Markets? Investopedia, accessed on 6 March 2023.
Oliver Knight, MicroStrategy Added 2,500 Bitcoins for $45M in Last 2 Months, CoinDesk, accessed on 7 March 2023.