Reading Time:
7
minutes
In September 2022, Ethereum successfully migrated to a Proof-of-Stake (PoS) network. This migration enables staking for all ETH token holders. The amount of ETH entering staking has steadily increased since the successful network migration. Now, Ethereum is preparing an update that will allow stakers to withdraw their ETH. This update is named Shanghai. So, what is the Ethereum Shanghai Upgrade? What is the impact of Shanghai? This Pintu Academy article will explain it in detail.
Article Summary
⏳ Ethereum validators have been staking on the beacon chain since December 2020, long before the Merge. Currently, there are about 16.7 million ETH locked in staking, 13.87% of the total ETH in circulation.
🏦 The Shanghai upgrade is Ethereum's update to enable a withdrawal feature on Ethereum staking (EIP-4895). The Ethereum Shanghai upgrade will likely be implemented in March, after final testing on the Goerli server.
⚙️ Besides EIP-4895 on staking, Shanghai also contains several Ethereum development proposals including EIP-3651, EIP-3855, EIP-3860, and EIP-6049.
🧠 The implementation of Shanghai will likely impact three things: institutional investors' interest in ETH, the liquid staking sector, and ETH price movements.
State of Ethereum
The successful migration of the Ethereum network in September 2022 actually started in December 2020. At that time, the Ethereum beacon chain started rolling out and anyone can participate in the PoS layer testing process. Many Ethereum miners started staking ETH in the beacon chain to become validators. However, validators who wanted to participate had to stake a minimum of 32 ETH. All validators who staked continued to earn staking rewards.

Currently, there are about 16.7 million ETH in Ethereum staking. This represents 13.87% of the total ETH in circulation and includes the staking rewards that each validator has. Furthermore, the success of the Merge has made more people want to participate in staking through various platforms such as CEX (centralized exchange) or liquid staking (Lido, Frax, Rocket Pool).
Liquid Staking is a protocol that allows users to continue using their staked through tokenized version of those assets. For example, you will get 1 stETH if you stake 1 ETH on Lido.
So, the problem is that there is $25.2 billion worth of ETH (February 14, 2023) sitting in the staking system that cannot be withdrawn. While drafting plans for Ethereum's migration to PoS, Ethereum developers explained that the staking withdrawal feature would be made separate from the Merge. This was done to reduce the complexity of the Ethereum migration. The staking withdrawal will be implemented in the Ethereum upgrade called Shanghai.
What is Shanghai Upgrade?
The Shanghai upgrade is an Ethereum update to enable ETH staking withdrawal (EIP-4895). This system update is a hard fork with EIP-4895 as the main proposal. So, all validators will be able to withdraw the ETH they have locked, including those that have been stored since the beacon chain. On the other hand, this makes Ethereum staking much more flexible where users can freely add and withdraw ETH as they please. In addition, the Ethereum Shanghai hard fork also brought several other EIPs (Ethereum Improvement Proposals) to improve the performance of Ethereum.
EIP or Ethereum Improvement Proposal is a standard format used by developers to submit proposals for Ethereum development. EIP-1 is a guide on how to create a good EIP.
In all Ethereum upgrade processes, Ethereum developers must first conduct various stages of testing. The Shanghai upgrade process (February 15, 2023) is going through testing on several testnet before being deployed on the Ethereum mainnet. The first test on the Zhejiang server was a success. On February 28, the Sepholia server will go through the same testing phase. The Goerli server will be the last part of this series of tests before the Shanghai hard fork is deployed on Ethereum mainnet.
Other Updates with Shanghai
In addition to EIP-4895, Shanghai also brings several updates that improve the capabilities of the Ethereum network. Among these are EIP-3651, EIP-3855, EIP-3860, and EIP-6049. EIP-3651 has a significant impact, it is a "Warm COINBASE" instruction that proposes to reduce gas fees when using the COINBASE program (commonly used by validators and Flashbot). EIP-3651 mitigates the MEV (Maximal Extractable Value or the maximum profit validators can make from organizing transactions) issue and makes COINBASE transactions much cheaper than before.
Other EIPs in the Shanghai upgrade are:
EIP-3855: Adds "Push0" code which will lower gas costs for developers and reduce the size of storage.
EIP-3860: Limits gas fees for developers when interacting with 'initcode' code (code used by developers on smart contracts).
EIP-6049: Depreciating the code "SELFDESTRUCT," which also relates to reducing gas fees. The "SELFDESTRUCT" code is likely to be replaced and Ethereum warns that programs using the code will not be forward-compatible.
Impact of Shanghai Upgrade
The Shanghai upgrade improvement has the potential to have a major impact on things like ETH price and institutional investors' interest in ETH staking.
Liquid Staking Derivatives (LSD)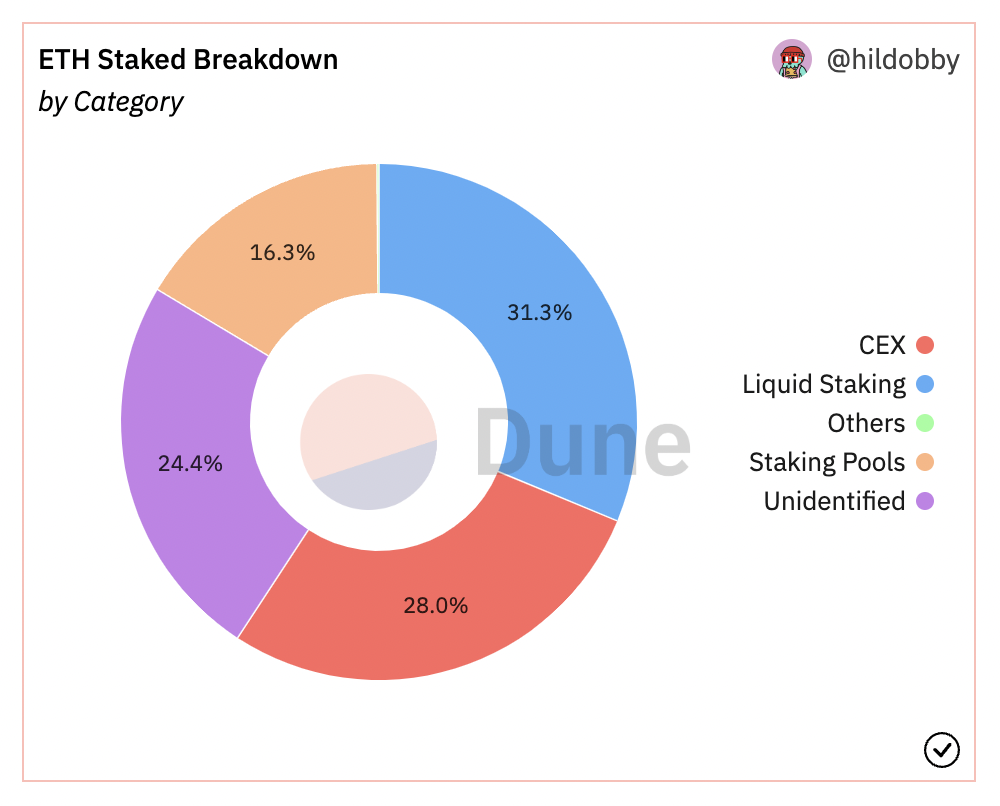 The liquid staking derivatives (LSD) sector on Ethereum has grown exponentially, dominating the DeFi industry and taking a significant market share in Ethereum staking. As shown in the image above, the liquid staking sector accounts for the largest staking amount on Ethereum. Lido DAO dominates in the liquid staking sector with a market share of 93% and a TVL of $8.08 billion. Lido DAO's TVL even occupies number 1 on the DeFi app leaderboard. Besides Lido DAO, Frax Finance and Rocket Pool are two names in the LSD sector that are getting attention.
Liquid staking has become much more attractive than conventional staking because users can still use ETH in the LSD version (stETH, rETH, frxETH). This is especially appealing to users who want to use DeFi apps to gain additional yield.
Furthermore, the ratio in staking is only 13.88% of the total ETH supply. Compare this to BNB, SOL, and ADA whose staking ratios reach 97%, 70%, and 71% respectively. This means that there is a lot of potential for the LSD sector to capture ETH for staking. The Shanghai upgrade is one step closer to realizing that potential.
Institutional Investors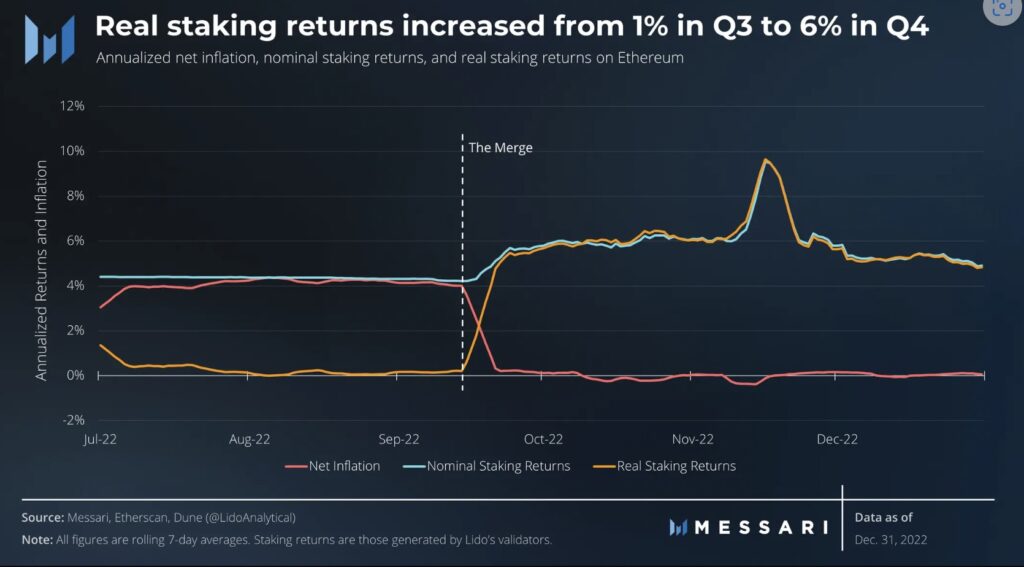 Many analysts explain that ETH is becoming more attractive to institutional investors post Shanghai. With staking interest reaching 7.25% for validators, ETH is a yield-earning asset. The Shanghai upgrade eliminated Ethereum's only staking weakness. Moreover, Shanghai is the first phase of many updates that will be implemented post the Merge.
The narrative of ETH being deflationary post the Merge also makes Ethereum more attractive to many large investors. A PoS network that doesn't consume much electricity eliminates concerns about the asset being environmentally unfriendly. All of this contributes to the unique value proposition of ETH beyond being a speculative investment asset.
Potential Negative Impacts
As mentioned, about 16 million ETH is in Ethereum staking. With the implementation of Shanghai, all stakers can withdraw their ETH or at least sell the profits from staking rewards. This means that Shanghai also has the potential to create enormous selling pressure on ETH prices and create fear in investors. Shanghai could be a buy the rumor sell the news event. This is reinforced by the price charts of Shanghai-related assets (ETH, LDO, FXS, RPL) which experienced a huge rally in anticipation of the Shanghai upgrade. Worst case, these assets will experience a correction just as Shanghai is successful.

The data above is a graph of investors who are staking and whether their position are in a loss or profit. As can be seen, 84.2% of investors in staking are still at a loss. So, those with losses have an incentive to continue profiting from staking. Konstantin Boyko-Romanovsky, CEO of Allnodes (an Ethereum staking platform) also thinks that investors have nothing to worry about.
There are many reasons why investors don't need to worry about the Shanghai update, even most Ethereum stakeholders will increase their investment into staking after Shanghai. - Konstantin Boyko-Romanovsky, CEO of Allnodes.
However, on the other hand, there are about 15.8% of stakers in profit. If we calculate 15% of the $25.2 billion ETH in staking, it means that there are about $5 billion dollars in profit positions which is equivalent to 295,000 ETH. Then, will this 295,000 ETH be sold or not? Manage your risk according to your assumptions about this.
What's Next for Ethereum After Shanghai?
After Shanghai, the Cancun update will take place. Some of the Ethereum updates that were not implemented in Shanghai will likely be part of Cancun. One of the biggest is EIP-4844. EIP-4844 or proto-danksharding is a much-awaited update. It introduces temporary data storage in the form of storage blobs. These storage blobs will allow rollups to complete transactions without competing with other Ethereum transactions, potentially making rollups 100x cheaper.
EIP-4844 will have a significant impact on layer 2 projects using rollups such as Optimism and Arbitrum. Cancun could be a big catalyst for L2 towards the end of the year. Keep an eye on these assets if you want to invest in them.
The Cancun update is a significant update, just like Shanghai. EIP-4844 is the first stage of the implementation of Ethereum's sharding called danksharding. Danksharding will put Ethereum on par with other modern L1 (layer 1) speeds and fees.
Cancun is also likely to include an update to the Ethereum Virtual Machine (EVM), which has not been updated in a while. Cancun will add EVM Object Format (EOF). This improvement will make some transactions cheaper, simplify smart contract implementation, and make future EVM updates easier to implement. Cancun plans to launch by the end of 2023.
How to Buy ETH at Pintu
You can start investing in ETH tokens by buying it in the Pintu App. Here's how to buy crypto on the Pintu application:
Create a Pintu account and follow the process of verifying your identity to start trading.
On the homepage, click the deposit button and top up the Pintu balance using your preferred payment method.
Go to the market page and look for ETH token.
Click buy and fill in the amount you want.
Now you have ETH token as an asset!
Besides ETH tokens, you can also invest in various crypto assets such as BTC, BNB, SOL, and others safely and easily through Pintu.
Pintu is also compatible with popular wallets such as Metamask to facilitate your transactions. Download the Pintu app on Play Store and App Store! Your security is guaranteed because Pintu is regulated and supervised by Bappebti and Kominfo.
In addition to executing transactions, in the Pintu Apps, you can also learn crypto through various Pintu Academy articles which are updated every week! All Pintu Academy articles are made for educational purposes, not financial advice.
References