Reading Time:
9
minutes
The competition in the blockchain gaming industry is filled with lots of promising projects. Starting from Decentraland, Sandbox, to several new projects such as Iluvium, Otherside from ApeCoin, and Gala Games. In the context of the blockchain gaming industry, Gala is a unique project because it is not just a game, but an ecosystem of game publishers. So, what is Gala Games? Why is it valuable and what does it offer? This article will explain the ecosystem and the GALA token in detail.
Article Summary
🖥️ Gala Games is a blockchain gaming company that integrates NFT technology and crypto into an ecosystem of various games.
🔧 Gala Games is a platform where you can choose from several available games. Every game on the platform is free and accessed like a decentralized application (DApp). In addition, The ecosystem is built on the Ethereum network and the GALA token uses the ERC-20 format.
🎮 The Gala Games ecosystem has 14 different games, two of which you can already play for free on the Gala website. Gala has its own game development team and also works closely with various experienced game companies.
⚖️ GALA tokens are Gala Games' native crypto assets for purchasing NFTs and transacting in-game. Currently, investing in GALA tokens carries an equally high risk and rewards ratio.
What is Gala Games and GALA tokens
Gala Games is a blockchain gaming company that integrates NFT technology and crypto into an ecosystem of various games. Gala games itself is a platform containing 14 different games with 2 games in the beta stage. All games in the ecosystem are free and you only need to register to play.
GALA is an ERC-20 utility token for purchasing various NFT goods in the Gala ecosystem. According to CoinMarketCap, GALA is the 92nd largest cryptocurrency with a price of 1 GALA of $0.06 US dollars (11 August 2022). The current market capitalization value of GALA is $418 million US dollars.
Gala Games was launched in 2021 and is led by Eric Schiermeyer, co-founder of Zynga who makes Facebook games like Farmville, Mafia Wars, and Poker. Currently, the Gala platform has 1.3 million monthly active players.
💡 Gala Games claims to be the makers of "blockchain games you'll actually want to play." Therefore, the focus is not on GameFi (game finance) where players play for profit. On the contrary, Gala Games focuses on quality and ensure that each game is fun and then adds GameFi elements like Pay-to-earn.
How Does Gala Work?
Gala Games is similar to the Steam and Epic Games platforms, where you can choose from several available games. The difference is that every game on Gala is free and accessed like a decentralized application (DApp). The ecosystem is built on the Ethereum network and the GALA token uses the ERC-20 format. However, the density of the Ethereum network has an impact on the high cost of gas.
Since early 2021, Gala Games is working with several other blockchains to avoid expensive Ethereum transaction fees. Currently, GALA tokens are also available on Polygon and BNB Chain. All users can now take advantage of low and fast transaction fees using both blockchains.
In a blog post, Gala announced the launch of "Project Gyri" or Gala Chain, Gala's standalone blockchain.
Tokenomics GALA
According to CoinGecko, The GALA token distribution is 7.5 billion GALA in the market. The maximum supply of GALA is 50 billion GALA and the total supply is 37.9 billion GALA (maximum supply-token burned). This figure puts about 12.5% of GALA tokens circulating on the market.
Gala Games Ecosystem

You can play all the games on Gala by accessing them on the website and creating an account.
Town Star

Town Star is the first game launched in the Gala ecosystem. It was created directly by the Gala Games development team and is currently in the beta stage. In addition, Town Star successfully won The best blockchain game award at AIBC Award 2022. Town Star puts you in charge of a small town that needs to produce and manufacture goods, then sells them to earn money and keep growing. You can produce many items ranging from milk, oil, and other agricultural products such as eggs. The goal of Town Star is to continuously produce goods and enlarge your city.
💡 Play-to-Earn (P2E) is a concept in blockchain gaming where players can earn crypto assets through playing the game. P2E schemes usually require players to buy NFT and other items.
You can play Town Star for free without spending a penny, you only need to create an account on the Gala Games website. At the end of September 2021, Town Star introduced the concept of P2E (play to earn) through TOWN tokens and various other NFT items.
Players can compete in leaderboards for town points which will determine how many TOWN tokens they get. Players can also buy various NFTs in the form of in-game items that can help players produce goods.
However, on July 17, 2022, the TOWN token reward scheme is temporarily suspended as Gala Games is evaluating the economic side of Town Stars P2E. Gala Games also increased the number of Town Star development teams to further develop the game.
💡 You can find a complete guide to playing Town Star here.
Spider Tank
Spider Tank is the second game in the Gala ecosystem. Unlike Town Stars, it was created by a Dutch developer studio Gamedia with decades of experience making games. In Spider Tank, players can create their own Tank and compete with other players in a battle arena (also known as PvP or player-to-player mode). You can download Spider Tanks on the Gala Games website and start playing right away.
You can watch Spider Tank trailer below.
However, the number of Tanks that you can play is very limited if you don't buy Spider Tank NFTs. This is where crypto and blockchain technology intersect in the game.
In the Gala marketplace, there are already hundreds of NFT Spider Tanks. These NFTs are usually part of Tank bodies, weapons, and other elements. By purchasing a Spider Tank NFT, you also have the advantage of a more powerful Tank. Also, having NFT in the game gives you access to Spider Tank's P2E aspect which is still in development.
The P2E Spider Tank mechanism will officially start in Q4 2022. Gala Games published a lite paper on the P2E Spider Tank scheme with SILK tokens used as an in-game cryptocurrency.
NFT Marketplace
Gala has a dedicated NFT marketplace for the game ecosystem. You can buy NFTs using crypto assets such as ETH, BAT, and GALA. Gala Games has a dedicated digital wallet to store NFT and other Gala-related assets. You can buy these NFT collections as investment assets or items that you can use directly in the game on the Gala ecosystem.
On July 31, Gala Games announced that all of its NFT collections can be purchased directly on OpenSea. Users only need to import accounts from Gala wallet to MetaMask to buy on OpenSea.
Read More: 8 NFT Marketplace on Ethereum
Games Still in Development
The list below does not include the exhaustive list of games currently in development at Gala but are some of the most promising.
Mirandus: A large-scale fantasy RPG game that is very popular in the Gala community. Mirandus NFTs can be purchased but most of the rare collections are sold out.
The Walking Dead: Empires: Gala Games and AMC will produce a zombie game based on The Walking Dead TV series. This game requires players to survive with other players in a post-apocalyptic world.
GRIT: Grit is a battle royale game where all players have to compete against each other in a wild west theme arena. Grit is a collaboration between Gala Games and one of the world's largest gaming platforms, Epic Games. In addition, Grit will be the only blockchain game on the Epic Game Store.
Superior: Superior is a cooperative game where multiple players have to work together against powerful enemies. Superior is made by Drifter, a studio consisting of dozens of veteran development teams in the gaming industry.
The Last Expedition: The Last Expedition is a AAA (triple A which means big budget game) game created by Certain Affinity, the studio involved in popular games like Halo and Call of Duty.
The GALA token as Investment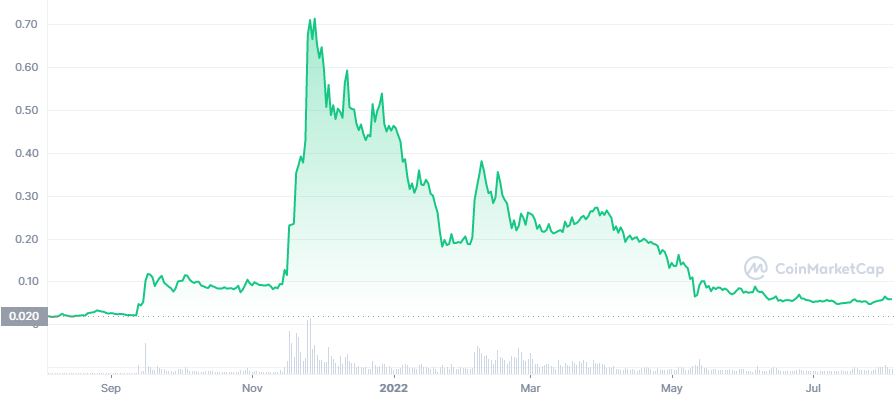 Looking at the GALA token chart since last year, we can clearly see that the price of GALA is crashing in this bear market. The GALA token fell more than 90% from its peak (ATH). However, this is actually a good time to determine the potential of the GALA token and find out if it can get back to its ATH numbers. Currently, the price of the GALA token is $0.06 US dollars (August 9, 2022). The next point of resistance is around $0.07. GALA needs to break through that price and flip it to support to continue the bullish momentum and break out of the longer-term downtrend.
Fundamentally, Gala Games' position is very unique when compared to other crypto gaming and Metaverse assets. Unlike Sandbox, Decentraland, and Axie Infinity, investing in GALA tokens does not mean investing in one specific game. The Gala ecosystem is an NFT gaming platform and marketplace containing 14 different games (and more are coming). Gala Games' partnership with one of the biggest PC gaming platforms (Epic Games) is also a sign that Gala Games cannot be underestimated.
Of the 14, 2 games have entered the Beta stage and can be played. Gala Games has huge untapped potential and the value of the GALA token will increase as new games are launched. However, we don't know whether the game that is still in development will be successful when it launches or not, and investing in GALA carries a high risk.
Basically, GALA and the Gala platform are unique blockchain gaming industry projects with great potential. However, this potential can also be interpreted as high risk with a lot of uncertainty. Can Gala Games attract a lot of users? Is the gaming ecosystem safe? You need to determine whether you can take this kind of risk or not.
Read more: Guide to 5 Basic Investment Principles
What makes GALA crypto different
🔧 Diverse Game Ecosystem: The games being developed within the Gala Games ecosystem are very diverse and target a wide variety of players. This diversification strategy has the potential to attract many players with different preferences.
💻 Investing in Platform: Investing in GALA token means you are investing in gaming platforms and NFT. Gala Games is also already planning to expand its platform to include music, movies, and more NFT collections.
💼 The team focuses on the quality side: One of the main principles of Gala Games is to focus on the quality of the game first before considering the financial aspect (P2E, NFT, etc). Gala Games also works closely with a team of experienced developers to ensure the quality of each game.
GALA token risk
⚠️ Poor tokenomics: Currently, only 12.5% (7.5 billion of 50 billion GALA) of GALA tokens are on the market. This carries great risk as there is potential for high selling pressure in the future. The node operators and Gala Games teams also hold a large number of GALAs. If they sell their GALA in large quantities, the price of the GALA will surely fall.
🛡️ Security Risk: Gala Games has plans to move from the Ethereum network to its own blockchain. This move will definitely not be easy and Gala needs to ensure the safety of its users from hacks that are becoming increasingly common in the gaming industry.
❓ Blockchain Gaming Industry Investment Uncertainty: The blockchain gaming industry carries a high level of risk, even by crypto market standards. We don't know who will be the leader in the blockchain gaming Industry and most of the projects are still under development. Be aware that investing in GALA carries a high level of risk.
Gala Games does not yet have an official roadmap. However, several milestones and major projects being developed this year are Gala music, Gala Film, and Project Gyri (Gala Chain). In addition, some games are in closed testing with limited users such as Superior, The Walking Dead: Empires, Last Expedition, and Grit.
Where to Buy GALA Token?
You can start investing in GALA on the Pintu app. Through Pintu, you can buy various cryptocurrencies such as AVAX, ETH, and SOL.
Pintu is also compatible with popular wallets such as Metamask to facilitate your transactions. Download the Pintu app on Play Store and App Store! Your security is guaranteed because Pintu is regulated and supervised by Bappebti and Kominfo.
You can learn more about cryptocurrencies through the various Pintu Academy articles that we update every week! All Pintu Academy articles are made for educational purposes only, not financial advice.
References