Reading Time:
8
minutes
Ethereum is a blockchain that serves as a 'home' for DeFi, Web3, and NFT. Due to its popularity, Ethereum is known for being congested and having high gas fees, which has led to the development of layer-2 solutions like Immutable X. It uses ZK-Rollups technology to make NFT transactions on Ethereum faster and cheaper by moving them off the main blockchain. Learn more about Immutable X and how it works in this article.
Article Summary
🔗 Immutable X is a layer-2 (L2) blockchain scaling solution for NFTs and Web3 games on the Ethereum network.
⚡ Immutable X, in partnership with StarkWare, leveraging Zero-Knowledge (ZK) Rollups technology. This makes for greater scalability for minting and trading NFTs while retaining the security of the Ethereum blockchain.
🪙 IMX is a native token that functions as cash to be able to transact in the protocol, staking rewards, and as a governance token.
🤝 Several NFT gaming projects built in collaboration with Immutable X are Gods Unchained, Illuvium, Guild of Guardians, Wagmi, and others.
What is Immutable X?

Immutable X is a layer-2 (L2) blockchain used to increase scalability on the Ethereum network and is widely used for NFT projects and Web3 games. It offers a fast transaction validation process of up to 9,000 transactions per second (TPS). This is because it uses Zero-Knowledge (ZK) Rollups technology.
Users can also make NFT transactions without fees because Immutable X bears all transaction fees or gas-fees. With its technology, this platform can pay lower fees for entering transaction data into the Ethereum blockchain.
In early 2022, Immutable X received funding from several major institutions such as Temasek, Tencent, Animoca Brands, and Arrington Capital. In addition, Immutable X also cooperates with several companies to develop its ecosystem. The latest partnership, Immutable X with GameStop, launched the GameStop NFT Marketplace on November 1, 2022.
Immutable X was started in 2018 by Alex Connolly and brothers Robbie and James Ferguson in Surry Hills, Australia. In 2020, Immutable teamed up with StarkWare, a software company focused on developing ZK-Rollups technology on the Ethereum blockchain, to address scalability issues in the gaming blockchain.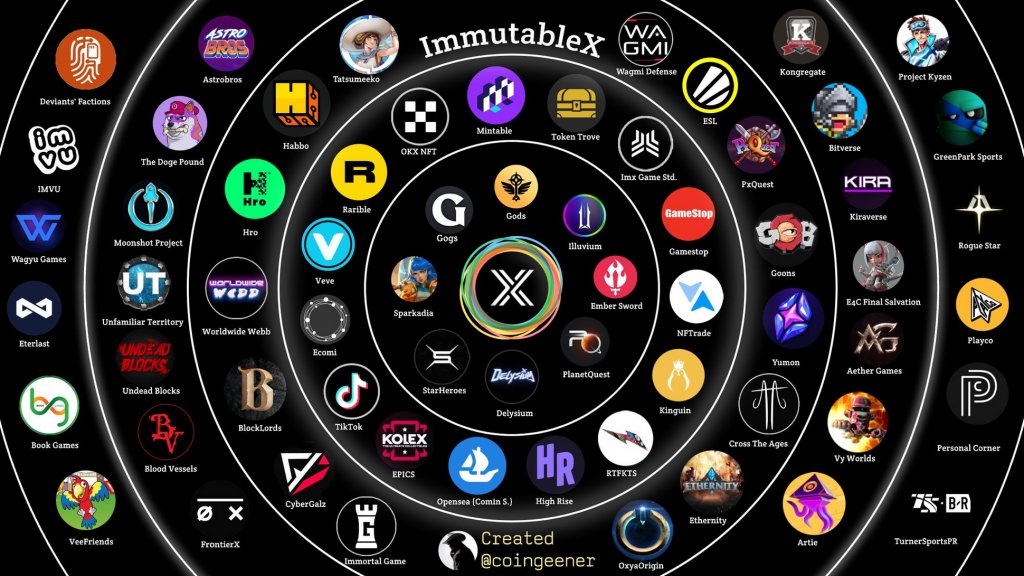 How Does Immutable X Work?
This platform is built on StarkWare's StarkEx, a layer-2 scalability engine, leveraging Zero-Knowledge (ZK) Rollups technology. This technology focuses on achieving significant scalability while still having the security of the Ethereum network.
Rollups are one of the most effective scaling technologies on the Ethereum network. This technology works on the Immutable X network by collecting thousands of transactions into one ZK-STARK proof. Then, the proof is sent and validated to the layer-1 blockchain (Ethereum blockchain). In this way, transactions are significantly faster because the validation process is simplified through the proof.
ZK-STARK stands for Zero-Knowledge Scalable Transparent Arguments of Knowledge. A validation method to prove ownership of specific data without disclosing any crucial information.
The ZK-Rollups smart contracts maintain all transaction details at layer 2, so blocks are validated faster. Therefore, Immutable X can process 9,000 transactions per second (TPS) and access instant NFT minting, trades, and games without compromise.
The main purpose of the this platform is to help game developers to create Web3 or NFT games. It also provides services such as back-end, liquidity platform, marketplace, and games using NFT.
This platform uses a powerful REST API (Application Programming Interface) and a simple SDK (Software Development Kit). The combination of Immutable X's special REST API and SDK can facilitate developers to create NFT gaming projects faster in hours.
REST APIs ease complex blockchain interactions. Users can send and create NFTs via API calls without interacting with smart contracts. Meanwhile, SDK Immutable X facilitates developers to integrate APIs and wallets into their platforms. Thus, developers can focus on their game design while Immutable X ultimately does the back-end tasks.
The back end is the server-side software of an application or website. Back-end tasks focus on organizing databases, APIs, architectures, and servers.
Learn more about Smart Contract Technologies here.
What Makes Immutable X Unique?
Easier to Build NFT Gaming Projects
Immutable X's powerful API and simple SDK system make it easy for developers to create and launch games using NFTs.
This platform can process instant NFT gaming transactions without a gas fee because it was built to facilitate NFT game creation.
Worldwide NFT Trading on Immutable X Marketplace
This platform implements a global order book on its marketplace. For that reason, if you sell NFT in one of its marketplaces, your NFT will automatically appear in all marketplaces that are in the Immutable X ecosystem. It gives your NFT exposure to get more eyes.
The Immutable X wallet is integrated with credit cards. It eases some people who want to buy crypto assets without using blockchain technology. You can buy crypto assets with a credit card, including ETH, IMX, GODS, and USDC.
Read also What Is NFT and Why Is It So Popular?
IMX Tokenomics
IMX is an ERC-20 token in the Immutable X protocol. This tokens can be used as an incentive between users, creators, and developers within the protocol activities. It has partnered with Digital Worlds NFTS Ltd to issue and distribute IMX tokens.
The primary functions of the IMX token in the Immutable X protocol are as follows:
Protocol fees: This platform charges its users (in this case, the developers) a 2% fee in IMX. Users can directly pay with IMX. The system automatically exchanges it for IMX if the user pays with ETH.
Staking: You can stake IMX on the Immutable X protocol to gain rewards. The system will regularly distribute rewards every month to those actively staking IMX. You will also get staking rewards if you hold IMX, have voted on proposals within the last 30 days, and hold an NFT on Immutable X.
Governance: IMX token holders can determine the future of Immutable X. They have voting rights over proposals related to IMX tokens. Proposal topics include changes in token supply, how to allocate token reserves, voting on developer grants, and activating daily rewards.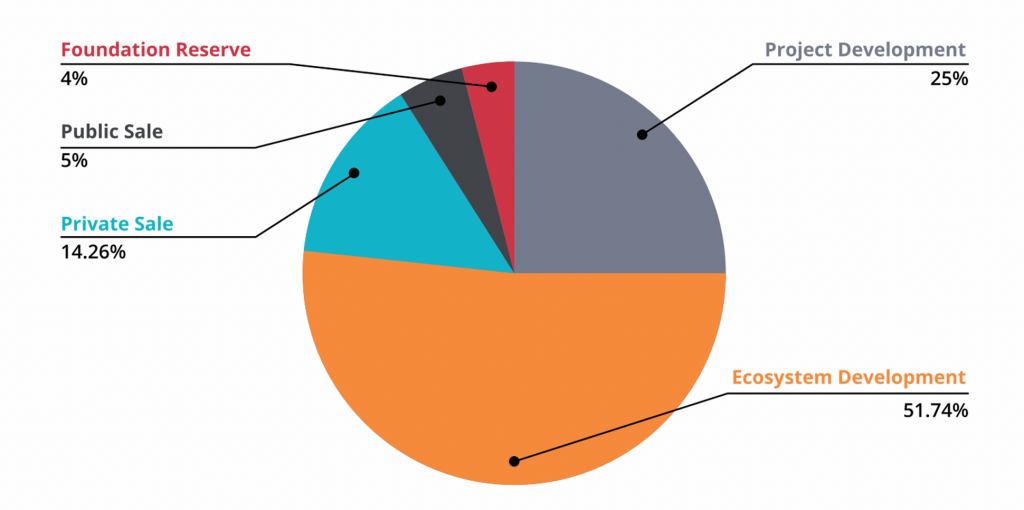 IMX tokens have a maximum supply of 2 billion tokens. From the diagram above, half of the maximum supply of tokens is allocated for ecosystem development, which is 51.74%. Ecosystem development includes user rewards, marketing purposes, and liquidity supplies.
Furthermore, this platform allocates 25% of IMX tokens for protocol project development. And 14.26% tokens for private sale investors. The remaining 5% is for IMX public sale, and 4% is allocated for liquidity provision for centralized and decentralized exchanges.
Projects Built on Immutable X
Gods Unchained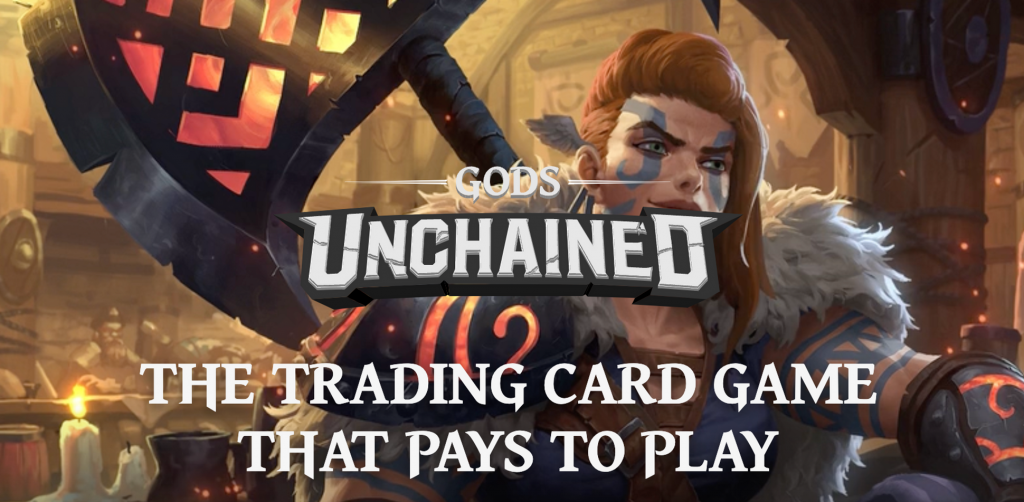 Gods Unchained is a play-to-earn game that combines card games and NFTs. Players can start playing for free and get some cards to play. Each card is a tradable NFT. To win the match, the player must implement strategies to reduce the health of the opponent's God character.
Since Gods Unchained migrated to Immutable X in June 2021, Gods Unchained's NFT volume transactions have been 1.5 times greater than on the Ethereum main network.
Illuvium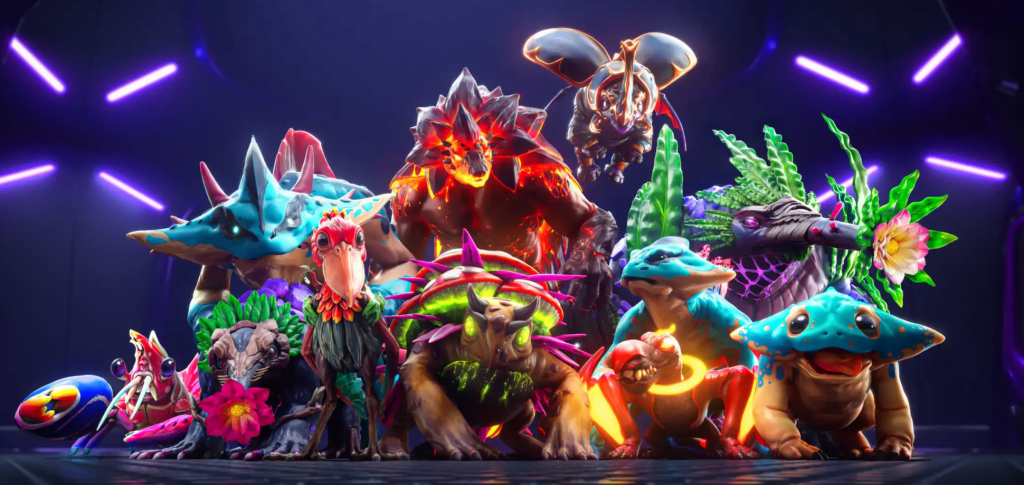 Illuvium is an Ethereum blockchain-based RPG (Role Playing Game) that combines open-world adventure and an auto-battle game. Players can hunt Illuvium's world-dwelling monsters, Illuvial, then catch them to fight in a battle arena or trade them on the marketplace.
Integrating the Illuvium game system with Immutable X allows players to mint and trade NFTs on the Illuvium marketplace fast and gas-free.
The Illuvium game will be released in early 2023. IIluvium aims to be the first AAA game with 3D sci-fi cinematic special effects in NFT gaming.
Guild of Guardians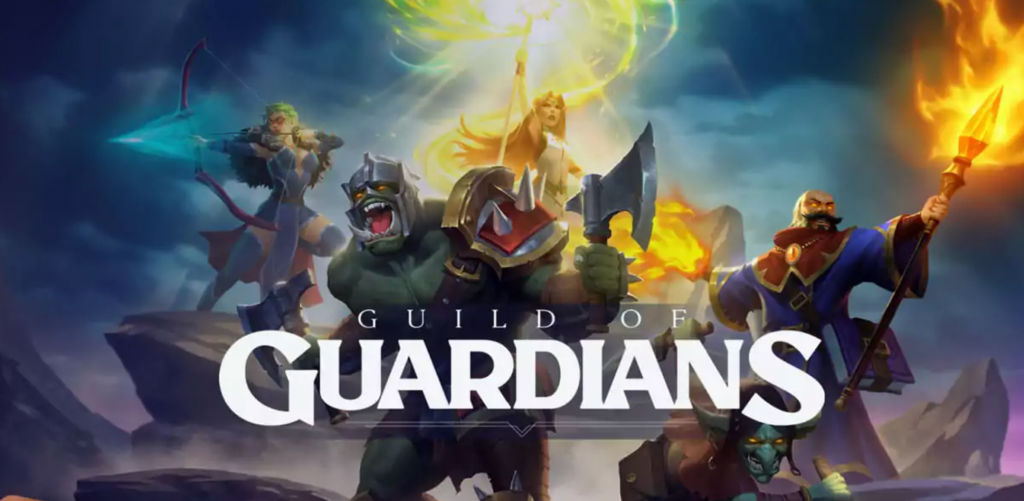 Guild of Guardians is a blockchain-based multiplayer and RPG game. In this game, players build a team of Guardians and compete in a guild or group to get rewards.
Stepico Games is a Guild of Guardians game developer. It works closely with Immutable X to improve scalability and user experience (UX). This mobile game is planned to be released in 2023 and will be available on Android and IOS versions.
IMX as Investment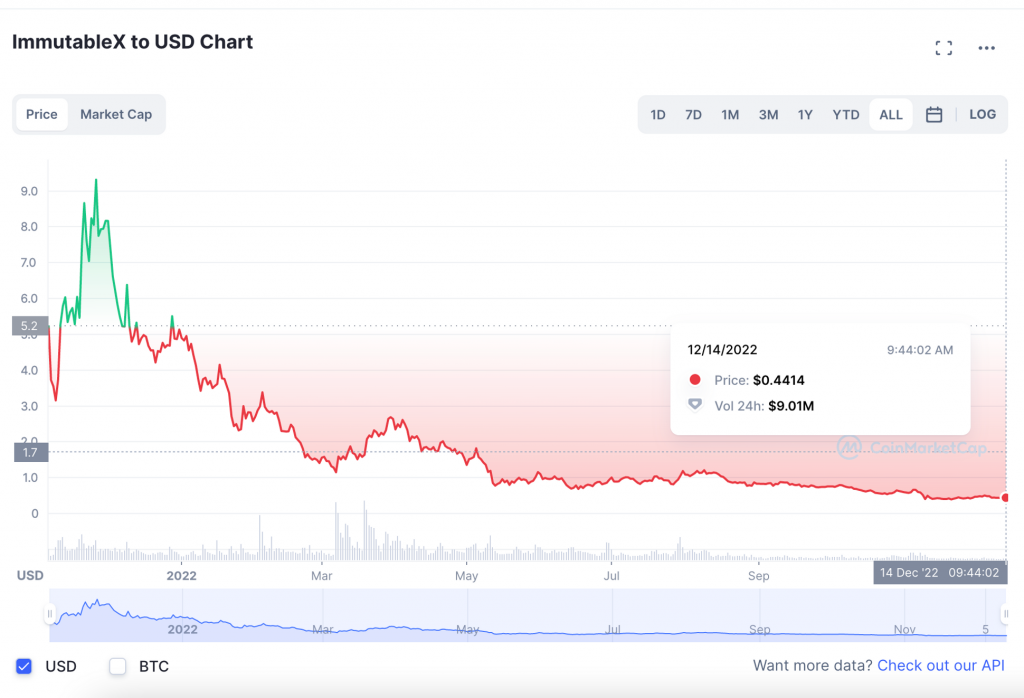 IMX reached its highest price on November 26, 2021, for 9.3 US dollars. As of December 14, 2022, IMX has a market cap of 324.683.953 US dollars and is 89th on Coinmarketcap rankings. The IMX token price is at 0.4 US dollars with a 24-hour trading volume of 9.01 million US dollars.
As you can see from the Immutable X website, on December 13, 2022, NFTs trading on the Immutable X platform has reached more than 9.6 million NFTs, and NFTs minting has reached more than 55 million NFTs this year.
In addition, Immutable X also cooperates with several companies in developing its ecosystem. For example, in September 2021, Immutable X was trusted by one of the largest social media, TikTok, to mint the NFT TikTok Top Moments. Furthermore, several big names that collaborate with Immutable X are GameStop, Rarible, Nifty League, Immortal Game, Manticos, and others.
In conclusion, with fast to build NFT gaming projects and a fast and cheap NFT transaction process, Immutable X has collaborated with many gamefi companies and has significant NFT transactions on its platform. It also has true strategic partnerships to expand its ecosystem. Those fundamental values are what make IMX tokens interesting to pay attention to.
Immutable X Risks
As previously explained, several blockchain projects are trying to overcome the problem of scalability and high gas fees on the Ethereum blockchain. They are Polygon, Zilliqa, Optimism, Celer Network, etc. Immutable X has to compete with those more famous names in the crypto space. It is only a matter of time and the number of users deciding who will win the competition.
Then like other crypto projects, the Immutable X project has high price volatility. So, you should do your own research and consider the benefits and risks before buying IMX tokens.
Also read: 7 Things to Know Before Investing in Crypto Assets
How to Buy IMX on Pintu
You can start investing in IMX by buying it in the Pintu app. Here's how to buy crypto on the Pintu application:
Create a Pintu account and follow the process of verifying your identity to start trading.
On the homepage, click the deposit button and top up the Pintu balance using your preferred payment method.
Go to the market page and look for IMX.
Click buy and fill in the amount you want.
Now you have IMX as an asset!
In addition, the Pintu application is compatible with various popular digital wallets such as Metamask to facilitate your transactions. Go and download the Pintu cryptocurrency app on Play Store and App Store! Pintu is regulated and supervised by CoFTRA and Kominfo.
You can also learn more crypto through the various Door Academy articles which are updated every week! All Pintu Academy articles are for educational purposes, not financial advice.
References