Reading Time:
8
minutes
Since the emergence of various Proof of Stake (PoS) blockchains such as Solana and Fantom, staking has become an important part of the crypto industry. Staking is the foundation for PoS network security. Furthermore, the recent Ethereum migration to PoS is making staking more tempting. However, there is one problem in staking, the loss of economic activity. Assets locked in staking are unusable for a certain period of time. So, the economic potential of the asset is lost. Liquid Staking has a big role to overcome this problem. So, what is liquid staking? What is LDO and what is the purpose of Lido DAO? This article will explain Lido, one of the premier liquid staking platforms.
Article Summary
💸 Lido DAO (LDO) is a liquid staking protocol for Ethereum, Solana, Kusama, Polkadot, and Polygon. Currently, Lido DAO is the largest liquid staking platform in Ethereum.
⚙️ Lido works by giving users an "st-" token whose value is equal to the users' staked asset in Lido. For example, you will get 2 stETH if you stake 2 ETH in Lido.
🏢 Most proposals that enter the Lido DAO governance need to go through the discussion process and two stages of voting. Lido DAO also has various committees responsible for specific aspects of the protocol.
⏳ Based on the chart, LDO has been rallying several times in the past year. The positive price movement is supported by Ethereum's upcoming Shanghai upgrade that will enable the withdrawal feature on staking. However, Lido is starting to have strong competitors such as Rocket Pool and Frax Finance.
What is Lido DAO?
Lido DAO (LDO) is a liquid staking protocol for Ethereum, Solana, Kusama, Polkadot, and Polygon. Lido itself was launched in December 2020, a few weeks after the beacon chain. So, liquid Staking is a protocol that allows users to continue to use the assets they stake in the PoS network. You will get st[token] (like stETH, stSOL, stDOT) equal to the number of assets you enter into Lido. Then, you can use st[token] various DeFi applications with st[token] liquidity pools (like Curve) to get additional yields.
So, if we assume you use ETH, you will get yield from Staking ETH in Lido and from the defi application where you become a liquidity provider for the stETH pool.
Lido provides a solution to the economic problem of staking. Staked tokens cannot be used for anything else, thus limiting the economic activity within the network. With liquid staking, users can still use their locked tokens through their tokenized version. Furthermore, Lido DAO provides an alternative to the custodial centralized staking in CEX. All of these things make Lido the largest Liquid Staking platform in Ethereum with a market share of 74.1%.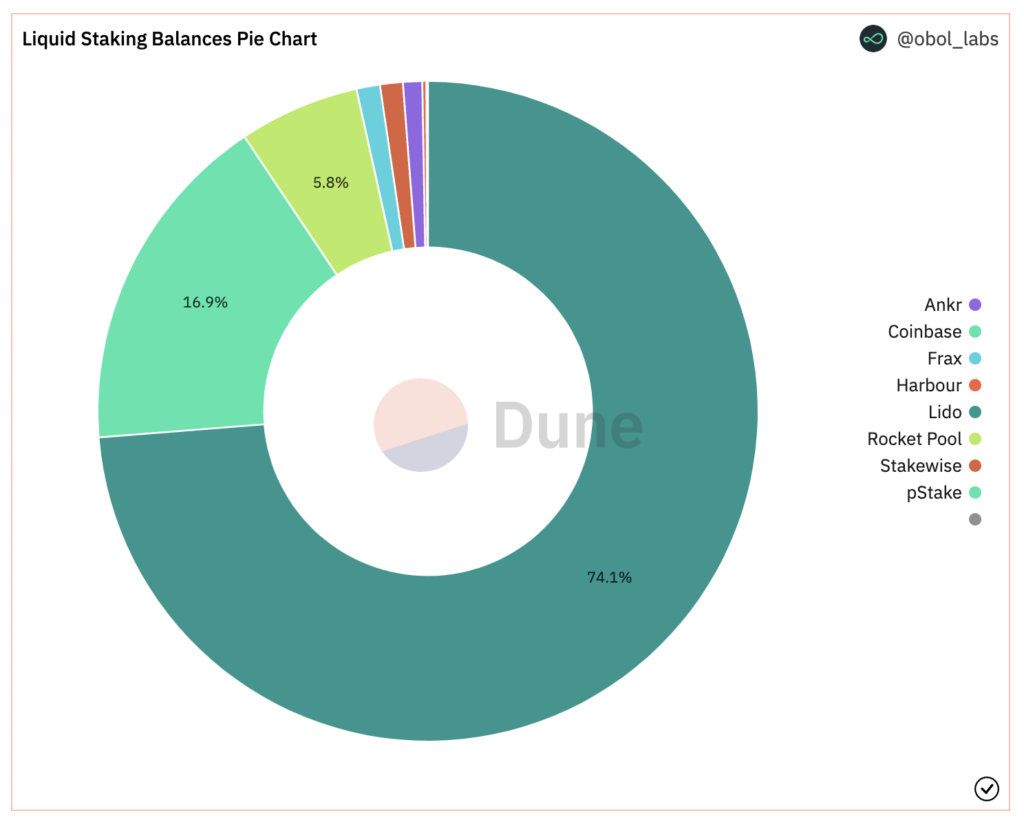 In addition, Lido is now one of the biggest platforms in the Defi sector, defeating even Maker, Curve, and Uniswap in TVL. Lido has $ 8.43 billion in TVL numbers and 98% of these figures come from Liquid Staking Ethereum. At present (February 9, 2023), Lido (LDO) has a market capitalization of $2,2 billion and occupies 30 positions in Coinmarketcap with the price of LDO token $2,5.
The Pros of Lido DAO
💧 Liquid Staking: Lido is one of the first liquid staking applications in Ethereum and has developed into the largest platform in its sector. Lido survived through the bear market.
🏦 Compatibility with DeFi Apps: You can use stETH (staked ETH) in several defi applications such as Curve and UniSwap to get additional yields on top of the yields from staking ETH.
⚖️ Lido DAO: Lido uses a DAO (decentralized governance) for governance that allows all LDO token owners to choose which proposals to pass. Lido DAO is especially important to determine how to use the money in Lido Treasury.
🔷 Bullish on Ethereum: the development of the lido platform is closely related to Ethereum. This can be an advantage or weakness, depending on your view of Ethereum. If you are bullish on the future of Ethereum, Lido becomes the right platform to invest in Ethereum's ecosystem.
How Lido DAO Works

The way Lido Dao works is actually simple. The picture above illustrates the user's journey from beginning to end. Basically, there are two main tasks of Lido, running validator nodes for staking and tokenizing all staked assets on the platform. Lido will give a token with the prefix "st-" to all users who stake their assets.
Several liquid staking tokens of Lido:
| Protocols | Token | Liquid Staking Token |
| --- | --- | --- |
| Ethereum | ETH | stETH |
| Polygon | MATIC | stMATIC |
| Kusama | DOT | stDOT |
| Polkadot | KSM | stKSM |
| Solana | SOL | stSOL |
The "st-" token has the same principle as a stablecoin, pegged to another asset. So, the stETH token will have the same value as ETH, stMATIC to MATIC, and so on. However, the st token value could be below or above the price of the original asset due to unstable demand and supply in the secondary market. This has happened in stETH which depegged due to Terra (LUNA).
The yield for users in Lido is determined by this calculation: User APR (LDO Staking APR) = Protocol APR * (1 - 10% protocol fee)
Lido protocol APR is the reward that Lido's validator gets from running the Consensus Layer (CL) and Execution Layer (EL). Meanwhile, the 10% Lido protocol fee is divided into the Lido treasury and Lido DAO validator.
Basically, users will get two advantages when using the Lido platform. One, you will get Lido yield APR that you will be able to withdraw when the Shanghai Ethereum update is implemented. Two, you can get additional yield from DeFi applications that support st- assets such as Curve. These two advantages have proven to be enough to attract many users, especially ETH investors.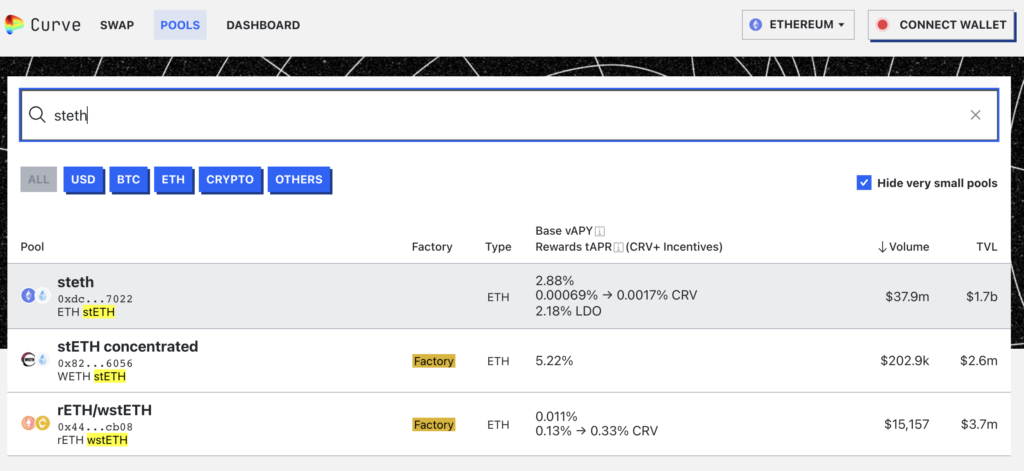 Examples of How to use Lido DAO: Hikma has 1 ETH that he wants to stake in Lido. The current APR for ETH is 4.8%. Hikma then got 1 stETH and becomes a liquidity provider in the ETH/stETH pool in Curve. So, Hikma will get 4.8% interest from staking + 2.88% interest from curve.
Lido DAO Governance
Lido DAO is a decentralized organization that regulates all protocol governance. So, DAO, or Decentralized Autonomous Organization is a decentralized governance system that utilizes on-chain mechanisms to ensure transparency. The way Lido DAO works is that each user has voting rights equal to the number of locked LDO during the voting process.
What is a DAO? Why does Lido use DAO? Read Pintu Academy's article about What is DAO.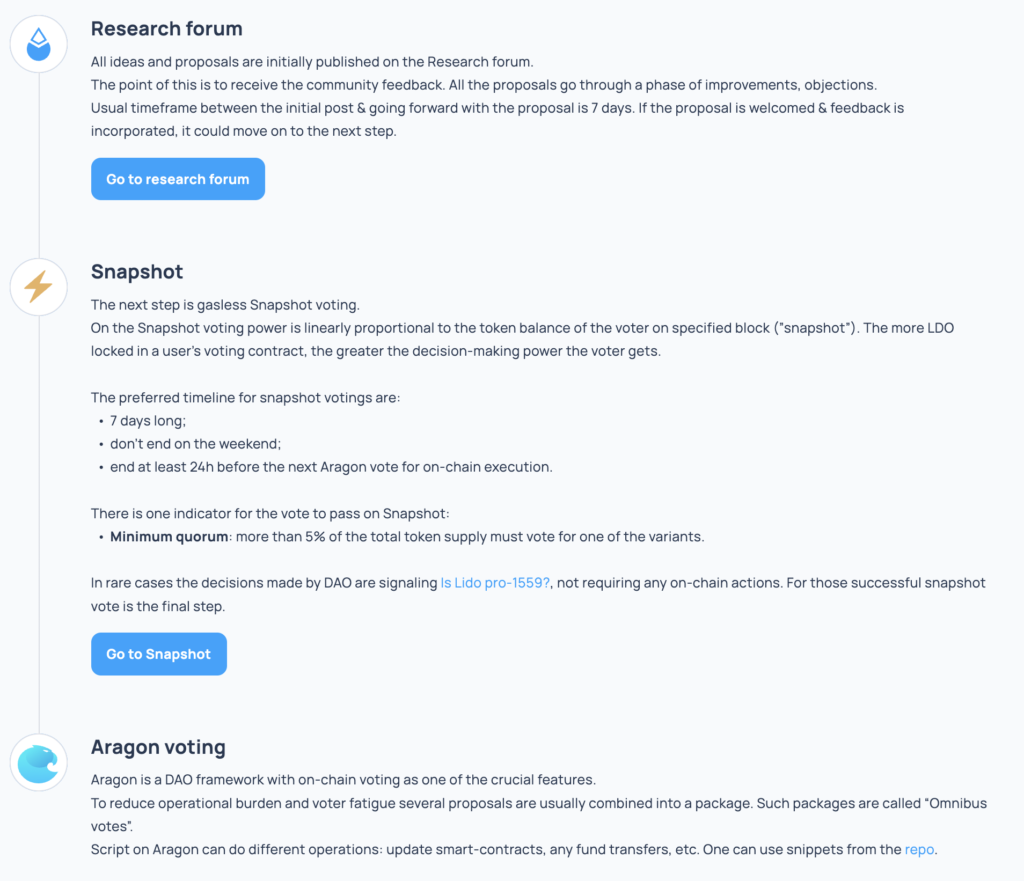 As shown in the picture above, the way Lido DAO works have three stages, discussion in the Research Forum, Snapshot Voting, and finally Aragon Voting. The Research Forum is the initial stage where every proposal that enters the DAO will be discussed, criticized, and amended according to the response from the Lido community. Once completed, the proposal will enter the Snapshot Voting stage where it must meet a quorum (>5% LDO supply). Finally, Aragon Voting is the final stage where Aragon will hold on-chain voting and carry out the proposal mandates such as upgrading smart contracts or transferring funds from the treasury.
Lido DAO uses Aragon's DAO framework which facilitates the process from start to finish. However, for daily operations that do not affect the entire protocol, Lido uses the Easy Track which has a veto system. Lido DAO also has various committees created through the DAO governance system. These committees are in charge of managing a specific part of the DAO such as the reward committee (reWARDS), the node committee (LNOSG), and the finance committee (RCC).

Finally, there is a special committee that regulates funding, LEGO (Lido Ecosystem Grants Organization). These grants are one of the main ways of developing Lido. Lido itself already has tiers and classifications that determine the priority of each funding proposal. The highest tier, the mountain, is usually for Lido's expansion into new blockchain ecosystems such as Solana. LEGO has a council and committee of 18 people. All funding proposals will be made public for discussion. This funding system is not carried out through voting but directly by the LEGO committee and council.
Lido DAO (LDO) Tokenomics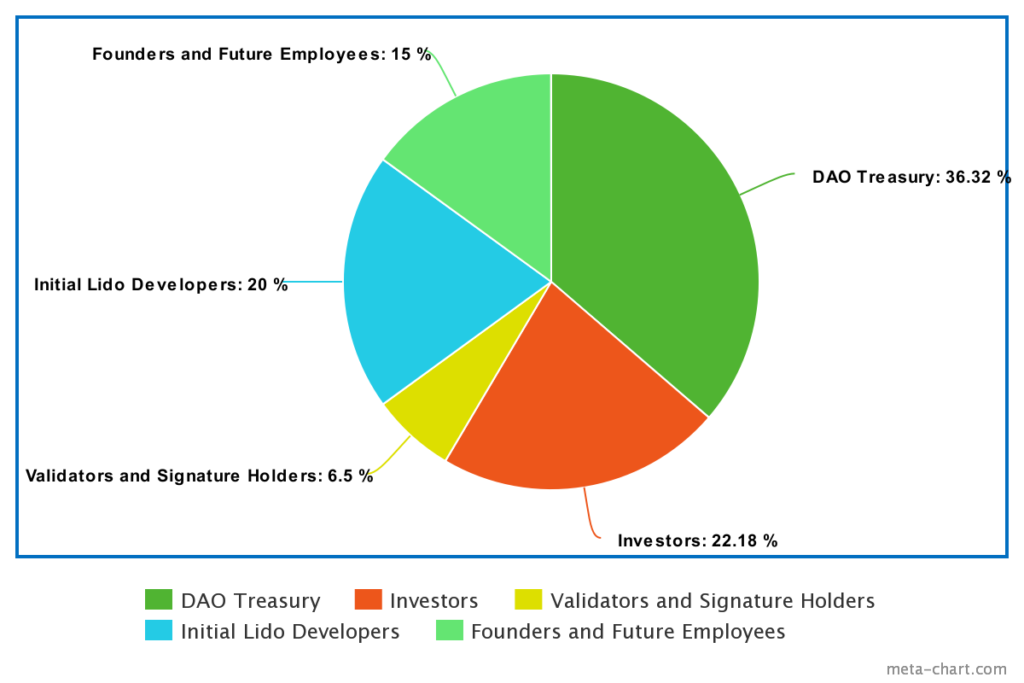 LDO is an ERC-20 token that serves as a voting in the Lido DAO governance system. So, LDO is a governance token. The number of LDO tokens circulating in the market is around 841 million LDO, 84% of the total supply of a total of 1 billion LDO. As in the image above, the majority of LDO tokens are allocated to the Lido treasury. LDO that go to the treasury is managed by the LEGO committee and all LDO holders have a say in how these protocol funds are used.
One of the things you need to know about LDO is that it only has one function. LDO has no role other than in the governance of Lido DAO. That is, LDO tokens do not accrue value to their owners and the only way to profit from holding the token is by assuming that LDO will continue to increase in value.
LDO as an Investment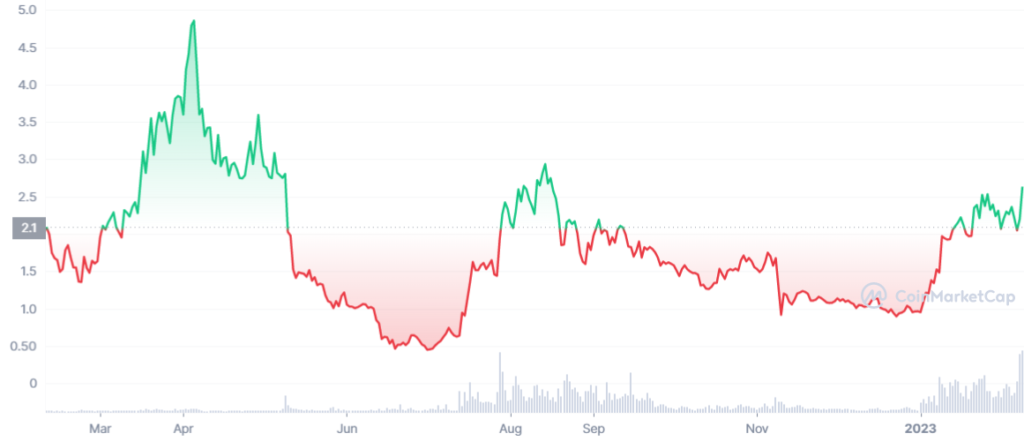 LDO has been getting a lot of attention from the crypto community in the months before The Merge. In the midst of the 2022 bear market, LDO went on two rallies, each time the price went up more than 300%. However, this rally stopped about a month before The Merge as a sell-the-news event. Another rally in early 2023 sends LDO from $1 to reach $2.5 today (9 February 2023). This early-year LDO rally coincided with other altcoins also experiencing positive momentum following Bitcoin.
Buy the rumor, sell the news is a popular saying among investors and traders. This is a phenomenon where many investors buy an asset when there is a rumor about important news and then sell it when the news is approaching.
In addition, the hype for the Shanghai Ethereum update also played a big part. The Shanghai upgrade is planned for March or April, allowing users to withdraw their ETH from staking. So, after the Shanghai upgrade, you can add and withdraw ETH in staking freely. This will make liquid staking platforms like Lido even more attractive to users, as it basically offers real yield.
However, the liquid staking derivatives (LSDs) sector is now competitive. Two protocols that emerged as serious competitors are Rocket Pool (RPL) and Frax Finance (FXS). Rocket Pool and Frax are the 2nd and 3rd largest liquid staking protocols after Lido. So, Rocket Pool and Frax will definitely capture market share to reduce the risk of centralization on Lido.
Therefore, you as a user or as an investor have a choice, do you prefer the trusted Lido or take the risk of choosing Frax and Rocket Pool? You need to reconsider what kind of risk you want to take before making a choice.
How to Buy LDO in Pintu
You can start investing in LDO tokens by buying it in the Pintu App. Here's how to buy crypto on the Pintu application:
Create a Pintu account and follow the process of verifying your identity to start trading.
On the homepage, click the deposit button and top up the Pintu balance using your preferred payment method.
Go to the market page and look for LDO token.
Click buy and fill in the amount you want.
Now you have LDO token as an asset!
Besides LDO tokens, you can also invest in various crypto assets such as BTC, BNB, ETH, and others safely and easily through Pintu.
Pintu is also compatible with popular wallets such as Metamask to facilitate your transactions. Download the Pintu app on Play Store and App Store! Your security is guaranteed because Pintu is regulated and supervised by Bappebti and Kominfo.
In addition to executing transactions, in the Pintu Apps, you can also learn crypto through various Pintu Academy articles which are updated every week! All Pintu Academy articles are made for educational purposes, not financial advice.
References