Reading Time:
5
minutes
Transparency is one of the benefits of using blockchain for transactions. This implies that each transaction's data is accessible to the general public online, making it easier for users to keep track of the progress of their transactions.The platform for tracking transaction status on public blockchains is called blockchain explorer. Especially for the Solana blockchain, one of the most widely used blockchain explorers is Solscan. However, Solscan not only serves to track transactions. There are many other features that you can use. Let's learn more about some of Solscan's functions in this article.
Article Summary
🔎 Solscan is a blockchain explorer and analytics platform for Solana blockchain. Solscan is basically useful for finding information on Solana, such as crypto transactions, activity of an address, information about tokens, NFT and so on.
💡 In addition to tracking transactions, you can use features and information related to Solana's on-chain activities that are available on Solscan to assist you making investment decision.
🔗 Solana is one of the fastest blockchains with transaction speeds that can reach 50,000 TPS (transactions per second). This transaction speed makes Solana the protocol that is widely used to build DApps to NFT.
Solana's Overview
Solana is a public blockchain with smart contract capabilities built with the aim of creating a highly scalable blockchain without sacrificing decentralization and security. Solana is growing rapidly and bears a striking resemblance to Ethereum, and is often referred to as the "Ethereum killer."
Solana is a popular protocol for developing DApps and NFT. This is due to Solana being one of the fastest blockchains, with transaction rates that can reach 50,000 TPS (transactions per second).
Referring to data released by DeFiLlama, total value locked (TVL) Solana is ranked 7th with a value of 924 million US dollars. TVL is an important metric for investors looking to assess whether an entire ecosystem or a single protocol is healthy and worth investing in.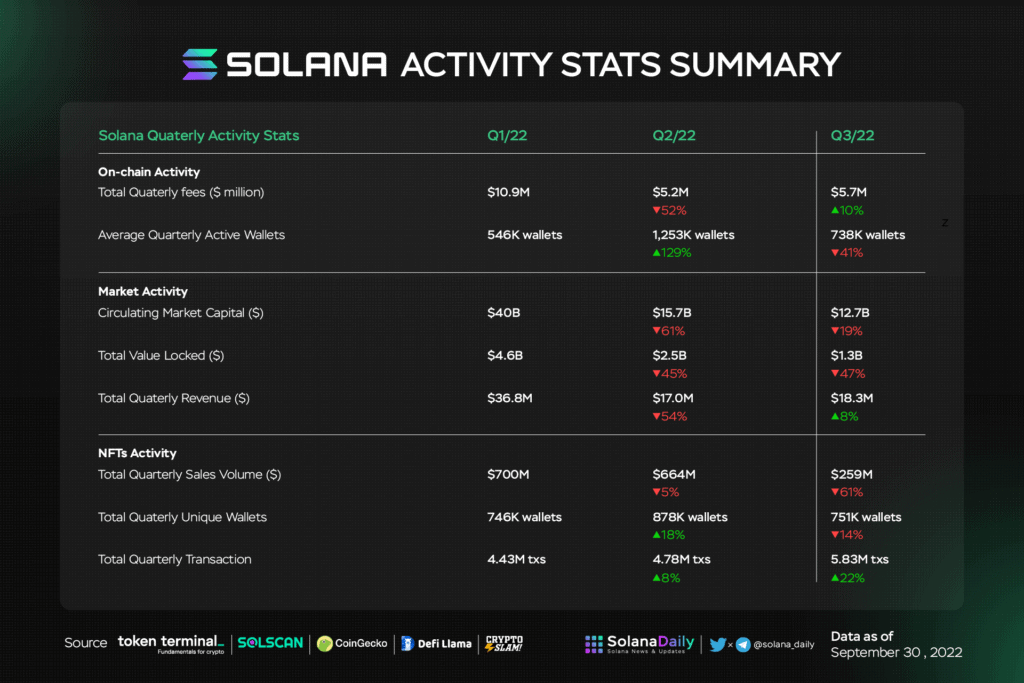 Citing data from Solscan above, in Q3 2022, like other Layer-1 networks, Solana's total value locked fell by around 47% from US$2.5 billion in Q2 2022 to US$1.3 billion. NFT activity on the blockchain also decreased to US$259 million in Q3 2022, a 61% decrease compared to the previous quarter. As of October 2022, Solana's native blockchain token, SOL, is ranked 9th with a market capitalization of US$11 billion.
Also read: What is Solana?
What is Solscan?
As mentioned above, Solana is one of the Layer-1 blockchains with the highest TVL and is in the top 10. Solana not only has many DeFi projects but also many popular NFT projects such as DeGods and Okay Bear.
Solscan is one of the most widely. You can use Solscan to track information about activities on the blockchain Solana, such as crypto transactions, the activity of an address, information about tokens, NFT, and so on.
With the block explorer, you can track all transactions on the Solana blockchain, and look for additional information to use as the basis for your investment decisions.
The information seems complicated to read and search. However, you don't have to worry. Solscan makes it easy for users to interpret the information by breaking it down in a simple and non-technical way.
In it, you can also explore various crypto assets built on the Solana blockchain and find useful information such as circulating supply, bet details, block height, number of validators, and more.
💡Why use block explorer?

Block explorer is useful for crypto users, traders, miners, validators, and businesspeople. When purchasing or selling cryptocurrencies, you can use the block explorer to see how each transaction is progressing.

Miners can use the block explorer to check if they have successfully mined a block, and businesses can analyze transaction data related to their project. Likewise, anyone can use the block explorer to monitor activity on whales and individuals with publicly known blockchain addresses, to observe their movements which may affect the value of certain tokens or coins.
What you can do with Solscan?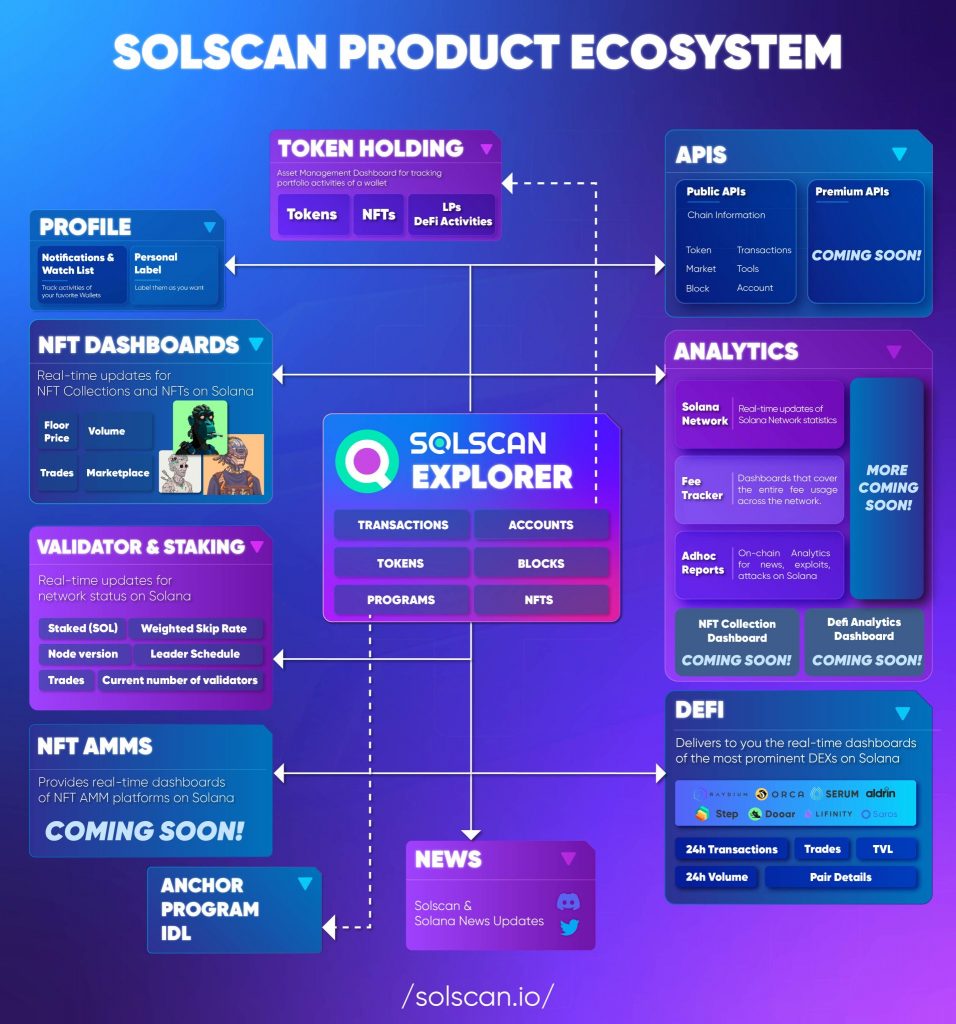 Solscan works by scanning information across Solana's blockchain and updating it in real-time. If you have made a transaction in Solana, every detail of the transaction will be available on Solscan. Here are some of the features on Solscan that you can use.
1. Tracking Transactions on Solscan
The most frequently used feature on Solscan is the transaction and address search function. Every transaction made on Solana's blockchain has a unique identity signature. A signature is a long string of alphanumeric characters that help verify blockchain transactions. You will find the number in your smart contract.
To track transactions using Solscan, you need to copy and paste the unique signature into the search bar on the Solscan homepage.
2. View Address Activity on Solscan
Checking activity on a single wallet or blockchain address of a particular cryptocurrency is important to help confirm project validity and identify smart contract activity on that wallet.
To get a detailed history of a single address using Solscan, you can follow the same process as for tracking transactions. First, you have to paste the address (usually shorter than the transaction signature) in the search bar and press Enter. Then you will receive an overview of the current balance in your wallet, as well as transaction data associated with that address.
3. Tracking Tokens with Solscan
Another useful feature of Solscan is the ability to track tokens. All you need to do is enter the token name or contract address into the search bar on the homepage and press Enter. For accuracy, you can obtain a valid token contract address from the official website, or from CoinMarketCap.
4. View DeFi Dashboard
The Solana Ecosystem is home to several decentralized exchange (DEX) applications with various features. Some of the most popular include Raydium, Orca, and Saber. Solscan has a DeFi dashboard on its homepage. However, you can also select DEX from the drop-down menu on the website.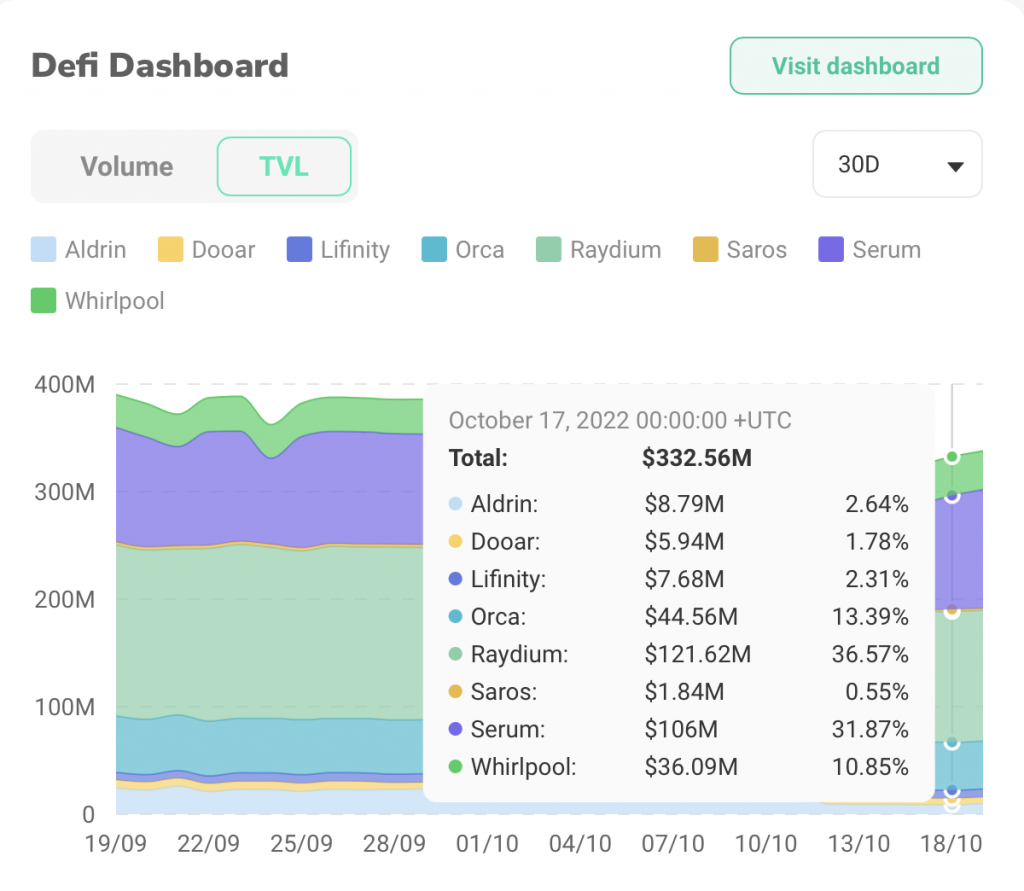 5. Tracking NFT with Solscan
You can also view all available NFTs in the Solana ecosystem, such as DeGods, using the NFT dashboard available on the homepage. You can also click on the NFT tab in the website header and search through the available ones.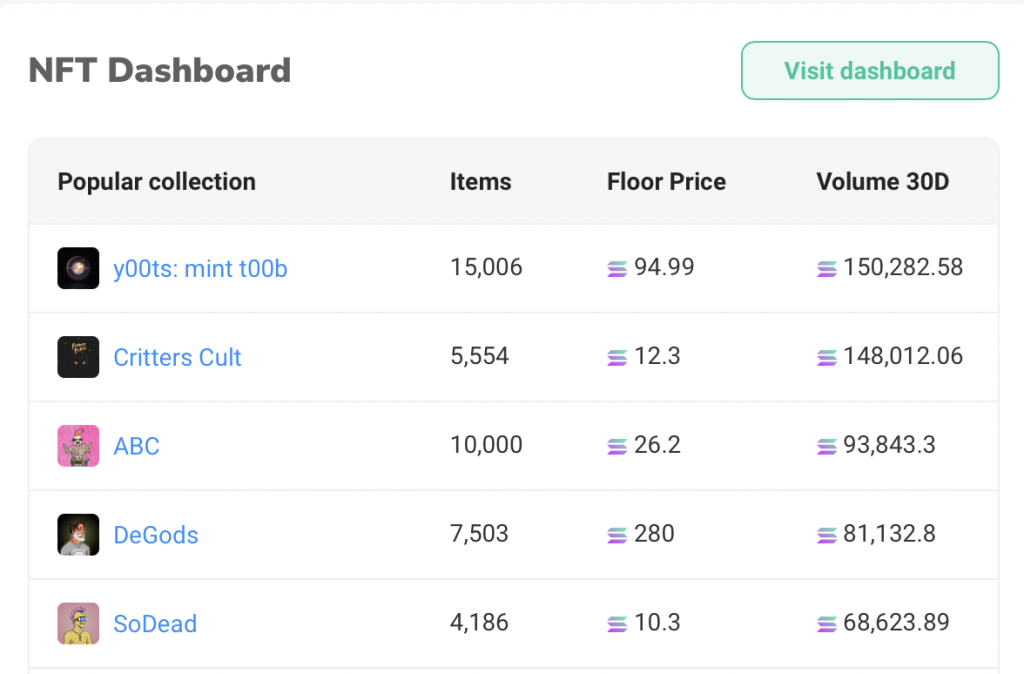 Another Block Explorer alternative for Solana
Solscan stands out as an easy-to-use block explorer to track activity on Solana's blockchain. However, there is another block explorer that you can also use. Some of the best alternatives to Solscan are Solanascan and Blockchair, which also provide useful details about the Solana ecosystem. If you have used block explorer Ethereum, Etherscan, then Solanascan and Blockchair will look different. Solscan is widely used because it has a similar layout to Etherscan, making it easier for Etherscan users to navigate in it.
Investing in SOL on the Pintu App
You can start investing in SOL and see the prices of various crypto assets on the Pintu application. Through Pintu, you can buy various cryptos such as BTC, SOL, ETH, and others in a safe and easy way.
In addition, the Pintu application is compatible with various popular digital wallets such as Metamask to facilitate your transactions. Download Pintu on Play Store and App Store! Your security is guaranteed because Pintu is regulated and supervised by CoFTRA and Kominfo.
References