Reading Time:
9
minutes
The crypto industry has spawned various technologies and applications that offer alternatives to conventional financial systems. Concepts such as decentralized lending, play-to-earn, and yield farming are some of the innovations in the crypto industry that have proven to attract many users. Axie Infinity is the first game to bring the play-to-earn concept where players can get cryptocurrencies just by playing games. Other developers are trying to innovate from the initial idea of Axie Infinity to monetize the hobbies of thousands of people. One of them is STEPN. So, what is STEPN? What is GMT coin? Why are so many people interested in using it? This article will explain STEPN in detail.
Article Summary
🏃‍♀️ STEPN is a mobile app that utilizes the move-to-earn (M2E) concept where users can move, run and walk to earn cryptocurrency. It is a Web3 lifestyle application with Game-Fi and Social-Fi elements. The STEPN platform is built on the blockchain Solana network.
👟 All users who wish to use STEPN must purchase a special NFT shoe. You can buy them using SOL. After having NFT shoes, players can immediately play STEPN to generate GST tokens. Initially, all players are limited to a maximum of 5 GST/day and 2 energy/day.
🪙 STEPN has a dual token architecture, the Green Metaverse Token (GMT) and Green Satoshi Token (GST). These two crypto assets have an important role in the ecosystem. GST is a token that can be earned from the start of the game while GMT can only be obtained after the player reaches level 30. They also function as the currency for various in-app activities such as upgrading shoes, raising the earning cap, and minting new shoes.
📉 Since May 2022, the GMT coin is in a downward trend. This is due to the crypto market and the current global economic conditions where many investors are trying to reduce the risk of losses. However, if you believe in the future of STEPN, GMT could be an appealing investment opportunity.
What is STEPN?
STEPN is a mobile application that utilizes the move-to-earn (M2E) concept where users can move, run and walk to earn crypto assets. The STEPN website describes the app as a Web3 lifestyle platform with Game-Fi and Social-Fi elements. The STEPN platform is built on the blockchain Solana network (SOL). However, STEPN has two cryptocurrencies, the Green Metaverse Token (GMT) and Green Satoshi Token (GST). These two coins form the foundation of the STEPN ecosystem to incentivize users.
STEPN managed to steal the attention of the crypto community and attract millions of users to its platform. In a blog post, STEPN says that it has 2.3 million monthly active users and around 500 thousand daily users. This figure is very impressive considering that STEPN has only entered the public beta stage in December 2021. So, STEPN has managed to attract 2 million users in just 5 months.
According to Coin Market Cap, STEPN is the 62nd-ranked crypto asset in the world with a market cap of $827 million US dollars (May 2022). One of the STEPN tokens, GMT, has a maximum supply of 6 billion GMT all of which are already on the market. Meanwhile, GST does not have a maximum supply limit.
Who is the Creator of STEPN?
The idea of STEPN and move-to-earn was started in August 2021 by an Australian company called Find Satoshi Lab. STEPN managed to win the Solana Ignition Hackathon on October 21, 2021, in the gaming category. It was the only mobile game to win at the event. Currently, STEPN is led by Jerry Huang, Yawn Rong, Jessica Duan, and Ryan Turner.
At the end of January 2022, STEPN announced that it had raised $5 million USD from several investors led by Sequoia Capital and Folius Ventures.
How STEPN Works
STEPN utilizes Solana's blockchain technology which can process transactions quickly at a low cost. Solana is the foundation technology for STEPN and the blockchain that connects it to the crypto world. However, STEPN is basically a sports and health app that uses GPS technology to detect your movement. What makes it special is that you can earn crypto while you use the app to exercise.
Every user who wants to use STEPN to generate crypto assets needs to have an NFT shoe first. You need SOL to buy NFT shoes on the STEPN app. After owning NFT shoes, users can start running, walking, and jogging to earn GST and GMT (after level 30). STEPN prevents cheating by using technology such as Gyroscope and GPS to ensure the app only detects real movements.
Game Mode and Energy
STEPN regulates and limits the amount of crypto you can get in a day through various aspects of the game such as energy (needed to get tokens) and shoe attributes (affecting your speed of earning rewards). All users will start STEPN with a limit of 2 energy/day and 5 GST/day.
Both of these limits can be increased by raising the level of your shoes and having more shoes. In addition, the quality of your shoes can increase your energy cap. Each user's energy will automatically refill 25% every 6 hours until it reaches the limit.
In addition, currently, STEPN only has one mode, the solo mode. However, STEPN is also developing several new modes such as Marathon and background.
NFT Shoe Attribute in STEPN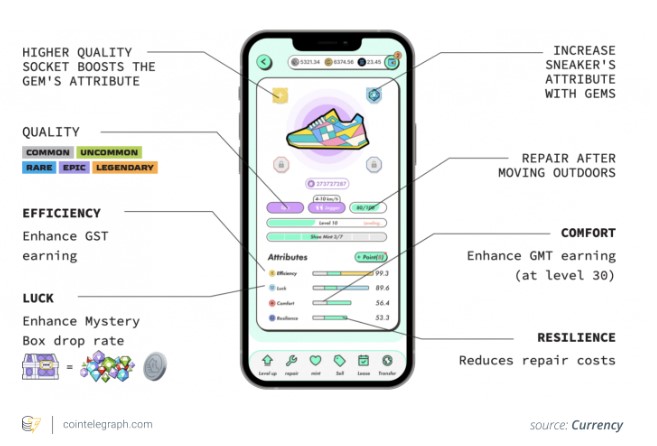 Each shoe in STEPN has different attributes that can give you various advantages. Some important attributes of an NFT shoe:
Efficiency (GST Earning): In Solo Mode, efficiency plays a role in GST income level. A high Efficiency score will result in better GST revenue per Energy spent.
Luck (Mystery Box): Luck determines the frequency and quality of mystery boxes that you can obtain.
Comfort (GMT Earnings): The comfort score has been reworked and is currently under development.
Resilience (Durability/Repair): In Solo Mode, the resilience value of each shoe affects the level of durability of the shoe until it requires repair. A higher resilience score will result in slower endurance decay.

In addition, there are other attributes such as the quality of the shoes and also the type of shoes. The quality of the shoes is divided into common, uncommon, rare, epic, and legendary. The higher the quality, the higher the attributes and energy bonuses you can get. STEPN also has several types of shoes based on the type of user. As shown above, there are 4 types of shoes that determine the optimal running speed and the GST that you can get per 1 energy consumed. Every time you wear a shoe, its durability will decrease and you will get GST at a slower rate. You can use GST token to repair each shoe.
The STEPN ecosystem is designed using two tokens, the Green Satoshi token (GST) which acts as a utility token with unlimited supply, and the Green Metaverse Token (GMT) which functions as a governance token.
Token Economy/Tokenomics of GMT and GST
STEPN focuses its ecosystem design on two native cryptocurrencies, GMT and GST. The crypto asset you can get from scratch using STEPN is GST. GST is a utility token that has many roles within the application. Meanwhile, GMT is a governance token with limited functionality. GMT is a more valuable token with a supply of 6 billion.
STEPN deliberately makes the roles of the two tokens different to help price stability for both. The application creates demands through various game mechanics that require GMT and GST. In addition, STEPN also includes a burning mechanism through several mechanics, such as when increasing the level of shoes.
GST token burning occurs when a player spends GST in the following ways:
Minting shoes
Shoe repair
Leveling up shoes
Increasing gem level
Opening sockets
Meanwhile, GMT tokens are required and will be burned in the following activities:
Reaching level 5/10/20/29/30
Increase gem to Level 4+
Minting shoes for all qualities
Redistributing attribute points of shoes
In addition, GMT coins can also be used to permanently improve some aspects of the game. Players need a fairly large amount of GMT to improve the following:
Permanently increase GST daily earning limit.
Increases the chance of getting higher quality shoes when opening a shoebox.
Permanently increases the chance to receive two shoes from the shoe minting process.
All the mechanisms above are STEPN's attempt at achieving balance and stability for the GST and GMT tokens. The STEPN team also explained that they could change various aspects regarding the GMT and GST in case these two tokens experience extreme fluctuations.
You can read the full details of all STEPN mechanisms in White Paper STEPN which can be accessed freely.
What Makes STEPN Unique?
⚛️ Innovative: STEPN introduces the move-to-earn concept where you can earn crypto while moving and exercising.
🖼️ Attractive design: The STEPN application has an attractive UI, is easy to use, and provides familiarity to people who have never used a crypto application.
💸 Hobby monetization: STEPN provides an opportunity for users who like to exercise to earn money from their habits. It also provides additional incentives to continue to lead a healthy lifestyle.
🕶️ NFT with clear utility: Every STEPN user needs to have at least one shoe to use the application. All virtual shoes at STEPN are an NFT that you can trade in various marketplaces. So, all NFT shoes at STEPN have clear values based on their attributes and levels.
🀠Carbon negative: STEPN is actively trying to reduce the negative impact of its application. It does this through a fund specifically set aside to help protect the environment. In addition, STEPN also uses the Solana network which is well-known for its environmentally friendly quality as a blockchain.
What Can You Do at Stepn?
Buying NFT and Using the STEPN App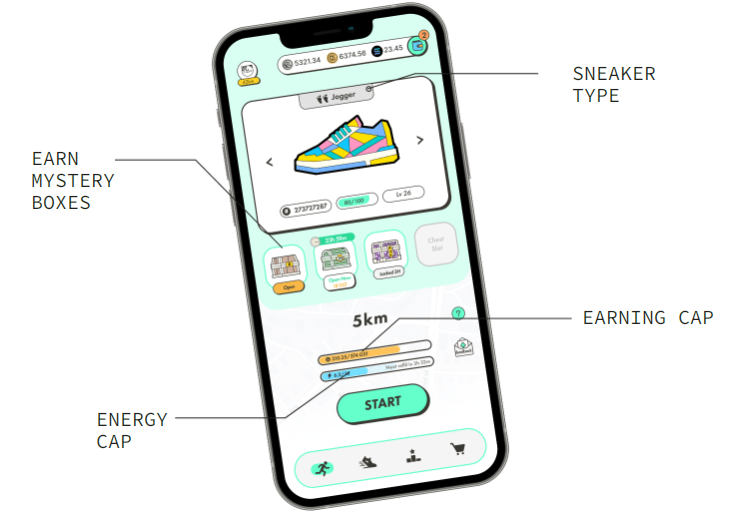 The main thing that drives many people to use STEPN is the incentive to earn crypto from their hobby. STEPN has succeeded in attracting many users who like to exercise. However, currently, you need an invitation code to be able to use the STEPN application. You can get this code from other STEPN users or queue up on STEPN's official Discord and Telegram. If you want to start using the STEPN app, you also need to know the crypto world and some of its aspects such as how to use Metamask to move your crypto.
You need SOL to buy NFT on STEPN. The floor price for STEPN shoes is currently 4 SOL in the Magic Eden digital market, equivalent to 2,5 million rupiah (6 June 2022). You can compare the prices of STEPN shoes on several different marketplaces to find the shoes with the best value. In addition, you need to pay attention to the attributes of each shoe as explained in the previous section.
If you have downloaded STEPN and have shoes, you can start using STEPN. The only available mode is the solo mode. In order to maximize your income, you need to move at a speed that matches your shoe type. At level 30, you can choose to earn GST or GMT.
💡 For example:

You have jogger shoes with an ideal speed of 4-10 KM/hour. These shoes can produce 5 GST in 1 energy. If you are just starting out, you have 2 energies and a maximum income of 5 GST/day. The income limit will automatically increase according to the level of the shoes you have with a maximum of 300 GST/day.
STEPN also promises a shoe rental system. Users can rent out their shoes with a percentage that will be divided according to the agreement. This rental scheme will be launched in Q4 2022. It can attract many users who want to try STEPN but think the shoes are too expensive. It also has the potential to prevent monopoly as happened in Axie Infinity's scholarship mechanism.
STEPN provides complete instructions on how to play.
Investing in GMT Coin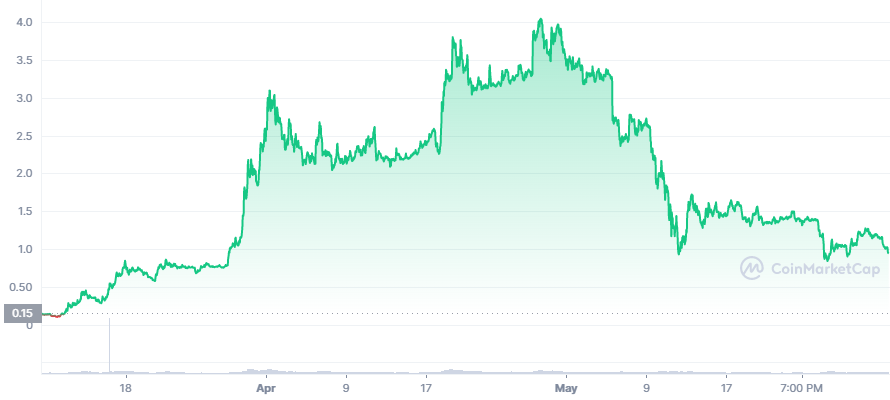 GMT coin is STEPN's native cryptocurrency which primarily functions as a governance token. This makes GMT more suitable as an investment than GST because it has a maximum supply and does not have the same selling pressure as GST. However, GMT price has been declining since early May. The price of coin GMT on June 2 was $0.9 USD, up slightly from a low of $0.86.
This decline follows the crypto market sentiment which is negative and in a bear market. In addition, the incident with Terra is also still affecting the crypto asset market. STEPN's official statement banning users from China also contributed to the decline in GMT prices.
One of the concerns about STEPN is the sustainability of both its tokens as an investment asset and a reward incentivized to users. Axie Infinity teaches a lesson that the play-to-earn model is very difficult to sustain in the long term. This is due to its model that constantly requires a steady stream of new users. Without new users, the AXS token will continue to lose its value.
We don't know yet whether STEPN can avoid this or not. The GMT and GST tokens have a permanent token burning mechanism tied into their gameplay mechanics. In theory, this will help stabilize the prices of both assets. However, as is the case, in a bear market most investors and STEPN users will be compelled to immediately sell their earned assets. You need to understand this risk when deciding to buy coin GMT or even use STEPN.
STEPN Roadmap: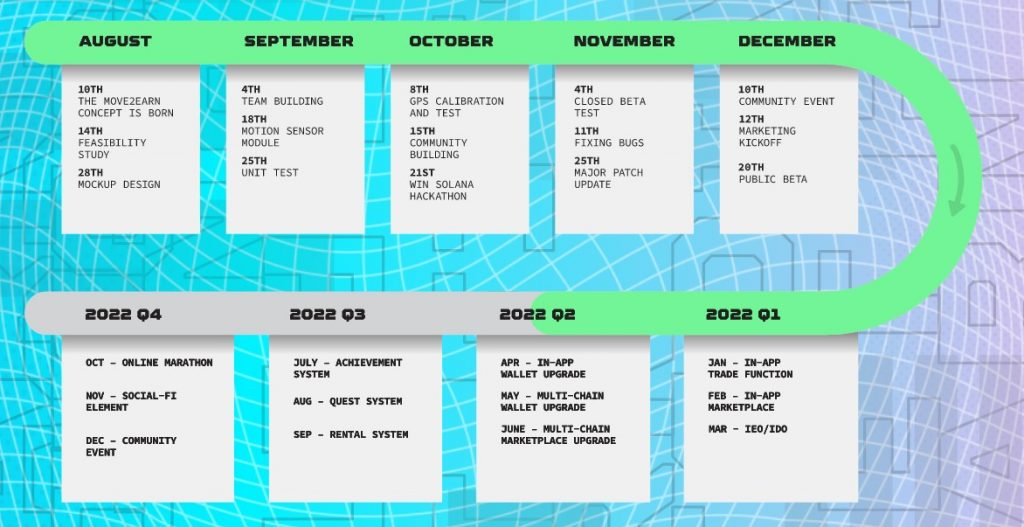 STEPN has a roadmap detailing its plans until the end of 2022. Several important milestones are the implementation of the rental system, marathon mode, and multi-chain marketplace.
How to Buy GMT Coin
Pintu recently listed GMT and several other cryptocurrencies. Through Pintu, you can buy cryptocurrencies in a safe and convenient way.
Pintu is also compatible with popular wallets such as Metamask to facilitate your transactions. Download the Pintu app on Play Store and App Store! Your security is guaranteed because Pintu is regulated and supervised by Bappebti and Kominfo.
You can learn more about cryptocurrencies through the various Pintu Academy articles that we update every week! All Pintu Academy articles are made for educational purposes only, not financial advice.
References