Reading Time:
6
minutes
Decentralized Finance (DeFi) is a decentralized financial ecosystem in the crypto world that is regarded as a game-changer in the financial industry. Users can use DeFi to get far greater interest rates than traditional financial institutions such as banks by using numerous financial applications. Many applications in DeFi can give interest of more than 10% and even up to 80%. One of the most popular DeFi apps is Yearn Finance that has been around since 2020. So, what is Yearn Finance? How does it profit its users? This article will discuss everything about the protocol.
Article Summary
⚙️ Yearn Finance is a yield aggregator protocol for stablecoins that connects your funds to other DeFi applications to find the highest interest rates.
💸 You can use several Yearn Finance's products to get interest rates ranging from 3-40% depending on your risk tolerance.
🚀 The YFI token was once the most valuable token with a value that exceeds the price of Bitcoin because it has a very limited supply.
Yearn Finance definition
Yearn Finance is a yield aggregator for stablecoins that runs on the Ethereum network. A yield aggregator is a DeFi protocol that connects your funds to other DeFi applications in an effort to find the highest interest percentage. So, all the stablecoins that you keep in Yearn liquidity pool will be rotated to DeFi with the highest interest rates such as Compound or AAVE. This search is carried out by the algorithm which automatically finds the application with the most optimal profit.
Baca juga: Apa itu Decentralized Finance (DeFi)?
In July 2020, Yearn Finance launched its own token, YFI. YFI token holders can use their tokens as a governance token to participate in determining the rules and strategies of Yearn protocol. According to Coinmarketcap, Yearn Finance has a market cap of $1.2 billion dollars at a price of $33,000 per 1 YFI (January 2022). In addition, YFI has a maximum supply of 36,666 YFI with a total TVL of $5.7 billion dollars. This figure places Yearn Finance as the 81st largest cryptocurrency in the world.
Yearn Finance History
Yearn Finance Founded by Andre Cronje in early 2020, initially named iearn. Andre created Yearn Finance because he found it difficult that he has to manually find DeFi application that gave him the highest interest rates. The protocol automates this process by automatically depositing funds into DeFi with the most profitable interest rates.
In July 2020, Yearn Finance launched its own token, YFI. YFI is a governance token to modify and change the protocol and strategy of each pool. Moreover, one of the most unique things about it is that it does not hold an ICO, meaning it does not distribute coins to Investors or give YFI coins to its app developers. In the first week after the launch of the YFI token, the total value locked (TVL) increased sharply from $8 million dollars to $400 million dollars.
Andre Cronje does not hold YFI tokens and all the tokens are airdropped to the Yearn Finance user community. This is highly unusual because most DeFi protocols raise funds from large investors and hold ICO.
How does Yearn Finance work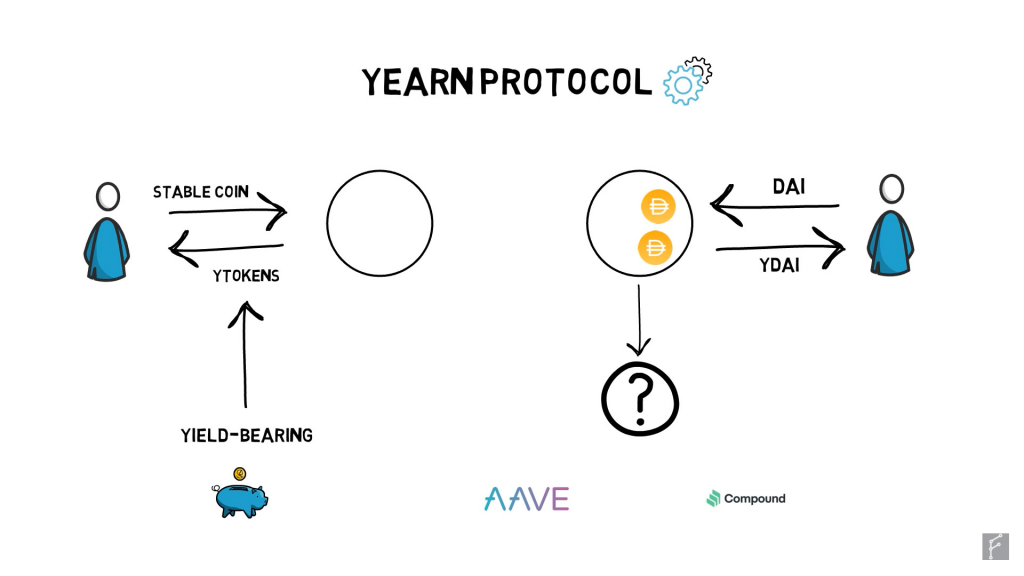 As explained previously, Yearn Finance is a yield aggregator that connects users' funds to other DeFi applications such as AAVE, Compound, and Curve. However, the funds that can be deposited in the protocol are mostly stablecoins such as USDT, USDC, and DAI. The application then looks for the highest profit interest and connects the stablecoin funds stored in the protocol.
You will get a reward in the form of Ytoken according to your deposits (if you enter USDT you will get YUSDT). The Yearn Finance website provides a detailed step-by-step tutorial for using the app. Currently, Yearn Finance is connected to the Ethereum and Fantom blockchain networks thus leveraging DeFi applications in both.
At the beginning of Yearn's creation, the protocol strategy was very simple because it only needs to find and connect funds into DeFi with the highest percentage of profits. However, as more people started using Yearn, that strategy no longer worked. The reason is that if the funds entered into the DeFi application are huge, the interest will automatically decrease to match the flow of incoming funds.
To mitigate this, the protocol now automatically splits and distribute funds across multiple DeFi apps so as not to change the interest earned by each user.
How Vaults work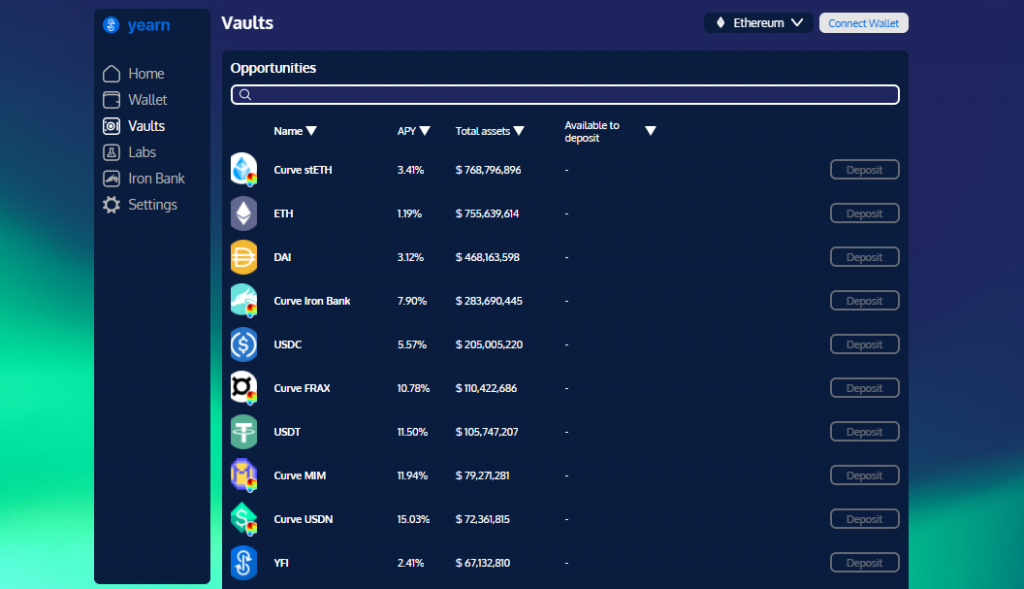 Vault is the latest product from Yearn V2. Each vault works like a savings account with different tokens and strategies to maximize profits. This strategy is a series of actions taken by the Yearn algorithm to get maximum profit for each vault according to market conditions. YFI token holders have the power to vote for a change in the strategy of vaults.
What can you do in Yearn Finance?
Earn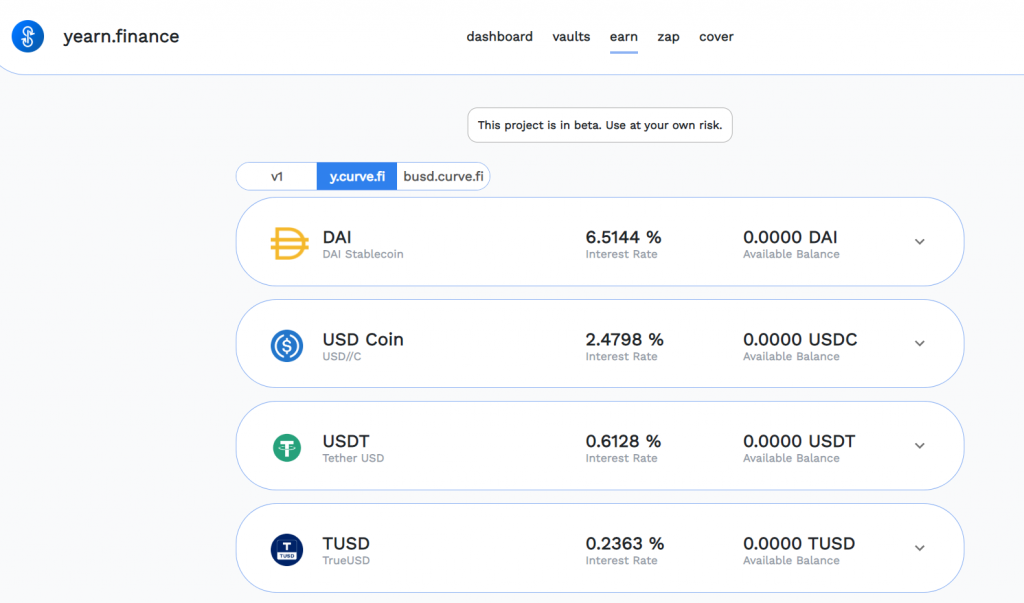 Earn is the first and simplest feature of the Yearn protocol. Through Earn, the protocol will find a DeFi application that can provide the highest percentage of interest for your deposit. You will get profits from your stablecoins in the form of Ytoken which you can then withdraw and exchange. Earn is the most basic feature with low risk and a fairly stable percentage of around 1-6% depending on your stablecoins.
Zap
Zap is a feature that makes it easy to convert what would otherwise be complex cryptocurrencies pairing. This feature can simplify the process in one click within Yearn Finance. For example, if you want to convert your USDT into yCRV, you need to use multiple platforms. Through Zap, you can do this in just one step. This simplifies the process, saves time, and also cuts transaction costs. This feature will be useful for people who trade or use DeFi applications and like to switch platforms.
Vault
Vault is Yearn Finance's newest product and the riskiest. However, this product also provides the highest interest percentage. Vaults with huge interest leverage complex strategies executed across multiple separate platforms. You need to carefully choose vaults to balance between risks and interest rates.
One of YFI's Vaults was hacked in February 2021 which costs $11 million dollars. However, Yearn Finance developers have fixed the loophole used by the hacker and returned the lost funds from Yearn's treasury.
YFI token as an investment
The native cryptocurrency of Yearn is YFI. As already explained, YFI is a governance token for voting changes to the Yearn protocol rules and strategies in the vault. Currently, the YFI token is the second most expensive token after Bitcoin. One of the reasons for YFI's high price is its maximum supply of only around 30,000 tokens. In addition, YFI tokens were initially awarded users themselves who had no incentive to sell.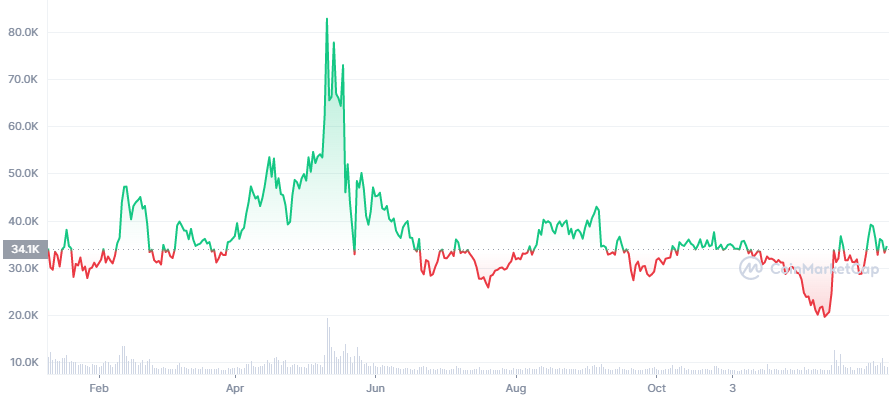 However, 2021 has been a pretty stagnant year for YFI tokens except for May. In mid-May, the YFI token had doubled to $80 thousand dollars, exceeding the price of Bitcoin. However, the price quickly experiences a sharp correction back to the $30k and $40k dollar levels. Currently, the YFI token is undergoing an accumulation phase dominated by horizontal price movements. This momentum also happen to many DeFi industry tokens in 2021 such as AAVE and COMP due to the shifting trend and momentum of the crypto world to blockchain-based games.
However, as we know, the crypto world always experiences a very fast trend shift and 2022 could be the year for DeFi industry tokens like YFI. Even so, always remember to do technical and fundamental analysis to make sure you buy tokens at the right price before you invest.
Buy YFI
You can start investing and buying YFI tokens in the Pintu app. Through Pintu, you can buy YFI and other crypto assets in a safe and convenient way.
In addition, the Pintu application is compatible with various popular digital wallets such as Metamask to facilitate your crypto transactions. Come on download cryptocurrency Door on Play Store and App Store! Your security is guaranteed because Pintu is regulated and supervised by Bappebti and Kominfo.
References: