Reading Time:
7
minutes
In December 2022, Hong Kong implemented a revision to its Anti Money Laundering (AML) policy to encompass virtual assets. This regulatory change generated positivity among crypto investors, who have been uncertain about regulations surrounding digital currencies over the past few years. Additionally, the country will create new regulations to accommodate crypto trading. So, what will happen if this regulation passes? Will it have a significant impact on the crypto market? This article will explain what is going on in the Hong Kong crypto market.
Article Summary
🇭🇰 Hong Kong is a special territory of China with autonomous policymaking power. Hong Kong already has the desire to be a crypto hub but still applies restrictions regarding virtual assets such as crypto.
🧠 In late 2022, Hong Kong began making revisions to its AML (Anti Money Laundering) regulations to foster the growth of the crypto industry. These revisions encompass various aspects of virtual assets, including licensing requirements that must be obtained from the SFC (Securities and Futures Commission).
⚖️ The crypto regulation that is being made regulates the various conditions that must be met by VASPs (Virtual Assets Service Providers) to be able to provide crypto trading services and also regulates what crypto assets can be traded.
⚙️ Hong Kong's crypto regulation consultation process will end on March 31, 2023. The regulation will then be officially implemented on June 1, 2023.
💸 Hong Kong has a huge crypto industry potential in East Asia. With Hong Kong being the 7th crypto hub cities in the world, the potential of Hong Kong's crypto market could increase dramatically if the government provides clear regulations.
Hong Kong, China, and the Crypto Industry
In September 2021, China banned all crypto transactions. This essentially shut down China's mining industry which was the second-largest contributor to Bitcoin's hash rate. However, Chainalysis data shows that the crypto industry in China is not dead. The value of crypto transactions in China in 2022 is worth around $200 billion. This figure is still higher than in South Korea and Japan. While China maintains its anti-crypto stance, interesting things are happening in Hong Kong.
China has a principle called One Country Two System where some regions can have their own system. Hong Kong is a Special Region of China with its own government, the Hong Kong Special Administrative Region (HKSAR).
Hong Kong is a part of China that can make its own policies independent of China. Hong Kong has always wanted to be a crypto hub for several years. However, it still has various restrictions regarding virtual assets such as crypto.
In late 2022, Hong Kong began making revisions to its AML (Anti Money Laundering) regulations to encourage the growth of the crypto industry. This revision encompasses different facets of virtual assets, including the licensing process that must be obtained from the SFC (Securities and Futures Trading Commission). After this revision, the SFC will regulate all aspects of virtual assets. This revision is the foundation of Hong Kong's crypto regulation.
One interesting thing about Hong Kong and China's contrasting crypto policies is that there is no major opposition from the Chinese side on this. In fact, several Chinese officials attended crypto events in Hong Kong. So, many people assume that this is subtle support from Beijing for Hong Kong's crypto policy. It appears that the Chinese government aims to establish Hong Kong as a "laboratory" for exploring blockchain initiatives.
How Hong Kong Plans to Open Its Crypto Industry
The process of Hong Kong crypto regulation (called virtual assets in the paper) is going through the consultation stage until March 31, 2023. Then, the regulation will be implemented on June 1, 2023. The regulation is actually the result of a consultation period dating back several years. However, the SFC finally decided to implement it this year.
There are some misconceptions regarding the regulations. Here's a quick breakdown of what the June 2023 regulations cover.
The regulation deals with the requirements for CEX to open as well as the requirements for a crypto asset that can be traded in Hong Kong.
The regulations are about OTC and CEX trading (called VASP or virtual asset service provider), not about retail investors. The SFC is still considering whether retail can use licensed CEXs or not.
Hong Kong will not allow all cryptocurrencies to be traded. It will regulate what assets can be traded.
This regulation will not guarantee that many crypto projects or CEXs will move and open their services in Hong Kong. Hong Kong seems to want to open its crypto market slowly to avoid situations like Terra and FTX where retail investors suffered huge losses. Therefore, the tradable assets will be very limited at first.
The crypto regulations in Hong Kong have some similarities with what Indonesia is implementing. Hong Kong and Indonesia both impose strict conditions where CEXs require an official license to operate. Indonesia and Hong Kong also do not allow futures and derivatives trading. However, Indonesia has eased its crypto asset entry requirements and retail has been free to trade crypto assets in recent years.
Some Requirements that Crypto Assets Must Meet
Virtual assets that are large cap including having sufficient liquidity and are already traded by index fund companies in Hong Kong. Crypto that meets this requirement as of now is BTC and ETH.
An asset must have a clear legal status and is not considered a security in the eyes of Hong Kong law. The VASP should also include the asset's legal history.
The asset needs to have complete market information and VASP must provide this, including its liquidity, market history, supply and demand, and transaction volume.
The VASP needs to explain the technical aspects of an asset, especially in relation to its security against digital attacks. Crypto assets should not have a history of being subject to attacks and hacks due to omissions in code and the like.
All crypto Assets should be subject to a smart contract audit by a licensed VASP or CEX.
You can read the full version of the regulatory document on the Hong Kong SFC website.
Some Key Points in Hong Kong Crypto Regulation
No Derivatives and Futures are allowed. Currently, the Hong Kong government is still deliberating on derivatives trading.
All VASPs or CEXs Must Have an Official License from the SFC. Through this regulation, all CEXs that wish to offer crypto assets must apply for and obtain an official license from the SFC. CEXs must also fulfill various conditions before they can operate.
Crypto Assets Must Be Licensed by the SFC. All crypto assets traded by VASPs must first meet the requirements of the SFC.
Lighter Requirements for Professional Investors. The regulation for professional investors is much less strict. Hong Kong's new regulations is specifically created to protect investors from the high risks of the crypto market.
What will happen after June 1?
Following the implementation of the SFC regulations on June 1, Hong Kong anticipates a large influx of CEX applying for licenses. The regulation also has a special section on a 12-month transition period for CEXs that were already operating. As mentioned, retail investor activity is unlikely to surge dramatically after June 1. Hong Kong will open its market slowly to protect small investors and the current regulations are the foundation.
One thing that is certain about the crypto regulation in Hong Kong is that it will attract various institutional investors and crypto projects looking to establish themselves in Hong Kong. In addition, it will also be easier for Hong Kong to create crypto regulations in the future as it already has a clear foundation.
The conversation about whether retail investors can use licensed CEX or not will also be clearer after June 1. We can also see how the Hong Kong government responds to the still bearish market as the main reason for the retail investor restriction is the huge risk that comes from market volatility. The opening of the Hong Kong crypto market to retail will send a good signal to crypto investors around the world.
Hong Kong Crypto Market Potential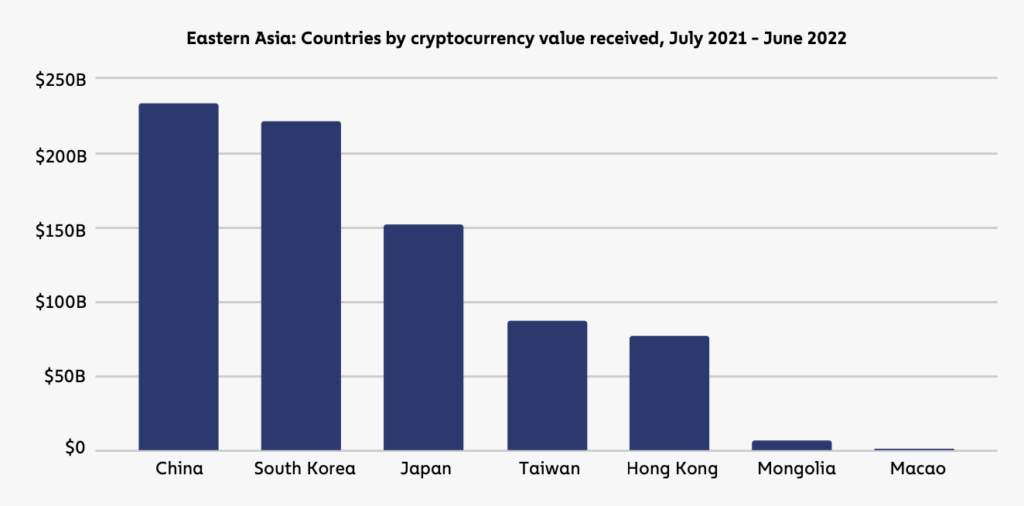 Hong Kong has relatively small crypto transaction activity compared to countries in East Asia such as China and South Korea. Although this comparison is unfair because Hong Kong is only a city, it gives an idea of Hong Kong's position in East Asia. The value of crypto activity in Hong Kong is almost $100 billion dollars, almost on par with Taiwan.
Hong Kong City also ranks 7th on the list of crypto hub cities in the world. This shows Hong Kong's huge potential. Since Hong Kong's announcement at the beginning of the year, several crypto assets that are related to Hong Kong or have a strong base in China have risen rapidly. For example, Conflux Network (CFX) has risen nearly 300% since the beginning of January 2023. The same was true for Alchemy Pay (ACH), which rose by more than 300%. Alchemy Pay especially has a strong base in Hong Kong and is already working with several entities from Hong Kong.
You can also read about why Asia can be a hub for the crypto industry in the future.
We will see the full potential of the crypto industry in Hong Kong if the Hong Kong government decides to open its market post the implementation of June 1, 2023.
Several Crypto Assets Following the Hong Kong Narrative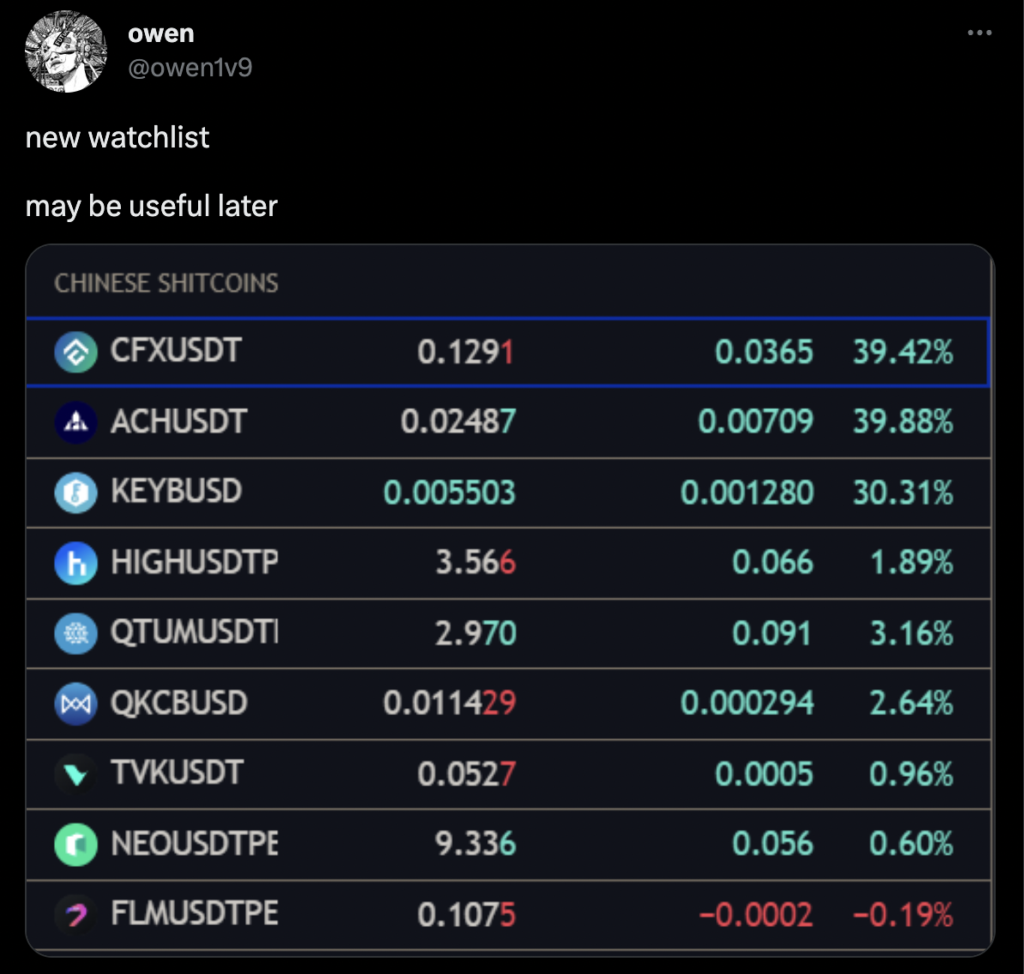 How to Buy Crypto at Pintu
You can start investing in crypto by buying them in the Pintu App. Here's how to buy crypto on the Pintu application:
Create a Pintu account and follow the process of verifying your identity to start trading.
On the homepage, click the deposit button and top up the Pintu balance using your preferred payment method.
Go to the market page and look for your favorite token.
Click buy and fill in the amount you want.
Now you have crypto as an asset!
You can also invest in various crypto assets such as BTC, BNB, ETH, and others safely and easily through Pintu.
Pintu is also compatible with popular wallets such as Metamask to facilitate your transactions. Download the Pintu app on Play Store and App Store! Your security is guaranteed because Pintu is regulated and supervised by Bappebti and Kominfo.
In addition to executing transactions in the Pintu Apps, you can also learn crypto through various Pintu Academy articles which are updated every week! All Pintu Academy articles are made for educational purposes, not financial advice.
References