Reading Time:
8
minutes
Daily work will be more practical and efficient when a virtual assistant provides intelligent and connected solutions to various sectors such as business, transportation, healthcare, etc. With Fetch AI, this is possible. Fetch AI works with blockchain machine learning technology and optimizes internet of things (IoT) applications. Let's find out more about what Fetch AI (FET) is, how it works, and its uses in the following article.
Article Summary
🔗 Fetch AI is a blockchain-based artificial intelligence (AI) and machine learning platform. Fetch AI aims to facilitate the development of AI services, including platforms that assist in automating everyday activities such as booking parking spots and buying flight tickets.
🪙 FET is the Fetch AI platform's native token with various functions : as the currency for payment of all transactions on the platform and as an asset for staking.
👩🏻‍💻 Digital Twins or Autonomous Economic Agents (AEA) are essential in the Fetch AI system. It is like a virtual assistant that can think and act independently. It helps collect and connect a lot of data from various sources.
💡 Fetch AI technology that uses a multi-agent system has many uses for creating a decentralized digital economy. It applies to various fields, such as energy industry services, automotive, logistics, tourism, and the DeFi sector.
🏦In the DeFi sector, Fetch AI has Botswap, a DeFi liquidity management application that can react quickly to market condition changes to avoid rug pulls or impermanent losses in DEX, Uniswap, and Panckaeswap.
What is Fetch AI (FET)?
Fetch AI is an AI company that aims to combine blockchain machine learning networks and the crypto economy through the FET token. FET is the native token on the Fetch AI platform with various functions. The merging of these technologies enables the creation of a new generation of advanced applications built on the Fetch AI network that can be useful for daily life.
The Fetch AI model seeks to optimize internet of things (IoT) applications, energy industry services, automotive, logistics, tourism, and the DeFi sector. These sectors have complex digital systems that rely on large-scale data sets. Fetch AI allows anyone to access them using a Digital Twin (Autonomous AI Agent) to perform tasks utilizing its global data network.
For example, in the tourism sector, when you plan to go abroad to a certain country, you can use Digital Twin to find the cheapest airfare, hotel, and car rental and even manage your travel budget. You can also request data from other Digital Twins who have already completed tasks for the trip to that country. Because when a Digital Twin has completed its tasks, it will share its data with other Digital Twins.
The Fetch AI technology stack is built using artificial intelligence (AI) principles known as multi-agent systems. A Multi-Agent System (MAS) is a group of agents that interact with each other in a specific environment to achieve a specific goal. MAS is a decentralized system and has a robust system, so that no single failure point can down the system.
The following is an overview of Fetch AI technology that uses a multi-agent system to solve the problem of getting out of the maze.

The maze images above each consist of 40 dots, and each dot is an AI agent. They have been programmed to solve the problem of getting out of the maze. The simulation starts, and finally, one of the yellow dots on the right makes it out of the maze. Then another yellow dot agents quickly followed and managed to get out just as quickly.
The simulation is intended to show the Fetch AI technology that allows each agent to communicate and share information. Fetch AI technology drives the intelligence of its system to get to the endpoint and allows smart data to communicate peer-to-peer rather than through a central server (left maze).
Read also another AI token like SingularityNET (AGIX) here.
Who are the Creators of Fetch AI?
Fetch AI was built in 2017 by a Cambridge, UK-based team of technology, machine learning, and blockchain experts. The Fetch AI team comprises more than 40 engineers, economists, researchers, and experts in their respective fields. Fetch AI's founders are Humayun Sheikh, an entrepreneur, and technologist, and Toby Simpson, a computer scientist specializing in AI and machine learning.
Fetch was initially funded through a 15 million US dollars seed funding round from Outlier Ventures and Blockwall in June 2018. Later in 2019, Fetch AI successfully raised 6 million US dollars by selling FET tokens under the Initial Exchange Offering (IEO) system on Binance Launchpad. Fetch AI also secured another 5 million US dollars in funding from GDA Group a year later.
How Fetch AI Works
Fetch AI connects machine learning, AI, and ledger technology to consumers and businesses. The Fetch AI Network blockchain is an advanced interchain protocol that uses Cosmos-SDK. This blockchain uses Cosmwasm, a module where developers can plug into Cosmos-SDK to run smart contracts.
This layer ensures the network's security by implementing consensus mechanisms. It also providing services such as staking, governance, and identity management required for Digital Twin applications.
The Fetch AI Network blockchain uses a modified version of the Tendermint Proof-of-Stake (PoS) consensus mechanism to secure the network. It is the consensus mechanism used in the Cosmos protocol. Because it is built on the Cosmos ecosystem, the Fetch AI Network blockchain can communicate with other blockchains using the inter-blockchain communication (IBC) protocol, making it easy to operate.
Read also The Evolution of Blockchain from Time to Time.
Features of Fetch AI
To develop the infrastructure for a smart AI-based autonomous economy, the Fetch AI network has several features that work together, namely: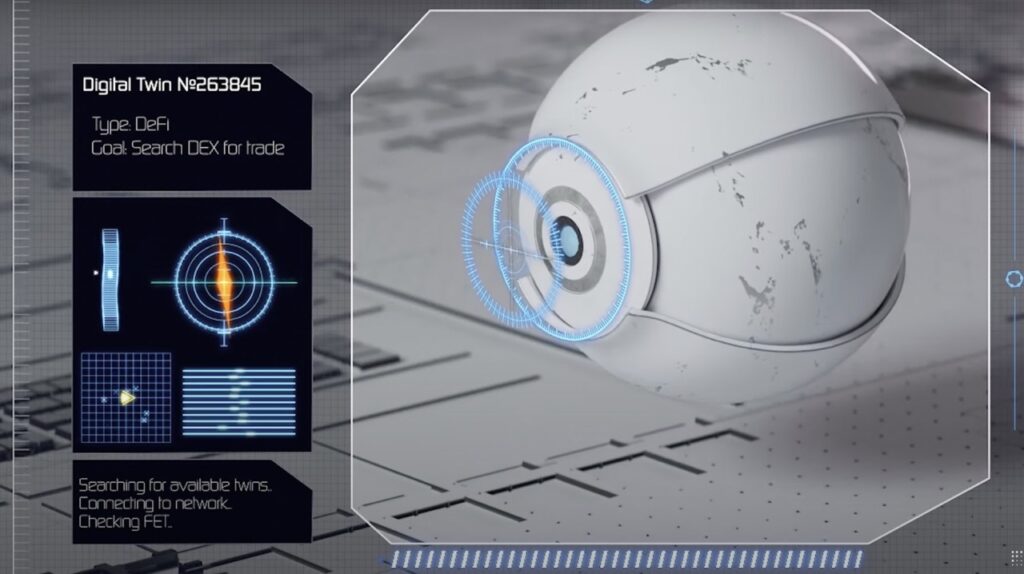 Autonomous Economic Agents (AEA)
AEA is similar to Digital Twin. It is an agent that can execute tasks independently and share data with other Digital Twins. An AEA or Digital Twin is a digital entity in the Fetch.ai network that acts independently on behalf of devices, services, organizations, and individuals.
AEA uses AI to learn from previous data and make more efficient decisions. AEA connects to data sources and hardware environments and utilizes Fetch AI's system forecasting capabilities to improve overall system performance.
Simple Open Economic Framework (SOEF)
SOEF is the search and discovery mechanism for AEA. An agent registers with SOEF and then uses it to search and discover other agents and communicate with each other. It is a relatively simple implementation focusing on functionality, performance, and easy-to-use. SOEF is a decentralized virtual environment that supplies and supports AEA or Digital Twin APIs.
Agent Communication Network (ACN)
ACN is a peer-to-peer communication network for AI agents. It provides a system for agents to communicate and find each other based solely on their wallet addresses. Agents can receive messages from other agents if they are connected to the ACN.
A place to store and share AEA or individual agent components for anyone to find and use.
Smart ledger allows AEA to interact with the blockchain. It is a new form of smart contract-enabled ledger with blockchain elements. Here all transaction data is optimized to be faster and cheaper with a fragmented ledger design.
Contract packages are smart contract wrappers that allow AEA to interact with them through a standard interface.
Use Cases of Fetch AI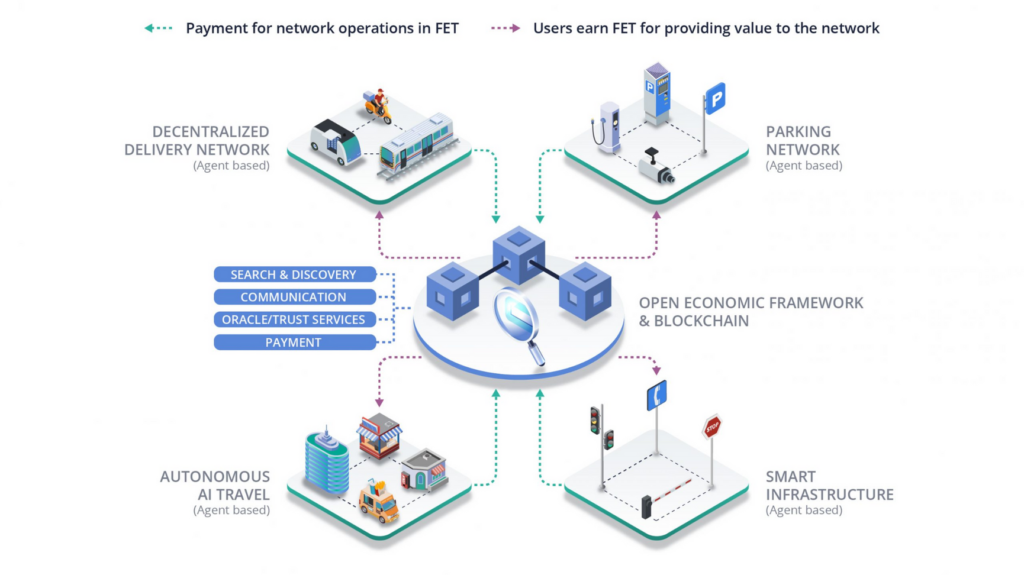 Decentralized Finance (DeFi)
Botswap
Botswap is a DeFi liquidity management application that you can use to manage and protect your crypto assets. It can react quickly to market condition changes to save you from rug pulls or impermanent losses on DEX, Uniswap, and Panckaeswap. The currently available networks are Ethereum and Binance Smart Chain (BSC).
The app uses AEA's Fetch AI Network to automate the coin swap process, manage liquidity pools, and more. For example, to automatically withdraw crypto assets from the liquidity pool in Uniswap, you can visit Botswap.ai. Then, you can create an agent, set a trigger price to withdraw crypto assets from the liquidity pool, and set pairs from the portfolio to protect you from high price swings.
Learn more about What is Decentralized Finance (DeFi)?
Automotive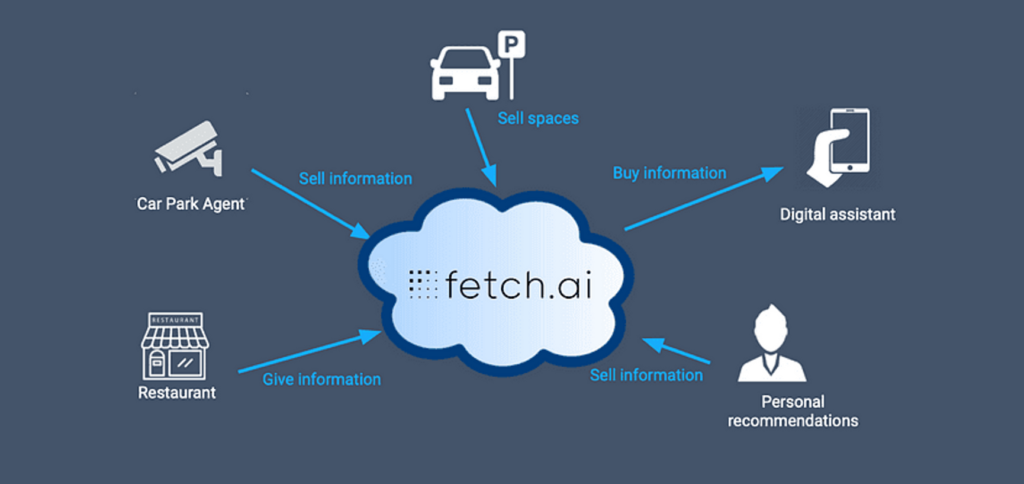 Deep Parking is an app built on AI and blockchain technology that aims to find parking spaces for car drivers. The app works by using the Digital Twin of the driver's car and communicating with the Digital Twin of the available parking lots in the vicinity.
It negotiates and agrees to the booking terms. Digital Twin then directs the driver to the nearest available parking space and reserves it for them. So, the driver does not have to drive around looking for a parking space. Once the driver leaves the parking lot, the app will automatically process the payment.
DDN (Decentralized Delivery Network)
DDN, or decentralized delivery network, offers an alternative to traditional centralized service providers such as Deliveroo, Lyft, and others. With DDN, users can interact directly with service providers, negotiate prices, and organize the delivery of goods or transport independently.
By using DDN, users can support local service providers and contribute to the local economy's growth. In addition, DDN provides a high level of privacy, and as a decentralized platform, users can maintain control over their data.
Supply Chain
Fetch AI and LiquidChefs work together to create a better supply chain system. They plan to use Fetch AI's technology, including AEA or Digital Twin and search and discovery framework, to build a transparent supply chain. It will allow LiquidChefs to easily find and connect with suppliers in their area.
Using digital systems and system automation, the Fetch AI infrastructure will create a decentralized supply chain marketplace. It allows where buyers and suppliers to connect in real time. The marketplace was showcased at the Davos World Economic Forum in 2022.
Collective Learning
Collective learning learns algorithms that allow multiple parties to obtain more data sets without privacy concerns. It utilizes blockchain technology and AI learning capabilities. It supports and trains its network to learn from private data without access to it.
Some critical applications that use collective learning include:
Covid-19 detection through chest x-rays using machine learning algorithms.
Cancer cell detection. Fetch AI and Poznan Supercomputing Networking Center (PSNC) will train various algorithms for hospitals and research centers worldwide. It aims to identify and detect cancer cells in patients' blood or tissue biopsies.
Bosch, a multinational electronics and technology company, is working with Fetch AI to identify potential manufacturing machine failures. Bosch utilizes Fetch AI's collective learning to predict potential failures in Bosch machines while maintaining the privacy of their data.
Conclusion
It is understood that Fetch AI's multi-agent system has many use cases for creating a decentralized digital economy. It applies to various fields, such as energy industry services, automotive, logistics, and tourism, to the DeFi sector. This multi-agent system enables decentralized access to data that can reduce the power of existing data monopolies.
How to Buy FET Token on Pintu?
You can start investing in FET by buying it in the Pintu app. Here's how to buy crypto on the Pintu application:
Create a Pintu account and follow the process of verifying your identity to start trading.
On the homepage, click the deposit button and top up the Pintu balance using your preferred payment method.
Go to the market page and look for FET.
Click buy and fill in the amount you want.
Now you have FET as an asset!
In addition, the Pintu application is compatible with various popular digital wallets such as Metamask to facilitate your transactions. Go and download the Pintu cryptocurrency app on Play Store and App Store! Pintu is regulated and supervised by CoFTRA and Kominfo.
You can also learn more crypto through the various Door Academy articles which are updated every week! All Pintu Academy articles are for educational purposes, not financial advice.
References