Reading Time:
3
minutes
Verify your identity in 5 minutes
As per Bappebti regulations, we must first verify your identity before you can invest crypto in Pintu. But don't worry, it's quick and easy!
Simply prepare your identity card (SIM, KTP, or Passport) and follow the verification process according to this guide.
Pintu Team will process your verification in 10 minutes 24/7, and you can start investing in Pintu!
Start by depositing Rupiah instantly. No fees
Just like buying stocks or gold, investing with cryptocurrency is done by buying and selling cryptocurrency assets on the crypto market. To make a profit, you have to buy crypto assets at a low buying price and sell them at a higher selling price.
To buy crypto assets, you need to deposit Rupiah into your Pintu account. To deposit, you can use a bank transfer or e-wallet application.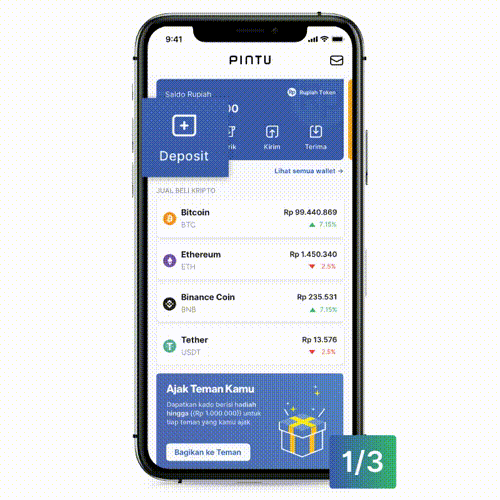 Making your first Crypto Purchase
After making a deposit and having a Rupiah balance, you can proceed to buy your first crypto.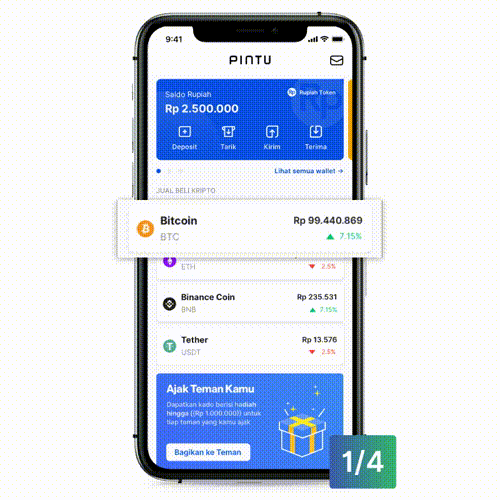 Purchasing crypto with Pintu is very easy. All you have to do is press the "Beli" / "Buy" button on the crypto asset you want. Then enter the amount of crypto you want to buy (or the amount of rupiah you want to spend). Confirm your purchase transaction, and voila – you successfully bought crypto at Pintu!
Take profit by selling your crypto
If the price movement makes the value of the crypto you buy increase after a certain period of time, you can make a profit by selling the crypto you own.
Selling crypto at Pintu is just as easy as buying. Press the "Sell" / "Jual" button on the crypto asset you wish to sell. Enter the amount of crypto you want to sell. You can enter the amount of crypto you want to sell in either Rupiah or crypto amount. Confirm the sale transaction, and you have successfully sold your crypto asset!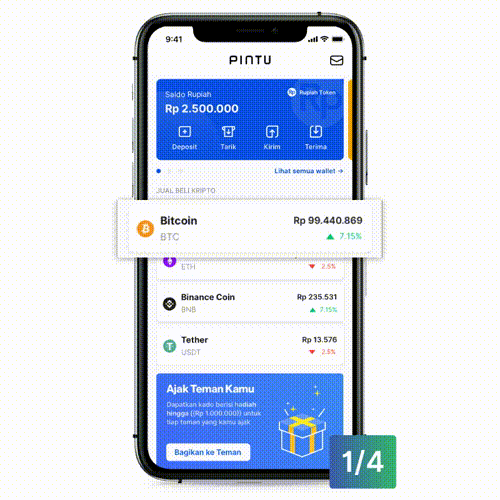 Withdraw your Rupiah balance to your bank account instantly and cheaply!
You can withdraw the rupiah balance from selling crypto to your bank account.
But before that, you must first register the destination of the bank account at Pintu until it is verified. The name on the bank account that you register must match with the name on your KTP / SIM / Passport.
After the destination bank has been verified, open the withdrawal rupiah balance menu. Then enter the amount of balance you want to withdraw and select the destination bank account number. After that, confirm the withdrawal transaction.
Rupiah balance withdrawals at Pintu are available 24/7, instant, and only charge IDR 4,500 flat for each transaction!