Reading Time:
4
minutes
Many famous investors, fund managers, companies, and institutions have bought significant amount of Bitcoin as investment. Who are these people? Let's take a look at some examples:
Hedge fund managers and billionaires
1. Ricardo Salinas Pliego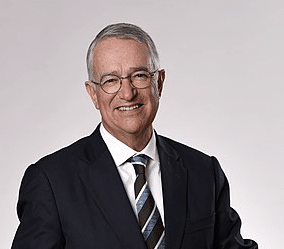 Ricardo Salinas is Mexico's third-richest person, with an estimated net worth of $13.2 billion USD (Feb 2020). He is the founder and chairman of Grupo Salinas, a conglomerate with business in telecommunications, media, banking, and many more.
On 18 November 2020, Salinas twitted that he has invested 10% of his liquid asset into Bitcoin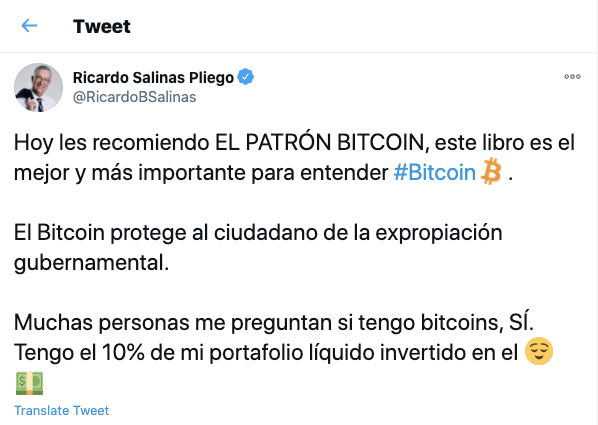 (https://twitter.com/RicardoBSalinas/status/1328850136290775041):
Translated, the tweet says: "Today I recommend THE BITCOIN STANDARD, this book is the best and most important to understand #Bitcoin.
Bitcoin protects the citizen from government expropriation.
Many people ask me if I have bitcoins, YES. I have 10% of my liquid portfolio invested."
2. Paul Tudor Jones
Paul Tudor Jones is one of Wall Street's most famous hedge fund manager, with personal net worth of US $5.1 Billion. He believes that because of Covid, central banks of developed economies (Europe, USA, Japan, etc) will be forced to print more and more money for the next several years, and warns that inflation might come one day.
On a 22 October 2020 interview with CNBC, Paul Tudor Jones said he invested "a small percentage of his net worth" into Bitcoin. He likes Bitcoin because it is potentially a great protection against inflation, and because there are "really, really smart and sophisticated people who believe in it… It's like investing with Steve Jobs or in Google early".
Watch the full video here:
3. Michael Novogratz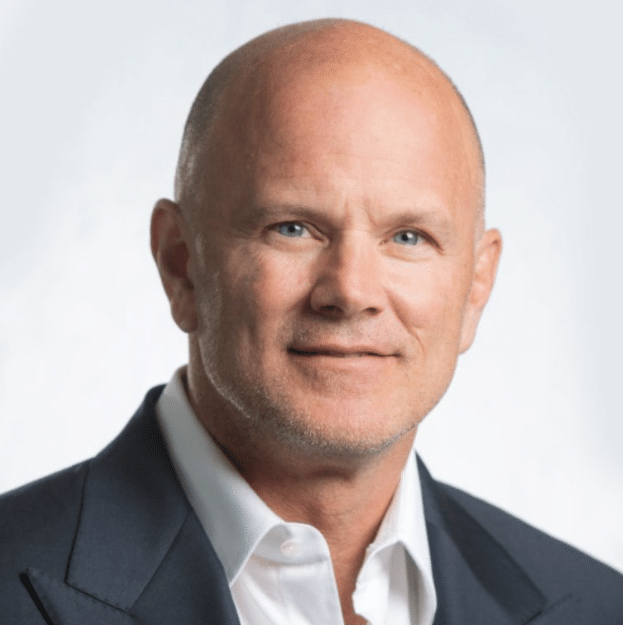 Michael Novogratz was a former Goldman Sachs Partner & President of Goldman Sachs Latin America. Novogratz founded a cryptocurrency investment firm called Galaxy Investment Partners in 2016. He placed 20% of his net worth in cryptocurrencies / digital assets, and made $250 million between 2016-2018 period. He is still investing heavily in cryptocurrencies in 2020.
Publicly-listed companies and investment funds
Microstrategy Inc.
MicroStrategy Incorporated is a business intelligence software company whose shares are publicly listed in Nasdaq (MSTR).
On 11 August 2020, MicroStrategy announced press release that its company treasury "has purchased 21,454 bitcoins at an aggregate purchase price of $250 million". The CEO, Michael Saylor, said that this Bitcoin investment "reflects our belief that Bitcoin, as the world's most widely-adopted cryptocurrency, is a dependable store of value and an attractive investment asset with more long-term appreciation potential than holding cash".
On September 2020, MicroStrategy CEO Michael Sayor tweeted that the company bought 16,796 more bitcoins. In total, the company bought 38,250 BTC at total cost of $425 million USD.

Square Inc.
Square is a payment processing company based in San Francisco, California. Square's CEO/Co-founder, Jack Dorsey, is also the CEO/Co-founder of Twitter.
On October 9, Jack Dorsey twitted that his company Square invested $50 million USD into 4,709 Bitcoin. He also shared a link containing guide for other corporations on how to invest and store Bitcoin.
Find the tweet here: https://twitter.com/jack/status/1314239421504393221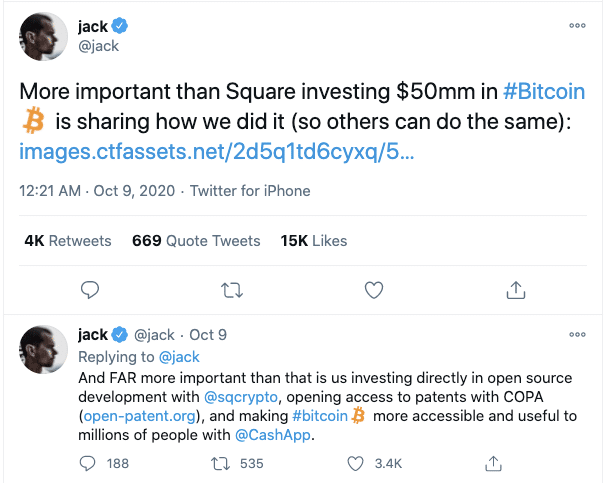 Grayscale Investment Trust
Grayscale Investments, LLC ("Grayscale") is the world's largest cryptocurrency asset manager. Grayscale provides secure access to the digital currency asset class for institutional investors and high net worth individuals who does not want the hassle / complexity of purchasing, handling, and storing cryptocurrency on their own. It basically acts as a bridge between Wall Street and crypto.
Grayscale operates 10 different investment products. The Grayscale Bitcoin Trust is the most popular, with $6.4 billion USD worth of BTC under its management as of 30 October 2020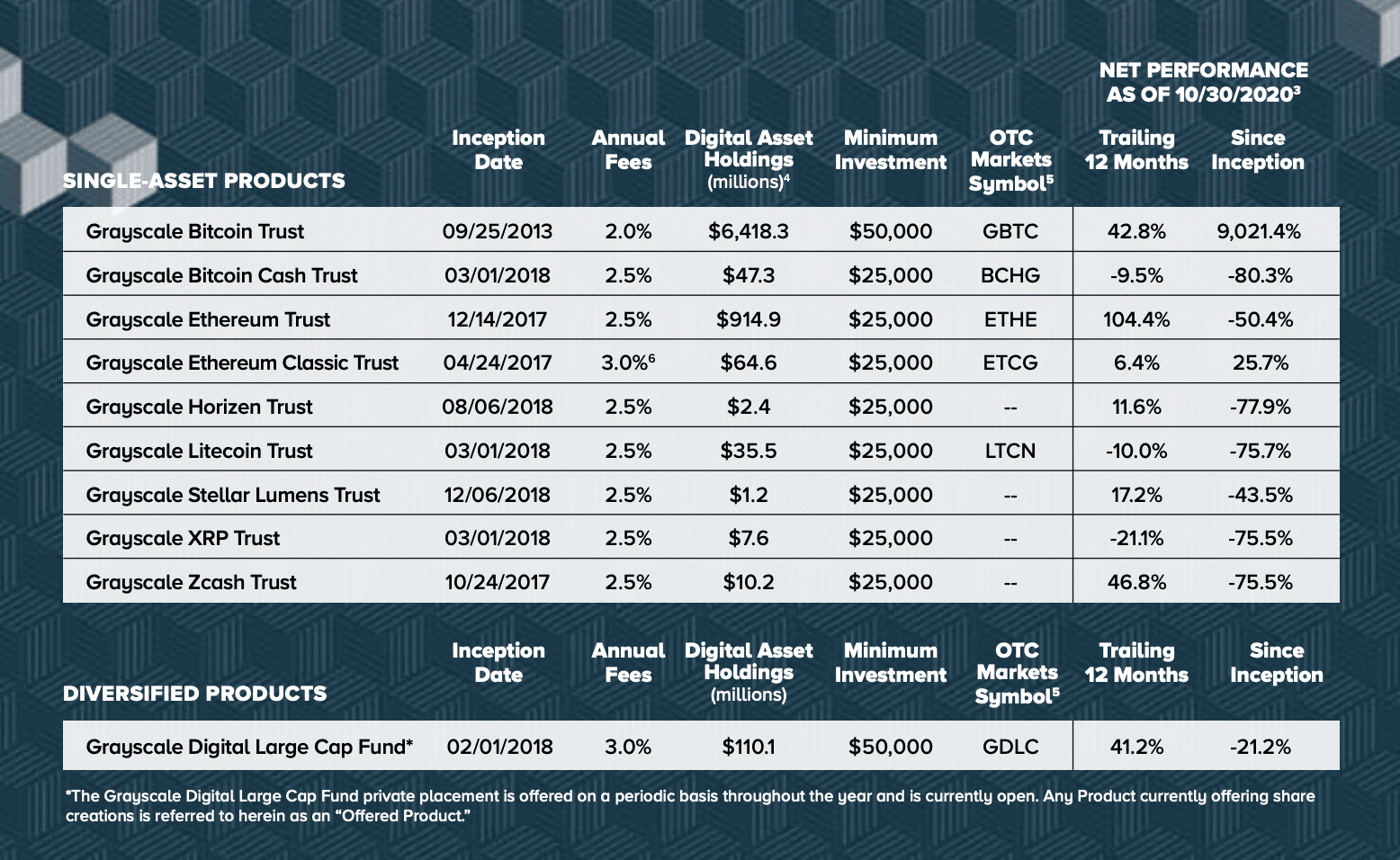 (Source: https://grayscale.co/wp-content/uploads/2020/11/Grayscale-One-Pager-November-2020-Open.pdf)
Cryptocurrency analytics website Bybt.com estimated that Grayscale owns around 532,430 Bitcoins by 27 November 2020, with total holdings of $9B USD. It is estimated that Grayscale bought 60,252 Bitcoin between 28 Oct – 27 Nov 2020.