Reading Time:
6
minutes
The supply chain management industry is witnessing continuous advancements, particularly with the advent of VeChain (VET), which has the potential to revolutionize supply chain management. Recently, VET has forged a strategic alliance with the renowned public relations firm, BCWGlobal, with the collaboration valued in the billion-dollar range. As an investment asset, the VET token presents a compelling long-term prospect that warrants further scrutiny. Delve deeper into the roadmap, tokenomics, and ecosystem of this initiative in this article.
Read about what VeChain (VET) is in Pintu Academy before moving on to the VeChain roadmap for 2023 and 2024.
Article Summary
⛓️ VeChain is a blockchain platform specializing in supply chain management and enterprise solutions, and has been adopted by prominent companies such as BMW and Walmart.
⚒️ VeChain operates on a two-token design tokenomics system, which includes the VeChain token (VET) and the VeThor token (VTHO), thereby separating the direct cost of using VeChainThor from the price of VET.
💰 As reported by Coinmarketcap, the VET token currently ranks 38th with a total supply of 85,985,041,177 and a circulating market capitalization of approximately $1,660,678,881.
✍🏻 Within the 2023-2024 roadmap, VeChain is focused on sustainable infrastructure, technology features and sustainable ecosystem applications.
VeChain's Roadmap & Future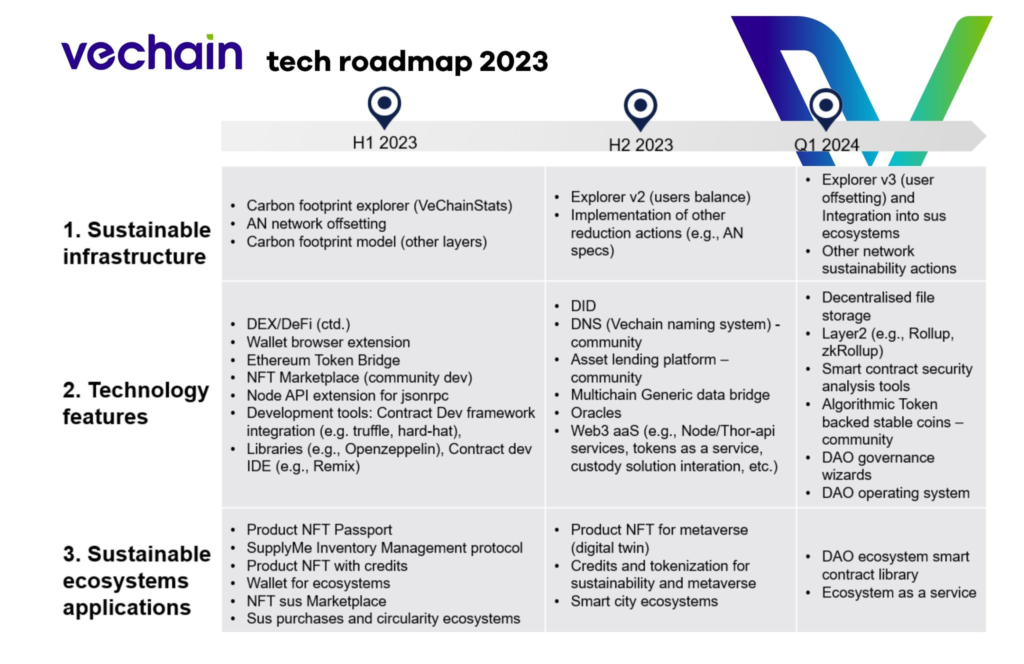 Based on the latest whitepaper released by the VeChain team, at the beginning of 2023, the team behind the VeChain (VET) smart contract blockchain platform will launch a technology roadmap for 2023 and 2024. This roadmap focuses on three aspects: Sustainable Infrastructure, Technology Features, and Sustainable Ecosystem Applications.
In the first half of 2023, the VeChain Foundation focuses on working on carbon footprint, browser wallet extensions, and Ethereum (ETH) token bridge extensions. Moving on in mid-2023, VeChain plans to shift its focus to implementing the VeChain naming system, asset loan platform, multichain generic data bridge, as well as oracles and smart city ecosystem. In the first quarter of 2024, it will work on various projects, including decentralized file storage, rollup layer-2, smart contract security analysis tools, token algorithm-based stablecoin, and decentralized autonomous organization (DAO) governance wizards along with DAO operating systems and smart contract libraries for the DAO ecosystem.
Read more about VeChain's plans in their whitepaper here.
VeChain's Tokenomics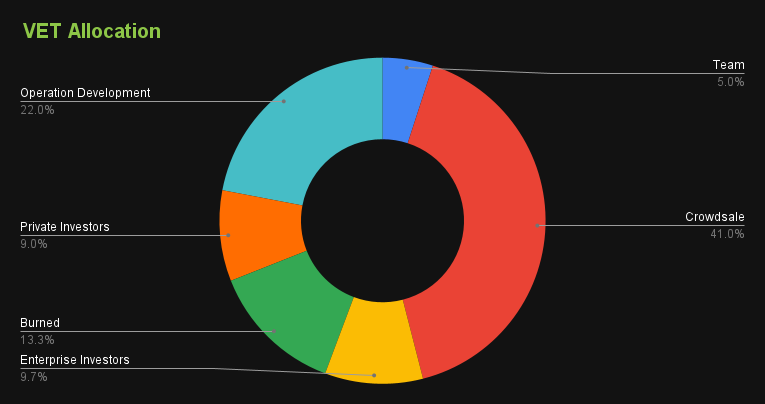 To pave the way for its roadmap, VeChain understands that the use or adoption of blockchain often encounters a major obstacle, namely the uncertainty of the cost of using the blockchain caused by cryptocurrency volatility. To overcome this, the VeChain team designed a Two-token Design system that includes the VeChain Token (VET) and VeThor Token (VTHO). Both have different functions, where VET serves as a value transfer medium, in other words, to provide access to the services and features of VeChain. Meanwhile, VTHO is used as a means of paying gas fees within the network. With this system, VeChain can detach the direct cost of using VeChainThor from the VET price.
VeChain's tokenomics become a key to improving adoption and of course, in the future, it can affect the value of a token or coin, in this case VET.
VeChain Ecosystem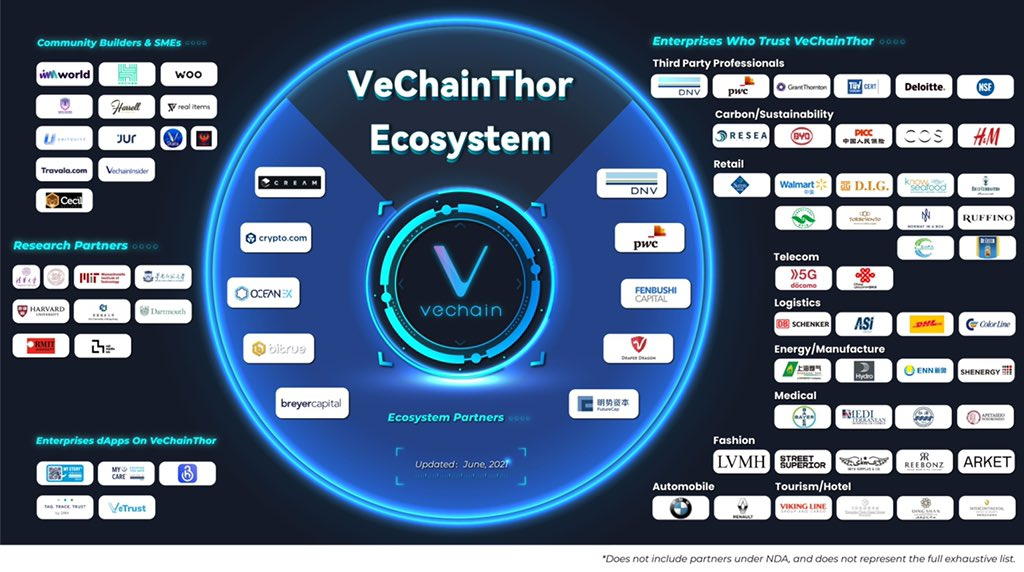 VeChain (VET) is a next-generation smart contract blockchain platform that focuses on providing solutions for enterprise management and supply chain. Currently, there are dozens of companies that have adopted VeChain's services. Why do large companies trust VeChain's services?
Anti-counterfeiting for luxury brands: Through the use of smart chips, VeChain can track each individual item and prevent duplication. Even using VeChain Toolchain allows anyone to create anti-counterfeiting tags.
Coldchain Logistics: VeChain offers the food and beverage (F&B) industry to ensure that food is not damaged during transportation and storage by using Internet of Things (IoT) sensors that automatically report and record important information to the blockchain.
Automobile: Can keep vehicle records resistant to counterfeiting, including repair history, insurance, registration, and driver habits.
Carbon Credit: Quantitatively track the carbon contributions of a particular company to reduce carbon emissions. Even retail users can use its application available on WeChat. Consumers who engage in low-carbon behavior (e.g., purchasing low-carbon products) will be rewarded with credits that can be exchanged for environmentally friendly goods or donated to charity.
Clinical trial tracing platform: The healthcare sector is also one of the services that use VeChain. Through a partnership with Bayer China, VeChain uses blockchain to solve the problem of digitizing clinical trial tracing.
Several large companies have adopted VeChain, such as DNV GL, a Norwegian company engaged in international classification society, BMW (Bayerische Motoren Werke AG), a German automotive company, and PriceWaterHouseCoopers (PwC), known as one of the largest auditors in the world.
PwC has been working with VeChain since 2017 and in 2019, PwC and VeChain collaborated with Walmart China to use VeChain technology, which allowed Walmart China to implement product tracking services. In addition, consumers can scan the product and view detailed information about it, such as source, logistics process, and product inspection reports.
As of 2020, Walmart China's tracking system was able to track various items sold such as fresh meat, which reached 50% of fresh meat sales, tracked vegetables covering 40% of total vegetable sales, and tracked seafood covering 12.5% of total seafood sales. Therefore, the use of VeChain has been proven in various industrial sectors.
VET as Investment Asset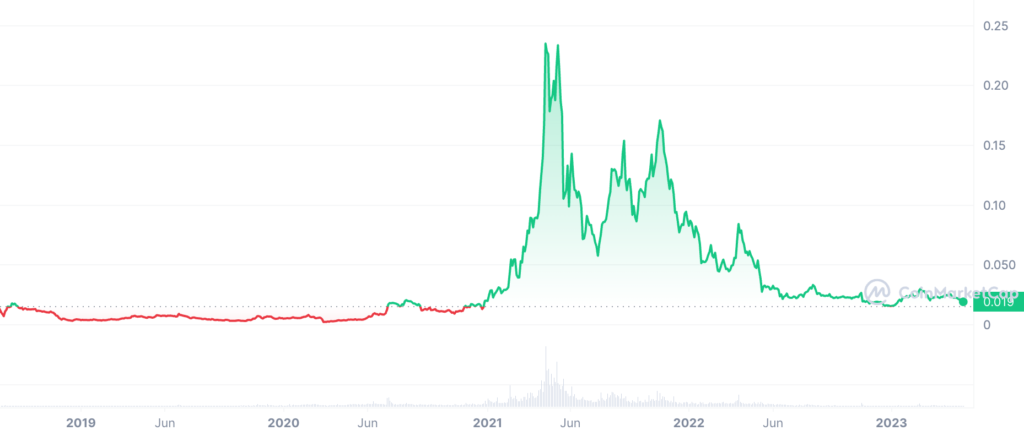 VeChain's VET token reached an all-time high of $0.280991 on April 19, 2021, and has a maximum supply of 86.712.634.466 tokens. Initially issued as an ERC-20 token on Ethereum with the symbol VEN, VET has become an attractive investment option for both long-term and short-term investors. Check the VeChain price today on Pintu Market.
Is VeChain a Good Investment?
Investing in VeChain can be a compelling choice for both long-term and short-term investors. With a strong focus on real-world adoption and a robust tokenomics model, VeChain has positioned itself as a leading blockchain platform with significant growth potential since its launch.
Long-term investors may consider VET as a worthwhile investment due to its usefulness within the ecosystem and its potential appreciation as the network expands. Additionally, VET holders automatically generate VTHO, providing a passive income source that can continue to grow as the network expands.
Furthermore, with a clear roadmap and implementation of VeChain in various industries such as supply chain management, asset tracking, data management, health, finance, F&B, and other industrial sectors, VeChain (VET) certainly adds value as an investment asset.
Conclusion
VeChain is a blockchain platform that continues to innovate and develop solutions for supply chain management and enterprise solutions. With the adoption by large corporations, a focus on real-world applications, and a sophisticated tokenomics model, VeChain has shown significant growth potential as a leading blockchain platform. In recent years, VeChain has proven to be an effective solution in various industries, such as supply chain management, asset tracking, data management, health, finance, f&b, and more.
Investing in VeChain (VET) can be an attractive option for investors. With significant growth potential, a clear roadmap, and real-world implementation in various industries, VeChain offers a strong value proposition for investors. In addition, VET holders automatically generate VTHO, providing a passive income source that can continue to increase with the network's expansion. VeChain is an attractive investment asset with a bright future prospect.
How to Buy VET Token on Pintu?
After learning about VeChain's roadmap, tokenomics, and ecosystem, you can start investing in VET crypto asset by purchasing it on the Pintu app. Here's how to buy VET on the Pintu app:
Create a Pintu account and follow the process of verifying your identity to start trading.
On the homepage, click the deposit button and top up the Pintu balance using your preferred payment method.
Go to the market page and look for VET.
Click buy and fill in the amount you want.
Now you have VET as an asset!
In addition, Pintu application is compatible with various popular digital wallets such as Metamask to facilitate your transactions. Go and download the Pintu cryptocurrency app on Play Store and App Store! Pintu is regulated and supervised by Bappebti and Kominfo.
You can also learn more crypto through the various Pintu Academy articles which are updated every week! All Pintu Academy articles are for educational purposes, not financial advice.
References