Reading Time:
4
minutes
Bitcoin Conference is an annual event held as a gathering for bitcoiners from all over the world. The Bitcoin Conference has been held three times since 2019. In 2022, the Bitcoin Conference was held in Miami, Florida. The conference grew in the number of participants. At the 2019 bitcoin conference, there were only about 2,000 visitors. At the 2021 bitcoin conference, the number of participants increased to 12,000, and in 2022 as many as 25,000 people attended this conference.
Pintu is proud to attend Bitcoin Conference Miami 2022 and take part in covering the event.
Get to know Bitcoin Conference
Of course, conferences like this are very important for bitcoiners and the crypto world in general. Because whatever happens in the world of bitcoin will certainly have an impact on the world of other cryptocurrencies.
The Bitcoin Conference in Miami discusses various topics from mining, bitcoin-based software development, regulation, bitcoin companies, and investors.
In addition to various sessions to increase knowledge, this conference also aims as a networking platform with various bitcoiners from all over the world, whether they are investors, companies, miners, programmers, educators, and others.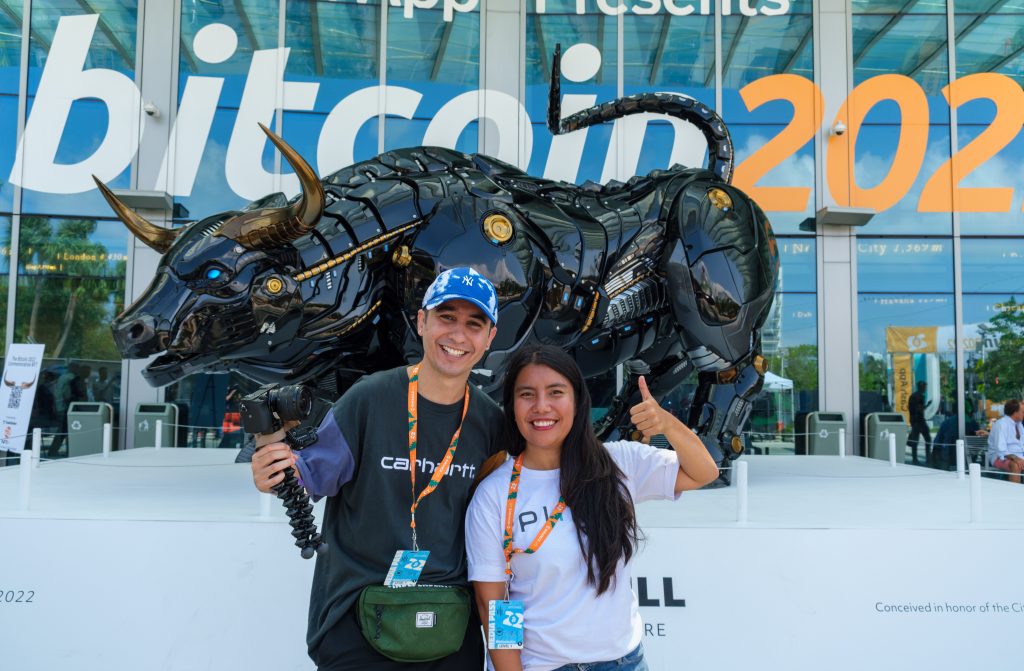 What will be discussed at Bitcoin Conference 2022
Here are some of the interesting topics covered at the Bitcoin Conference 2022:
💰 Several cities and countries are starting to show a positive response on making Bitcoin a legal tender or legal tender in their country. Prospera, a special economic zone area in Honduras announced that it will treat bitcoin as legal tender. Senator Indira Kempis of Mexico also announced plans to introduce legislation that would make bitcoin legal tender in Mexico, following El Salvador footsteps.
🧾 Senator Cynthia Lummis from the United States is the most pro-Bitcoin Senator and he announced that he is drafting Laws to regulate the crypto and other digital asset markets. The bill would also regulate stablecoins that are pegged to the US dollar value so American consumers can use privately issued assets.
💳 Jack Mallers, CEO of Strike, announced that they are partnering with NCR, the world's largest Point-of-Sale supplier, payments company Blackhawk, and e-commerce giant Shopify to integrate Lightning Network into their business. Once fully implemented, Americans will be able to use the lightning network at stores like Walmart, McDonald's and Home Depot. This is a pretty huge announcement because it means Bitcoin will be usable at various merchants.
👨‍💻 We are seeing a trend of bitcoin mining in places where there is an excess of electricity. For example, ExxonMobil uses gas flares made from fossil fuel production to mine Bitcoin. Contrary to what is often reported, Bitcoin miners are proving that they can get electricity more efficiently for the environment. Now a new way has been developed for companies to enter into power purchase agreements with electricity providers.
💵 Self-custody wallet company Trezor also announced that they are now making automatic conversions of US dollars to bitcoins from bank accounts which will be sent directly to Trezor users.
⚡ Several companies are soon integrating Lightning Network into their apps such as Robinhood and Cashapp. Lightning Network is the most popular network in Bitcoin because it can provide fast and cheap payment access.
Apart from announcements related to Bitcoin, some of the expected bitcoin conference 2022 speakers also gave their opinions on Bitcoin, including:
Michael Saylor, CEO of Microstrategy, thinks that the Executive Order from President Biden is a green light for Bitcoin and is actually having a positive impact. Michael Saylor is optimistic that technological developments will drive bitcoin adoption more aggressively in the next 36 months, especially in the Lightning Network area.
Peter Thiel, Co-founder of Paypal thinks that Bitcoin represents a generation of young people, in contrast to the current financial system which he calls the "Gerontocracy" which is a bureaucracy dominated by old people.
Other Activities at the Conference
At this conference, apart from various sessions, there are also various interesting activities.
There are around 200 companies joining the bitcoin expo. These companies, among others, are engaged in the procurement of bitcoin wallets, mining, crypto exchanges, lightning service providers, and others.
Sound Money Festival became the first bitcoin music festival featuring various artists, including Deadmau5, Steve Aoki, Mø, and even Agnez Mo.
Conclusion
Events such as the Bitcoin Conference in Miami are necessary events to bring together bitcoiners from various fields. This conference can provide an overview of how the bitcoin industry and its technology can develop in the future. We see that the Lightning Network is in the spotlight, and more and more companies are adopting Lightning Network as well as forming programs on the Bitcoin second layer network. Although the price is something to look forward to, program development, security and privacy are the main things that need to be focused on in order to attract more retail and institutional investors, as well as make the adoption of bitcoin as a legal tender more and more in countries following El Salvador.