Reading Time:
6
minutes
The production and distribution of goods, also known as the supply chain, is an integral part of economic activities. Notably, major corporations like Apple, Microsoft, and Toyota have some of the largest global supply chains in the world. However, current supply chain management is not yet fully ideal due to lack of transparency, inefficiency, and security assurance. VeChain has emerged as a platform with blockchain technology designed to improve the efficiency of the global supply chain and asset management. Learn about what VeChain is in the following article.
Article Summary
🔄 VeChain is a blockchain-based platform designed to improve supply chain management, including tracking, monitoring, validating product quality and managing inventory.
⚒️ VeChain employs a blockchain known as VeChainThor, featuring a dual-token system: the VeChain token (VET) for handling financial transactions in the VeChainThor environment, and VeChain Thor Energy (VTHO), which acts as an "energy token" for facilitating transactions on the blockchain.
🏛️ VeChain has a client from major companies such as DNV GL, BMW Group, LVMH, Walmart China, and dozens of other firms.
What is VeChain?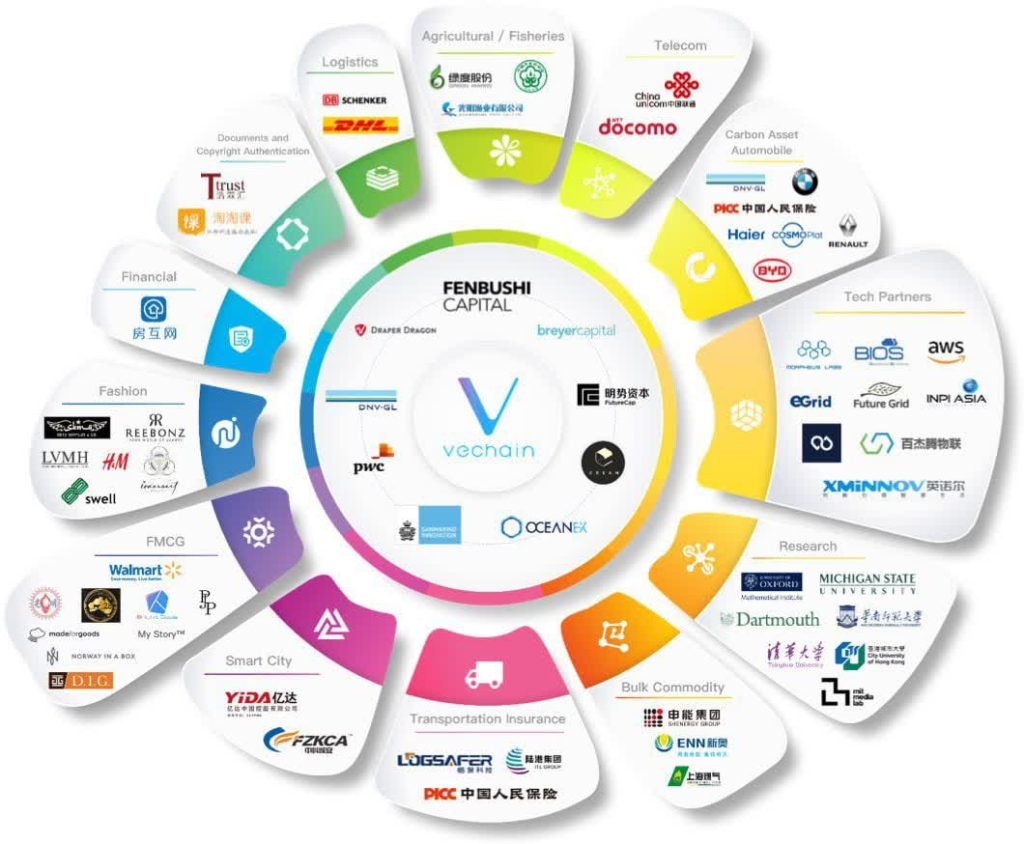 Supply chain management involves overseeing the production process from the procurement of raw materials to the delivery of the final product or service to the customer. As global industries face increasing complexity and demands, improving the efficiency and visibility of supply chain management becomes more critical.
VeChain (VET) is a blockchain-based platform that addresses global supply chain challenges through a range of services. Launched in 2016, VeChain allows businesses to digitize assets, optimize processes, improve product security, and verify product authenticity-all of which contribute to more efficient and secure asset management in the global supply chain.
VeChain employs two types of tokens, VET and VeThor (VTHO), to facilitate transactions and energy consumption within its blockchain network. VET serves as a utility token for transaction fees and voting rights, while VeThor functions as an energy token generated by VET and used for executing applications within the network.
💡 VeChainThor (VET) is a blockchain created to tackle real-world economic challenges encountered in the global supply chain, including inefficiencies, transparency, security, and product counterfeiting.
VeChain has been used in a wide range of industries, serving logistics, transportation, manufacturing, healthcare, food and beverage, financial services, and education.
Who Founded VeChain?
VeChain was founded by Sunny Lu and Jay Zhang, who are both experts in the fields of information technology and finance and management, respectively. With more than two decades of experience in IBM and Louis Vuitton, Sunny Lu brought his expertise to develop VeChain as a blockchain-based platform to solve global supply chain challenges. Meanwhile, Jay Zhang, who has more than 15 years of experience in PwC and Deloitte in China, provides the financial and management knowledge to ensure the success of VeChain.
Sunny Lu and Jay Zhang shared a vision to create a blockchain-based business ecosystem that is secure, efficient, and transparent for various industries worldwide. They spearheaded the development of VeChain by creating a blockchain platform that offers solutions to supply chain and asset management challenges since 2015.
VeChain provides several services to enhance supply chain management, such as product tracking and monitoring, product quality verification, and inventory management. Integrating with the Internet of Things (IoT), the decentralized VeChain device network enables real-time data sharing and analysis, providing businesses with greater efficiency and transparency.
How VeChain Works?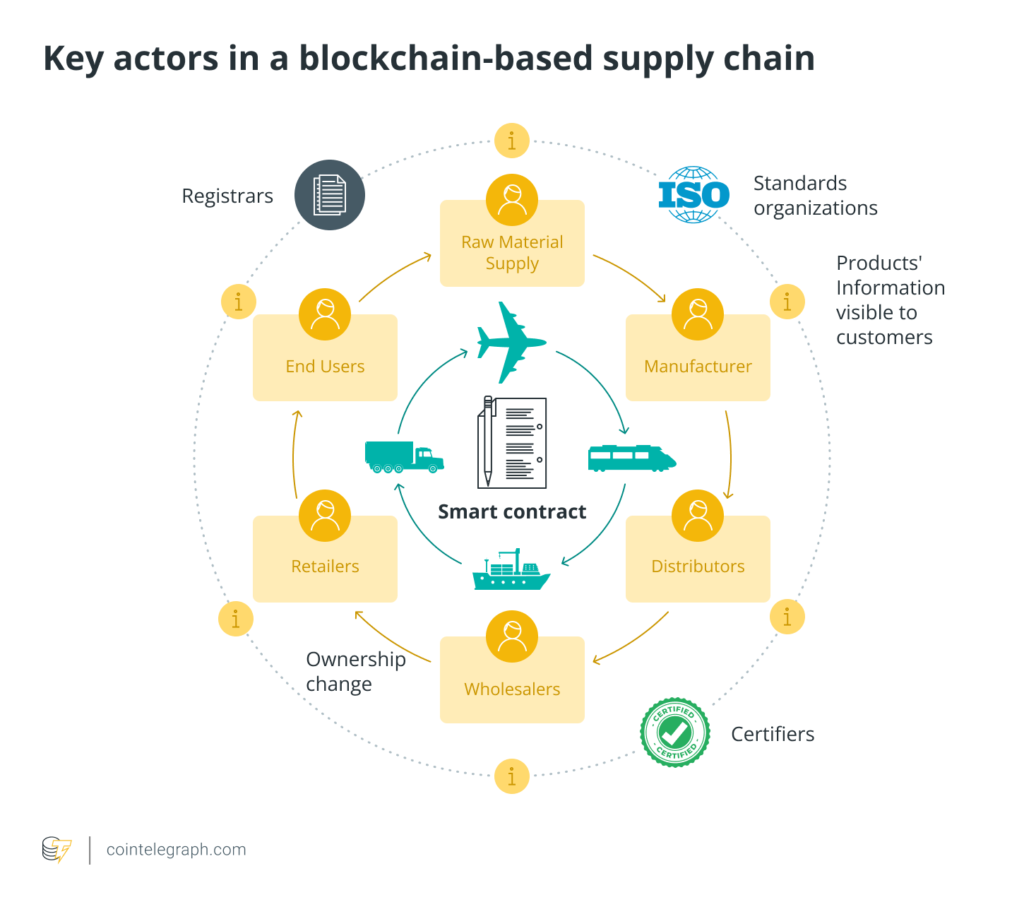 VeChain enables smart contracts that can automate entire processes and ensure their transparency without the need for third-party intervention or modification. To enhance supply chain efficiency, businesses require both transparency and efficiency. VeChain achieves this by integrating blockchain technology into supply chain management processes.
The VeChainThor blockchain operates similarly to other business blockchain platforms, but it stands out by providing more integrated and efficient blockchain solutions through its Blockchain as a Service (BaaS) product, ToolChain. This tool allows businesses to create custom blockchain-based solutions to fit their specific needs.
Through the use of smart contract technology, all transfers or product sales must fulfill specific conditions set in advance. The blockchain network securely captures and encrypts all transactional data and related information, enabling full process automation without third-party engagement and guaranteeing transparency and tamper-proofness.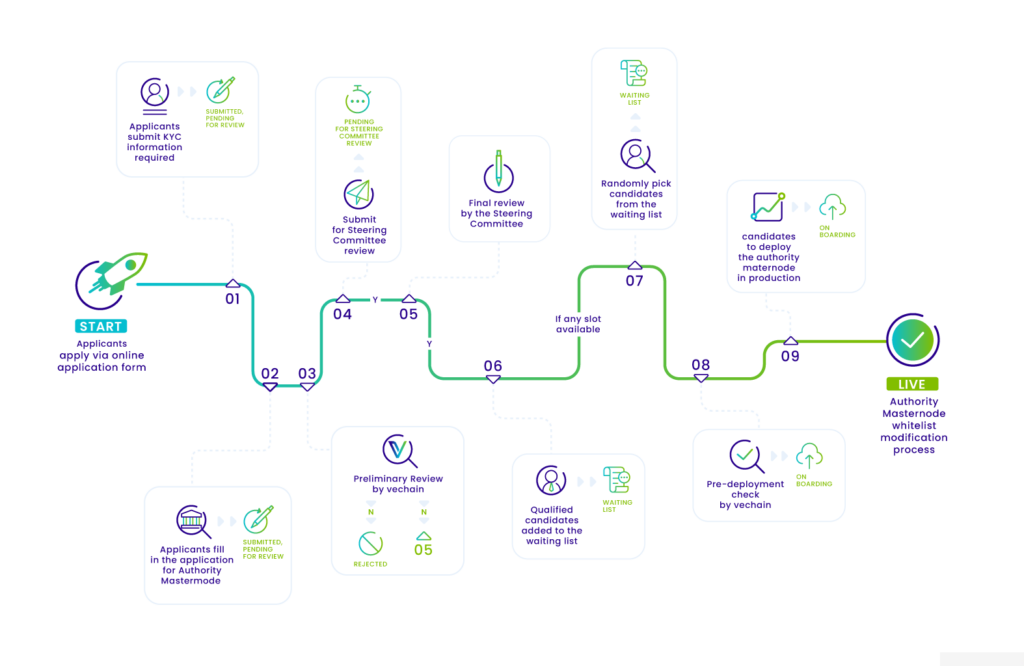 Source: vechain.org
The PoA consensus system is used in the VeChainThor blockchain to enable the use of Authority Masternodes (AM) that are trusted to confirm transactions. AM are the primary complete nodes responsible for maintaining the VeChainThor blockchain by verifying and adding blocks to the chain, as well as participating in platform governance. In return for these duties, they earn rewards which are denominated in VET tokens.
Advantages of VeChain
Digitalizing Assets
VeChain enables businesses to digitize their assets, creating digital representations on the blockchain that can be efficiently managed, monitored and tracked, leading to increased transparency and productivity.
Unique Two-Token System
VeChain utilizes a unique two-token model consisting of the VeChain Token (VET) and the VeThor Token (VTHO). The VET acts as a store of value that provides access to the services and features of the VeChain platform, while the VTHO is used to pay transaction fees within the network. This model allows users to securely and transparently manage digital assets on the VeChain platform.
Manage the Supply Chain
VeChain simplifies supply chain management by providing services such as product tracking, monitoring, quality verification, and inventory management. The platform's distributed network of devices connected through IoT integration enables real-time data sharing and analysis, resulting in greater supply chain efficiency and visibility.
Governance and Economic Model
To provide a secure and transparent supply chain management platform, VeChain has designed an economic model and governance system. The VeChain Foundation and Steering Committee manage and develop the platform, as well as oversee the network. The use of VET and VTHO tokens incentivizes network participation and provides users with passive income through staking, as well as access to premium services on the platform.
Mass Adoption
VeChain has the potential to be a game-changer in industries as diverse as logistics, anti-counterfeiting, and healthcare. By digitizing assets and integrating IoT technology, it can enhance supply chain transparency and traceability, creating a safer and more efficient ecosystem. VeChain has partnered with various companies and organizations, including Walmart China. Walmart has implemented blockchain in its food supply chain to improve transparency and efficiency.
Through blockchain, Walmart can track food in real time from farm to store, allowing it to quickly identify and address issues. The use of blockchain technology in the food industry has the potential to reduce waste, increase food safety and, of course, improve efficiency.
Conclusion
VeChainThor is a blockchain platform designed to improve the efficiency and transparency of the global supply chain. It allows businesses to more track and manage assets, reducing costs and improving productivity. VeChain uses a unique two-token system, VET and VTHO, which allows users to manage digital assets.
The platform also provides tracking, product monitoring, quality verification and inventory management services. VeChain has significant potential in various industries, including logistics, anti-counterfeiting, and healthcare, and can be applied in the real world through various partnerships that have been established.
How to Buy VET Token on Pintu?
You can start investing in VET by buying it on Pintu app. Here is how to buy crypto on Pintu application:
Create a Pintu account and follow the process of verifying your identity to start trading.
On the homepage, click the deposit button and top up the Pintu balance using your preferred payment method.
Go to the market page and look for VET.
Click buy and fill in the amount you want.
Now you have VET as an asset!
In addition, Pintu application is compatible with various popular digital wallets such as Metamask to facilitate your transactions. Go and download the Pintu cryptocurrency app on Play Store and App Store! Pintu is regulated and supervised by Bappebti and Kominfo.
You can also learn more crypto through the various Pintu Academy articles which are updated every week! All Pintu Academy articles are for educational purposes, not financial advice.
References