Reading Time:
6
minutes
Opensea is the largest NFT marketplace in the world, with more than 80 million NFTs in its collection. However, since the emergence of a new NFT marketplace called Blur in late 2022, Opensea has experienced a drop in market share as Blur dominates the NFT trading volume by 70%. To reclaim its market share, Opensea introduced Opensea Pro. What is Opensea Pro, and what features does it offer? Check out the following article.
Article Summary
🖼️ Opensea Pro is a new product from Opensea, an NFT marketplace with advanced tools and features to facilitate professional NFT traders.
🎰 This NFT marketplace has more advanced features than Opensea, such as real-time market data, advanced sweeps, cross-platform listings, gas fee optimization, and other features.
⚖️ Opensea Pro is also an NFT aggregator with access to over 170 NFT marketplaces. Some are Art Blocks, Bankless, Blur, Clone Community Marketplace, LooksRare, Rarible, X2Y2, and others.
What is Opensea Pro?
Opensea Pro is a new product from Opensea, an NFT marketplace with advanced tools and features to facilitate professional NFT traders. The platform has advanced features such as real-time market data, advanced sweeps, cross-platform listings, and gas fee optimization.
In April 2022, OpenSea acquired Gem, one of the leading NFT aggregators. As such, the latest version of Gem, Gem v2, was rebranded as Opensea Pro. Opensea claims that Opensea Pro is the fastest and most powerful NFT marketplace aggregator in the NFT world today.
It can facilitate users to access more than 170 NFT marketplaces. It also comes with various live charts and supports various digital assets, including art, collectibles, and virtual real estate. The platform aims to simplify the NFT trading experience and make it more accessible to professional traders.
Opensea Pro is an NFT aggregator with access to over 170 NFT marketplaces. These include Art Blocks, Bankless, Blur, Clone Community Marketplace, LooksRare, Rarible, X2Y2, and more.
Learn more about What Is NFT and Why Is It So Popular?
How to Use Opensea Pro?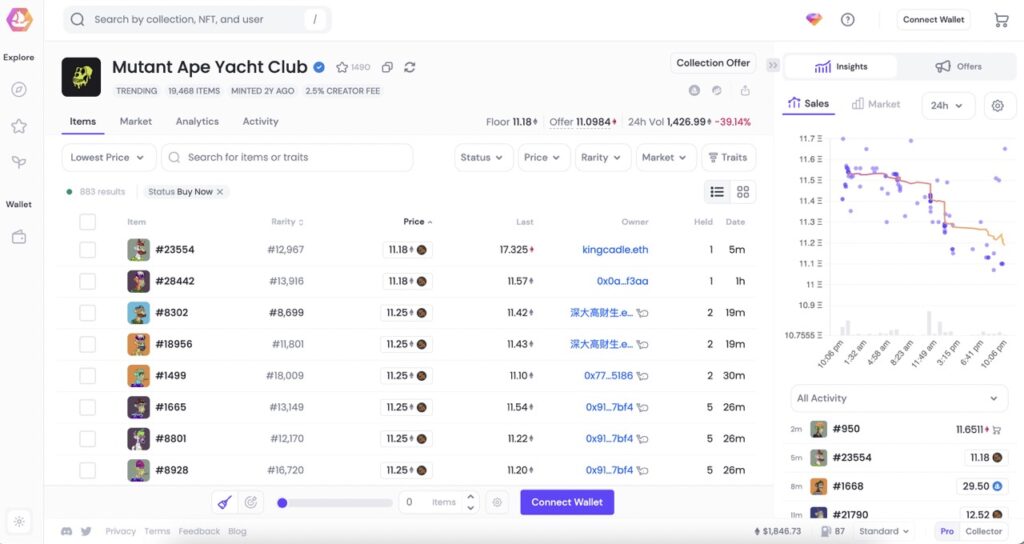 Unlike Opensea, you can visit https://pro.opensea.io/ to access Opensea Pro. Then, connect your crypto wallet, such as Metamask, Coinbase Wallet, Rainbow, Rabby, Ledger Live, and others.
You can choose Pro or Collector view on the bottom right. The Pro view has more charts, while the Collector view has larger images and simpler pages.
You can also select Market on the top left to see available collections. Then, you can filter them by top volume, top sales, and highest volume change. The NFT, with the highest trading volume in the last 24 hours as of May 5, 2023, is still dominated by Mutant Ape Yacht Club with over 2,000 ETH.
Also, read What is NFT Minting and How is it Done?
Top Features of Opensea Pro
Live Cross-Marketplace Data: This platform provides real-time price, volume, and capitalization data from various NFT marketplaces. The data are updated continuously, allowing traders to decide based on the latest market trends and insights. These NFT marketplaces include Opensea, Blur, LooksRare, X2Y2, and more.
Bulk Transfer: Users can send NFTs in bulk with a maximum of 100 NFTs. With this feature, users can save on gas fees because the gas fee on bulk transfers is the same as on individual NFT transactions.
Customizable dashboards: It allows users to create customized dashboards that suit their preferences and trading strategies. Users can customize dashboards to display specific NFT collections, price charts, and trading volumes. These features allow users to monitor their portfolios and track their real-time performance.
Advanced sweeps: Users can utilize the sweep feature to purchase up to 100 NFTs. It is more than Blur, which only supports up to 30 NFTs. In advance sweeps, if an NFT is unavailable when the transaction is in progress, it will be replaced with the next cheapest option below the user's defined limit price and filters.
Customizable gas fee: Users can choose from three options to speed up transactions when demand for NFTs is high.
Mobile compatibility: Users can access this platform via smartphone. It lets users search, sweep, and list NFTs directly from their smartphones.
Some other new features: watchlist, live mint overview, etc.
What are the Differences between Opensea Pro and Opensea?
OpenSea Pro is a more advanced version of the NFT marketplace designed for professional NFT traders and collectors. On the other hand, OpenSea is the standard marketplace for buying and selling NFTs. Here are some other differences between Opensea Pro and Opensea:
Target audience: This platform targets professional traders and collectors who require more advanced features and tools. Meanwhile, OpenSea is designed for individual users who want to buy and sell NFTs for personal or investment purposes.
Features: OpenSea Pro offers more advanced features than the standard OpenSea platform, such as real-time market data, customizable dashboards, trade automation, and access to a broader NFT market.
Trading tools: It offers a variety of trading tools, such as limit orders, stop-loss, and market orders. These features are not available on the standard OpenSea platform.
Security: It prioritizes security and uses advanced encryption and authentication protocols to protect user data and transactions.
Opensea Pro offers traders a temporary 0% gas fee. The platform will maintain the current OpenSea NFT creator royalty model, which requires a minimum royalty of 0.5% for projects without using on-chain transactions. Royalties are fees paid to NFT creators and are typically set between 5-10% of the secondary selling price.
Opensea Pro vs. Blur
Following its launch on April 4, 2023, Opensea Pro has outperformed Blur regarding the number of transactions. NFT traders tend to make more transactions on OpenSea Pro than Blur, despite both platforms offering 0% fees and similar features.
One possible reason why NFT traders prefer OpenSea Pro is that the platform offers new NFT rewards (different from Gemesis NFTs). Professional traders who frequently trade on the NFT platform may see an opportunity to take advantage of the new NFT rewards on OpenSea Pro. They hope for a higher opportunity cost and a potential Opensea Pro airdrop.
Previously, data from Messari showed that in recent months, Opensea had lost its position in terms of daily trading volume to Blur. OpenSea had an average of 14% daily NFT trading volume, while Blur had almost 70%. It shows that Opensea had lost most of the market share that it once had in the NFT space.
To regain some of the lost market shares, Opensea launched its new platform, Opensea Pro. The move is aimed at attracting users who are already familiar with the Blur platform and may be looking for an alternative with similar features and benefits.
Blur's recurring airdrop mechanism was an important factor that contributed to its success in attracting users. It remains to be seen whether Opensea intends to adopt a similar strategy. However, according to Crypto Bull News, Opensea Pro recognizes the importance of a reward system for its users. The platform is not rewarding its users with tokens but with new Opensea Pro-special NFTs.
Opensea and Gem reward Gemesis NFTs to users who purchase NFTs on Gem before March 31, 2023. The Gemesis NFT awarding process started on April 4, 2023, and lasted until May 4, 2023. All eligible users can claim Gemesis NFTs for free until the end of the program.
Also, read about Blur NFT Marketplace: A Promising New Platform for Professional NFT Traders.
Conclusion
Opensea Pro has the potential to continue growing and developing in the future as a platform that can help NFT traders manage and optimize their collections. With its advanced features, it can help users save time and costs in NFT trading.
In the future, it may develop new and more advanced features that can help NFT traders make better trading decisions and optimize their portfolios. In addition, with its compatibility with mobile devices, the platform can be more easily accessed and used by users from anywhere and at any time. As such, it could soon become the leading platform for serious NFT traders.
Buy Crypto Assets on Pintu
Interested in investing in crypto assets? Take it easy, you can buy various crypto assets such as BTC, ETH, SOL, and others safely and easily. Furthermore, Pintu has subjected all its crypto assets to a thorough evaluation process, emphasizing the importance of prudence.
Pintu is also compatible with popular wallets such as Metamask to facilitate your transactions. Download the Pintu app on Play Store and App Store! Your security is guaranteed because Pintu is regulated and supervised by Bappebti and Kominfo.
In addition to executing transactions, on Pintu Apps, you can also learn more about crypto through various Pintu Academy articles updated weekly! All Pintu Academy articles are made for knowledge and educational purposes, not as financial advice.
References