Reading Time:
5
minutes
Dogecoin is a cryptocurrency called a 'memecoin' because it was originally created as a joke towards the crypto community. It even has the viral 'doge' Shiba Inu meme as its logo. Dogecoin is the first memecoin in the crypto world. Dogecoin even inspired the memecoin trend, with several memecoin constantly popping up every year.
However, even with so many new memecoin, Dogecoin continues to have a loyal community that many even called a cult. According to CoinMarketCap, Doge's market capitalization hit 23.8 billion US dollars in December 2021, putting it in 11th place among the coins with the biggest market capitalization.
Definition of Dogecoin
Dogecoin is a memecoin project created as a fork from Litecoin. This coin was born at a time when many developers were just beginning to explore the possibilities brought by Bitcoin innovation. It was one of the first altcoins in the crypto world. Even though many in the crypto world consider Dogecoin a 'junk project', DOGE continues to prove its worth with an ever-increasing market cap.
💡 Dogecoin markets itself as "the fun and friendly cryptocurrency"
According to Coinmarketcap, Dogecoin has a market capitalization of $29 billion, placing it as the 10th largest crypto asset in the world. In fact, the coin once reached the 5th coin in the world. The coin has no supply limit and this tends to keep its price consistently below $1. However, DOGE is still finding its worth as a cryptocurrency as it is often used as a tip to content creators online, in crowdfunding, and fundraising.
History of Dogecoin and how it works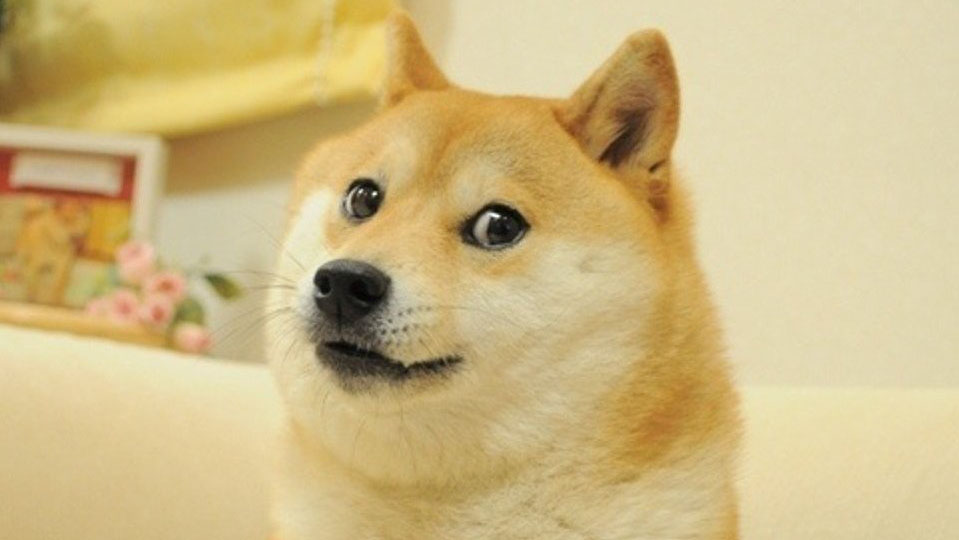 Dogecoin was launched in December 2013 by IBM US programmer Billy Markus and Jackson Palmer, an Adobe product manager from Australia. They launched the coin on December 6, 2013, as a joke based on the Doge meme. Two weeks after its launch, the price of Dogecoin increases by 300%.
Dogecoin markets itself as a "fun and friendly" version of Bitcoin with the Shibu Inu (Japanese dog) meme as its logo. Its casual look and marketing style caught the attention of many in the crypto community. They then use Doge in everyday transactions, such as for tips on Reddit forums.
However, technologically, Dogecoin cannot be underestimated either. Scrypt technology and its unlimited supply make the coin a faster, cheaper, and consumer-friendly version of Bitcoin. The scrypt technology is a fork of Litecoin (LTC) that uses proof-of-work (PoW). Now, the mining process is merged with Litecoin so that LTC miners can also mine Dogecoin at the same time without additional cost.
Also read: What is a fork in cryptocurrency?
Why is Dogecoin popular?
DOGE is an anomaly in the crypto world. Usually, projects that lack a clear innovative technology and use case continue to depreciate in value and eventually vanish. With Dogecoin, however, this is not the case. Dogecoin managed to endure despite its limited use and the fact that it did not introduce any new ideas.
1. Strong community
The Dogecoin community is the key to why this cryptocurrency can last more than 7 years. Since 2013, many crypto lovers have taken an interest in Dogecoin and eventually formed a closed-knitted community. The fun and friendly concept of DOGE has succeeded in attracting many people who are tired of the crypto world which is often full of debates, anxiety, and seriousness.
The Dogecoin community eventually continued to grow so forums like Reddit opened a dedicated section for the coin. In fact, in 2014 several people from the community formed the Dogecoin Foundation, a non-profit organization. This foundation is active again in 2021 after a hiatus and it is in charge of determining the future plans for Dogecoin.
2. Elon Musk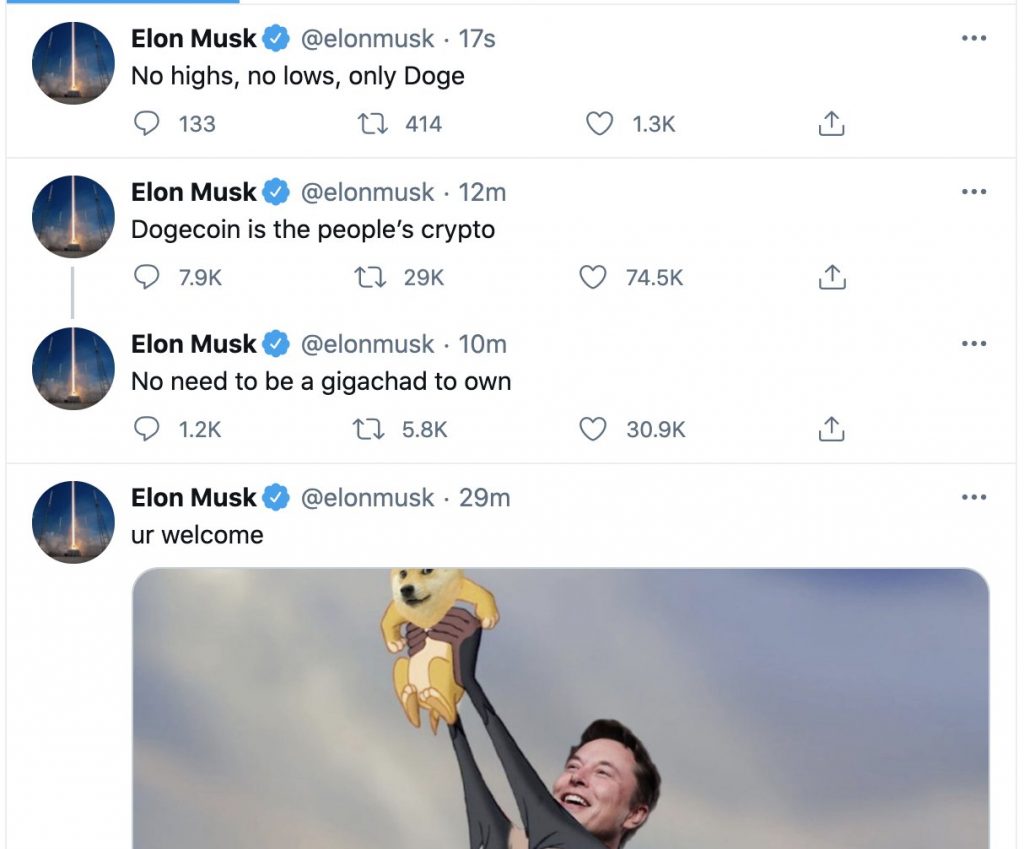 CEO of Tesla, Elon Musk, is considered as the 'father' of DOGE because he often tweets to promote the coin. This peaked in early 2021 when tweets from Elon and several other public figures sent DOGE prices soaring past their all-time high. DOGE posted a 9.884% gain between January and May. By the end of its gains, DOGE had peaked at an all-time high of $0.74.
However, after that period of increase, DOGE prices dropped dramatically again and only experienced a price increase when Elon Musk tweeted again or the community pumps it.
3. Philanthropic Activities
One of the other things that make DOGE popular in the crypto community is the many philanthropic activities that the community holds. One of them was a fundraising effort to help send the Jamaican Bobsled Team to the 2014 Olympics which raised a total of $50,000 in DOGE.
In addition, some of the other activities include the fundraising of $11,000 DOGE to build a well in Kenya and $55,000 to sponsor NASCAR driver Josh Wise. The community also creates an initiative with non-profit foundations to improve access to clean water in Kenya through the Doge4Water initiative.
These initiatives are special in the world of the crypto community, which is usually profit-driven. These philanthropic activities are one of the factors that make its community so strong and loyal.
Flaws of DOGE
Dogecoin itself is often the object of criticism in the crypto community because it offers nothing in terms of technology and usability. Apart from that, there are several other reasons that highlight the weakness of Dogecoin.
Lack of usability: Dogecoin only acts as a currency for payments like Bitcoin and has no other functionality. However, its price of under $1 price makes it difficult to use as a medium of payment.
Inflationary: DOGE has an unlimited supply, similar to fiat money. So, the coin suffers from inflation, which makes it unsuitable as a long-term investment.
Too easily influenced by public figures: The coin has worse price volatility than most cryptocurrencies. As in Elon Musk's case, DOGE prices can suddenly go up 1,000% only to drop 1,500% after that. This volatility undermines the value of DOGE as a medium for storing wealth.
Where do you buy DOGE?
You can start buying DOGE and other crypto assets in the Pintu app. Through Pintu, you can buy DOGE in a safe and convenient way. Go and download the Pintu app on Play Store and App Store! Your security is guaranteed because Pintu is regulated and supervised by CoFTRA and Kominfo.
Conclusion
Dogecoin is the world's first memecoin cryptocurrency. It is intended as a joke to the seriousness of the crypto community. However, the coin is often a topic of debate in the community as a crypto asset with no real-world value. But the coin has a loyal community that acts as a strong foundation for the memecoin. This is the main reason why Dogecoin is now still ranks in the top 20 crypto assets in the world.
References: