Reading Time:
6
minutes
In November, Facebook announce the renaming of its parent company to Meta. This change follows the vision of CEO Mark Zuckerberg who wants to create a Metaverse, a virtual world where people interact and engage in various activities. The term metaverse has already been popular in the cryptocurrency world to describe a virtual world ecosystem where users can interact in a decentralized network. Today, Sandbox is one of the most popular metaverses on the Ethereum network besides Decentraland (MANA) and Axie Infinity (AXS).
The Sandbox
The Sandbox (SAND) is a decentralized virtual world game running on the Ethereum network. It is one of the most popular decentralized applications or DApps in the Ethereum blockchain. In Sandbox, each player can create any game and experience they want which can then be accessed by other players.
This metaverse is a place where all sandbox users have complete freedom in what they want to do. Furthermore, like most blockchain games, all assets in the Sandbox are NFTs so players can trade them on the Sandbox marketplace.
Read more: What Is NFT and Why Is It So Popular?
SAND is the native cryptocurrency of The Sandbox ecosystem for various in-game activities and purchases. According to Coinmarketcap, it has a market cap of $6 billion with a maximum supply of 3 billion SAND tokens. In November 2021, SAND experience a sharp price increase of about 800% from $1 to around $8.
Who created the Sandbox?
The Sandbox company was created in 2011 by Arthur Madrid (CEO) and Sébastien Borget (COO). After making various kinds of mobile games, they took the opportunity to create a blockchain-based game in 2018. This game will use the foundation of sandbox mode, a type of game where players are free to choose the activity they want.
💡 Did you know? This blockchain version of the sandbox is a continuation of the mobile game called Sandbox 1 and Sandbox Evolution created with the same concept and developer.
The Sandbox uses blockchain technology to leverage user-generated content (UGC) and tokenomics. In August 2020, the Sandbox Team held an initial coin offering (ICO) and managed to raise $3 million to fund the development of the Sandbox.
How Sandbox works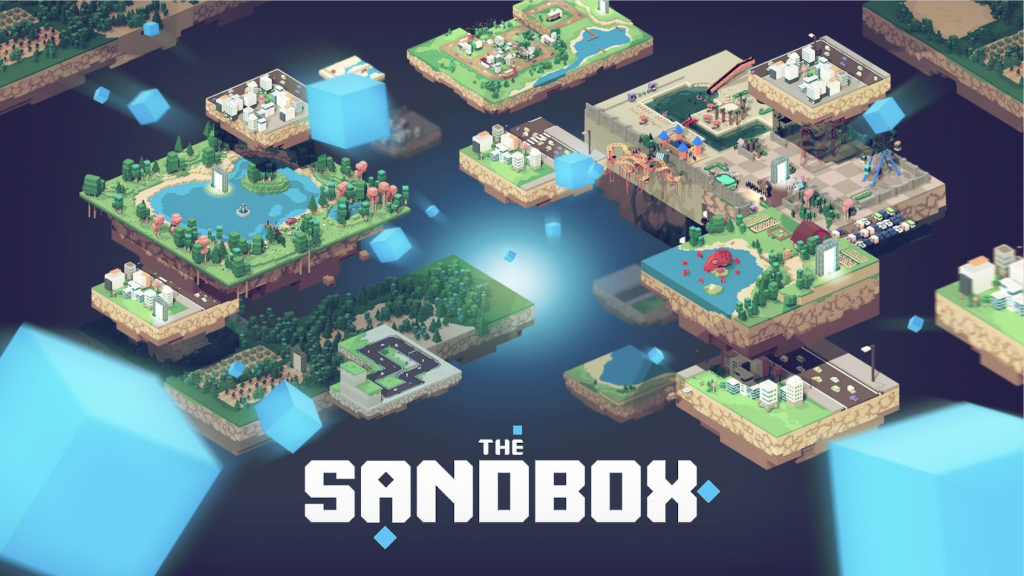 The Sandbox provides an experience of playing in a virtual world where you are free to choose your own activity. Additionally, in Sandbox, each tile of the map is divided into squares called LAND. Each LAND contains activities and game modes according to their creator.
Several LAND plots can form an ESTATE, a group of LAND with a similar theme. You can enter a LAND or ESTATE using the SAND token as a ticket. This is what makes Sandbox's potential unlimited because its content depends on the creativity of the Sandbox player community.
Furthermore, all players who own a LAND can use The Sandbox tools to create their own game modes, fill their LAND with various objects, and sell any assets they own. This is achieved using three applications: Voxedit, game maker, and the Sandbox marketplace.
🔧 Voxedit: 3d model editing application for voxel objects, which gives The Sandbox game its distinct visual art style. With Voxedit, you can create various kinds of objects and allow animation of 3D objects such as humans, equipment, and even a dragon!
️🛍️ Marketplace: A Sandbox Market for buying and selling all assets from the game such as LAND, clothes for avatars, and various other items. All of these objects are NFTs.
🧰 Game maker: This tool is the foundation of the Sandbox ecosystem because game maker allows anyone to create 3D games without deep coding knowledge. In the hands of a community, tools like this can create endless possibilities.
SAND, LAND and ASSETS Tokens
The Sandbox has 3 different tokens which play different roles in its ecosystem. The Sandbox company also explained that the decision to create 3 different tokens is an effort to create a sustainable business model.
SAND
SAND is an ERC-20 standard token for all transactions and interactions within the Sandbox ecosystem. The coin acts as a utility token that you will use to play Sandbox because you need SAND to enter each LAND. In addition, SAND also acts as a token for staking on the Sandbox network.
LAND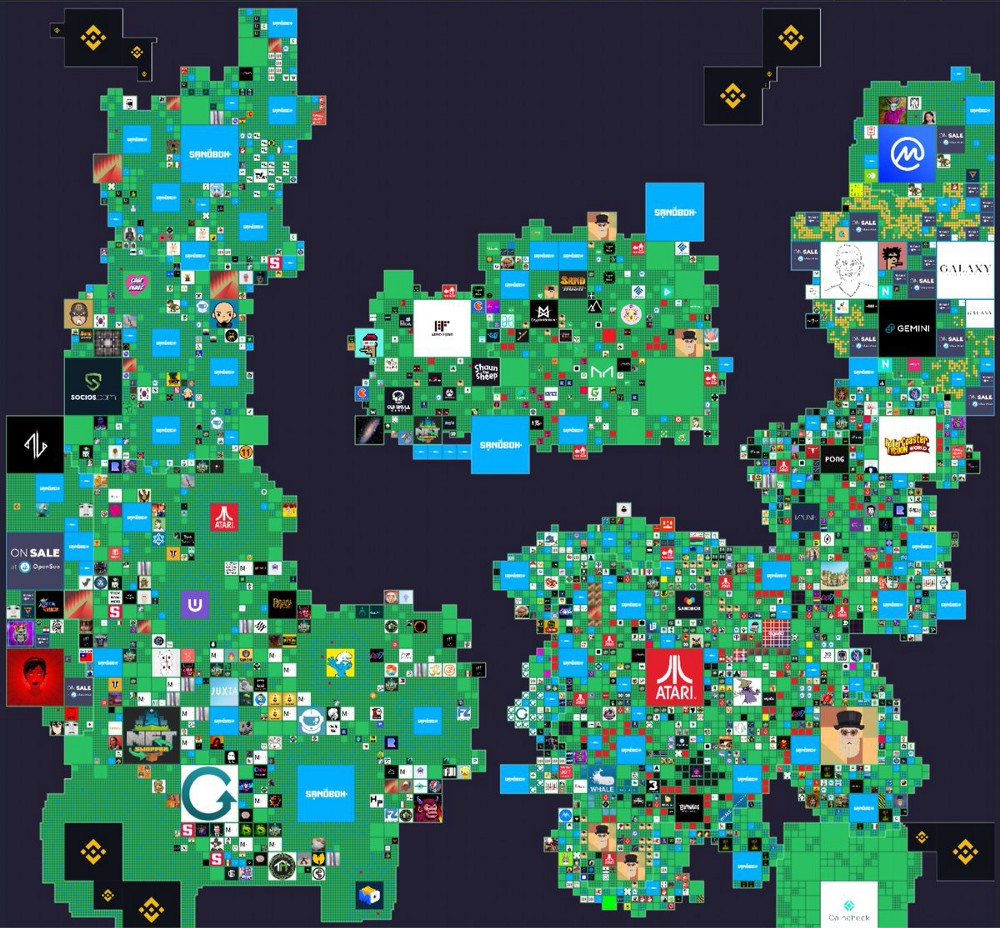 LAND is a Non-fungible token (NFT) in the form of Ethereum-standard ERC-721. Sandbox players buy LAND to fill it with games, assets and interactive experiences. In addition to players, big companies from Adidas and Opera to Axie Infinity and Cryptokitties bought LAND with the aim of creating an interactive experience for their community in Sandbox. ESTATES is a collection of LANDs that creates a comprehensive experience for certain themes. For example, a Halloween themed ESTATES where each LAND contains different sets of interaction.
ASSETS
ASSETS is an ERC-1155 standard token that you can buy and sell on the Sandbox marketplace. An ASSETS contain a collection of items or items with the same theme or small parts of a collection such as clothes for your avatar. So, most objects in the Sandbox are categorized as ASSETS that you can buy using SAND in the marketplace.
How to play the Sandbox?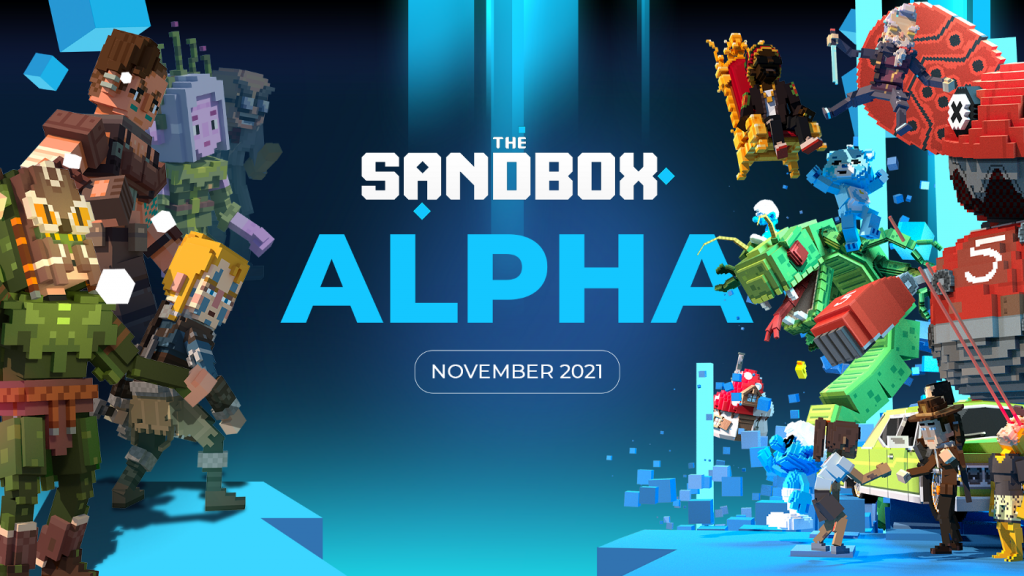 Currently, you can only play on the Sandbox Alpha test which was launched on November 29, 2021. However, this Alpha stage is only for 5,000 players and you can register here. Here are the steps on how to play Sandbox.
Buy some SAND tokens in your favourite exchange
Send your SAND to your metamask or another Sandbox-compatible wallet
Create a new account on the Sandbox site here using your Metamask or email
Create your own avatar
Register for Sandbox Alpha
Download the Sandbox game
Have fun playing!
SAND as an investment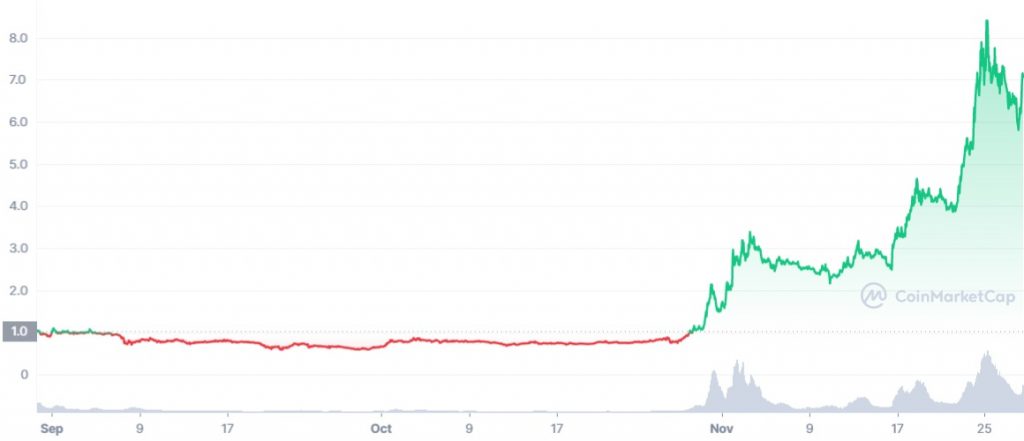 SAND is the native token of The Sandbox. As seen in the chart above, it has just experienced a price surge in early November. Previously, gaming DApps were never seen as an attractive investment potential. However, along with the announcement of Metaverse, several coins with the same concept began to experience a drastic price increase.
In addition, Sandbox announced several big partnerships with major brands buying LAND in the Sandbox metaverse such as Adidas and Atari. This announcement, along with the increasing popularity of the gaming industry in cryptocurrency, contributed to the price increase of other metaverse coins. Decentraland (MANA), Enjin (ENJ), and Axie Infinity (AXS) also saw significant growth in November, although not as drastic as SAND who reached 1000%.
The rise of this new industry provides a golden opportunity for investment in new metaverse projects with great potential. However, you need to identify what sets these projects apart and look at the pros and cons of each asset. One thing for sure is metaverse projects still has a long way to go. The gaming DApps industry has great potential for risk-taking investors, always remember to do DYOR (do your own research).
Buying SAND
You can start investing in SAND by buying them in Pintu app. Through Pintu, you can buy SAND and other cryptocurrencies in an all-in-one convenient application.
Pintu is also compatible with popular wallets such as Metamask to facilitate your transactions. Download the Pintu app on Play Store and App Store! Your security is guaranteed because Pintu is regulated and supervised by Bappebti and Kominfo.
Conclusion
Sandbox is a metaverse game built on Ethereum blockchain network. In Sandbox, you are given the freedom to choose your own activity because almost all the content in the Sandbox is created by other players. This gives creativity control back to the Sandbox user community and makes its potential limitless. As an asset, Sandbox has enormous potential as it is still at an early stage of development. However, because we do not yet know how far the crypto game sector will expand, this potential comes with its own set of concerns. Always remember to do comprehensive research on your own before investing.
References: