Reading Time:
10
minutes
When we are about to send crypto assets, we tend to check the wallet address multiple times. We do this to ensure that the numbers and letters at the beginning and end of the wallet address are correct to avoid errors. With the Ethereum Name Service (ENS), you can shorten lengthy wallet addresses into nickname that is easier to remember. So, what is ENS? And what are its use cases in the crypto space? Let's find out more in this article!
Article Summary
💻 ENS or Ethereum Name Service is an Ethereum blockchain-based technology that provides a naming system for wallets, websites, content hashes, and metadata. ENS can convert numbers and letters into text that you can read.
📝 ENS eases users to send and receive crypto assets with nicknames without copying and pasting long addresses. For example, Pintu Academy's Metamask wallet address is 0x470… with ENS, the address will be pintuacademy.eth.
💰 To continue having an active ENS domain, the ENS domain owner must extend the domain's active period. The price differs depending on the number of domain characters.
💼 The ENS token is the native token of the ENS protocol that functions as the governance token of the ENS DAO. ENS token holders are eligible to vote on proposals to support the growth of the ENS system.
📈 Since its launch in 2017, the number of registered ENS domain names has increased to 2.76 million as of January 2023.
What is ENS or Ethereum Name Service?
ENS, or Ethereum Name Service, is an Ethereum blockchain-based technology that provides a naming system for wallets, websites, content hashes, and metadata. In short, ENS can convert a long-form alphanumeric address into a text format. For example, Pintu Academy's Metamask wallet address is 0x470fD92cs267528CODAD109b2561C25c63D3D094. With ENS, you can convert your wallet address into 'pintuacademy.eth.'
Thus, ENS aims to ease users in sending and receiving crypto assets with nicknames without copying and pasting long and error-prone wallet addresses. Technically, ENS also aims to map machine-readable names so humans can read them.
The use of ENS similar to DNS or Domain Name Service. Previously, you had to enter an IP address to access a website. Nowadays, DNS allows users to type the website name. For example, Facebook's IP address is 157.240.22.35. You don't need to type those numbers, just type "facebook.com" in the search field.
Although ENS serves a similar purpose to DNS, it has a very different architecture due to the capabilities and limitations provided by the Ethereum blockchain.
Like DNS, ENS domain owners have full control over subdomains. For example, while Pintu Academy owns pintuacademy.eth, it can also create learn.pintuacademy.eth.
The ENS system suffix name is .eth, the native address of the Ethereum blockchain. ENS technology supports other DNS names, such as .com, .org, .io, .app, etc., as long as the person registering the domain with ENS already owns the DNS name.
Who is the Developer of ENS?
ENS was started in 2017 at the Ethereum Foundation by Nick Johnson, a software engineer from New Zealand. However, in 2018, ENS disassociated from the Ethereum Foundation. It transferred all ENS core software development to ENS Labs Limited, a Singapore-based non-profit organization founded in the same year.
To facilitate possible upgrades and maintenance of the system, ENS is controlled by four of seven multisig, with members of related projects as keyholders. They are Nick Johnson (ENS Labs Limited), Sergey Nazarov (Chainlink), Dan Finlay (Metamask), Taylor Monahan (MyCrypto), Aron Fischer (Colony), Jason Carver, and Martin Swende (Ethereum Foundation).
In the long term, ENS plans for multisig to be replaced by a system for the distributed decision-making process.
According to Blockchainmedia multisig or multisignature is a data security technology that allows multiple users to "sign" a document or file digitally.
How Does ENS Work?
ENS has two principal smart contracts; registry and resolver.
Registry
The ENS registry is the most important component of ENS. The ENS registry contains one smart contract that stores a list of all domains and subdomains. It also stores three significant information for each domain, as follows:
The owner of the domain
The resolver for the domain
The caching time-to-live (temporary data storage) for all records under the domain
Resolvers
Resolvers translate machine-readable addresses into human-readable domain names and vice versa. It also has the function of matching each domain to a user, wallet address, or website.
ENS domain names use ERC-721 NFT tokens. Thus, when you create a 'name.eth' address, the ERC-721 token is automatically minted. You can also trade your domain ownership on a marketplace like Opensea.
The ENS records all domain names and assigns an owner to each of them. Domain buyers are known as registrants. Then, as explained above, there is a registry that its job is to record, monitor, and track who has registered each domain.
Registrants can transfer their domain registration to another account. If someone wants to regain control of a domain name, they can reclaim the account. This process will reset ownership of the ENS name to the registrar which claimed the account. The registrar is the smart contract that assigns the subdomain name.
You can visit https://app.ens.domains/ to create an ENS domain name. Then search for available names for your ENS domain. When no one owns the domain name, you can register it immediately and pay the registration and gas fee.
Advantages of ENS
1. Send and Receive Crypto Assets or NFTs
As explained above, ENS can ease users sending and receiving crypto assets. It is easier to remember the address of the pintuacademy.eth wallet than a long-form alphanumeric address.
According to Etherscan, an Ethereum address is a 42-character hexadecimal address derived from the last 20 bytes of the public key controlling the account with 0x appended in front. e.g., 0x71C7656EC7ab88b098defB751B7401B5f6d8976F.
The Ethereum wallet address is also called the public address, which you need to receive funds from other users.
2. Claim a Web3 Username
ENS is designed for Web3. When you have an ENS domain, you can connect it to website URLs, Twitter, e-mail, Discord, and Telegram. Like Vitalik Buterin, the founder of Ethereum, who owns vitalik.eth, he connects it to Twitter, and his name automatically changes to vitalik.eth on his profile page.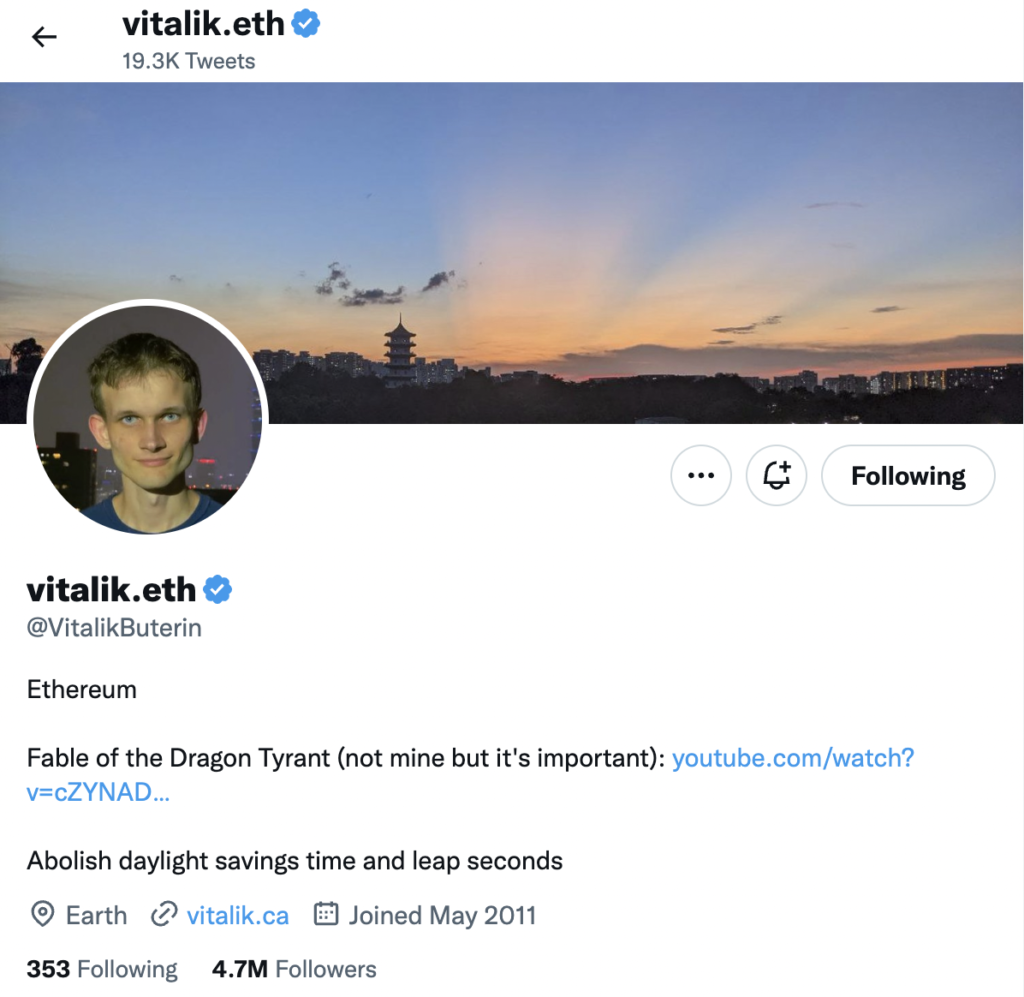 Read also What is Web3?
3. Inspect an Ethereum Wallet Transactions
Ethereum wallet addresses are linked to the ENS domain. So, you can inspect the transaction data in Etherscan Blockchain Explorer. You can type the ENS domain name in the Etherscan search field to check all transaction lists instead of copying and pasting the wallet address. You will also see a record of website urls and social media names that ENS domain owners have connected.
4. Create an ENS Subdomain
An ENS subdomain is an additional name to the ENS domain. Adding a subdomain can help you to manage multiple wallets. As a domain owner, you can define a Controller and distribute subdomains to team members in your community. For examples pay.pintuacademy.eth, class.pintuacademy.eth, and others.
A Controller is an address the registrant has delegated to perform all management operations except transferring, trading, or selling the domain.
ENS Risks
1. Cybersquatting
Cybersquatting is the practice of registering domain names (especially well-known company) in the hope of reselling them at a high price.
Some people own a lot of ENS domains but do not use them to build projects but aim for high profits when selling them. In February 2022, Amazon.eth sold for 33 ETH or about 100,000 US dollars. Then, in July 2022, an anonymous bid on that domain for 1 million US dollars or 637 ETH at the time. However, the offer was rejected even though the profit would have been more than 1900%.
One account on Opensea even has more than 100 ENS under the domain sony.eth, coke.eth, toyota.eth, merck.eth, and more.
2. ENS Domain Costs
When you create an ENS domain, you will be asked to specify the active period of the ENS domain and the registration fee. The registration fee varies depending on the number of characters.
5+ characters .eth: 5 US dollars in ETH per year.
4 characters .eth: 160 US dollars in ETH per year.
3 characters .eth: 640 US dollars in ETH per year.
The fewer the characters' name, the more expensive it is. If you want to keep the domain, you must renew the domain per year at the same cost as above. Renewal can be done before the domain expires to avoid someone registering the same name.
When you forget to renew your domain, you'll have a 90-day grace period to re-register. After the grace period expires, the domain name can be registered by another user. Therefore, when you want to send crypto assets or NFTs to your friends, make sure your friend's domain name is still active. Otherwise, the assets you send may be lost or delivered to the wallet of another user who owns the domain.
3. Potential Lack of Anonymity
An ENS domain may compromise anonymity as the ENS registry is public. This means that information linking wallet addresses to ENS addresses is accessible to the public. With access to the domain name, anyone can locate the associated wallet address and potentially determine the real owner by checking on Etherscan.
On Etherscan, users can see which wallets are transacting with .eth wallets. If a certain wallet has many transactions with the 'name.eth' wallet, it can be assumed that the person also owns that wallet.
4. Centralization
The ENS root is currently controlled by seven people, as mentioned above. They can control ENS name updates, price changes, and fund management.
Although the ENS team plans to reduce human control and replace it with a system, there has yet to be a definite date. Therefore, the integrity and function of ENS are still controlled by the seven multisig owners.
ENS Token
The ENS token is the governance token of Ethereum Name Service DAO. Community members who have voting rights can vote on ENS Constitution proposals to promote the growth of the ENS system.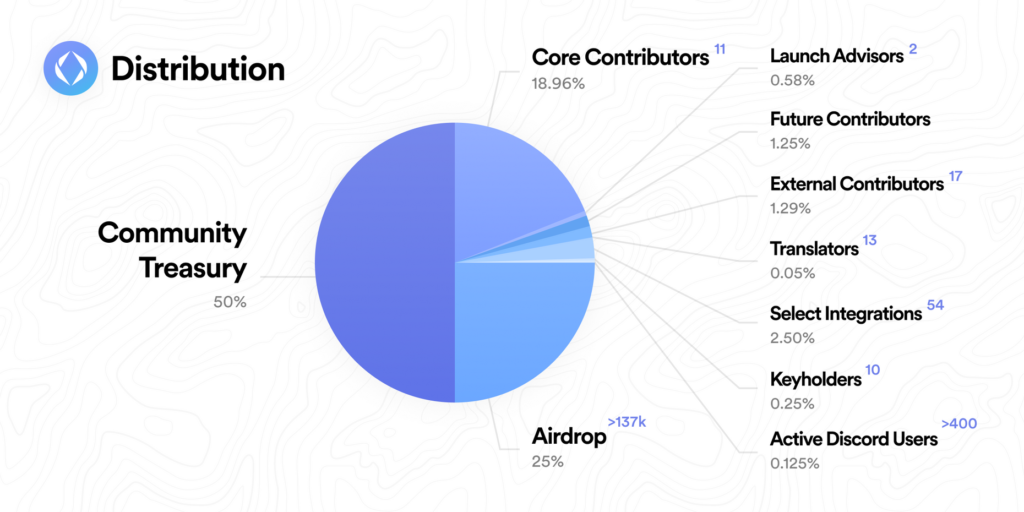 The ENS token has a max supply of 100 million tokens. At the time of writing, more than 25 million tokens have been circulated. The ENS team has allocated ENS tokens as follows:
25% for the airdrop of .eth holders
25% to ENS contributors (over 100 individuals and groups, plus hundreds of Discord users)
50% to the DAO community
25% of the token supply is allocated to users and distributed to all registered addresses .eth domain.
Furthermore, the ENS team allocated 25% of the tokens to core contributors at True Names LTD, external contributors, translators, root keyholders, and others. The ENS Team applies a token lock-in for four years for core contributors.
Then, half of the maximum number of tokens is allocated to the community treasury implementing the Decentralized Autonomous Organization (DAO) system. The tokens are used to help the development of ENS, such as hackathons, community gatherings, and others.
ENS as Investment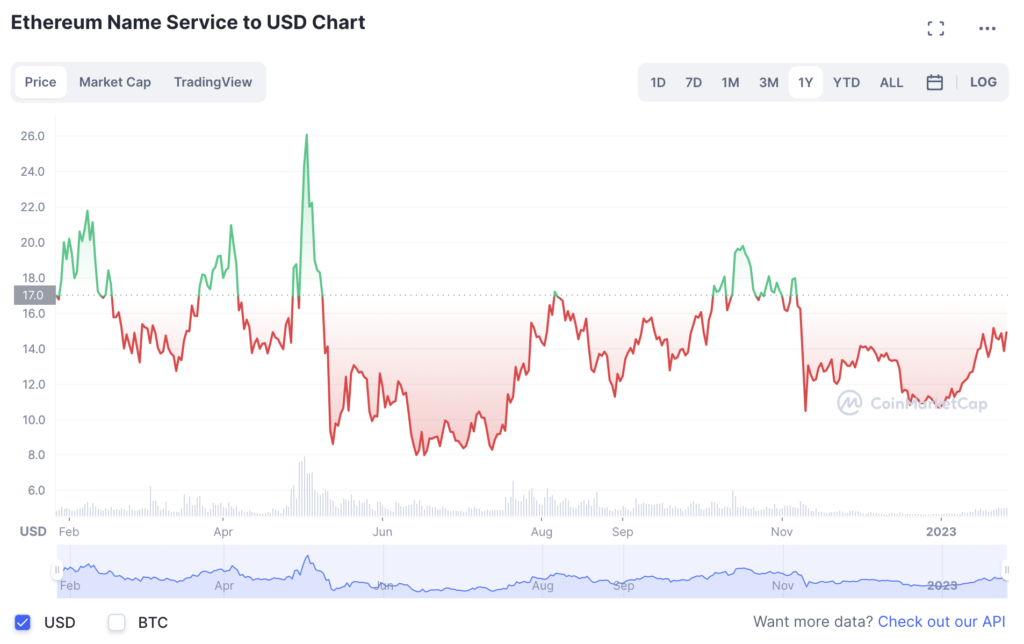 From the chart above, the ENS token price has increased by more than 40% in the last month. The ENS token price at the time of writing (January 26, 2023) stands at 14.98 US dollars, with a 24-hour trading volume of over 70 million US dollars. With a market cap of 303.445.622 US dollars, the ENS token is ranked 112th on Coinmarketcap.
ENS token touched its highest price at 83.4 US dollars in November 2021. However, in 2022 the ENS token price continued to decline to its lowest point of 7.45 US dollars in June 2022.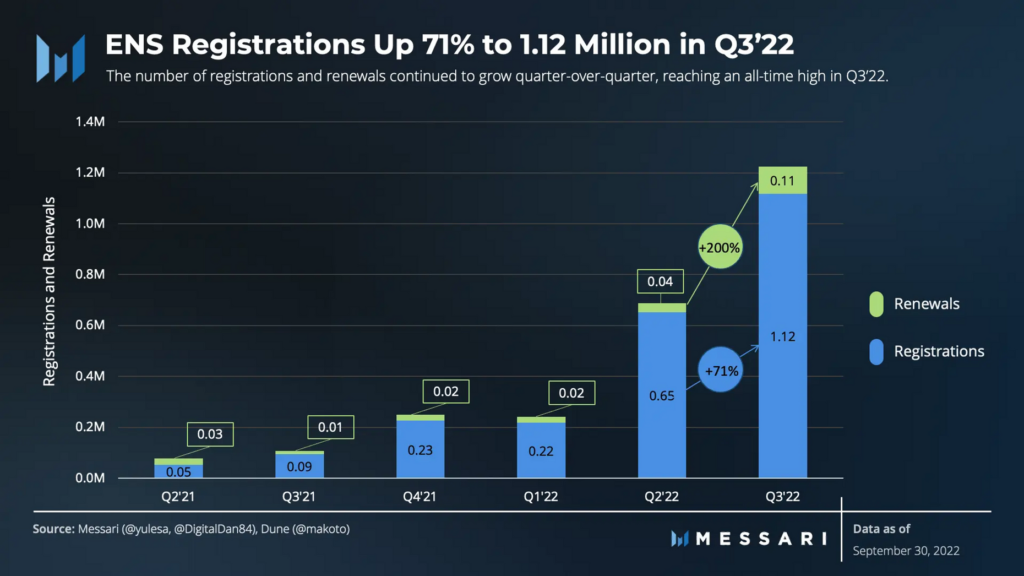 According to an analysis from Messari, by the end of 2022, the monthly active ENS domain addresses remained strong despite the market's decline. Monthly active addresses were still 2.5 times higher than last year. In addition, ENS domain name registrations reached their highest point in Q3 2022, totaling 1.12 million, up 71% from the previous quarter. At the same time, domain name renewals grew 3 times from the previous quarter to more than 100.000 in Q3 2022. In Q4 2022, there were 734.531 new registrations and 108.489 new domain addresses.
Then, in terms of the partnership, ENS worked with Coinbase, one of the largest crypto exchanges in the US, to create the username cb.id in September 2022. You can connect your .eth address with your Coinbase wallet (cb.id) to build a web3 profile or create a new username.cb.id. The username is a subdomain of the Coinbase (cb.id) domain registered in the ENS protocol.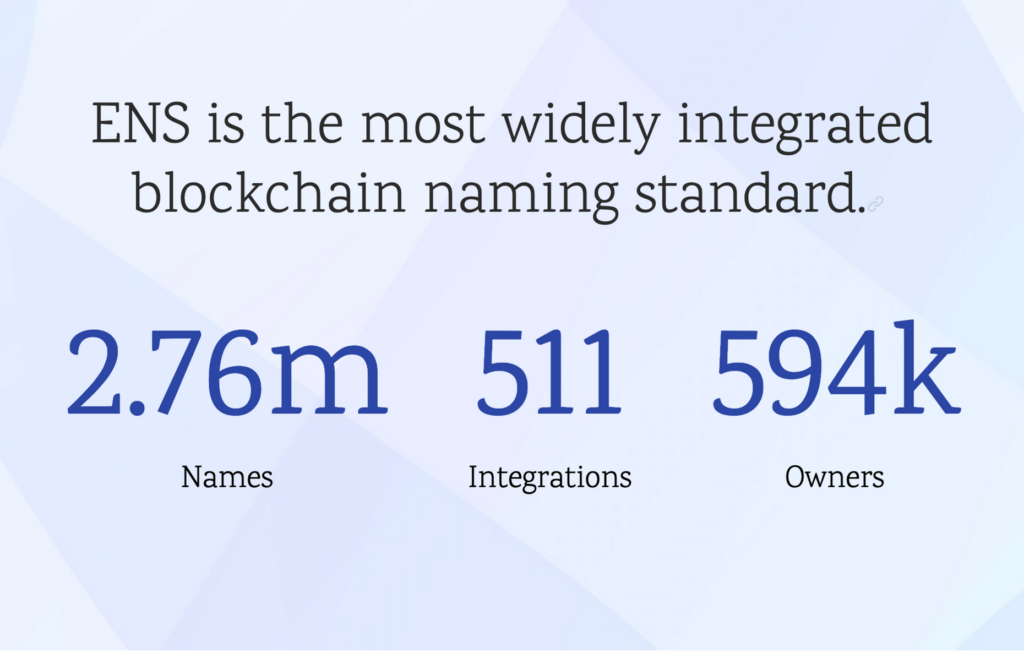 As of January 26, 2023, ENS has created 2.76 million ENS domains with 594.000 domain owners. ENS has also been integrated into 511 applications. Some of the applications included in the ENS ecosystem include Coinbase wallet, Trustwallet, Uniswap, Opensea, Chainlink, Decentraland, Aave, Cloudflare, and others.
Conclusion
ENS has offered a solution to its users by mapping blockchain wallet addresses to easy-to-read domain names. Moreover, the rise in popularity of ENS may make it one of the future's most important components of Web 3.0. Since the launch of the ENS token, user interest in ENS has also increased globally.
If you want to build a project in the Web 3.0 ecosystem, buying an ENS domain name might be an excellent place to start, especially if you can get it reasonably priced.
How to Buy ENS Token on Pintu
You can start investing in ENS by buying it in the Pintu app. Here's how to buy crypto on the Pintu application:
Create a Pintu account and follow the process of verifying your identity to start trading.
On the homepage, click the deposit button and top up the Pintu balance using your preferred payment method.
Go to the market page and look for ENS.
Click buy and fill in the amount you want.
Now you have ENS as an asset!
In addition, the Pintu application is compatible with various popular digital wallets such as Metamask to facilitate your transactions. Go and download the Pintu cryptocurrency app on Play Store and App Store! Pintu is regulated and supervised by CoFTRA and Kominfo.
You can also learn more crypto through the various Door Academy articles which are updated every week! All Pintu Academy articles are for educational purposes, not financial advice.
References