Reading Time:
9
minutes
The first AAA game for NFT gaming will shortly be released! Illuvium is regarded as one of the most anticipated games ever created in the NFT gaming ecosystem. To find out more about the game, you can read to the following article.
Article Summary
🎮 Iluvium is a role-playing game (RPG) built on the Ethereum blockchain. Players can collect Illuvial (Illuvium dweller) to fight and sell them as NFTs in the Illuvium marketplace.
🏆 IIluvium aims to be the first AAA game with 3D sci-fi cinematic special effects in NFT gaming. AAA games or Triple-A games are video game that produced with big-budget and are built to the highest quality possible in terms of gameplay, visuals, and audio.
💰 Illuvium has two tokens in the game: ILV tokens and sILV2 tokens. The ILV token functions as a governance token and a token for investment for its holders. While the SILV2 token functions as a 'cash' to purchase Iluvium in-game items.
⚡ Cooperating with ImmutableX, the NFT minting process in Iluvium games is fast and free.
What is Illuvium?
Illuvium is a blockchain-based RPG game that combined 3D open-world mode and an auto-battle game. Auto-battle is a game mode that focuses on the strategy of selecting characters and fighting others, which is then finished automatically by the computer. Players will experience an adventure on a planet to collect Illuvial (characters in this game) and fight with other Illuvial.
By defeating an enemy Illuvial, the player gets the option to capture it. Gradually, players will build a formidable team and venture into more dangerous regions. Then the player can fight with other players.
💡 Illuvial is an original character who inhabits the world of Illuvium as a deadly beast. Players can capture and use it to fight in the battle arena with an auto-battle system. Each Illuvial has its unique stats, class, and affinity.
This game gives players the ability to explore regions of the world of Illuvium and build a strong team of Illuvial.
By owning Illuvial, you also have NFT that can be traded in the marketplace available in the Illuvium game.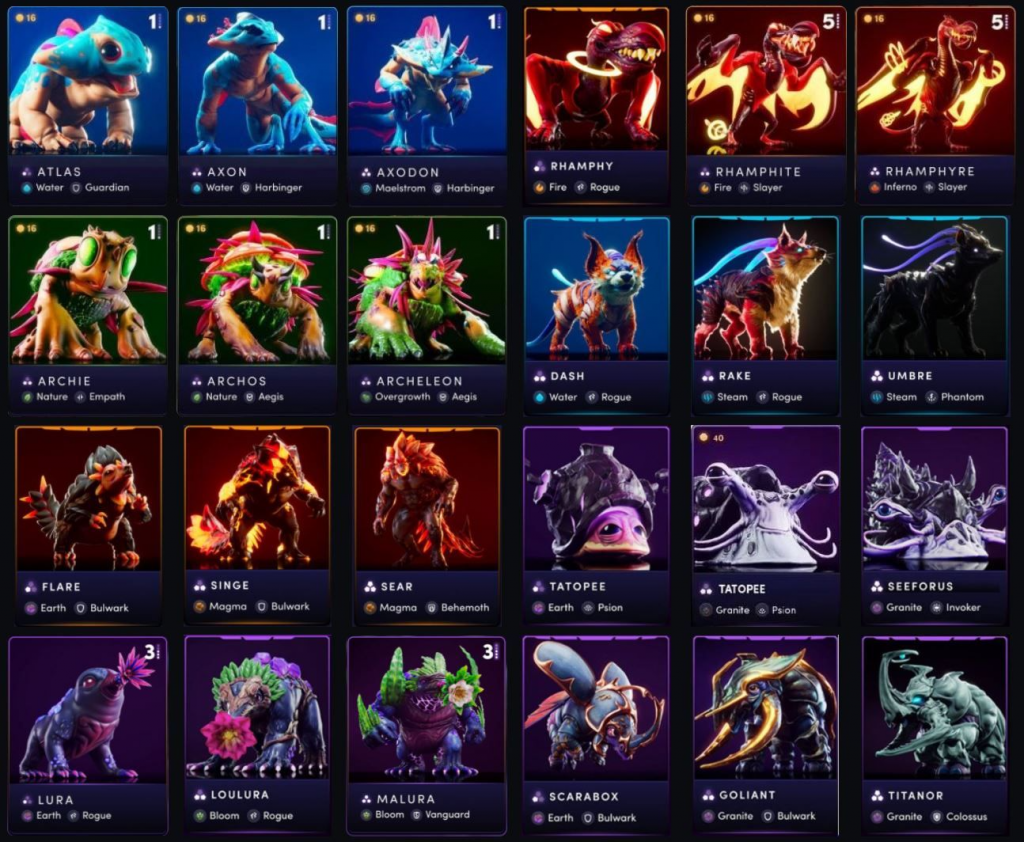 Free-to-play game
As of this writing (October 14, 2022), the Illuvium game is still in closed beta testing. It means that this game is not yet available to the general public and only certain people can play it. If you are interested in trying it, you can sign up for the game at play.illuvium.io.
Later on, Illuvium will launch a free-to-play game system. In other words, at the beginning, there are no costs or purchases necessary to play the game. Players will start the game in Tier 0 Virtual Land. There aren't many illuvial in this Tier 0. This free game allows players to enjoy attractive graphics and explore the world of Illuvium to understand how the game works.
Players interested in playing further can then take part in the paid game and collect more rare NFTs of Illuvium dwellers (Illuvial). Additionally, players can 'mine' resources and other rare items using PSD (Polymorphic Subordinate Drone). The drone will then forge the resources into weapons or other accessories that players can use or sell as NFTs in the marketplace.
Who is the Team behind Illuvium Game?
Illuvium is developed by 75 team members who are experienced in their respective fields. The most influential members or Co-Founders of Illuvium are Kieran Warwick and Aaron Warwick. They are the siblings of Kain Warwick, who founded a DeFi platform, Synthetix.
Kieran Warwick is a successful Australian entrepreneur and crypto enthusiast. He became one of the advisors at PathDAO, a Web3 gaming community that is currently a fintech company. While Aaron Warwick is also a successful entrepreneur and game programmer. He is interested in Artificial Intelligence (AI) technology and game-making.
Also, the member of the Illuvium team involved is Nate Wells. He is the producer of the game and has more than 20 years of experience in the gaming industry. He is known for his work in developing popular games, such as Bioshock & Bioshock Infinite, The Last of Us, and Rise of the Tomb Raider.
The Illuvium game trailer presents high-quality sci-fi graphics with stunning colors and audio.
How Does Illuvium Game Work?
Illuvium uses the Ethereum blockchain. One of the main problems that frequently occurs with NFT projects on the Ethereum network is the high gas fee for transaction processing. This is why Illuvium teamed up with ImmutableX to solve the problem.
ImmutableX operates on the Ethereum layer 2. ImmutableX works using Zero-Knowledge Rollups. It collects thousands of transactions which then adds them to the Ethereum Layer 1 network. In short, ImmutableX covers gas fees and offers users free gas fees. It makes for fast and free transactions while playing the game Illuvium.
Yet, buying land on IlluviDex still uses the Ethereum layer 1 blockchain, requiring Metamask to pay gas fees. Then, to mint the NFT land, players use ImmutableX, so they don't need a gas fee.
💡 IlluviDex is an in-game NFT marketplace in Illuvium. A place for players to buy and sell NFT in the form of Illuvial, armor, skins, weapons, and other items.
Read more What is NFT Gas Fee?
Illuvial Class and Affinity
There are more than 100 Illuvials scattered throughout the Illuvium regions. Each Illuvial has a unique class and affinity.
Classes: Empath, Fighter, Guardian, Rogue, and Psion.
Affinities: Water, Earth, Fire, Nature, and Water.
One of the excellent features of the game is that players can do a Fusion. Fusion is the process of merging several Illuvials with the same class and affinity when they reach a certain level. It is to generate new Illuvial with higher powers and attributes to win the battle.
Players can also set Illuvial class and affinity within the team to win the battle. For example, to increase their attack level, players can combine Illuvial fighter with Illuvial rouge so that it will become a mighty Illuvial slayer! Players can also combine Illuvial elements into Inferno (fire + fire) or Frost (air + water).
How to Play Illuvium Game
First, players can start by downloading Illuvium on a PC or Mac. Then, the player can choose the free-to-play mode to practice catching Illuvial, explore the world of Illuvium and compete with other player. Players can choose paid games to experience catching rare Illuvial and other immersive experiences.
To get started in the game, you must create your character. Then, you need to choose a PSD (Polymorphic Subordinate Drone) to scan the environment and to extract the resources. After that, players can start their adventure to find and catch Illuvial.
To catch Illuvial, players need Shards. Shards is the necessary tool to capture Illuvial. It functions like a ball to catch monsters in the Pokemon game. When you start Illuvium, you will have a free shards to catch several Illuvial. Shards have their power level, and you must buy more powerful shards to catch rare Illuvial.
💡 Illuvial that is captured will appear in the player's wallet as NFT, and the player can sell in the marketplace.
There are many regions to explore, but not all are accessible to new players. Players need to open the Obelisk to travel to a new region that is more challenging and beautiful with many new types of Illuvial. Some rare Illuvials are colorful, holographic, and even glow.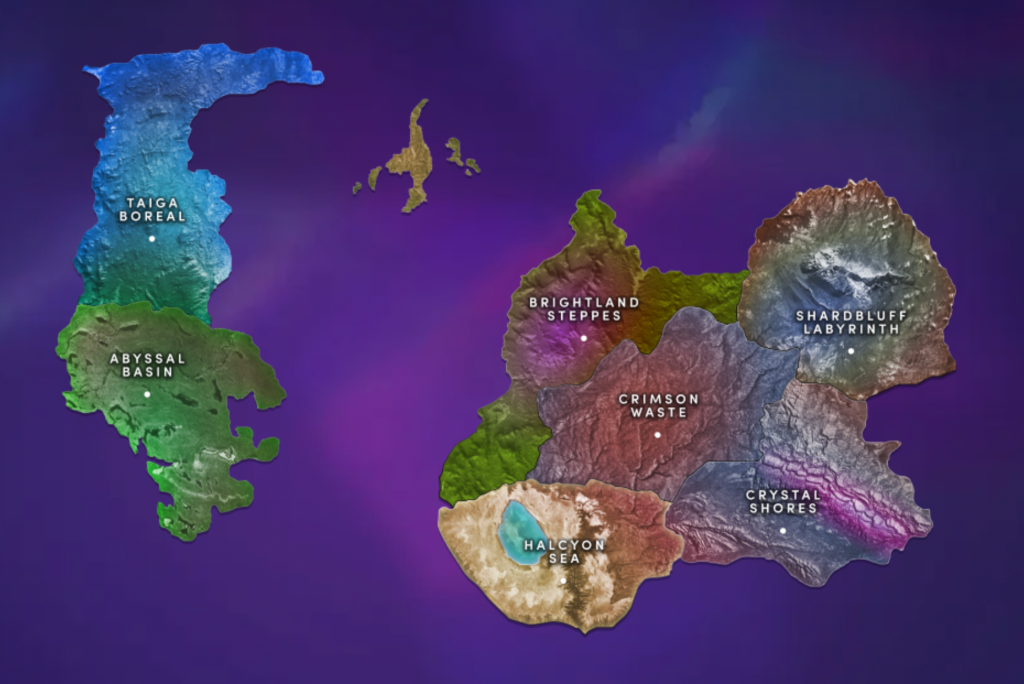 Players can battle with other players in Survival Mode. Here, the player must synergize the Illuvial by grouping them to produce the greatest attacks. Additionally, the player must also adjust the position of the Illuvial as an attack strategy. Then the fight is carried out with an auto-battle system.
How to Earn Money from Playing Illuvium?
Train Illuvial and Sell Them on the NFT Marketplace
You can catch as many Illuvial as you like in the Illuvium world based on the region level. Then, you can train them by engaging them in a combat. An Illuvial cannot level up if they do not participate in a battle.
After that, you can use fusion feature, then combine the same Illuvial types to create a new Illuvial creature. For example, three Illuvial named Atlas combined will produce an Illuvial Axon with greater power. Axon has a different shape from Atlas but still has some similarities.
As explained before, each Illuvial is an NFT. Weapons, armor, badges, and other accessories are an NFT, which can be sold and purchased on the NFT marketplace, IlluviDex. The Illuvial character NFT will be available after the official Illuvium game launches.
NFTs are currently available on Opensea. They are in the form of accessories and characters (can't used in the game). The price range is between 0.085 – 8 ETH. The player can use accessories NFT in the game, but the NFT will be burned or lost on the Opensea account when you redeem it into the game.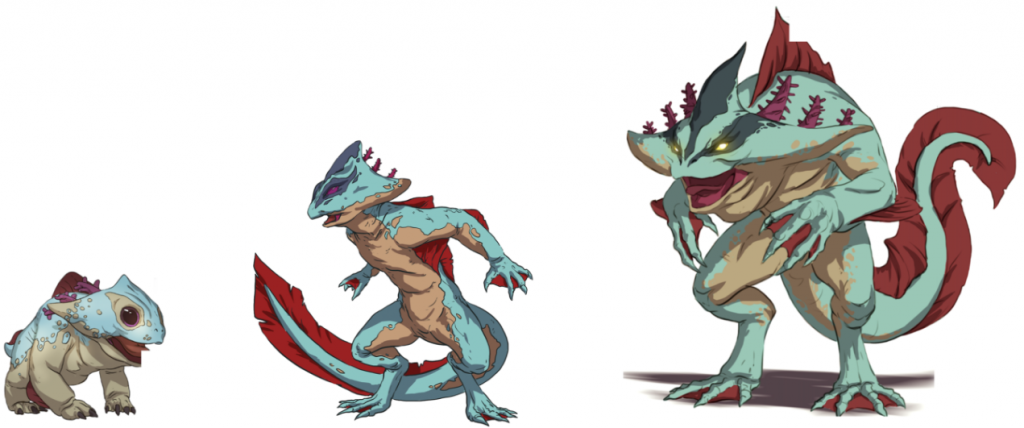 Staking ILV
You can earn ILV tokens by staking on the Illuvium platform. ILV Pool and ILV/ETH Pool are the two pools available for staking in this platform. Each offers a minimum of one month and a maximum of twelve months of locked staking. The longer you lock your ILV tokens for a stake, the bigger the percentage of rewards you get.
If you stake your ILV tokens in the pool for one month, you will get an APR of 6.12%. Meanwhile, if you stake for twelve months, the APR you will get is 11.34% (October 14, 2022).
This staking system is intended for those who want to save their token assets and get passive income within a specific time. So, you can adjust to the right investment strategy before using the staking feature.
Learn more about APR and how to calculate it here.
In-Game Rewards
In Illuvium, you can earn ILV tokens when you complete specific tasks. Examples include being the first player to solve a puzzle in the game, the first player to collect all the Illuvians in set one, and other tasks. You will also get rewards when you become the top player with the highest rank on the Illuvium game leaderboard.
lluvium game developer has allocated 1 million ILV tokens to provide these rewards.
Join the Scholarship Program
You can also join the scholarship program to get other benefits from the Illuvium game. This program is the same as the scholarship in the game Axie Infinity. Illuvium partnered with Polemos for the scholarship program. Later, Polemos will teach prospective players how to fight in various battle modes, capture rare Illuvial, and increase other abilities.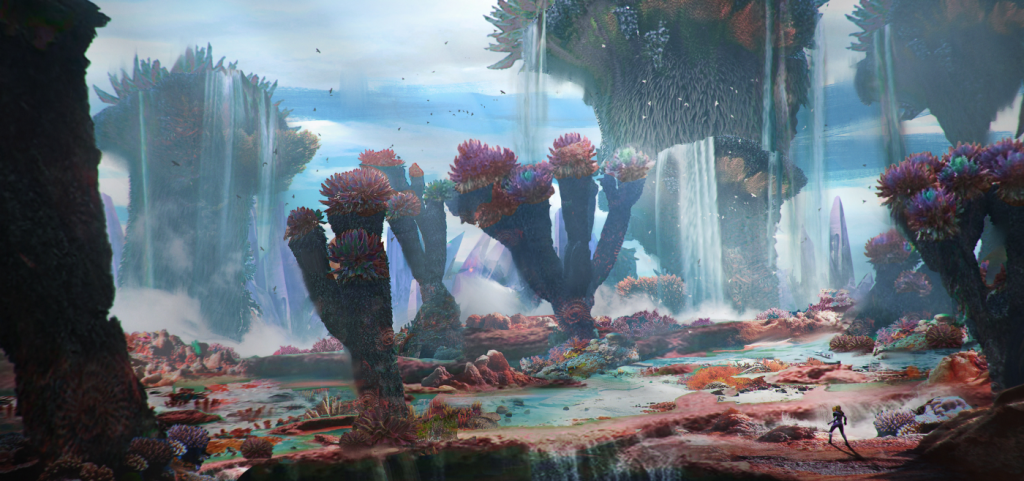 ILV tokens and sILV2 tokens
The ILV token is an ERC-20 native token of Illuvium that is compatible with the Ethereum network.
The functions of the ILV token in the Illuvium ecosystem are as follows:
Governance: Illuvium implements a DAO (Decentralized Autonomous Organization) system so that ILV holders can participate in determining the policies that Illuvium will take in the future.
In-game rewards: Players earn ILV when completing in-game missions.
Staking: You can stake ILV in the Illuvium Vault. The rewards you will get will be either ILV tokens or sILV2 tokens.
sILV2 or Synthetic ILV2 tokens can be used as in-game currency. You also can earn sILV2 tokens as a reward when you stake ILV tokens.
Illuvium has a unique reward system. All staking rewards are non-refundable and will be locked for one year. Thus, it is possible to avoid locking rewards by cashing them out with sILV2 tokens.
sILV2 tokens can be used in the game, but sILV2 tokens cannot be used for transactions between players, such as Illuvial buying and selling.
In short, the ILV token functions as a governance token and a token for investment for its holders. While the SILV2 token functions as a 'cash' to purchase Iluvium in-game items.
ILV as Investment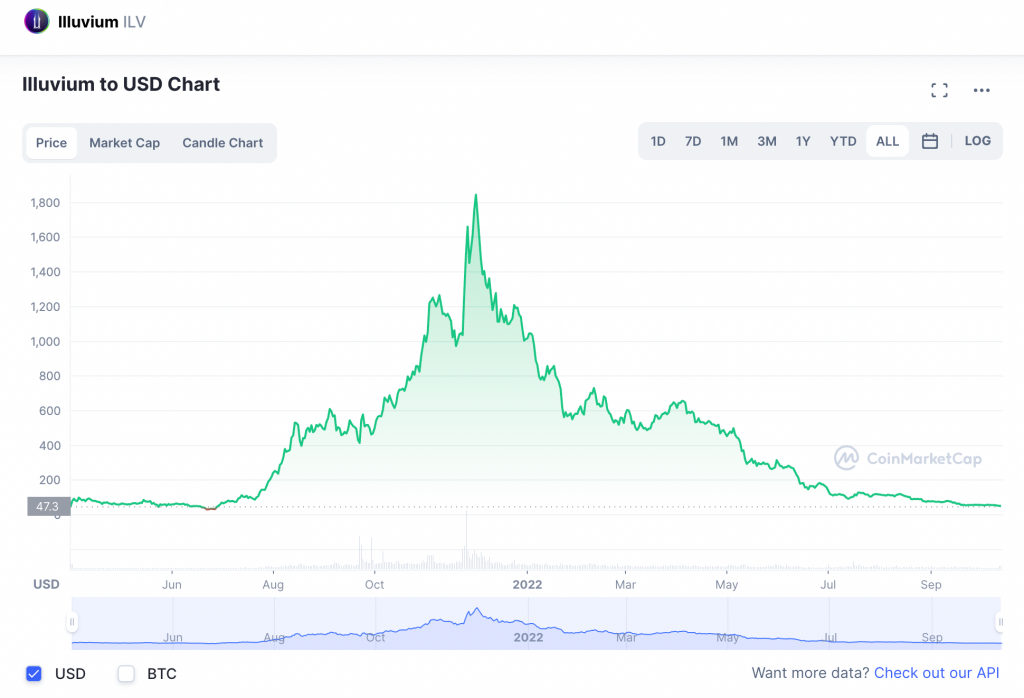 The chart above shows that the current ILV token price is almost back to its initial price when it was listed on Coinmarketcap. The ILV token started moving up in August 2021 and continued to rise when the Illuvium game trailer premiered on Youtube on October 30, 2021.
The ILV token once reached its highest price getting 1,845 US dollars on December 1, 2021. At that time, the ILV token trading volume in 24 hours was 112 million US dollars. AS of this writing, ILV tokens are priced at US$51.84 with a trading volume of US$27.5 million.
ILV tokens have a total supply of 10,000,000 ILVs, with the distribution of tokens as follows.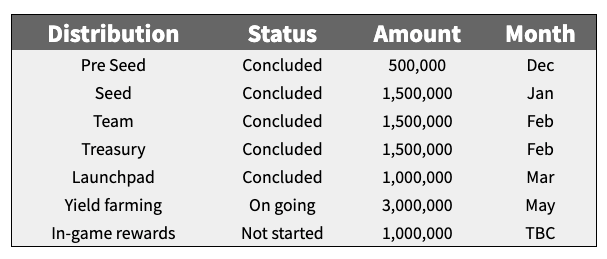 The Illuvium game will soon be released to the public at the end of 2022 or early 2023. With high-quality graphics and a P2E system, Illuvium will be interesting to look forward to. DeFi system (staking) in Illuvium also gets considerable attention. It has a TVL of USD 110,155 million (October 13, 2022).
But, you should pay attention that anything is possible because this game has not been officially launched. Possibilities include how much this game attracts gamers and crypto investors, whether the game's launch will be successful, and whether the game's continuity will continue in the future. It would be best if you considered these risks before starting to invest.
How to Buy ILV at Pintu
You can start investing in ILV tokens by buying them in the Pintu app. Here's how to buy ILV on the Pintu application:
Create a Pintu account and follow the process of verifying your identity to start trading.
On the homepage, click the deposit button and top up the Pintu balance using your preferred payment method.
Go to the market page and look for the ILV token.
Click buy and fill in the amount you want.
Now you have ILV tokens!
In addition, the Pintu application is compatible with various popular digital wallets such as Metamask to facilitate your transactions. Come and download the Pintu cryptocurrency app on Play Store and App Store! Pintu is regulated and supervised by CoFTRA and Kominfo.
You can also learn more crypto through the various Door Academy articles which are updated every week! All Pintu Academy articles are for educational purposes, not financial advice.
References
Illuvium, A Fully Decentralised RPG and Collection Game Built On The Immutable X L2 Network, Illuvium Whitepaper, accesed 11 Oktober 2022
Illuvium, Gameplay, Medium, accesed 11 Oktober 2022
Daniel Phillips, What Is Illuvium?, Coinmarketcap, accesed 13 Oktober 2022
Iulia Vasile, A Definitive Guide to Illuvium — World's First AAA NFT Crypto Game, Beincrypto, accesed 12 Oktober 2022
Robert Stevens, What Are Rollups? ZK Rollups and Optimistic Rollups Explained, Coindesk, accesed 11 Oktober 2022
Illuvium, 7 Ways to Make Money with Illuvium, Illuvium Master, accesed 25 Oktober 2022