Reading Time:
6
minutes
In the era of information and the internet as it is today, data is one of the most important commodities. Data is now the main driver in various decision-making processes of organizations, businesses, governments, and even individuals. However, data has no value as a product and the process for monetizing data is still underdeveloped. This is where blockchain technology comes in to provide a solution. Ocean Protocol is a blockchain network capable of monetizing data.
Summary
🗒️ Ocean protocol intends to create a data economy industry using cryptocurrency and blockchain technology
🛍️ The network tokenized data and list it in the marketplace so individuals and institutions have access to various datasets
🌐 Further development and cooperation aimed at an interoperable and secure decentralized data economy accessible to people anywhere in the world.
Ocean Protocol definition
Ocean is an open-source protocol that aims to enable businesses and individuals to exchange and monetize data. the Protocol provides a dataset tokenization service to convert data into tokens called 'datatokens' and stored in the blockchain. The protocol exists on top of the Ethereum network. The data tokenization process allows organizations, businesses and individuals to sell or share datasets on Ocean's data marketplace. Taking advantage of blockchain technology helps ensure the security of each and every piece of data.
According to Coinmarketcap, Ocean Protocol has a market cap of $1.4 billion dollars at a price of $0.9 dollars for 1 OCEAN. This number places Ocean Protocol as the 134th cryptocurrency in the world. The maximum supply of OCEAN is 1.41 billion tokens, with around 613 million already in circulation as of December 2021.
History of Ocean
Ocean protocol was developed by Bruce Pon and Trent McConaghy since 2017. Both are experts in the field of artificial intelligence (AI) as well as big data. They lead a company called BigchainDB which focuses on creating databases in blockchain. Since Ocean Protocol, all of BigchainDB's activities are directed towards developing Ocean's blockchain protocol and network.
In addition, the Project is supported by two organizations. Ocean Protocol Foundation, a non-profit organization based in Singapore, and OceanDAO, a decentralized autonomous organization (DAO) to promote Ocean's decentralization and create funding pools for various projects in Ocean's community. The Ocean Protocol Foundation raised $26.8 million dollars through the ICO. Now, the organization is focusing on developing cooperation.
How Ocean works
At the simplest level, the Ocean protocol provides tokenization services for independent researchers or organizations looking to monetize their datasets. As previously explained, the network does this by converting the data into an ERC-20 standard datatoken. You can buy this datatoken and get access to the data in it for a certain period of time.
In addition to buying, you can also rent data with the compute-to-data method which gives you the ability to use the dataset in an AI computing process. Furthermore, Ocean Protocol also provides developers and institutions with the framework to create their own data protocols. This allows Ocean Protocol's partners to utilize Ocean's framework for tokenizing datasets.
💡 Ocean Protocol partners with Germany central bank to create a blockchain network for listing, sharing, and opening access to public financial data. This partnership will allow Germany to utilize the security and transparency of the blockchain technology.
Also read: What is Ethereum and the smart contract system?
In its white paper, Ocean protocol describes several stages for the network and that each stage will evolve through different blockchain systems. In versions 1.0 and 2.0, the network will use a proof-of-authority (PoA) system. However, Version 3.0 will use the Ethereum mainnet with some modifications that allow lower transaction fees.
After passing this stage, the network intends to use various Layer 2 modifications such as sister chain and ZK Rollup. OceanDAO allows its user community to vote on the protocol's networks and modifications. Ultimately, the Protocol has a vision to become the go-to decentralized exchange for datasets with interoperability in mind to use it on most existing blockchains.
What makes Ocean unique?
🏢 Web 3.0 Development: Ocean Protocol is one of the teams that is developing the foundation of web 3.0 for a more decentralized internet network.
️🛍️ OCEAN marketplace: A decentralized data marketplace (DEX) where data providers can sell and provide access to their datasets.
🪙 Data tokenization: Individual researchers and organizations can tokenize their data. Tokenization turns datasets into Ethereum ERC-20 network standards, giving buyers access to their data.
🌐 Pioneers in the data industry: the protocol is a pioneer in creating and bringing the data economy industry to blockchain networks.
🤝 Collaboration with institutions and countries: Ocean's various cooperation deal encourages the adoption of its network through collaboration with institutions such as Gaia-X and BMW.
What can you do with OCEAN?
1. Invest
Ocean Protocol is one of the web 3.0 projects that are already running and growing. In its roadmap, the network still has many launch plans in late 2021 and Q1 2022 including data in the form of NFT, data farming, and the creation of stablecoins backed by Ocean's token. A series of collaborations are also still in the progress by the Foundation to encourage the adoption of the protocol in various sectors and countries.
All of this shows that OCEAN prices have the potential to increase, especially when we see it is still the 134th cryptocurrency in the world. So, OCEAN is an attractive crypto token as a medium and long term investment asset. In addition, you can also take advantage of the Protocol's staking system to earn passive income.
However, as with any crypto project, there is a high risk of investing in a project that is still under development. Even though the data industry market is very valuable, industry players may not necessarily be willing to switch to new technologies. Blockchain technology like the one Ocean offers has a fairly high level of difficulty. Therefore, it is very important to do an in-depth research and analysis before investing.
2. Ocean data market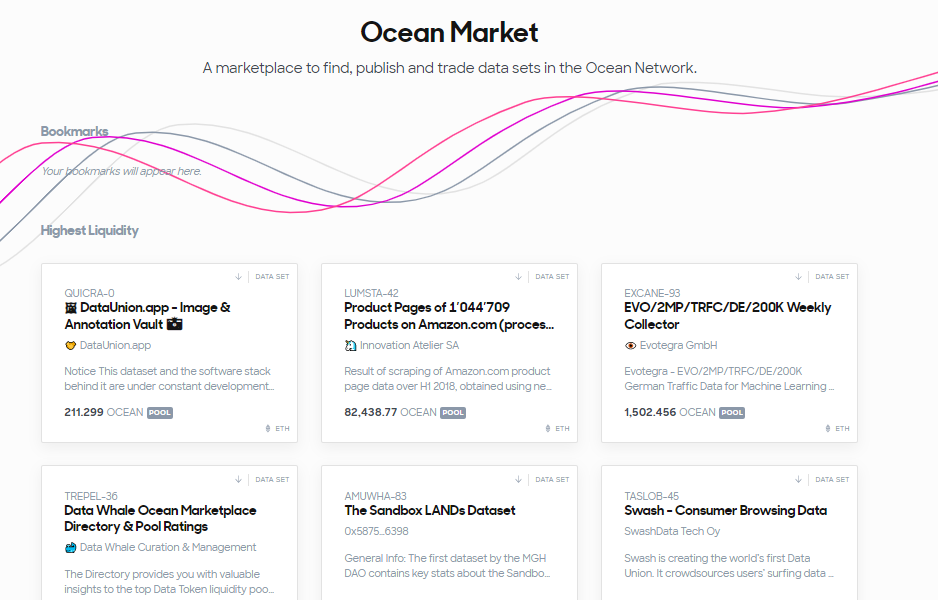 Ocean Market is a data marketplace that functions as a decentralized exchange (DEX) for data. Researchers and users can use this marketplace to profit by registering or listing data and staking. Data providers can register their own data or public data that has been analyzed with added value.
💡 Example: You are a freelance researcher who conducts research on the use of online marketplace in Indonesia. You also perform analysis, cross-referencing it with data on economic growth, user demographics, and internet user growth. You can become a data provider by registering your data in the marketplace and filling in information such as the duration of access for buyers and prices.

One example of data sold on Ocean's Market is data on all brands that trade in e-commerce in Italy along with product categories and information. This data can be useful for market analysis for marketers or entrepreneurs in the industry.
Any data that wants to be sold must first go through a tokenization process. After that, the data will be registered in Initial Data Offering (IDO). The dataset then becomes a datatoken with an ERC-20 standard. There are two ways to sell data tokens: sellers determine their own prices or use Ocean's automated market makers (AMM) mechanism to let the algorithm decide.
Data provider keep nearly all of the proceeds from sales, with a small portion (typically 0.3%) shared equally between Ocean, the liquidity provider via staking, and the community.
3. Staking
Ocean protocol's staking system works differently than other blockchain networks. Usually, staking is carried out directly in the blockchain network as a sign of participation to improve network security.
In the Protocol, staking is directed to each dataset, not towards the network. Each dataset has its own staking pool, similar to liquidity provider (LP) in a decentralized exchange (DEX). So, trusted and popular data will usually have a larger number of staking pools compared to others.
Staking in the network uses OCEAN tokens and you earn interest from transaction fees generated by the dataset. The standard percentage for liquidity providers is 0.1% of the transaction volume. However, this number can still be modified according to the dataset owner.
Basically, each individual who stakes works as a dataset curator. This system is carried out to encourage the creation of an ecosystem that prioritizes the validity and accuracy of datasets. However, this can be a double-edged sword. Conceptually, this system pushes the most trusted data to be the easiest to view and access. On the other hand, casual users who just want to get the most interest can just put their money directly into datasets with the highest funds regardless of their quality.
How to buy OCEAN coin
You can start investing in OCEAN token by purchasing them in the Pintu app. Through Pintu, you can buy cryptocurrencies in a safe and convenient way.
In addition, the Pintu application is compatible with various popular digital wallets such as Metamask to facilitate your transactions. Come and download cryptocurrency Door on Play Store and App Store! Your security is guaranteed because Pintu is regulated and supervised by Bappebti and Kominfo.
References: