Reading Time:
6
minutes
One of the industries that are considered to have the greatest potential in the world of cryptocurrency is the metaverse. Metaverse is a virtual world that allows users to perform various activities. One of the crypto projects that aim to develop the metaverse is Decentraland (MANA). Then, what is Decentraland? What are MANA tokens? And why is this project getting so much attention from so many people? This article will discuss in detail about the project
Definition of Decentraland (MANA)
Decentraland is a virtual world or metaverse built on the blockchain Ethereum network. Players are free to roam the virtual world and choose to participate in various activities. Furthermore, players can also buy a plot of land called LAND. Each LAND is an NFT with ERC-72 standard. Once they own the LAND, the owners can rent, sell, or fill their land with objects and activities.
In addition, all objects in Decentraland are NFTs that can be traded. MANA is the ERC-20 token that you can use to buy all objects and LAND. If gaming was once thought to be merely a waste of time, metaverse games such as Decentraland now allow gamers to earn money as they play.
Also read: What is Metaverse?
According to Coinmarketcap, Decentraland has a total market cap of $6.9 billion at a price of $3.17 per 1 MANA (December 2021). This figure places MANA as the 29th ranked crypto asset in the world. In addition, there is already 1.8 billion MANA circulating in the market. MANA has a token burn mechanism which makes its value continue to increase. This is done by burning any MANA used to buy LAND.
Who created Decentraland?
Esteban Ordano and Ariel Meilich founded The Decentraland Foundation in 2015 which is responsible for developing the game. The Decentraland team held an Initial Coin Offering (ICO) in 2017 and raised approximately $26 million for funding.
As a commitment to decentralization, Decentraland launched a decentralized autonomous organization (DAO) to manage the project for its users. Esteban Ordino and Ariel Meilich, who were project leaders at the time, later stepped down and became advisors. Currently, the Foundation organization and the community, through DAO, are in charge of developing the Decentraland project.
How does Decentraland work and what makes it unique?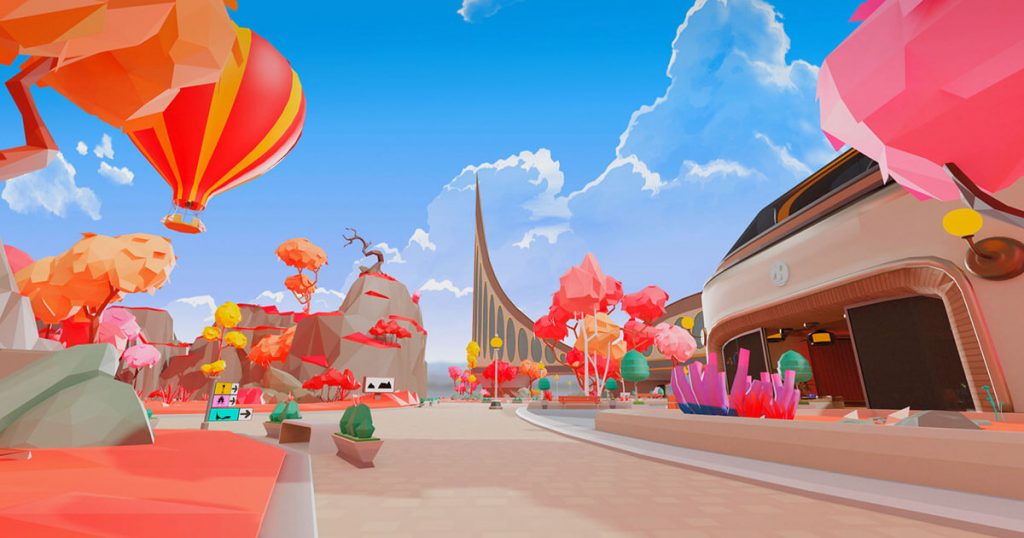 The project is conceptually similar to other virtual world applications, such as The Sandbox. Both aspire to build a decentralized blockchain-based metaverse in which the participants have complete ownership. The Sandbox and Decentraland both have editing applications so that players can freely create objects and activities.
Also read: What is The Sandbox?
Then, what is the difference between these two applications? One argument is that Decentraland is more structured and more community-based than The Sandbox. In Decentraland, there are 90,601 LAND tiles, which initially became LANDs, complexes (LAND mergers), districts (collections of LANDs with the same theme), and plazas (LANDs, where all players gather which cannot be traded). Some of these plots have already been divided into districts based on their themes. In the game, players have substantial influence, such as the ability to vote to create new districts.
LAND
LAND is the foundation of the Decentraland. All players will interact with LAND because all the activity takes place in it. If you own a LAND, you can monetize it by renting it out or hosting events and charging tickets for people who want to enter.
Adjacent plots of land can be combined into an ESTATE or complex. In June 2021, a virtual property investment firm called Republic Realm purchased a LAND complex for the equivalent of $913,000. This is one of the biggest LAND purchases in Decentraland. In addition, companies such as Rarible, MakerDAO, and SuperRare have even created virtual offices and art galleries within the game. Some organizations also host a virtual conference inside Decentraland.
District
A district is a collection of LANDs with a coherent theme. These districts were originally proposed by the community which then will be developed and governed by their owners. District is basically a small community within Decentraland. All members of a district can vote on any issue within their district via Decentraland's voting DApp, Agora. The Decentraland team creates Agora to give more power to the communities that owned their respective districts.
Districts are the main feature of Decentraland to attract creators, musicians, and artists to become contributors in various parts of the community. Currently, the largest districts in the Decentraland metaverse is Aetherian (cyberpunk theme district) and Fashion Street. The Fashion Street district has a big vision of creating fashion shows and attracting many well-known brands such as Louis Vuitton, Gucci, and Burberry.
Decentraland DAO
DAO or decentralized autonomous organization is a virtual management method that relies on smart contract technology in making decisions and managing organizations. Decentraland DAO is a blockchain technology for managing various aspects of the game. You can propose changes or participate in voting by holding wMANA (wrapped MANA), LAND, or ESTATE tokens. Each wMANA is equivalent to 1 vote, while LAND and ESTATE grant 2,000 units of voting rights each. This organizational management method focuses on the community actively participating in the development of Decentraland.
What can you do in Decentraland?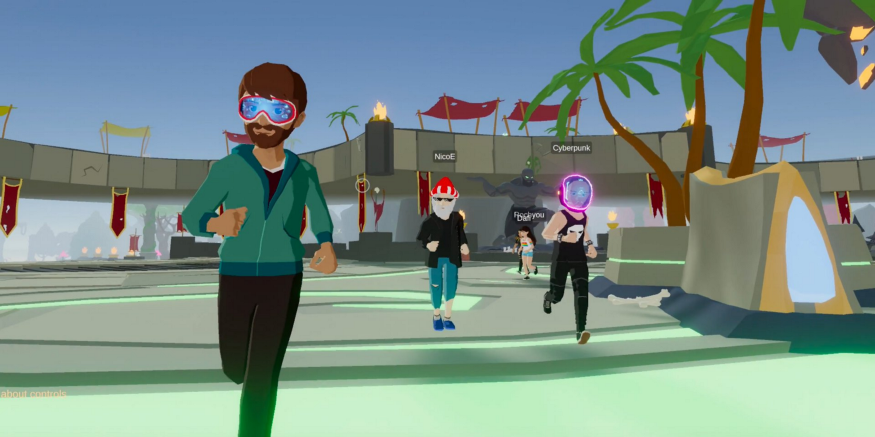 LAND Owner
💸 Leasing land: One way to monetize LAND is to rent it out to other people or create partnership deals.
🌆 Creating paid events: If you enjoy producing content, you can create events to attract more people. This event can take the form of an exhibition, music concert, or conference.
️ 🛍️ Selling on the marketplace: Land prices in Decentraland continue to rise every year because the demand for LAND is increasing as Decentraland's popularity increases.
Player
🧑🏼‍🤝‍🧑🏼 Participate in paid events: The game already hosts various events which you can access here. These events range from exhibitions, games, to auctions.
🧰 Creating objects and games: Almost all objects in Decentraland are player-made. You can use the builder tool to create objects such as wearables, which are NFT objects for other players to use.
📇 Trading NFTs: Finally, you can collect rare NFTs from Decentraland and then resell them at a higher price. In this case, you must be observant in looking for rare items that are in demand.
MANA price and MANA as investment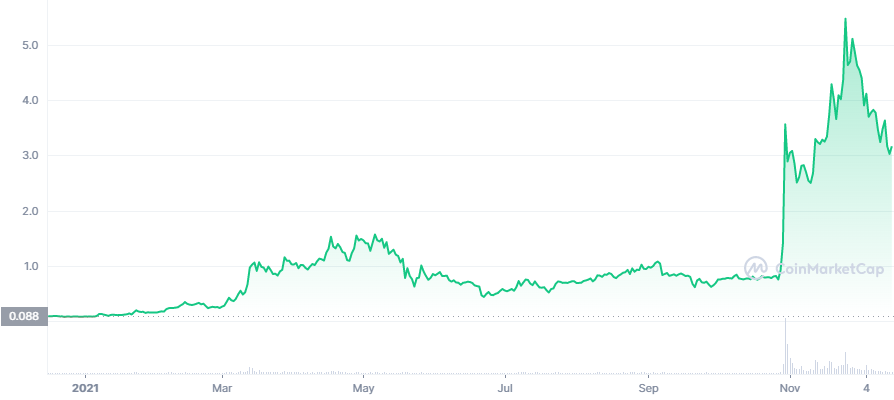 MANA had a massive price increase of up to 500% in November 2021. This rise follows Facebook's announcement of a rebranding as Meta and Mark Zuckerberg's plan to create a metaverse. As a result, all metaverse crypto assets such as Sandbox, MANA, and My Neighbor Alice have skyrocketed in value.
Decentraland, like most other metaverse projects, is still at an early stage of development. The use of DAOs in the development and modification of the game also makes its growth slower than projects like Sandbox.
2022 could be the year for metaverse projects. Decentraland has the potential to become a major player in this market if it can attract well-known people and brands to diversify its activities. However, before you invest, remember to conduct a fundamental and technical study of MANA.
Where to buy Decentraland's MANA?
You can start investing in MANA tokens by purchasing them in the Pintu app. Through Pintu, you can buy MANA and other crypto assets in a safe and convenient way.
In addition, the Pintu application is compatible with various popular digital wallets such as Metamask to facilitate your transactions. Come on download cryptocurrency Door on Play Store and App Store! Your security is guaranteed because Pintu is regulated and supervised by Bappebti and Kominfo.
Conclusion
Decentraland is a virtual world in which players are given the freedom to do various activities. Within the game, players can carry out economic activities such as buying and selling, participating in various events, and partaking in other social activities with the community. MANA is Decentraland's token that you use for various transactions within the world. The unique thing about MANA is that it is deflationary because MANA will be burned in every LAND purchase. Currently, Decentraland is one of the most popular games in the crypto world that attracts a lot of people and even big companies.
References: