Reading Time:
7
minutes
Optimism Bedrock is predicted to be a new era for rollups technology. With this update, Optimism is expected to enhance its performance and heat up competition in layer-2 Ethereum. Then, what is Optimism Bedrock? What features will be presented through Optimism Bedrock? Check out the complete information in the following article.
Article Summary
⚡ Optimism Bedrock is an update to the Optimism mainnet to reduce fees and improve Ethereum compatibility. Optimism will officially launch the OP Stack in this update for the first time.
⛓️ Through the OP Stack, the Optimism mainnet will change into a series of chains using the same software stack, called the Optimism Superchain. It will allow the various chains to communicate and work together.
🚀 The Bedrock update will see Optimism's gas fees lowered by 47%, faster deposit times, improved security levels, Optimism becoming fully compatible with the Ethereum Virtual Machine (EVM), and delivering a modular-proof system.
🔥 With these new features, Optimism's adoption rate has the potential to increase. Ultimately, this could make the Ethereum layer-2 network competition even more heated.
Current State of Optimism
Throughout 2022, Optimism delivered relatively good performance, reflected in the increase in users and daily transactions. Meanwhile, in terms of Total Value Locked (TVL), Optimism also reached US$ 1.1 billion before finally falling back to US$ 500 million at the end of 2022. Last year, Optimism's main competitor was Arbitrum, which both carry rollup technology.

However,as of 2023, Optimism lags behind Arbitrum in terms of popularity. Additionally, other contenders utilizing Zero Knowledge (ZK) technology, as zkSync Era and StarkNet, are also starting to overtake Optimism's position. Optimism has only ranked fourth in the number of active addresses this year. However, in terms of TVL, Optimism still outperforms zkSync Era and StarkNet.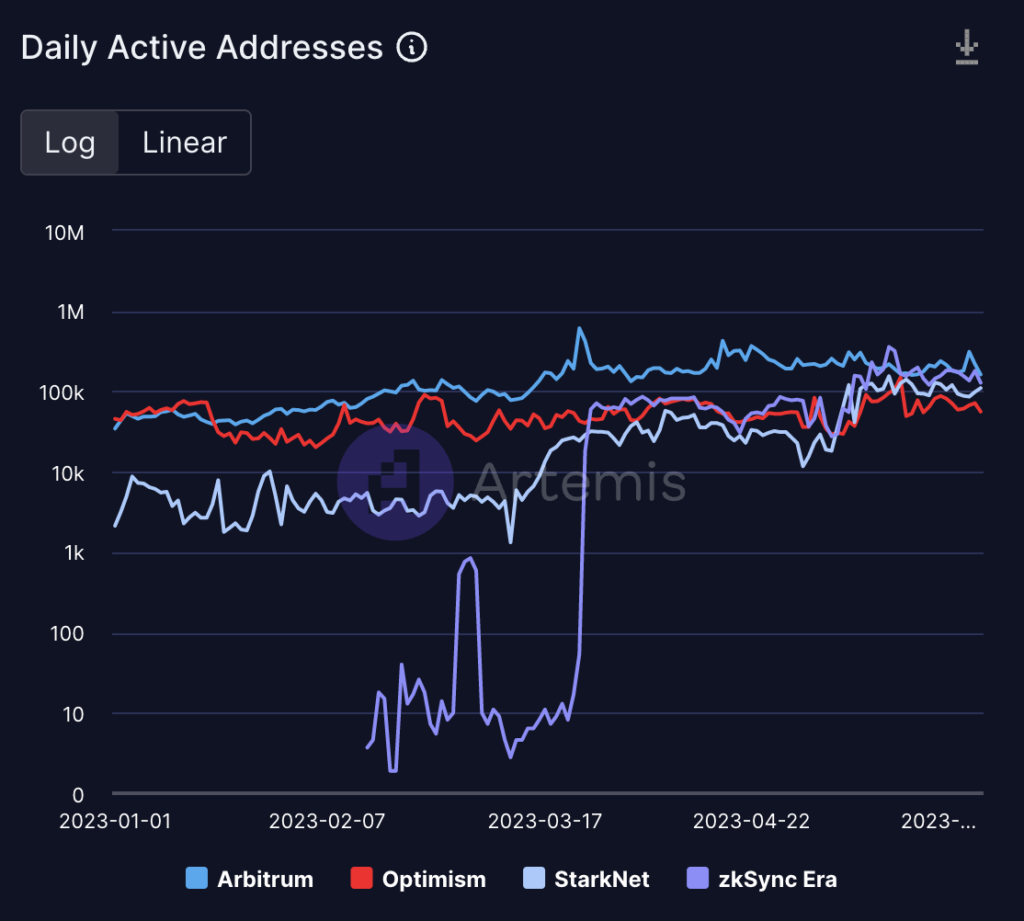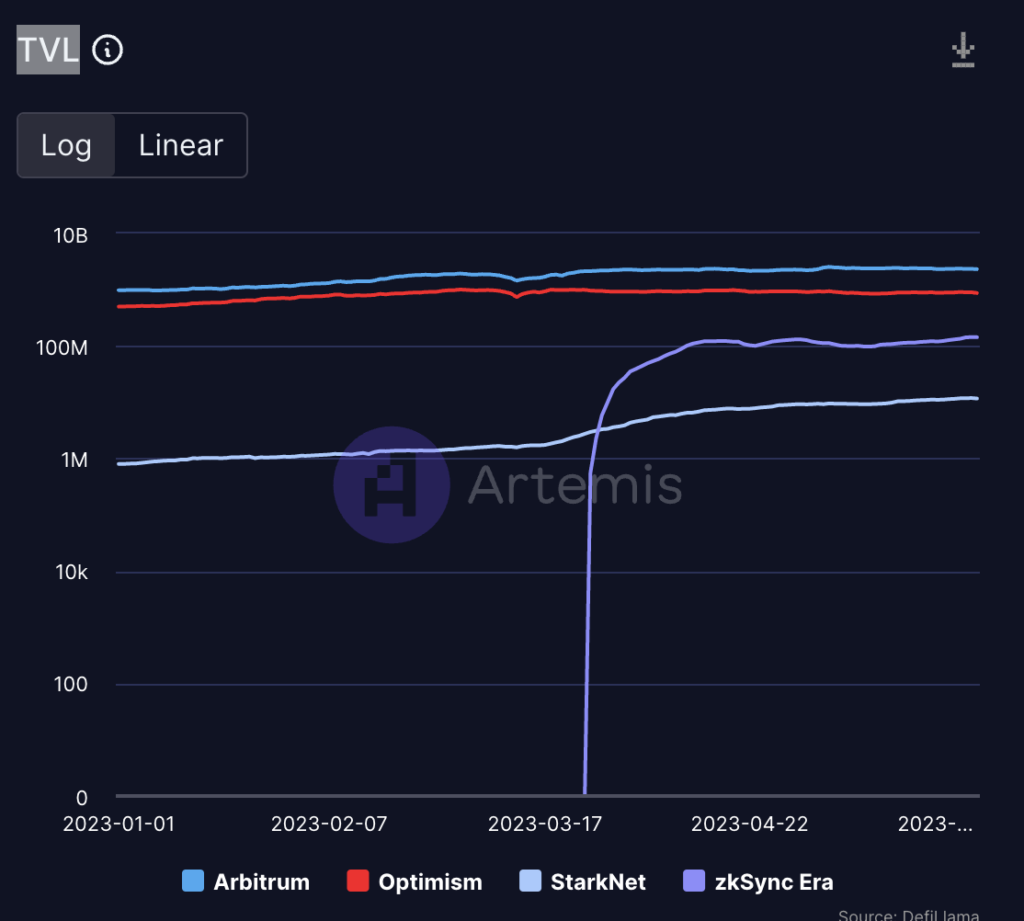 The implementation of the Bedrock upgrade presents an opportunity for Optimism to regain competitiveness. One crucial aspect of this upgrade is the advancement of OP Stack, a software designed to bolster the Optimism ecosystem, including its mainnet. Through the Bedrock update, OP Stack will change into Optimism Superchain. In the next section, find out more about Superchain and the various features that the Bedrock update brings.
Learn more about Optimism and its technology in the following article.
What is Optimism Bedrock?
After much anticipation, Optimism's Bedrock upgrade will finally launch on June 6, 2023, at 12 pm ET. Optimism Bedrock is the most significant upgrade to the Optimism mainnet with the primary goal of reducing fees and improving Ethereum compatibility. Optimism will officially launch the OP Stack in the upgrade for the first time. The OP Mainnet will stop operating for two to four hours during the upgrade process. This means that all transactions, deposits, and withdrawals will not be possible during this period.
The OP Mainnet will eventually change into the Optimism Superchain through this update. Simply put, a Superchain is a series of chains that use the same stack software, allowing them to communicate and work together.
The vision of Superchain is to conceptualize a network consisting of various chains built on the OP Stack. The Superchain is built in a way and mechanism that complies with the Ethereum standard to make Optimism a multi-client ecosystem. As such, it will combine individual elements such as bridging, governance, and inter-chain communication into a unified network.
"That is the essence of open-source development. Technological decentralization is not enough, we need social decentralization, we need multiple client implementations," said Optimism CEO and co-founder Karl Floersch in the interview with Blockworks.
Discover which Optimism apps and ecosystems stand to gain advantages from the Bedrock upgrade here.
Features and Improvements on Optimism Bedrock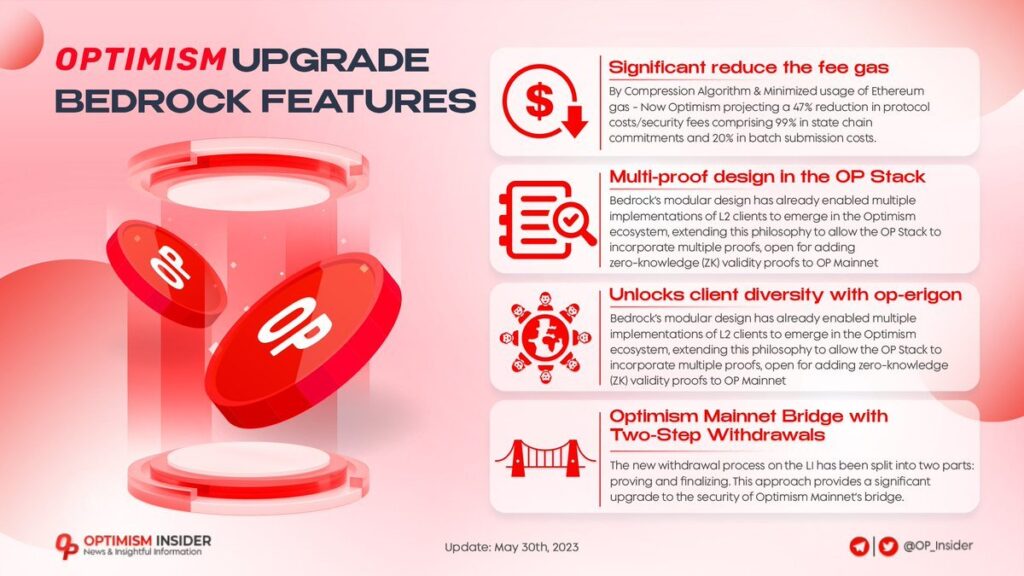 The following are some of the updates that Optimism Bedrock brings:
⚡ Lower Gas Reduces to 47%. This is due to the implementation of data compression optimization to reduce data costs. In addition, Bedrock will also eliminate all execution gas costs at layer-1 to match the theoretical limit.
⏳ Faster Deposit Time. The Bedrock update will feature support for the re-org of layer-1 software nodes. This will speed up the deposit time to 3 minutes from the previous 10 minutes.
🔒 Security Improvements. In the Bedrock update, the withdrawal process at layer-1 is now divided into two parts: proving and finalizing. So, users must submit proof of withdrawal when the output of the layer-2 block containing the withdrawal transaction appears at layer-1. The process takes an hour on average. Once submitted, users have to wait seven days for the transaction to be finalized at layer-1. Previously, users had to wait seven days, allowing irresponsible parties to exploit bugs in the withdrawal process.
⚙️ EVM Equivalence Improvements. Through the Bedrock update, Optimism will become fully EVM compatible. Any Ethereum-based smart contract can be moved and run on the Optimism network without any changes. This makes the Optimism network even more connected to Ethereum and opens up many possibilities for developers to explore.
🛡️ Delivering a Modular-Proof System. The Bedrock update will support multi-client layer execution. This means that each development team can use various proof mechanisms, either fault proof or validity proof (e.g., zk-SNARKs). Through modular-proof, the Superchain system will ensure to adapt and accommodate different development teams' needs.
Pintu Academy has reviewed how Zero Knowledge-style validity proof works in the following article
Impact of Bedrock Upgrade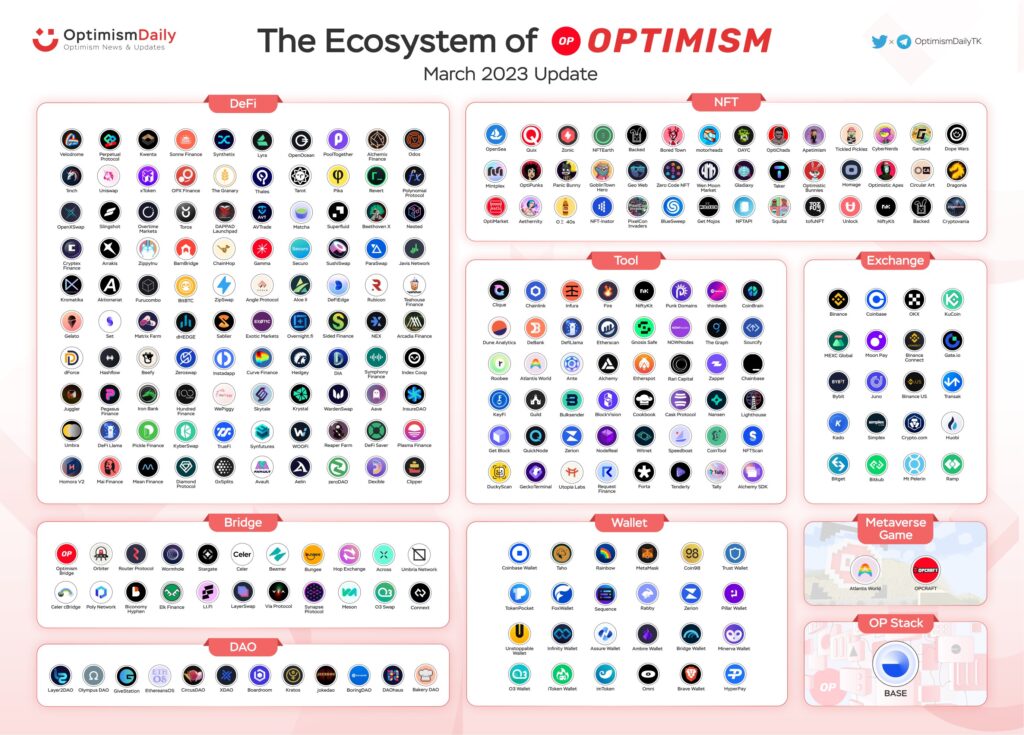 The launch of the Bedrock Update will undoubtedly be a positive catalyst for the future development of Optimism and its ecosystem. The following are some of the positive impacts that may result from the Bedrock update:
🚀 Increased Adoption Rate. Lower gas costs, improved efficiency, and enhanced security will attract users and developers. Moreover, the flexibility of the proof mechanism will be a plus for developers. Inevitably, this could increase Optimism's adoption rate in the future.
🔭 New Use-Cases. The lower cost of gas in Optimism can be an attractive incentive for creating DeFi Applications. The EVM Equivalence feature presented in Bedrock can also make Optimism a developer platform for GameFi or other sectors.
👊 Tougher Competition. With various new features presented by Bedrock, Optimism technology can be much more competitive with its competitors that carry similar technology, such as Arbitrum, and those that have ZK technology, such as zkSync Era and StarkNet. This competition makes the layer-2 sector more competitive and is undoubtedly positive for users and developers.
Token Price Optimism Post Bedrock Upgrades
In addition to the Bedrock upgrade, another important factor worth noting is that Optimism has just conducted OP token unlocks worth US$ 587 million on May 31. After the agenda, the OP token dropped from US$ 1.6 to around US$ 1.4. The price drop is inseparable from the increasing supply of OP tokens in circulation. However, the Bedrock upgrade could be a factor that might lift the price of OP tokens in the future.
Token unlocks are scheduled events where tokens allocated to early-stage investors and key contributors to ecosystem development are released to the market after being locked for a certain period.
Optimism's performance metrics, such as daily users, daily transactions, and TVL, have been on an upward trend in the past year. This indicates that the Optimism ecosystem is still being used and growing. With Bedrock's upgrade that improves the quality of the Optimism network, it is expected to further increase the number of users and transactions at Optimism itself.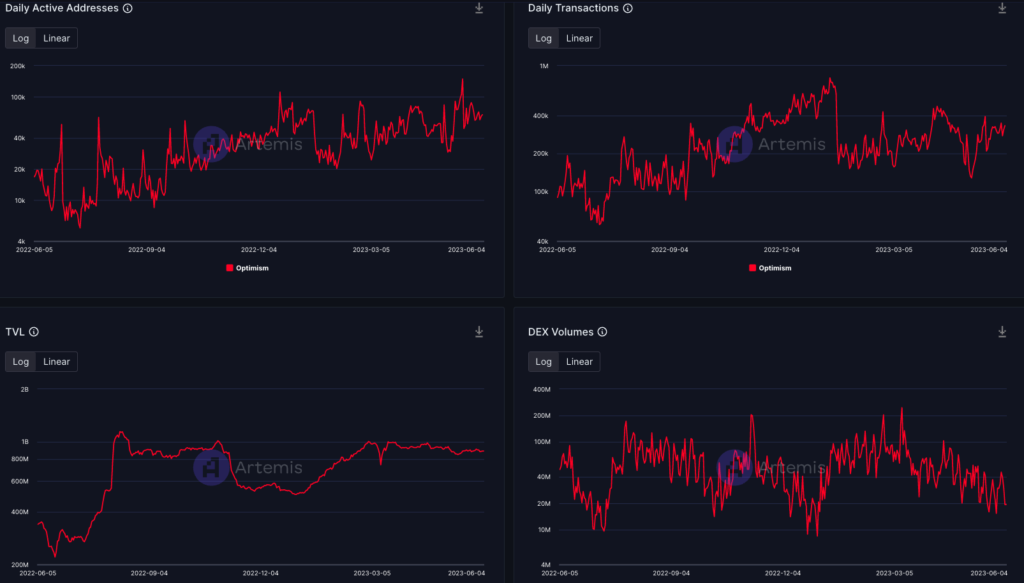 As long as Optimism's network activity continues to increase, demand will absorb the post-unlocking supply of OP tokens. Thus, there will be an opportunity for the OP token price to increase. However, if the Bedrock update cannot significantly lift Optimism's network activity, then the oversupply of OP tokens may trigger a continued correction trend.
Layer-2 Competition Landscape Post Bedrock Upgrade
The Optimism Bedrock upgrade will heat up the Ethereum layer-2 ecosystem competition. Arbitrum as the market leader, will again be chased by its competitors, namely Optimism and zkSync Era. For the last name, even though he is a newcomer, zkSync Era has overtaken Optimism in network activity thanks to its latest technology, ZkEVM.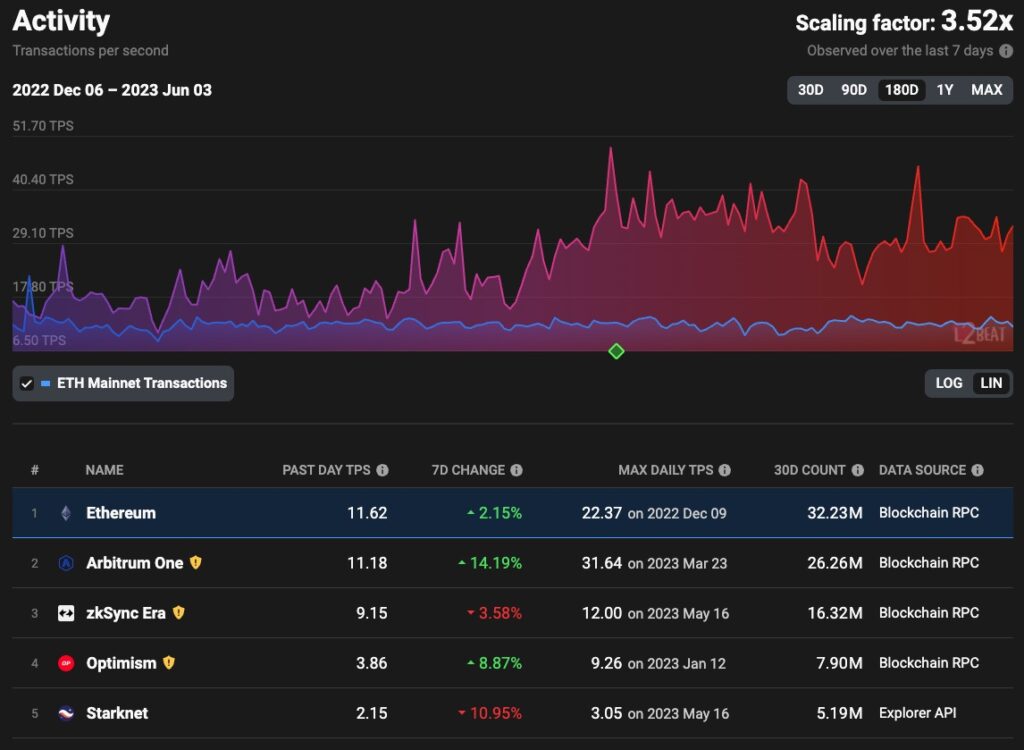 Based on data from L2beat, zkSync Era has recorded 16.32 million transactions in the last 30 days. Not only that, zkSync Era in the last 24 hours also outperformed Optimism in terms of average transactions per second (TPS), which amounted to 9.15 TPS. While in the same period, Optimism only recorded 7.9 million transactions with a TPS of 3.86. Arbitrum, the market leader, leads with a total number of transactions reaching 26.26 million with an average TPS of 11.18.
How to Buy Token Optimism in Pintu
You can start investing in OP tokens by buying them in the Pintu App. Here is how to buy crypto on the Pintu application:
Create a Pintu account and follow the process of verifying your identity to start trading.
On the homepage, click the deposit button and top up the Pintu balance using your preferred payment method.
Go to the market page and look for OP token.
Click buy and fill in the amount you want.
Now you have OP token as an asset!
Besides OP tokens, you can also invest in various crypto assets such as, BTC, BNB, ETH, and others safely and easily through Pintu. Pintu diligently evaluates all its crypto assets, highlighting the significance of being cautious.
Pintu is also compatible with popular wallets such as Metamask to facilitate your transactions. Download Pintu app on Play Store and App Store! Your security is guaranteed because Pintu is regulated and supervised by Bappebti and Kominfo.
Aside from buying and trading crypto assets, you can expand your knowledge about cryptocurrencies through various Pintu Academy articles. Updated weekly, all Pintu Academy articles are made for knowledge and educational purposes, not as financial advice.
Reference
Bedrock Explainer, Optimism, accessed on 2 June 2023.
Welcome to the OP Stack – Optimism Docs. accessed on 2 June 2023.
OP Labs Team, Here's How Bedrock will Bring Significantly Lower Fees to Optimism Mainnet, accessed on 2 June 2023.
Bessie Lie, Optimism Prepares for Its Largest Upgrade Ever, The Blockworks, accessed on 2 June 2023.
Brian Quarmby, Optimism's Major 'Bedrock' Upgrade Set for June 6, Coin Telegraph, accessed on 2 June 2023.
Stephanie Dunbar, Scaling Ethereum with the OP Stack, Messari, accessed on 2 June 2023.
Darren Kleine, 'Giant Unlock' Causes Optimism's OP Token Value to Drop, The Blockworks, diakses pada 5 Juni 2023.