Reading Time:
7
minutes
Polygon is one of the most popular crypto projects today, ranking as the 11th largest crypto project in the world with a market capitalization of $6.4 billion. This makes Polygon the largest L2 network on Ethereum. However, in order to keep pace with newer L2 projects such as Optimism and Arbitrum, Polygon needs to make significant upgrades. To address this, Polygon has introduced a major upgrade to its network known as Polygon 2.0. So, what is Polygon 2.0? What will change in the Polygon network and what is its potential? This article will explain Polygon 2.0.
Article Summary
✴️ Polygon, the 11th largest crypto project in the world, has announced plans for a significant network upgrade called Polygon 2.0.
⚖️ This effort is in response to the growing competition in Ethereum's layer-2 (L2) sector, where new L2 projects like Optimism and Arbitrum are gaining ground.
🤝 Polygon 2.0 is a blueprint for a series of updates aimed at making Polygon the "value layer" of the crypto world, a platform for creating, programming, and moving value.
⚙️ Polygon 2.0 updates include a ZK-based ecosystem, a new network architecture, tokenomics for MATIC tokens, and a new, more decentralized governance system. Through Polygon 2.0, the blockchain ecosystem in Polygon will be interconnected and can interact easily.
About Polygon Network (MATIC)
Polygon is a layer-2 crypto project built on the Ethereum network. Polygon was founded in 2017 with a mainnet launch in June 2020. Since then, Polygon has become one of the largest L2 projects on Ethereum. The native token of the Polygon network is MATIC. In the 2021 bull market, MATIC price managed to increase more than 10,000% from 0.017 to $2.7 at its peak.
Polygon is also famous for its partnerships with major brands. In 2022, Polygon successfully partners with Meta, Reddit, Starbucks, and Disney. This partnership trend continues into 2023 through Polygon's deal with Google Cloud and Deutsche Telekom. So, of all the various blockchains in the crypto industry, many major brands prefer to use Polygon.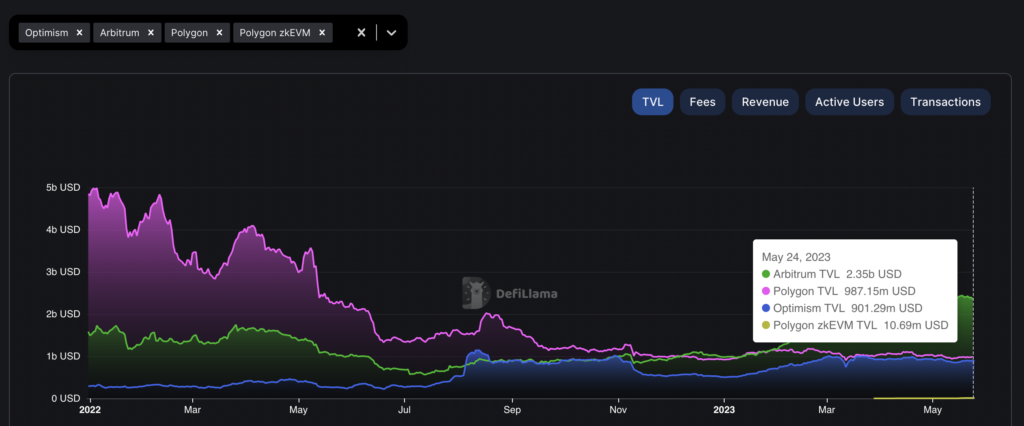 One of the important metrics in measuring crypto project activity is the TVL (Total Value Locked). In this number, Polygon takes 2nd place when compared to Optimism and Arbitrum. An aspect to consider in looking at this number is that Optimism and Arbitrum are only about 1 year old but can already rival Polygon. This suggests a shift in DeFi activity from Polygon to other newer, more technologically advanced L2s.
The growing number of innovative DeFi applications on top of Optimism and Arbitrum is threatening Polygon's position. In addition, Polygon also needs to update its network technology to rival the performance offered by Arbitrum and Optimism. Polygon needs a breakthrough in order to rival its competitors in the L2 sector. This is where Polygon 2.0 comes in as an evolution of Polygon network.
What is Polygon 2.0?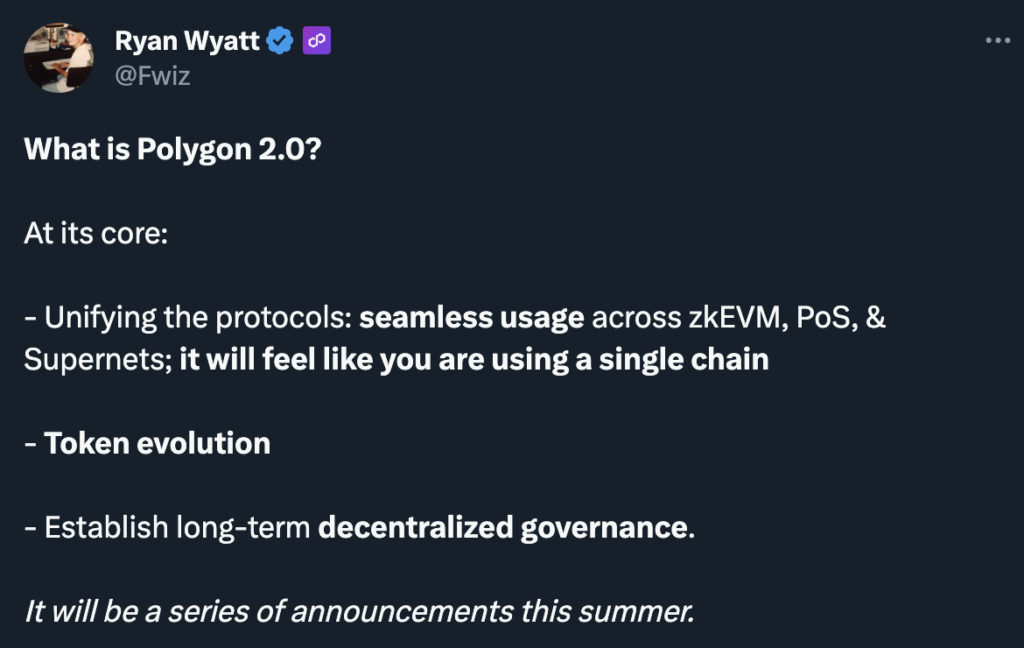 Polygon 2.0 is a blueprint containing a series of updates for the Polygon network. The plan was recently announced by Polygon Labs on June 13, 2023. The main concept of the Polygon 2.0 blueprint is transforming Polygon into a value layer. Polygon 2.0 wants to be a platform for creating, programming, and moving value. So, each component of Polygon 2.0 will be revealed to the public gradually over several weeks.
Two important visions of Polygon 2.0 are infinite scalability and interconnectivity. Polygon 2.0 will utilize ZK (Zero-Knowledge) L2 rollup technology. Furthermore, the Polygon team explains that ZK technology allows Polygon 2.0 to support an unlimited number of blockchains with a specialized cross-chain communication protocol.
This ZK concept then relates to network unification. The Polygon 2.0 ecosystem will feel like one blockchain where cross-chain activities are seamless and instantaneous. So, the ultimate goal of Polygon 2.0 is to create a highly scalable (ZK-based) blockchain ecosystem where every application and blockchain within it can interact easily.
Do you want to know what is Layer 2 in crypto? Read the article in Pintu Academy.
Why Polygon 2.0?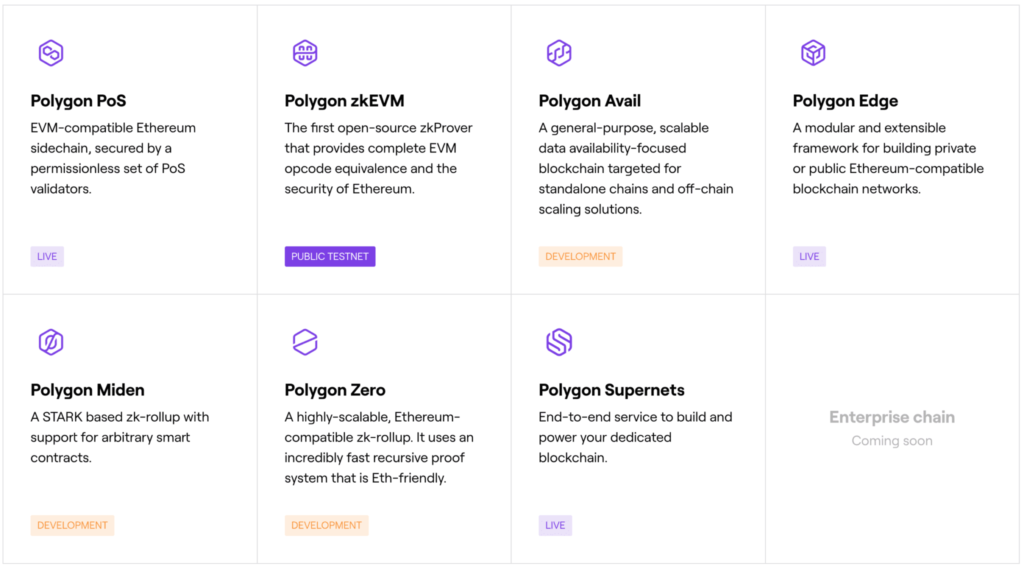 The image above is a list of all the blockchains in the Polygon ecosystem. As you can see, Polygon's blockchain ecosystem is very diverse. However, the cross-chain feature in Polygon needs further optimization and there is nothing to unify all these products. One of the goals for Polygon 2.0 was to unify Polygon's currently fragmented ecosystem. Polygon wants interconnectivity in its ecosystem with a seamless cross-chain protocol.
In a Twitter space with some of Polygon's founders, everyone agreed that ZK technology is the future of Ethereum scalability. Polygon 2.0 was created to utilize ZK-based blockchain ecosystem in a variety of implementations. So, Polygon's founders want ZK technology to be the foundation for Polygon's future.
"No matter how many chains we have in this ecosystem, no matter how much we scale in block space, it is cryptographically impossible to introduce an invalid transaction (in ZK ecosystem)." - Brendan Farmer, Co-Founder of Polygon.
What Are the Components of Polygon 2.0 Upgrade?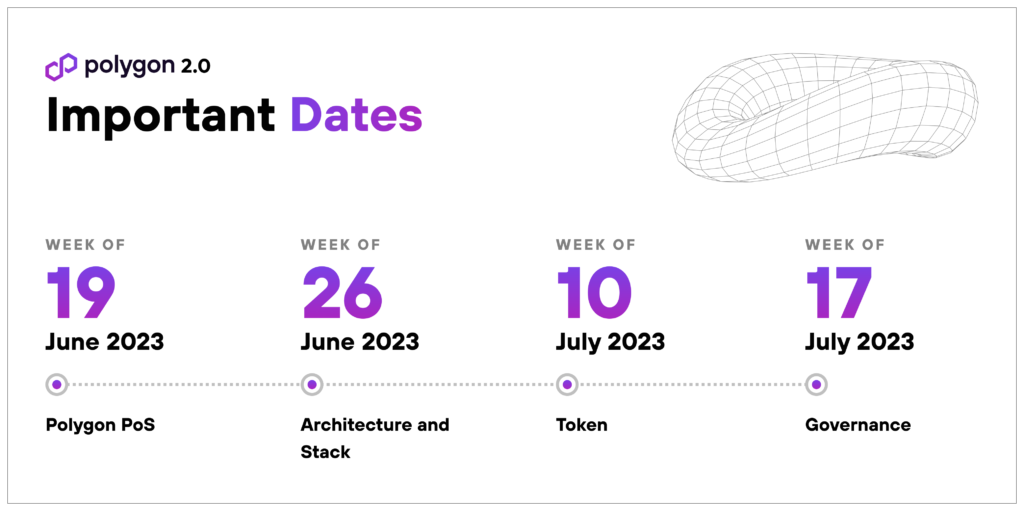 1. ZK-based Ecosystem
On June 19, 2023, Polygon announced the upgrade of Polygon PoS to zkEVM Validium. This is the first stage of Polygon implementing ZK technology in its ecosystem. Polygon PoS is the largest network in the Polygon ecosystem with 2.5 million daily transactions and hundreds of crypto applications. In addition, Polygon ensures that the Polygon PoS update will not change the user and developer experience on the network. Polygon also explained that this is still a proposal so anyone can provide criticism and suggestions.
Validium is different from a regular ZK-Rollup system. Validium stores all transaction data off-chain. So, this system is different from L2 rollup which still stores some transaction data on Ethereum. Off-chain data storage usually carries major centralization and security risks. However, the ZK technology that Validium uses provides higher security assurance.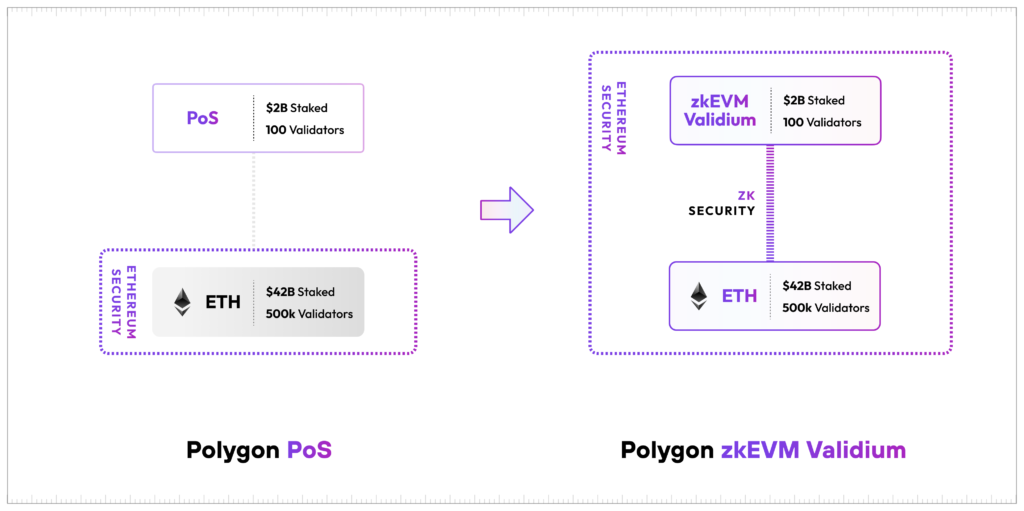 Validium's use of zkEVM will significantly reduce Polygon's transaction fees as all transaction data is in off-chain storage. Furthermore, this update automatically makes Polygon PoS compatible with the entire Polygon 2.0 ecosystem. Polygon also mentioned that zkEVM Validium will be the first decentralized sequencer. So, all existing validators in Polygon PoS will now automatically become sequencers and validate transactions in zkEVM Validium.
2. New Network Architecture
Polygon will announce its plans regarding network architecture on June 26, 2023. This announcement will most likely relate to an interoperability protocol that can connect the various networks in the Polygon 2.0 ecosystem. In addition, this interoperability protocol must be supported by a network architecture that can ensure the security of the entire network.
The security system of the Polygon 2.0 ecosystem will also be highlighted by various parties. Will Polygon implement a shared security system like Cosmos? Or will each sub-network have its own validator ecosystem? These questions will be answered when Polygon announces the network architecture and network stack components.
A description of Polygon 2.0's network architecture will be updated once Polygon announces its plans.
3. MATIC's New Tokenomics
The new MATIC tokenomics design will be announced by Polygon on July 10, 2023. MATIC is the token with the 11th largest market capitalization in the world. The Polygon 2.0 blueprint wants to make Polygon the value layer of Ethereum and MATIC will most likely have an important role in that. So, a complete overhaul of MATIC's tokenomics will have a huge impact on MATIC's usability and role in this new ecosystem.
A description of MATIC's new tokenomics design will be completed once Polygon announces the details on July 10, 2023.
4. New Governance System
Hudson Jameson, VP of Community and Governance at Polygon Labs, explains that the Polygon 2.0 blueprint wants to shift the Polygon model to an ecosystem with community input and a higher decentralized focus. So, this is the reason why the Polygon 2.0 blueprint is in proposal form. Jameson likened Polygon 2.0 to Vitalik's plan to turn Ethereum into a PoS network. In the end, the Merge is a combination of Vitalik's plans for Ethereum and suggestions gathered from the Ethereum community.
Polygon's new governance system will be last announced on July 17, 2023. This governance plan will likely change Polygon's governance system to a more decentralized one where users can participate.
The new Polygon 2.0 governance system will be completed after Polygon announces its plan on July 17, 2023.
Conclusion
Polygon, one of the popular crypto projects and the largest L2 network on Ethereum, is planning a major update called Polygon 2.0. Polygon 2.0 is designed to be the "value layer" of the crypto world with a focus on infinite scalability and network interconnectivity. So, the Polygon 2.0 ecosystem will utilize Zero-Knowledge-based L2 technology.
The goal is to create a blockchain ecosystem with high scalability and easy interaction between applications and blockchains. Furthermore, components of the Polygon 2.0 update include the development of a ZK-based ecosystem, the introduction of a new network architecture, changes to MATIC tokenomics, and a new governance system. Polygon will release details of each component gradually until mid-July 2023.
How to Buy MATIC Tokens in Pintu
You can start investing in MATIC token and buy it on the Pintu app. Here is how to buy crypto on Pintu:
Create a Pintu account and follow the process of verifying your identity to start trading.
On the homepage, click the deposit button and top up the Pintu balance using your preferred payment method.
Go to the market page and look for MATIC.
Click buy and fill in the amount you want.
Now you are a crypto investor!
In addition, the Pintu application is compatible with various popular digital wallets such as Metamask to facilitate your transactions. Go and download the Pintu cryptocurrency app on Play Store and App Store! Pintu is regulated and supervised by Bappebti and Kominfo.
You can also learn crypto through the various Pintu Academy articles which are updated every week! All Pintu Academy articles are for educational purposes, not financial advice.
References