Reading Time:
6
minutes
Animated films, digital games, and the metaverse increasingly rely on motion graphics and 3D visual effects that require complex rendering processes. Especially when 3D graphics rendering must be done in real-time, such as in virtual reality (VR) experiences. The animated movie, Inside Out, took up to 33 hours to render just one frame! Today, more and more industries are adopting virtual products and services, while the supply of computing resources is limited. In this context, Render Network comes as a promising solution. Render Network provides technology that can overcome these challenges. In this article, we will learn more about what Render Network is and the technology behind it.
Article Summary
📹 Render Network (RNDR) is a decentralized rendering platform that uses blockchain technology to facilitate efficient and easy rendering services.
🖥️ The platform works as a peer-to-peer Graphics Processing Unit (GPU) provider that connects parties wanting to render jobs with parties with 'idle' GPUs.
👱‍♂️ Render Network was created by Jules Urbach, who is also the founder of OTOY, a cloud rendering company. One of OTOY's most popular products is OctaneRender, a 3D graphics rendering software.
📱 Crypto users attribute the integration of OctaneX (the smartphone version of OctaneRender) with Apple products to the potential for RNDR tokens to play an important role in Apple's metaverse ecosystem.
What is Render Network (RNDR)?
Render Network (RNDR) is a decentralized rendering platform that uses blockchain technology to facilitate efficient and accessible rendering services. It is also a peer-to-peer Graphics Processing Unit (GPU) provider that connects parties who want to do rendering work with parties with 'idle' GPUs.
Render operates on the Ethereum blockchain, leveraging smart contracts to build a decentralized ecosystem for rendering services. The platform's native token, called RNDR, serves as a currency in the platform.
Rendering is generating images or animations from 3D models or scenes. This process is widely used in animation, gaming, simulators, and special effects in movies and television, such as Westworld, The Crown, Captain America, and Ant-man.
The main bottleneck in producing next-generation media is the need for more computing power than available centralized GPU clouds (Google Cloud, AWS, etc.). The fields of augmented reality, mixed reality, and AI require even more rendering power, causing limited availability and very high prices for many artists.
Render Network utilizes unused GPUs from proof of work (PoW) blockchain mining to connect artists who need large computing power. In addition, it also utilizes GPUs that are used inefficiently by artists when they are not rendering their work.
Render Network processes millions of frames annually and has been used to create works ranging from blockbuster TV shows and movies to large-scale graphics. In addition, Render also processes several iconic 3D Non-Fungible Token (NFT) collections.
Render Network and Apple
Jules Urbach, the founder of OTOY, a cloud rendering company, created Render Network. One of the most popular products released by OTOY to date is OctaneRender. OctaneRender is software to edit, design, and render realistic 2D images or videos based on 3D models.
In late 2022, OTOY launched OctaneX, a smartphone version of OctaneRender. The app is integrated with Apple's production system and can be downloaded for free on iPad M1 and M2. According to the Apple Store Preview of OctaneX, Apple users can quickly perform realistic 3D renderings in real-time.
At Apple's annual Worldwide Developers Conference (WWDC) event on June 5, 2023, the RNDR token received much attention. Crypto users attributed OctaneX's integration with Apple products to the potential for RNDR, especially in Apple's 'metaverse' ecosystem, which also introduced its augmented reality headset, Vision Pro, at the event. No wonder the price of RNDR tokens jumped almost 10% after the WWDC event. However, the increase in RNDR was also influenced by several other factors, including global market conditions.
Render Network Node Operator and Creator
Render Network operates as a marketplace where content creators (called "Creators") can upload GPU-based rendering jobs to Render Network. The jobs will then be completed by Render's decentralized network of GPU service providers (called "Operator Nodes").
For you as a creator who wants to access the 'Artist Portal' on rendertoken.com, you must first subscribe to OctaneRender. In addition, if you want to become a node operator and utilize your GPU, you can visit the Render Token website and follow the steps. Also, pay attention to the hardware standards specified by Render Network.
How Does Render Network Work?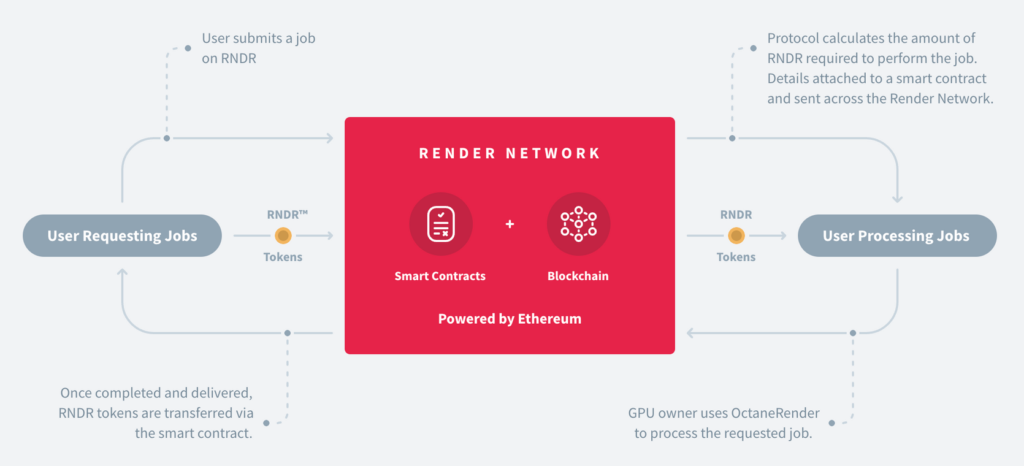 Jules Urbach explains how to use the Render Network as follows:
Creating a job: Creators submit their jobs in ORBX file format using OctaneRender or plugins/integrations. Creators can also select service types based on the priority level of their jobs and benchmark the performance and reputation of Operator Nodes in the network.
Uploading a job: Once the job is uploaded via the OctaneRender web portal, the Creator's assets are split into individual files, which are then encrypted and hashed. The job requirements and payment terms are then sent to a smart contract that propagates the relevant details across the platform.
Assigning a job: Render's MTP (multi-tier pricing) protocol automatically allocates the appropriate Operator Node for each job based on each market participant's reputation score and Creator specifications. When joining the network, Render automatically assesses the performance capabilities of the Operator Nodes.
Creators can choose from three tiers: Tier 1 (Trusted Partners), Tier 2 (Priority), and Tier 3 (Economy). Tier 1 services are generally completed by more reputable GPU rendering service providers (Node Operator) and charge higher fees.
Completing a job: The Operator Node uses OctaneRender to process each assigned job, providing Proof of Render Job through its computation jobs.
Verifying results: Creators have the ability to monitor the real-time rendering progress of the Operator Node and report any abnormalities or incorrect behavior before the job complete. The preview remains watermarked until the job is confirmed and the Creator proceeds with the payment for the completed work. Furthermore, the output results generated by the Operator Node are encrypted to ensure security.
Completing Payments: All Render payments are held in escrow during rendering. The Creator manually verifies the satisfactory completion of their job, and as a result, the RNDR tokens are released to the Operator Node.
The Render Network receives a small percentage of the RNDR tokens as compensation for facilitating transactions and running the network. Compensation ranges from 0.5-5% of the total RNDR required to process the job based on demand and current GPU supply. Creators can then download or share their renderings directly on OctaneRender.
Users can utilize this platform to render their 3D projects efficiently and decentralized through these steps. Using RNDR Token, users can pay for rendering services and get high-quality results.
Use Cases of Render Network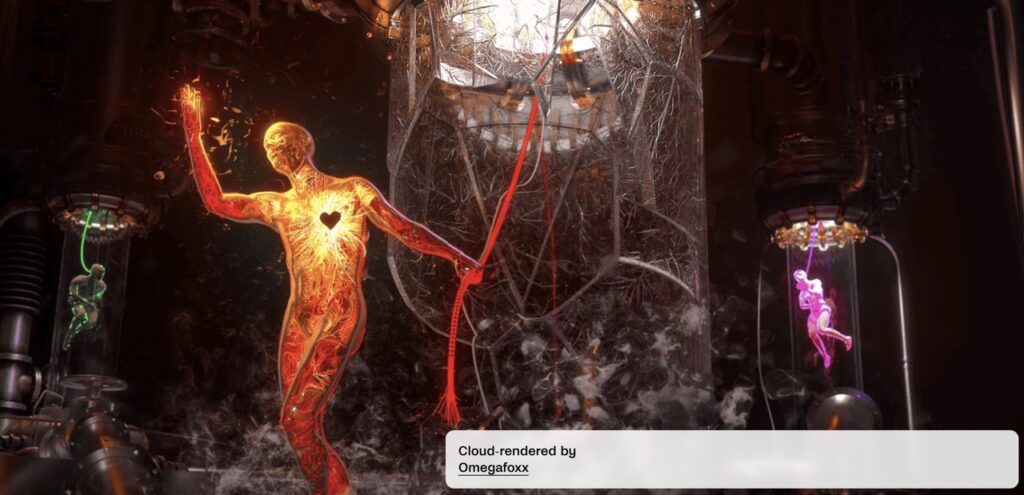 📹 3D Rendering: This platform makes 3D rendering fast and efficient. Content creators can submit ORBX-based GPU rendering jobs to this platform, which a decentralized network of GPU service providers will complete.
👓 Augmented Reality (AR) and Gaming: This platform supports rendering AR and VR content. Creators can utilize this platform to create immersive AR and cinematic gaming experiences with high rendering quality.
🎞️ Film and Animation: It is used in film and animation production to render high-quality scenes, characters, and visual effects. Creators can send rendering jobs to this rendering platform to speed up production and improve visual quality.
🤖 Artificial Intelligence (AI): Engineers, developers, and artists can use this rendering platform to create AI-assisted 3D content based on prompts, perform AI-assisted accelerated holographic rendering, and develop AI training that utilizes 3D scene graph data.
☁️ Cloud Rendering: It provides cloud rendering services that content creators can access. Using Render Network, creators can perform 3D rendering quickly without investing in their rendering infrastructure.
⛓️ DApps and Blockchain Development: It enables developers to build decentralized applications (dApps) that leverage the computing power of GPUs. Using Render Network, developers can access distributed GPU computing resources to accelerate blockchain application development.
Conclusion
Render Network understands that GPU rendering power has specific needs and challenges, and that's what it focuses on. This platform can provide more effective and efficient solutions by focusing on this sector.
In practice, Render Network offers wide-ranging benefits to various industries. In the creative industry, artists can utilize the network to render realistic 3D content. And in the AR and VR industry, this platform can support rendering content that requires a large amount of computing power. Developers can also utilize this platform to accelerate the development of AI applications that use 3D scene graphics data.
How to Buy Render Network Token on Pintu
Currently, RNDR token is not available for trading on Pintu. Please stay tuned to Pintu's channels for updates on the listing of RNDR tokens. In the meantime, you can safely and easily invest in various AI tokens such as FET, OCEAN, GRT, and others.
Pintu is also compatible with popular wallets such as Metamask to facilitate your transactions. Download Pintu app on Play Store and App Store! Your security is guaranteed because Pintu is regulated and supervised by Bappebti and Kominfo.
In addition to executing transactions, in the Pintu Apps, you can also learn more about crypto through various Pintu Academy articles which are updated every week! All Pintu Academy articles are made for knowledge and educational purposes, not as financial advice.
References
Render Team, Render Network Whitepaper, Render Network, diakses 6 Juni 2023.
Jules Urbach, The Render Network (RNDR): Decentralized 3D Rendering, Cryptopedia, diakses 6 Juni 2023.
CNBCTV18.com, Explained: The Render Token (RNDR), its Apple integration and the resulting 300% rally, CNBC, diakses 6 Juni 2023.
Sami Kassab, Rendering the Last Frontier, Messari, diakses 7 Juni 2023.
Octane Universe, Tutorial – Getting Started with the RNDR Network, Youtube, diakses 7 Juni 2023.