Reading Time:
7
minutes
Decentralized applications or DApps is one of the fastest-growing industries in the cryptocurrency world. According to Stateofthedapps, there are 3,799 DApps spread across various blockchains. Of that figure, around 75% of DApps are on the Ethereum network. However, the high transaction fees of Ethereum are starting to become a problem for many users and developers. This problem drives a lot of users to an alternative blockchain, and one of them is Solana. So, what is Solana? How does it work, and why can it provide solutions to problems with DApps? This article will discuss the project in detail.
Solana definition
Solana is an open-source blockchain that supports decentralized applicatios (DApps) through the use of smart contracts, similar to Ethereum. Unlike other blockchains, the network uses a unique algorithm that combines a proof-of-history (PoH) system with proof-of-stake (PoS). This makes Solana one of the fastest blockchains with the capability to perform a maximum of 50,000 transactions per second.
Also read: What is Ethereum and how does it work?
Solana focuses on developing a highly scalable, secure, and decentralized blockchain platform. These three things result in a blockchain that can process transactions quickly at low costs, as well as an ecosystem that supports the development of hundreds of new DApps. According to Coinmarketcap, Solana has a market cap of $103,514,242.846 billion with a price of $202 for 1 SOL (December 2021). This figure places Solana as the 5th largest cryptocurrency in the world.
History of Solana
Solana is a blockchain developed by Anatoly Yakovenko and Greg Fitzgerald who previously worked at Qualcomm, a technology company based in California, United States. Anatoly started the project in 2017 and managed to raise $25 million through an ICO. Then, Solana's official Whitepaper was released in February 2018, followed by several testing phases until it was officially launched in March 2020.
Solana itself is divided into two companies, namely Solana Labs and Foundation. Anatoly and his team lead Solana Labs to develop all facets of Solana's technology, including the proof-of-history (PoH) system. Meanwhile, Solana Foundation is an organization that deals with fundraising, building external partnerships, and developing the community.
How Solana (SOL) works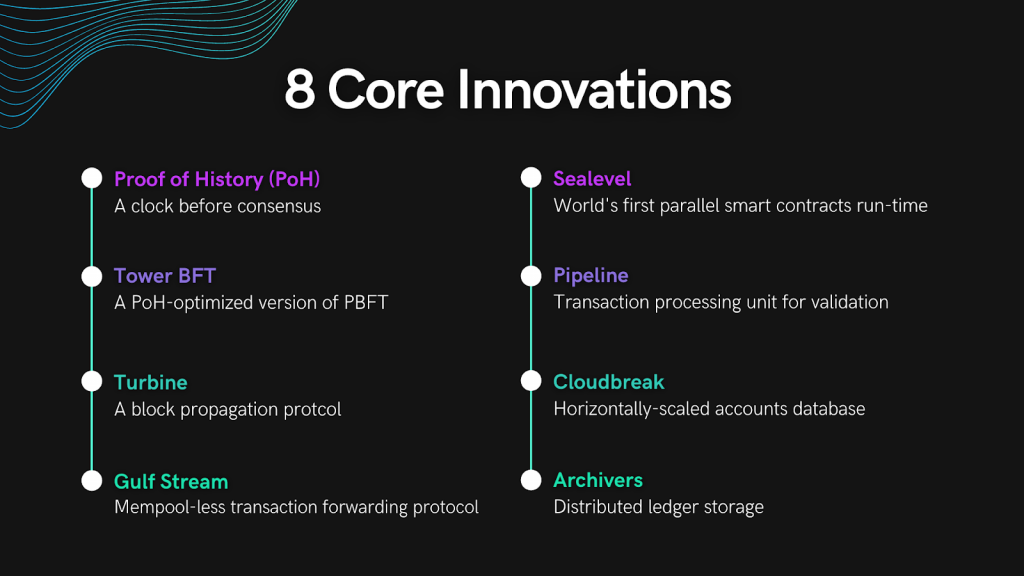 Solana is a third-generation blockchain with a hybrid consensus algorithm that combines proof-of-history (PoH) and proof-of-stake (PoS). These two algorithms act as two different layers that work complementary. Similar to other third-generation blockchains like Cardano, the PoS verification system is the foundation that allows Solana to be more decentralized, more environmentally friendly, and able to process more transactions than Bitcoin and Ethereum.
Also read: What is Cardano and what is a PoS system?
The combination of PoH and PoS in Solana's consensus algorithm allows it to perform up to 50,000 transactions per second with low transaction fees. This provides an incentive for app developers and users to choose Solana over other blockchain networks.
Proof of History (PoH) and other technological innovation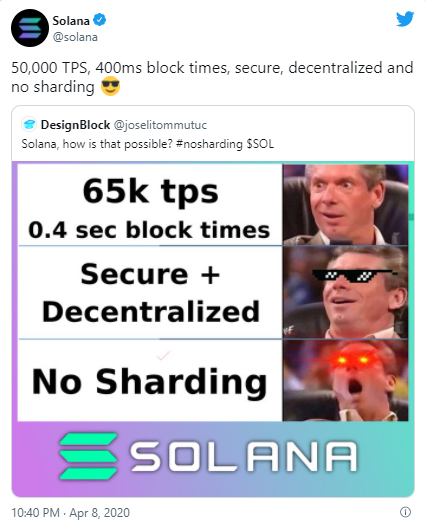 The proof-of-history verification algorithm is an algorithm that Solana creates to overcome the trilemma that blockchains often face, which are scalability, security, and speed. The PoH algorithm in the network helps solve the trilemma by assigning a timestamp to every transaction processed by the PoS layer.
💡 The proof-of-history algorithm provides a record of events starting from the beginning of the transaction, when it was processed, and when it was verified. With this note, the system does not require additional computing power to compile each transaction because everything has been done by the PoH algorithm.
Another Solana innovation, Tower BFT (Byzantine fault tolerance) acts as a global clock that ensures time synchronization across all transactions processed by the PoH layer. After that, Solana's Turbine system sends data to the blockchain in small chunks which reduce the burden on the system. In the PoS layer, Solana has a gulf stream protocol to reduce the duration of verifying transactions. Lastly, a transaction processing engine called Sealevel allows Solana to execute thousands of smart contracts interactions simultaneously.
All these technologies and innovations make Solana one of the few blockchains capable of challenging Ethereum's dominance. The community even dubbed Solana as the 'Ethereum killer', cementing its place as the third-largest blockchain in cryptocurrency.
What makes Solana unique?
️🏎️ Low transaction fees and speed: Solana is one of the fastest blockchains in the crypto industry right now, with low transaction fees.
🎴 NFT Ecosystem: Solana has several popular NFT collections followed by a growing community, making it a great place to start collecting NFT.
🍀 Eco-friendly: Solana's proof-of-stake network makes it more environmentally friendly than most other crypto assets such as Ethereum and Bitcoin.
What can you do with SOL?
1. NFT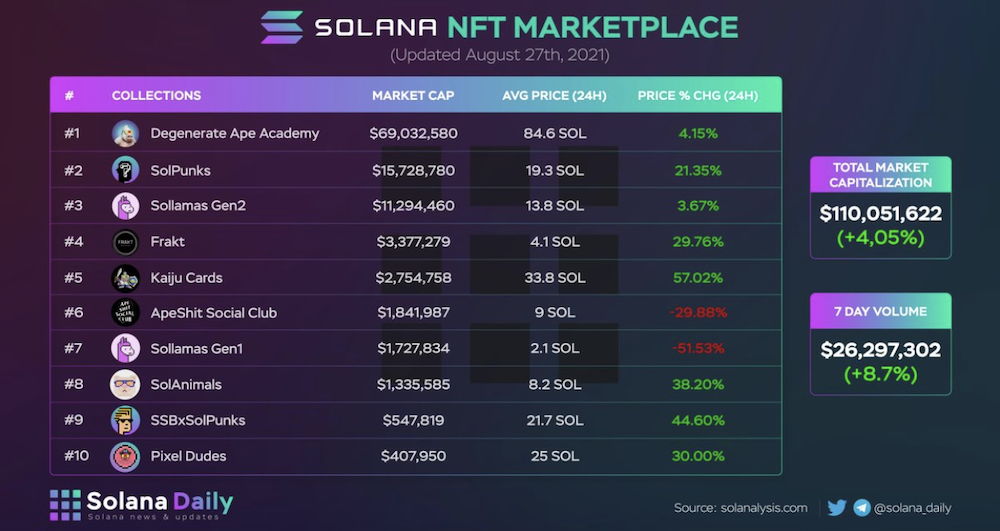 The Solana Network has a very lively and growing NFT community. Its low transaction fees and speed of transactions have attracted a wide community of NFT artists around the world. The two earliest and largest NFT projects that have survived to date are Solana Monkey Business (SMB) and Degen Apes Academy (DAA). These two projects continue to gain the attention of the crypto community with NFTs that can cost hundreds of SOLs.
Also read: What is NFT and why is it popular?
DAA has a unique strategy where its NFTs are only limited to 10,000 unique apes. This creates exclusivity in DAA's NFTs and makes them extremely rare. In September 2021, Blockchain Moonrock Capital purchased one of the NFTs from DAA for 5,980 SOL, worth $1.1 million dollars at that time. Purchases like these demonstrate the strength of the industry and the NFT community in Solana.
2. DApps
Solana is one of the blockchain networks with the largest DApps ecosystem after Ethereum. The ecosystem includes many DeFi applications, NFT, games, as well as innovative applications such as Audius. One of the popular DeFi is Solend, a DApps for borrowing and lending similar to AAVE. In addition, the Saber app is an AMM app like Compound that allows the exchange of stablecoins.
Lastly, Audius (AUDIO) is one of the most innovative projects in the Solana ecosystem. It is the first decentralized music streaming app. Audius strives to eliminate third parties who often takes a large percentage of profits in the music industry and give the profit directly to musicians.
However, Audius is currently still in its development stage. In the roadmap, Audius will pay its musicians stablecoins and also provide a way for fans to interact directly with musicians.
3. Staking
Solana is a blockchain that utilizes a proof-of-stake system. Therefore, you can stake to the network to earn passive income by depositing your SOLs. According to stakingrewards, you will earn around 6-7% interest when staking, depending on the validator you choose.
Also read: how to earn interest on your crypto assets?
Then, how do you stake? You only need to transfer your assets to a wallet or site that provides Solana's staking service and choose the period of time you want to deposit your assets. However, you need to be careful when choosing the validator service to stake your funds because Solana will penalize validators who fail to verify transactions. If this happens, you will lose some or even all of your assets.
Solana price and SOL as an investment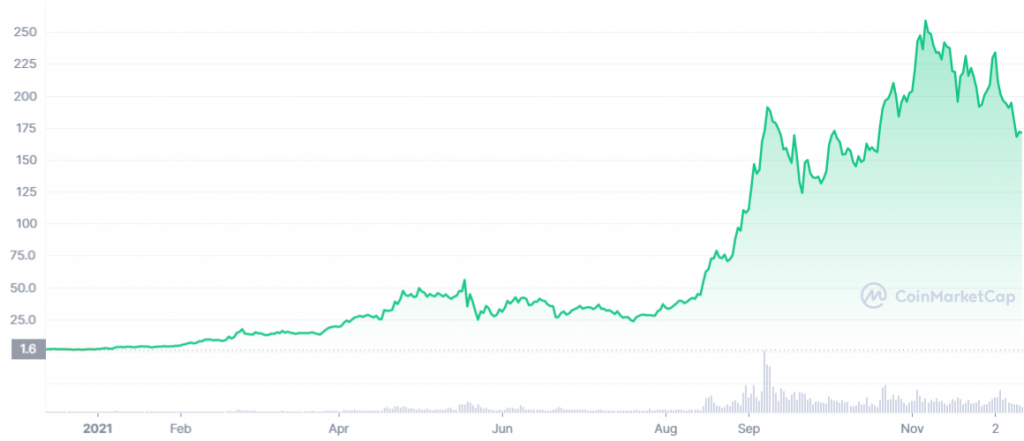 2021 is Solana's year. From September to early December, SOL experienced a drastic increase of 11,000%, bringing its price to around $250 dollars. This increase follows the popularity of Solana as an alternative blockchain ecosystem to Ethereum which experiences an increase in transaction fees.
As previously explained, one of the things that strengthen Solana's position among other blockchain ecosystems is the choice of DApps that are built on top of it. Various Ethereum blockchain network applications have started to build interoperability and compatibility. This is an important step as more users now have access to Solana. The popularity and growth of the NFT community also had a major impact on the network. If the adoption and appreciation of NFTs continue to increase, this will bring a lot of people to Solana.
However, one concern about the Solana network is the issue of decentralization. Currently, there are only about 1,000 validators running the blockchain. This raises the issue of decentralization as well as the security of the network as these numbers are very small for an ecosystem of $12 billion dollars. After that, another problem is server downtime which happened to Solana several times. In the most recent incident, Solana's server was reported to be down on December 10, 2021. Some reported this was caused by a DDoS attack on the server while others say this is just an ordinary server problem. These incidents raised concerns about the sustainability of Solana's network for the next few years. Therefore, you should consider this before deciding to invest in Solana, especially in large amounts.
Buying SOL
You can start investing in SOL tokens by purchasing them in the Pintu mobile application. Through Pintu, you can buy SOL and other crypto assets in an all-in-one convenient app.
In addition, Pintu is also compatible with various popular digital wallets such as Metamask to facilitate your transactions. Come and download Pintu on Play Store and App Store! Your security is guaranteed because Pintu is regulated and supervised by Bappebti and Kominfo.
Conclusion
Solana is a third-generation blockchain network with capabilities that allow developers to build applications on its ecosystem. Solana's technology combines proof-of-stake and proof-of-history algorithms to allow the network to process transactions quickly with low fees. This makes many users and developers consider it as a good network for DApps.
Solana also experiences a very large price increase in 2021 with many calling it the Ethereum killer. Many features of the network are still under development. However, with an already huge market capitalization, it has a lot of potential in the crypto industry.
References: