Reading Time:
7
minutes
As we enter the Web3 era, the significance of a unique and trustworthy digital identity in online activities continues to grow. With the potential risks of identity theft, fraud, and loss of access to critical accounts, it's vital to establish more secure and efficient digital identity technology. This is where SPACE ID comes in, offering solutions to these issues. But, what is SPACE ID and how does it work? Let's read the following article.
Article Summary
🌌 SPACE ID (SID) is a decentralized universal name service network that runs on the blockchain and is a Web3 domain and identity management platform.
🤑 You can sell the Web3 domain on SID by registering your domain at a fixed price, choosing the sale duration, and setting the price. SID is like a marketplace that specializes in selling name services.
⚖️ SPACE ID is also a Web3 domain aggregator that compares OpenSea, Element, and ENS Vision domain names. Thus, it eases you to find and buy the correct domain.
🪙 SPACE ID has a native token known as ID. The ID token was released through an Initial Exchange Offering (IEO) on Binance in March 2023. The token is used in the SPACE ID platform as a governance token.
What is SPACE ID (ID)?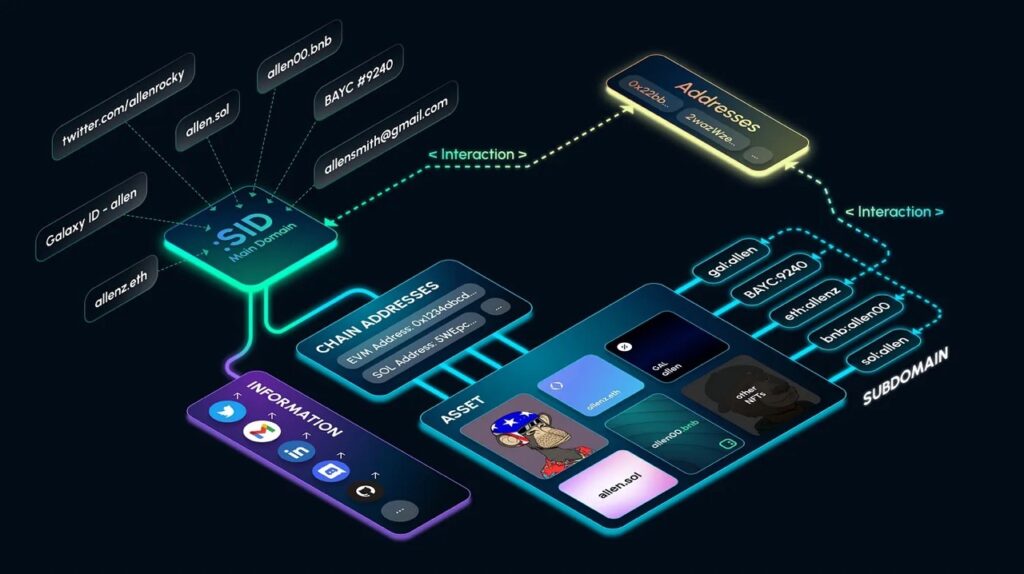 SPACE ID (SID) is a decentralized universal name service network that runs on top of blockchains (Ethereum, BSC, and Arbitrum). SID is also a Web3 domain and identity management platform which allows users to register, exchange, and manage crypto-based domain names. In short, SPACE ID is like a marketplace that specializes in selling name services.
Web3 domains are human-readable names that can be used to access dApps, smart contracts, NFTs, and other blockchain-based resources—for example, domains on the Ethereum network such as pintu.eth and pintuacademy.eth.
The Web3 domain name is a tradable NFT. With SPACE ID, users can create, sell and manage them in one place. Unlike the Ethereum Name Service (ENS), users need a different marketplace to buy and sell domain names.
Read also What is Ethereum Name Service (ENS)?
Space ID is also a Web3 domain aggregator that compares domain names from OpenSea, Element, and ENS Vision. Thus, it eases you to find and buy the right domain.
Apart from individuals, SID also features Web3 names for Software Development Kit (SDK) and Application Programming Interface (API) for cross-blockchain developers. It aims to facilitate the integration of web3 domains into various applications.
SPACE ID has a primary token known as ID. The ID token was released through an Initial Exchange Offering (IEO) on Binance in March 2023. ID tokens are used in the SID platform as governance tokens.
SPACE ID Founders and Funding
SPACE ID was founded in March 2022 by a team with experience in Web3, entrepreneurship, DAO, and others. This platform aims to solve the problem of an easy-to-use universal ID for the Web3 world.
In September 2022, the .bnb Public Registration Domain was launched by SPACE ID. It attracted about 370,000 registrants and 175,000 unique domain holders within six months. In addition, the .bnb Domain Service successfully integrated into more than 100 leading projects and protocols such as BSCScan, Trust Wallet, and so on.
Then, in February 2023, SID announced the 2.0 upgrade and merger with ARB ID (Arbitrum), which plans to launch .arb domain registration.
In the same month, February 2023, SPACE ID successfully raised 10 million US dollars in a strategic funding round led by crypto investment firms Polychain Capital and dao5. With this funding, SPACE ID can accelerate the development of universal name services and products.
How SPACE ID Works
The SPACE ID architecture has three parts that work together to improve the system for storing and protecting information. The three parts are as follows: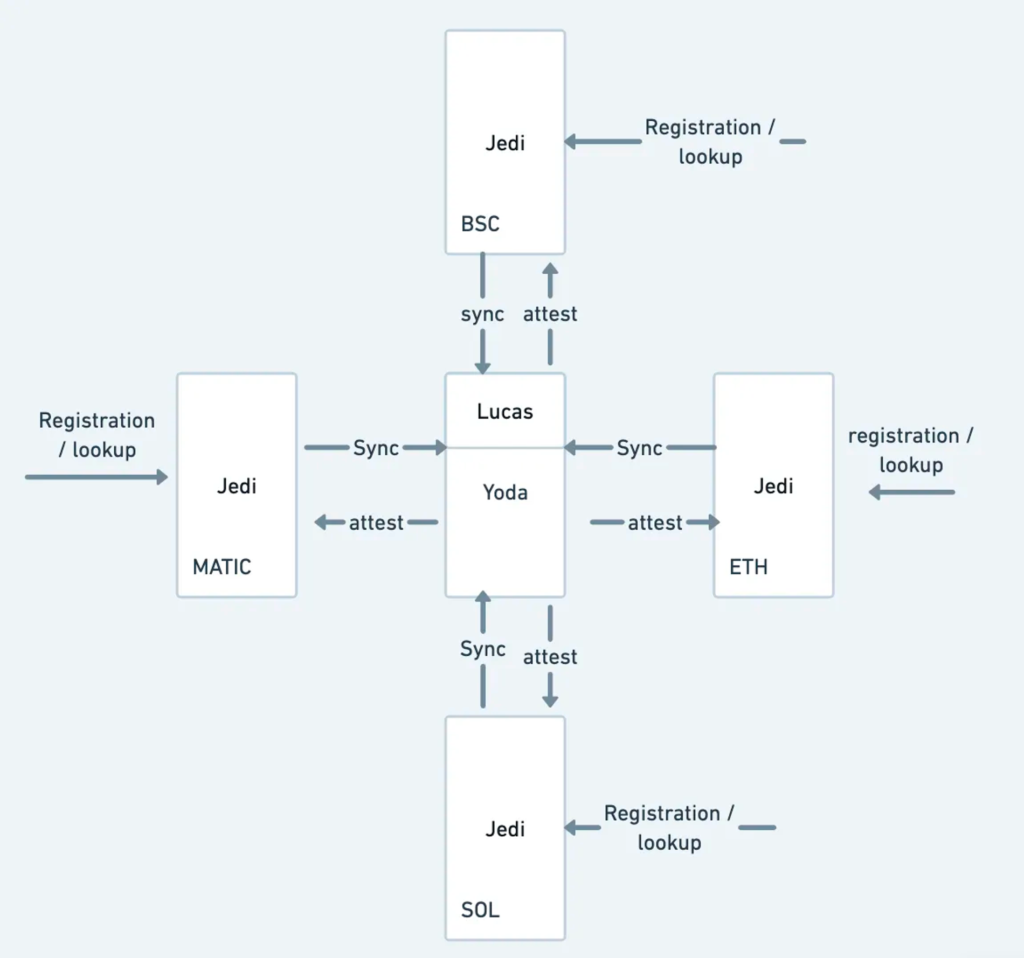 Lucas: An ad hoc blockchain that helps connect and store information across multiple chains.
Jedi: A smart contract that runs on multiple chains for registering and checking names on different computer networks. Before allowing a user to use a name, this contract checks with Yoda to ensure the name is valid.
Yoda: A network oracle that ensures the uniqueness of names registered across different chains. Yoda collects registration events from various chains, aggregates the information, and provides authentication signatures to users who want to register or bridge names on any Jedi.
When a user registers a name on a network, Jedi checks the availability of the name. After that, Yoda will ensure whether the name is unique and has yet to be registered. Then, if the name is still available, Yoda will provide proof to the Jedi to authorize the name to be used. It allows users to have a unique and well-protected domain name that helps them develop their identity effectively and safely.
How to use SPACE ID
Connect Crypto Wallet. You will need to connect a crypto wallet to access SID. One of the most popular wallets is Metamask.
Search for the Name in the Search Field. You can type the name you want to register in the search field. After that, SID will display the results of the name you are looking for, whether it has been registered or not. You can register it for $5 per year if it still needs to be registered. Or you can make an offer if the name is already registered.
SPACE ID 2.0 supports multiple TLDs (currently .eth, .bnb, and .arb) and provides options to filter results by specific TLDs, registered or unregistered names, and even domain length or expiration date.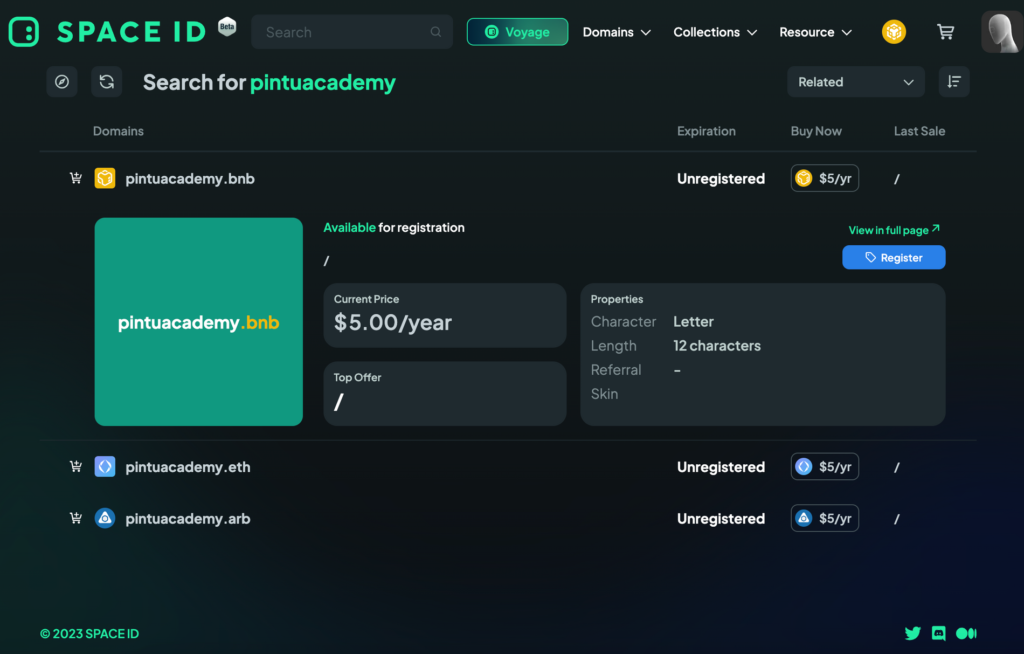 Bulk Purchases. You can add multiple domain names from different networks to your cart but can only purchase domains based on the same network. To do so, switch to the preferred network and complete your purchase. You only need to make one transaction, which reduces gas fees and simplifies the process.
Register and Edit Domain Names. You can sell Web3 domains by registering your domain name at a fixed price, selecting the sale duration, and setting the price. Once you have entered the required information, click "Register" to complete the registration. In addition, you can also make changes to your domain name listing by lowering or raising the fixed price of your listing or canceling it.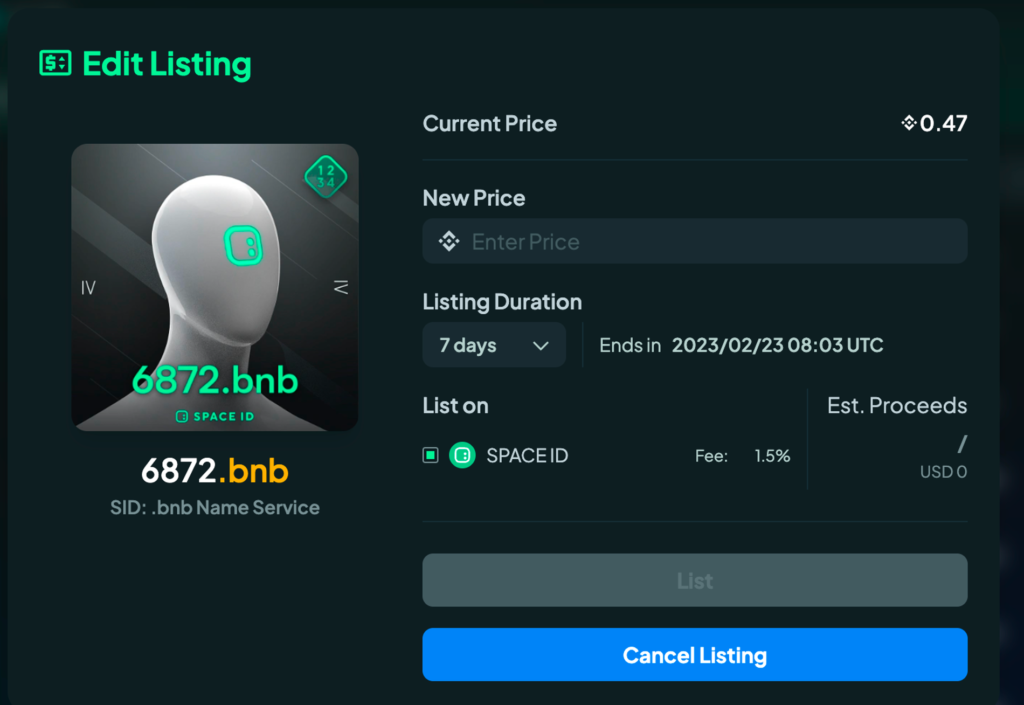 Extend Domain Name. You can extend your domain registration within the registration period and for 90 days after expiration, also known as the grace period. During the grace period, the domain name will be exclusively available for previous registrants to renew their registration. After the grace period ends, the domain name will be available to other users.
Features of SPACE ID
Universal Domain
Build a Personal Brand. Maintaining a unique identity across different blockchains will be important in a multi-chain future. SID can provide a unique identity across all chains and prevent name duplication.
Naming Layout. The use of name layouts such as .eth and .btc can only be used for name services. SID is developing a naming layout using colons. XX: for TLDs, and :XX for users. SID requires a more sophisticated structure to separate the Top-Level-Domain from the User domain.
Simplifiy Interaction. You don't need to double-check your address again. With SID, for example, a username named Ari, :Ari, can be linked to his identity on multiple blockchains. Ari's name will be :Ari on BNB, :Ari on Ethereum, and :Ari on Arbitrum.
Connect Web2. With SID, you can connect your Web2 world identities, such as Twitter usernames, email addresses, and Github accounts. For example, on Twitter, the username @Ari becomes Twitter:Ari.
Read also What is Web 3.0?
Customizable Top-Level Domain (TLD)
Unique Usernames for Communities. SID supports the use of TLDs in the form of community names, such as BAYC: or ETH:
NFT Integration. When BAYC wants to send an APE token airdrop to NFT holders, it only needs to send it to the subdomain BAYC:XX
TLD and Multi-chain Combination. When a person named Ari has the universal domain name :Ari, he can create multiple identities such as BAYC:001, ETH:Ari (ari.eth), BNB:Ari (ari.bnb), and Twitter:Ari.
Easy SDK Integration
Integrating with partners is critical to market success. Space ID SDK integration with partner applications takes only 30 minutes. It also supports users and partners, allowing the product to expand and reach new use cases. In addition, SID has TLDs that can resolve other domains and name services, so developers do not need to integrate multiple name services and keep track of new services.
SPACE ID Advantages
Digital identity is becoming increasingly crucial in the Web3 world. It means that as the internet develops, everyone needs to have a unique digital identity to engage in online activities. In particular, SPACE ID has three excellent features that are critical to the future of digital identity in Web3, namely:
One Name for All Networks
SPACE ID is a tool that allows people to create a customized username that can be used on different blockchain networks. It means you don't have to create a new username for every blockchain you use.
Username for the Metaverse
SPACE ID is not just a username but also a way to keep track of things across different blockchains. It's like a personal database that helps people find and use resources on various blockchain networks. The username can also be an individual's identity in the metaverse.
To keep user information safe, SPACE ID uses a system called Lucas to store data on various blockchains securely. There is also a security feature called Yoda that uses oracles to protect user information.
How to Buy ID Token on Pintu?
You can start investing in ID by buying it in the Pintu app. Here's how to buy crypto on the Pintu application:
Create a Pintu account and follow the process of verifying your identity to start trading.
On the homepage, click the deposit button and top up the Pintu balance using your preferred payment method.
Go to the market page and look for ID.
Click buy and fill in the amount you want.
Now you have ID as an asset!
In addition, the Pintu application is compatible with various popular digital wallets such as Metamask to facilitate your transactions. Go and download the Pintu cryptocurrency app on Play Store and App Store! Pintu is regulated and supervised by Bappebti and Kominfo.
You can also learn more crypto through the various Pintu Academy articles which are updated every week! All Pintu Academy articles are for educational purposes, not financial advice.
Referensi