Reading Time:
7
minutes
Altcoins are often the target of traders and retail investors who want to find the next Ethereum. From Solana, Fantom, to Avalanche, Layer-1 Altcoins are alternately experiencing an extraordinary upward trend. Alternative smart-contract platforms such as Fantom even experienced an increase of 1,000% in 2021. However, one of the most difficult things is figuring out which altcoin asset will trend next. One altcoin that has been around for a long time is Tron (TRX). Then, what is Tron (TRX)? What are its advantages over other altcoins? This article will dissect Tron in full.
Article Summary
🔴 Tron (TRX) is a blockchain network that aims to create a decentralized application (DApps) ecosystem using smart contracts. It has the vision to create a decentralized internet where information and assets can be transferred without third parties.
🏦 Tron was founded in 2017 by a businessman named Sun Yuchen or better known as Justin Sun. Since December 2021, it is managed by a decentralized organization called Tron DAO.
💵 Tron is the 3rd largest blockchain in TVL (total value locked), behind Ethereum and Binance. Justlend, SunSwap, Sun.IO, and JustStable are the four applications with the largest TVL on the network.
️⚖️ Tron has strong fundamental values and has successfully passed several bear market phases. However, there are concerns about USDD and the crypto market which is experiencing a downward trend due to the bear market.
What is Tron (TRX)?
Tron (TRX) is a blockchain network that aims to create a decentralized application ecosystem (DApps) using smart contracts. The network has the vision to create a decentralized internet where information and assets can be transferred without third parties. In addition, it also wants to be a platform for an entertainment and social activity ecosystem that contains various blockchain-based applications. TRX is a coin built by the Tron network which is based on a delegated proof-of-stake (DPoS) system.
💡 Tron and TRX were originally created under the Ethereum network then decided to migrate and create their own blockchain network.
According to Coinmarketcap, Tron is the 14th largest crypto asset in the world with a market capitalization of $6.3 billion US dollars. Currently (June 27, 2022), TRX is priced at $0.06 US dollars with a total supply of 95.5 billion TRX. TRX has no supply limit.
Tron is one of the early generation cryptocurrencies that made it through the 2018 and 2020 bear market phases. This fact shows that Tron has the ability to last long enough. This can happen due to various factors, including the team behind the project which is quite strong.
Who Founded Tron?
Tron was founded in 2017 by an entrepreneur named Sun Yuchen or better known as Justin Sun. Justin Sun has been a Ripple ambassador and has been on the Forbes "30-under-30" list twice. Justin Sun himself is a popular figure in the crypto community. However, he no longer has a structural position in Tron and is now the Ambassador of Grenada to the WTO (World Trade Organization).
Since its inception, all developments of the network have been held by the Tron Foundation, a non-profit organization. In 2018, Tron announced it had purchased Bittorent, one of the most popular peer-to-peer apps.
In December 2021, Tron has completed its decentralization mission by creating the Tron DAO. All network management and development responsibilities are now governed by the Tron DAO (Decentralized autonomous organization) and TRX token holders can participate in the network's policy.
What Can You Do on Tron?
Using Apps On Tron Ecosystem
As one of the 20 largest cryptocurrencies in the world, Tron already has 100 million users and processes 3.4 billion transactions. According to DeFiLlama, Tron is the 3rd largest blockchain in TVL/total value locked, behind Ethereum and Binance.
These figures show that the network is the choice for DeFi development teams and users alike. TVM or Tron Virtual Machine is a smart contract program that is compatible with the Ethereum (EVM) programming language. In addition, Tron has an innovative transaction fee system. Basically, most transactions are free without the usual gas fees.
Here are some of the decentralized applications (DApps) the network:
JustLend is a lending app on Tron with TVL worth $1.6 billion, the largest on the network. The JustLend platform provides interest on a large supply of loans such as 16% for TRX and 14% for USDD. USDD is a new stablecoin created by Tron that originally had an algorithmic model like UST. Due to the UST-LUNA incident, USDD is now adopting an over-collateralization model similar to DAI. JustLend is the premier liquidity market.
SunSwap and Sun.IO are two decentralized exchange platforms (DEX) on the Tron network. Both have a total TVL of $1.38 billion US dollars with SunSwap worth $850 and Sun.IO $530 million. SunSwap handles various crypto exchanges that are compatible with Tron while Sun.IO is exclusively for stablecoins. Like other DEX applications, both platforms support being a liquidity provider (LP) that can give you financial benefits through yield.
JustStable is a stablecoin platform on the Tron network that owns USDJ, a stablecoin backed by assets such as USDT. Users can earn USDJ by depositing collateral assets on JustStable which are named as CDP (Collateral Debt Position). USDJ can then be used to earn interest income on JustLend and exchanged for other crypto assets.
💡 Tron's newest stablecoin, USDD, just lost peg against the US dollar in mid-June 2022. Reflecting on the LUNA incident, you need to be careful when using applications in the Tron ecosystem. Although USDD has a collateralization model similar to DAI, we cannot know if USDD can hold its price against the US dollar because its resilience has not been proven.
TRX As Investment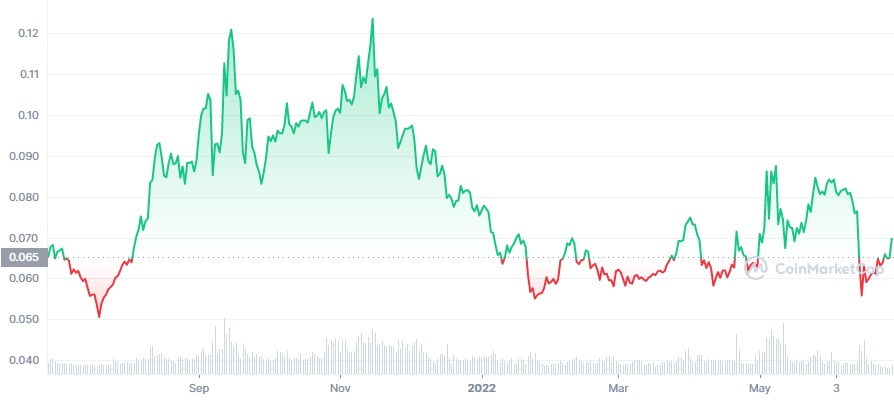 TRX's price chart for the past year shows that it peaked at around $0.12 US dollars in November 2022. Like other altcoins, TRX has been on a downward trend following Bitcoin. TRX eventually dropped to around $0.06 US dollars which became a strong point of support.
We can see on the price chart that even TRX experience short uptrends in several periods, namely March, May, and early June. TRX is one of the few tokens that is relatively strong in a bear market right now. However, the high volatility of Bitcoin will definitely have a bad effect on the altcoin market in the near future.
Even so, if we look at the fundamental value of Tron, it has a pretty strong foundation. The network has proven to be resilient as a crypto asset as it managed to pass the bear market of 2018 and 2020. With 100 million users (active addresses), it also has a strong user community.
The concern for Tron stems from the network's latest innovation, USDD. USDD is Tron's version of stablecoin that now uses an over-collateralization model (previously algorithmic like Terra UST). Stablecoin USDD started losing its peg against the US dollar on June 13th and has not returned to its $1 dollar price as of now (June 28, 2022). Users need to understand that the failure of USDD has the potential to affect the price movement of TRX, especially if retail investors start to fear seeing USDD fluctuate.
What makes Tron and TRX unique?
⚡No transaction fees: Tron has an innovative transaction fee system. Instead of using TRX as a transaction fee, each transaction requires energy. Each user has a daily energy quota which will be reduced every time they make a transaction. If the quota is empty, users can freeze a number of TRX to increase their daily energy quota.
💻 TVM: Tron has a TVM programming engine that can support the creation of various applications and platforms on top of the network. In addition, TVM is EVM-compatible so developers can easily migrate applications from the Ethereum network.
️ 🏎️ Transaction speed: Tron utilizes delegated proof-of-stake (DPoS) technology which is capable of processing 2,000 transactions per second. This makes the finalization of every transaction on Tron complete in seconds. This puts Tron's speed on par with the new generation of PoS blockchain.
💪 Reliable: Tron is one of the blockchains that has been active since 2018 and has successfully passed several crypto market cycles. This is not something that is easy to do because many crypto projects cannot get past the bear market phase.
Tron Roadmap

The Tron network only has a roadmap created at the beginning of its establishment. This roadmap can no longer be found on Tron's official website but another site managed to save the information. Now, we are in the Apollo phase where it aims to create a DEX and have sufficient liquidity for its users. The next phase, Star Trek, is the phase where Tron wants to create and host a decentralized gaming ecosystem.
In addition, Tron is looking to develop its DApps ecosystem through Hackaton Season 2 which is being held this year. This hackathon seeks to find potential teams and projects for the network. The SUN network, the layer 2 which was just launched this year, was specifically created to support the Tron DApps ecosystem so that it can operate faster and at a lower cost.
How to Buy a Tron Coin (TRX)
After understanding what is Tron, you can invest in Tron (TRX) in the Pintu app. Through Pintu, you can buy cryptocurrencies in a safe and convenient way.
Pintu is also compatible with popular wallets such as Metamask to facilitate your transactions. Download the Pintu app on Play Store and App Store! Your security is guaranteed because Pintu is regulated and supervised by Bappebti and Kominfo.
You can learn more about cryptocurrencies through the various Pintu Academy articles that we update every week!
All Pintu Academy articles are made for information and educational purposes only, not financial advice.
References